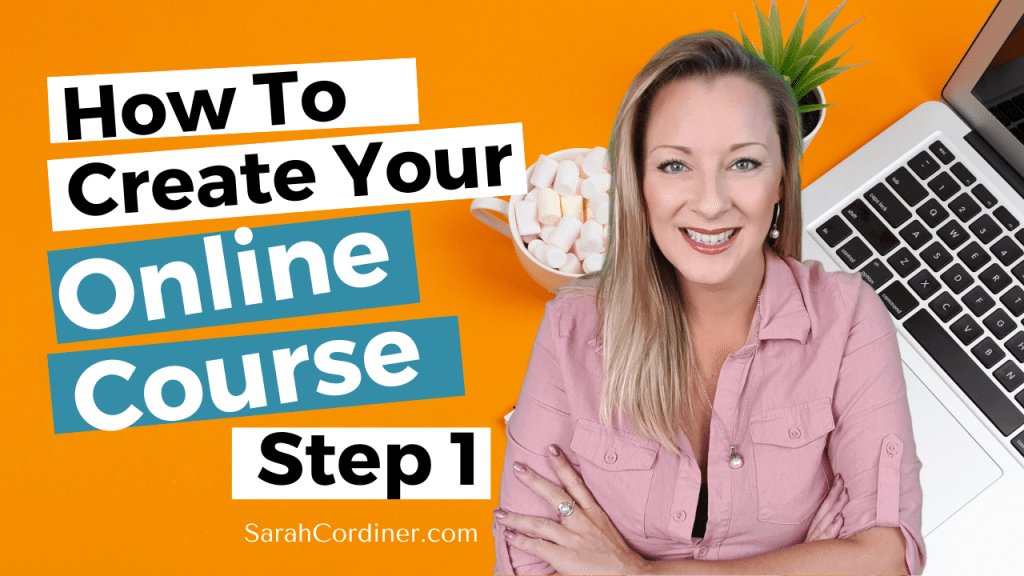 How To Create An Online Course – STEP 1: Plan Your Topic & Pricing
How To Create An Online Course – STEP 1: Plan Your Topic & Pricing
This is Video 2 of 4 in my free mini-series "Overview of Online Course Creation".
If you missed the first video, you can watch it here: VIDEO 1: 6 Tips for Online Course Creation Motivation.
Otherwise, click the video below to watch it now:
YOUR ONLINE COURSE TOPIC AND PROFIT: Key Points
1. Pick the Perfect Topic for Your Online Course
Your course topic must be something that you LOVE, that you are GOOD at and that you have EXPERIENCE in.

If you are not passionate about your topic, it will come across to your learners and will make your training about as engaging as a cardboard sandwich.

Don't feel like you have to teach a degree-level profession. You are teaching what you know, to people who don't know what you know yet.
Think about your skills, talents and life experiences that you have been through…. What you do for a job, your business field, something you've taken a course in, cooking your favourite dishes, interior design, a craft you enjoy, writing non-fiction, a life challenge you got through, a personal or professional success that you achieved; the list is endless.

You may have joined this program with a very clear idea of what topic you want to create your course in, or you may have absolutely no idea at all yet.
Both of those situations are totally ok – as are any in-between.

In Module 1 of my "Course Creation Group Coaching Program", I will be taking participants through some exercises on discovering and selecting your perfect online course topic.

Activity:
For now, write below where you are at right now:
I am going to create an online course on the following topic:

My topic is:
I'm not totally certain, but think it might be:
I have no idea yet


---
2. Ensure Your Course Idea has High Market Demand
Once you have picked your online course topic, the next step is to conduct a number of market research tests to see if it has market demand or not.
It also needs to be a course that has been designed around the current needs and of your market – and so some market research activity is very much a part of quality course creation – if you want it to sell.

Ensure your online course idea has high market demand:

People want to buy it
Asking questions about it
Talking about it
It's trending
And this is exactly what I will be taking participants through in Module 1
of my "Course Creation Group Coaching Program", too.

As well as giving my group coaching participants surveys and swipe copy to use for finding out what your market want and need, I will also be giving them exact strategies and exercises to check whether their topic is high in demand and provides the exact solutions to their students' needs.

Activity:

What kinds of questions do you often see/hear people asking about your topic?
If you don't have a topic yet, what questions do you often get asked by clients, colleagues and friends?
---
3. Pricing your course and your business model
Online courses can certainly be profitable in their own right – however they make you a lot more money when you have carefully planned a business model around each one you publish.

In Module 1
of my "Course Creation Group Coaching Program", participants will strategise how and where their online course(s) will fit into their overall business model, including helping them to establish the important answers to the following questions for their unique circumstances:

Activity:
Is your course going to just be a free lead magnet to build your email list?

Is your course going to be an income stream in its own right?

If so, will it be a low entry level price as a step into your larger funnel, or will it be your major flagship online course?

Will you have off-shoots from your course such as a paid keynote presentation, workshops, mentoring/coaching, immersion bootcamps and masterminds?

Will your course(s) have associated 'done for you' services that the self-study courses will promote too? If so, what might they be?


Each of these will mean that your course needs to be designed slightly differently, provide a different volume of value, have different marketing methodologies and put your followers and students into very different types of 'funnels' (or customer journeys).

This also will considerably affect the pricing that you apply to your online course so that it appropriately matches the position it's given within your business.

There is no right or wrong or even guideline price for an online course as it depends very much on what it is that you are delivering and what the market is willing to pay.

In Module 1
of my "Course Creation Group Coaching Program", participants will go into much more detail about online course pricing and how to select the right prices for their particular course in their particular situation and sector.

Activity:
If you know roughly what your online course will be about (the industry sector at least), answer the following questions:
Google courses in your planned topic and see what your competitors are charging. Write down the kind of pricing you see:


How can your course be 'different' and better to whats generally on offer already? What do you think existing courses out there might be missing?



---