Concept To Course

with Sarah Cordiner


A done-with-you coaching program to help you turn your course idea into a published & profitable online course, coaching program or membership academy!

'CONCEPT TO COURSE': Turn Your Idea Into an Amazing Online Course - FAST!
To have a highly successful online course, coaching program or membership academy, you need a SYSTEM that works - not guesswork.
Concept To Course provides you with a simple and highly effective system for planning your student journey, ensuring your course idea will sell and planning out the perfect program.
I then help you curate learning content that your learners will LOVE; walk you through how to get it online; work with you to get your online school up and running - and then teach you how to launch..... all in just 30 DAYS!
AAAND, you get more than 30 days access, so don't worry if you are busy!
IS THE CONCEPT TO COURSE PROGRAM RIGHT FOR YOU?
Is creating an online course, coaching program or membership academy on your 'to-do' list?

Does having the opportunity to experience results like mine (over 200,000 student enrolments in 181 countries and continuous passive income) sound like something you'd like to have too?

Would your life change if you created another income stream that didn't require you to work any extra hours?

Would your business be more enjoyable if you could increase your income without having to personally see or service more clients?

Would it be a relief if you no longer had to answer the same questions over and over again, and instead just give your prospects an online course?

Do you have a talent, hobby, knowledge or passion of some kind?
If you answered yes to any of these questions then
"Concept To Course - Course Creation Group Coaching Program" is PERFECT for you and the time is NOW. Let's get your course out into the world without any further delay, tech headaches, or needless course creation mistakes.
THIS PRACTICAL, IMMERSION 'GET-IT-DONE' GROUP COACHING PROGRAM WILL TAKE YOU THROUGH EVERY SINGLE STEP TO: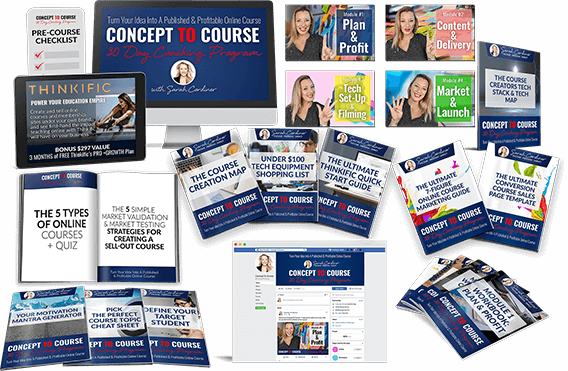 Easily design and create your own amazing online course, coaching program and/or membership academy - even if you are not yet sure on your topic or which type of program to create

Build your own online school & setup your tech (even if you have no IDEA how to do anything like this)

and FINALLY get your online course published, impacting the world and making you money - even if you have no idea how to launch or market a course yet

Over 30 days, QUALIFIED Course Creation Specialist, Sarah Cordiner, will personally coach and guide you through each step of her highly successful course creation system - alongside guided tutorial videos, a secret Facebook group and weekly live coaching calls
This coaching program ONLY runs twice a YEAR!
You get to join TWO rounds of C2C if you sign up now!
Next rounds: 1st-30th September 2023 and 1st-30th March 2024
"This is THE coaching program for creating your online course"
About Sarah Cordiner, Your Concept To Course Coach
Hi there, I'm Sarah.
I am a Postgraduate qualified education professional with over 14 years of experience as a qualified Teacher Trainer, curriculum developer and education leader.
In this 4 week 'Course Creation Group Coaching Program' I am going to show you exactly how to create your course so that you are equipped with this life-changing skill FOREVER;  AND I am also going to MAKE YOU DO IT so that you finish the program having ticked this online course creation task OFF of your 'to­-do' list!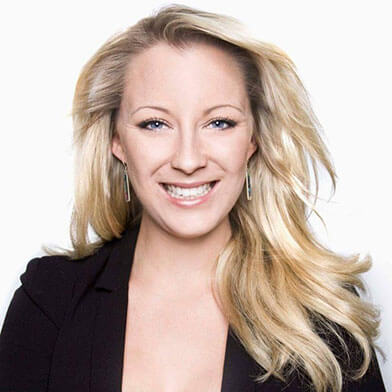 I am going to give you all of the hands-on training, support and DAILY coaching to enable you to PUBLISH your online course within 30 days so that it is finally DONE.
YES, REALLY. No more procrastinating for you! I am going to (really kindly and supportively) kick that online course out of your butt.
I am an ex-university 'Executive Director and Head of Campus' and was the most senior leader of one of the most remote university campuses in the world - a university that was ranked number 1 in Australia at the time of my leadership.
I am also the owner of an award-winning international education and training company which has designed, developed and delivered training and education (accredited and non-accredited) to thousands of learners across the globe - including small businesses, colleges, registered training organisations, universities, schools, ASX and Fortune 500 companies and State and Federal Governments.
Over the past decade+, I have helped tens of thousands of course creators and who I call 'Edupreneurs' to create and sell their own engaging online courses and build successful education-based businesses.
I have a BA (Hons) Degree in Education, a Postgraduate Degree in Education, a Diploma to Teach and a Certificate in Training and Assessment (plus lots more).
In short, creating courses has been my passion and professional vocation for my entire adult life. I'm no charlatan, and I'm absolutely passionate about sharing the course creation process with others so that we can all continue to make a difference, in our own unique ways.
My qualifications combined with the practical experience of teaching, training and building a highly successful education services company can assure all of my students that they are in great hands - AND we will have fun in the process!
Create a Course To Be Proud Of!
I USE MY SPECIALIST COURSE CREATION SYSTEM TO HELP OTHERS CREATE AND SELL THEIR OWN QUALITY ONLINE TRAINING COURSES.
And this very system is now open to YOU, along with my PERSONAL coaching and hand-in-hand guidance.
Once you have this money-making, impact-creating skill - you have it for LIFE and will be able to scale and multiply it forever.
It's my passion to help YOU digitise, eternalise and globalise your business, make a much bigger impact and generate more income with your very own profitable and engaging online course.
Hundreds of people have been through Concept To Course and their businesses have changed forever, along with skills they can keep using for the rest of their lives.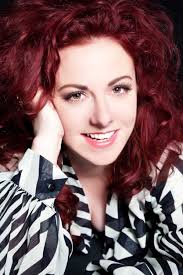 Sophie Garner
BBC 'The Voice' Kids
Sarah and her gold standard course has achieved more for me in the past month than in the past 3 years!
The review I write here is not going to be anywhere near enough to say what Sarah and her course has achieved for me, not only for my business but for my own personal growth as an entrepreneur.
This course has been a game-changer.
I've learnt more on how to grow my business in Sarah's 30 Day Concept To Course, than in the past 3 years put together.
The value of that cannot have a price put on it.
Some things really are priceless - and this is one of them!
I found Sarah by accident and then I signed up for the 5-day free challenge where I learnt so much.
At the end of the free course, I realised I needed to enrol on the 30- day course to creation and have Sarah and her team build my online school.
The whole process was free of frustration and she holds your hand and guides you through the course as if she was sitting next to you.
Given she is the other side of the world to me this was somewhat ironic.
I learnt so much and as a result, recommended her to my colleagues all of whom have signed up to her.
When you pay for Sarah's course you are not just paying for a 'how-to' you are paying for Sarah as a person, an expert.
She gave unconditionally, she answered every question I asked.
At one point I thought she must be on the course Facebook 24 hours a day as every question was answered within a few hours.
The whole experience was one of faultless quality.
The true value of this course is the person who produced it; Sarah, and there is only one of her.
You get WHO and what you pay for.
Her years of expertise, her honesty of getting it wrong, which like any world-leading successful entrepreneur shes been there and worn the T-shirt and has no problem sharing her lessons with you!
Her no-nonsense kick up the backside 'get on with it but I have your back completely' support, her Facebook group where you can post daily if needed and its answered by her personally, her genuine passion for her profession, humour and spirit, her drive and lastly her love of championing her students to get to the finish line and see them at the end to cheer them on to the next level.
Thank you so much Sarah xx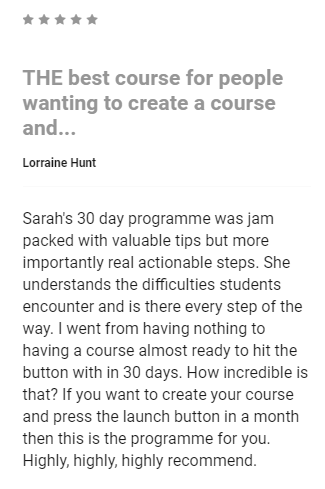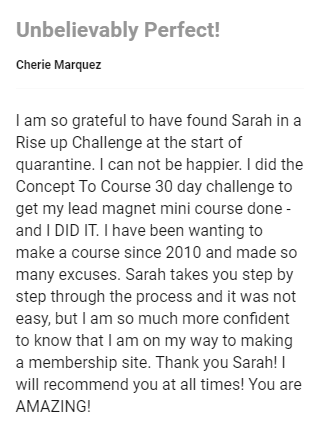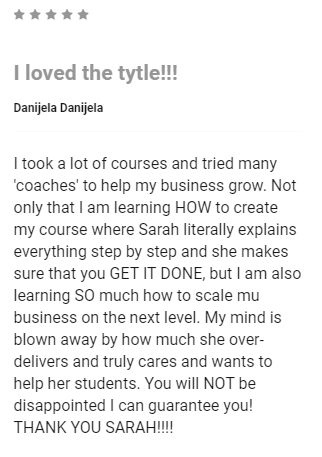 Join The Concept To Course: The Ultimate Course Creation Group Coaching Program, where I personally help you turn your course idea into a profitable and published online course, coaching program or membership.

What You Get In Concept To Course
In The "PRE-COURSE" Module:
First I'm Going To Help You Get Prepared...
Before your coaching program starts, I'm going to make sure you're properly prepared and have crystal clear clarity on who you're going to serve (your customers) and what you're going to teach (your topic niche).
I know from experience that the very beginning is the steepest wall to climb because there are so many ideas and options to think about, this is why I've designed my coaching program 'Pre-Course Prep Module' to set you up for success!
INCLUDED ASSETS & RESOURCES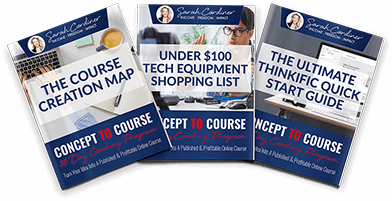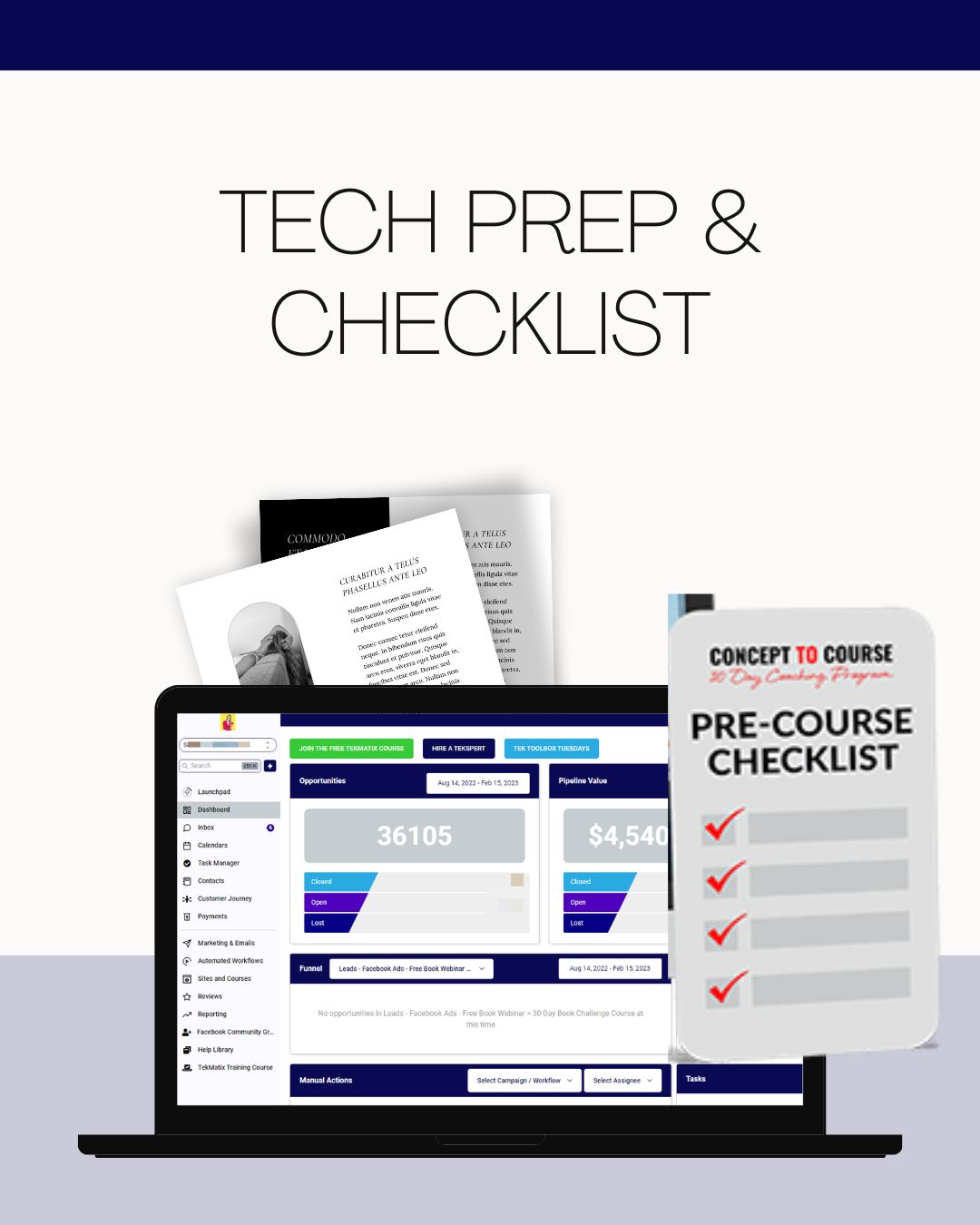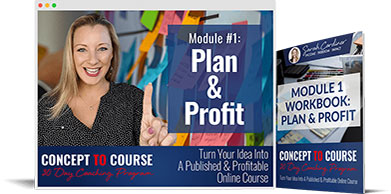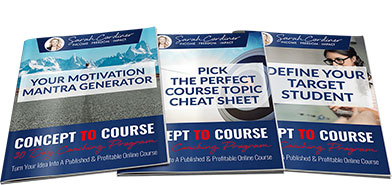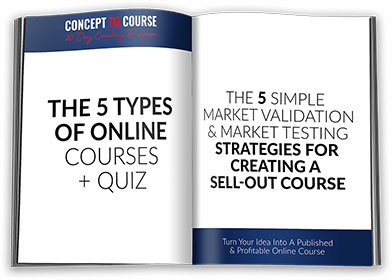 During the first kick-off week, I'm going to help you create the perfect plan for an online course business that PROFITS.
Other course creation programs only focus on creating a course - but that's not enough if you want real, long term success.
You need a MODEL; a pre-planned customer journey of course offerings to ensure that your learners get the best experience and that YOU get the right returns.
Module 1 is all about planning for success, and ensuring that following your course creation, comes profit in the bank.
INCLUDED ASSETS & RESOURCES
MODULE 2: Content & Delivery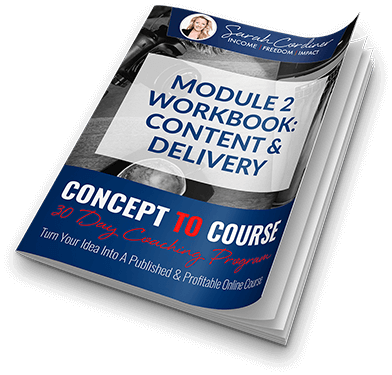 In Module 2, I'm going to help you properly and efficiently create highly engaging course content that your learners will LOVE, using my strategies for content creation that make creating content totally addictive, and FAST!
I'm also going to teach you 'learning hacks' that will help your students and customers get better results with your course - which means epic reviews and more referrals for you!
By the end of this module, you'll have your course outline created, know what you're going to teach - and be ready for filming!
INCLUDED ASSETS & RESOURCES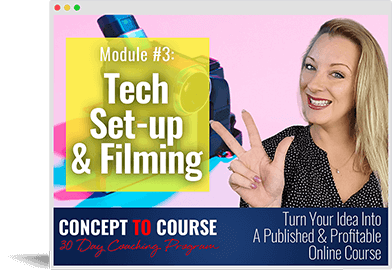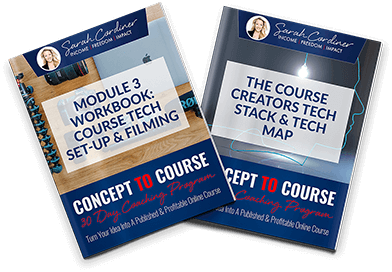 In week 4 I'm going to help you dominate the tech aspect of creating and launching an online course, even if you can barely handle email!
I am also going to teach you how to feel confident and look and sound like a pro on camera, so you can impact the world as a real authority in your niche.
And finally, I am going to help you GO LIVE! Yes, you will publish your online course by day 30!
INCLUDED ASSETS & RESOURCES
BONUS Module: Course Launch & Marketing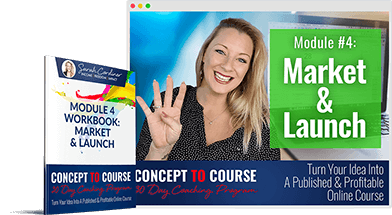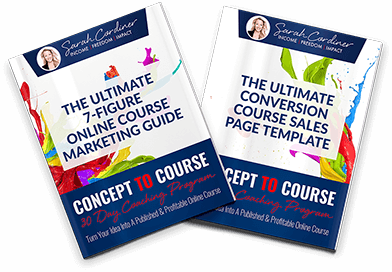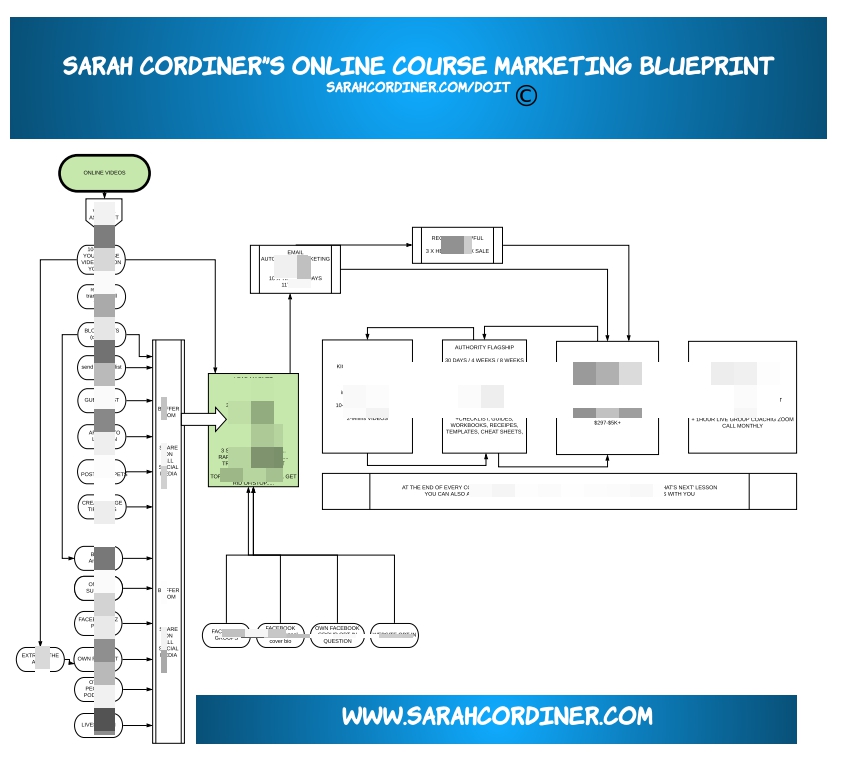 In this BONUS module I'm going to help you master online course marketing.
Once you're launched I'm going to help you with a winning marketing strategy to find and sell to your waiting audience - the very same strategies I have used to make millions of dollars from my online courses.
INCLUDED ASSETS & RESOURCES
PLUS: Interactive & Supportive Private Facebook Community
During your coaching program you're going to have questions, concerns, ideas and you're going to have issues come up that you need help with...
This is where our private Facebook community comes in to give you the support and be a place where students help each other as well as receive direct coaching from me every day exclusively inside the group!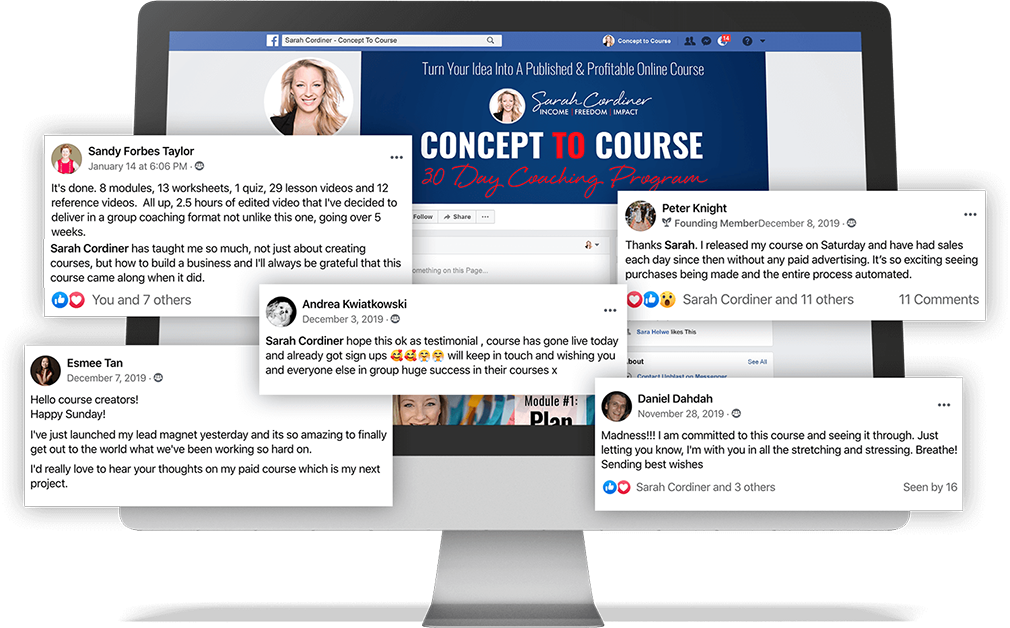 Concept To Course Has 2 Options To Choose From....
Concept To Course has 2 joining options to choose from: 'Standard' and 'PLUS' Package,
Here is a quick summary of the package differences, followed by a detailed table below of what is included in each package option:
Standard Package

=

12 months access to the training, join 2 x rounds of C2C, 12 months in the secret C2C

 Facebook group and a number of bonuses.
PLUS = Lifetime access to the training, ALL bonuses AND, we set up your online school, tech and email automations FOR YOU.
3 and 6 month payment plans are available below....
C2C Standard Package
$497 USD
12 Months Access
12 Months access to the full Concept To Course program
Join TWO group rounds of Concept To Course! (Usually $994)
Includes the 4 x LIVE group coaching calls with Sarah Cordiner ($2,100 worth of live calls)
30-days access to 'ask Sarah anything' in the Faceboook group (during her working hours)
Access to the SECRET Concept To Course members-only Facebook group for 12 months
BONUS: 3 MONTHS access to Sarah's ENTIRE Edupreneur Academy, including ALL live calls and group challenges (usually $237)
Over $3,300 worth of expert training and live interactive coaching
C2C PLUS Package
$2,497 USD
LIFETIME Access & DONE-FOR-YOU Full Tech Set-Up
LIFETIME access to the full Concept To Course program
UNLIMITED group rounds of Concept To Course!
Join
ALL live group coaching calls with Sarah Cordiner in C2C for life
Includes
every future round of C2C
30-days access to 'ask Sarah anything' in the Facebook group (during her working hours) during
LIFETIME Access to the SECRET Concept To Course members-only Facebook group
Private 1-on-1 Coaching Call: A 1 hour on-on-one private coaching call with Sarah Cordiner to map out your course outline, plan business model, review your course plan, help with tech etc (Usually $2,997)
Course Tech Set-Up We will set-up your online school FOR YOU - including the site branding, ONE course landing page, your payment gateway integrations, connect your custom domain, Create a student check-in email sequence for your course, get your checkout working, create a customer journey pipeline to track your leads and sales, integrate your social media inboxes for unified messaging, create a simple social media bot for you, and set up a 60min paid appointment calendar booking for you. TekMatix only. (Usually $4,500 as a stand-alone service) - PLUS Package only
BONUS: 12 MONTHS access to Sarah's ENTIRE Edupreneur Academy, including ALL live calls and group challenges (Usually $948)
EPIC VALUEWell over $10k worth of training, support, coaching and done-for-you services
Choose Your Package Option Below (Payment Plans Available)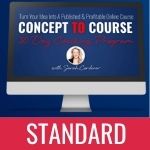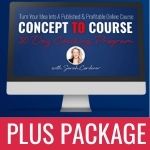 Can You Imagine How You Will Feel When It's PUBLISHED?!
No More Procrastination & Distraction
Let me guess, there are SO many reasons why creating a course is still on your to-do list....
OR MAYBE, YOU'RE JUST FEELING FLAT, UNINSPIRED, DEMOTIVATED AND TIRED OF YOUR BUSINESS RIGHT NOW...
BUT ironically - creating your online course is the solution to smash all of the above issues.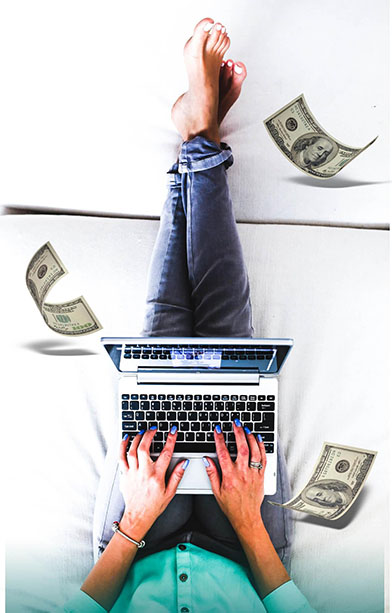 YOUR NEW ONLINE COURSE WILL:
IT'S GOING TO BE IMPOSSIBLE TO LET YOUR COURSE GO 'UNCREATED' FOR ANOTHER DAY LONGER FOR THOSE ACTION-TAKING FEW WHO JOIN IN THIS LIMITED-SPACE COURSE CREATION GROUP COACHING PROGRAM!
Places on this program are strictly limited due to Sarah's personal commitment to providing intensive coaching and daily support to all participants.
If you'd like to finally have your course created and out into the world helping others and making you money, then you need to act now so you don't miss out on this opportunity to get it done - with my undivided support in my Concept To Course Coaching Program.
IT'S TIME TO LEVERAGE YOUR KNOWLEDGE, PASSION AND MOST IMPORTANTLY TIME INTO 24/7 INCOME GENERATING ONLINE COURSE...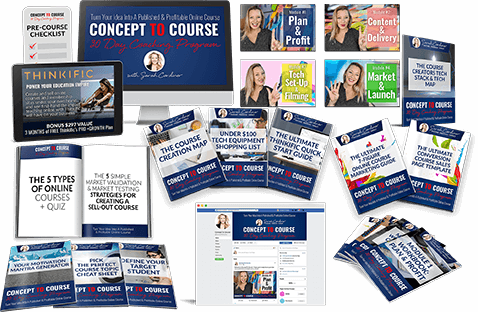 IT'S TIME TO MASTER THE ART OF ONLINE COURSE CREATION AND FINALLY

GET YOUR ONLINE COURSE COMPLETED AND OUT TO THE WORLD
DON'T WASTE ANYMORE OF YOUR PRECIOUS TIME 'THINKING' ABOUT IT AND WONDERING HOW TO START - WHEN YOU CAN FINISH IT IN 30 DAYS!
ACTION-TAKERS ARE MONEY-MAKERS!
When you have created your online course, and published it with the rest of the group at the end of the 30 days, you will:
LIMITED PLACES! Reserve Your Spot Today!
How Online Courses & I Fell In Love
THEY CALL ME THE COURSE WHISPERER...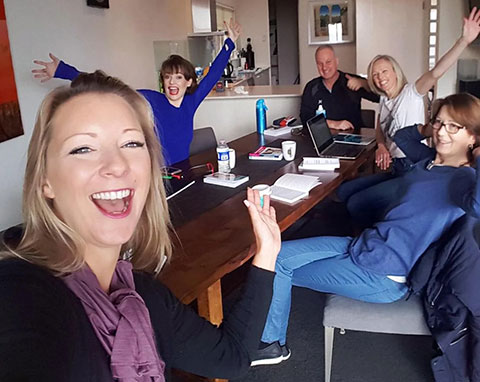 Hi! I'm Sarah Cordiner. I'm a qualified course creation specialist and I've been helping individuals and organisations create, publish and profit with their own online courses for well over a DECADE...
But before I became internationally recognised as the go-to online course creation coach...
I was toughing it out as a full-time education consultant & service provider; providing course creation, curriculum design and education services to the Government and corporate sectors; trading my time for money and suffering stifling city commutes every.single.day....
I would spend my work days bustling from one clients' office to another; wasting my precious chargeable time trawling across the city in suffocating traffic jams and doing my best to squeeze as many clients as possible into one day to make as much as I could.
But more clients meant more work for me, and I became more and more overburdened, over worked and completely and utterly exhausted.
A coach told me to solve this problem by 'delegating' my work to others. "Get a team", he said.
So I tried to free myself from the chains of my desk and attempted to 'scale' my business by employing more staff to meet the increasing demands on my time.
But that didn't work either.
I soon found myself with even more responsibility, more expenses and more things to worry about.
With 23 employees, I increased my turnover, but I also increased my overheads and my sleepless nights.
I FELT LIKE A PRISONER IN MY OWN BUSINESS...
Where was this 'laptop lifestyle', 'passive income' and '4 Hour Work Week' that all the other business owners were enjoying???
How were other business owners scaling without killing themselves working like I was??
I dreamt of a business where I could OWN it, rather than be owned BY IT; but I just couldn't see how.
I was burnt out, suffering from adrenal fatigue, highly stressed, hardly ever home, and replacing healthy meals with cocktail-function-wine and room-temperature vol-u-vonts.
Something had to change... Exchanging my time for money simply wasn't sustainable.
But as much as it was breaking me down, it was familiar, and familiar is comfortable, right? I was too scared to make big changes because I felt 'safe' doing what I knew so well.
Why make my life even harder and busier trying to learn something new?
I just didn't have time to make such changes!! But then EVERYTHING CHANGED.
Sudden budget cuts and a waning local economy saw thousands of job losses in my State in a matter of weeks.
All of my corporate contracts got cut short without warning and all of my Government projects had their funding revoked - the funding that paid for my services.
I lost $2.7 MILLION in contracts in one single Tuesday morning.......
I HAD TWO CHOICES: SHUT DOWN MY BUSINESS OR, FIND ANOTHER WAY TO DELIVER MY CONSULTING AND EXPERT SERVICES...
After having to lay off all of my staff, pay out hundreds of thousands of dollars in redundancy pay-offs and sink what money was left into terminating commercial leases; my accountant delivered the news to me that I still had a 6-figure tax bill to cover from the current quarter that would be up for payment next month.
After I threw up in the waste paper bin, he added one final blow of devastating news:
"NO BUSINESS can recover from something like this, Sarah. You are going to HAVE to go into administration"....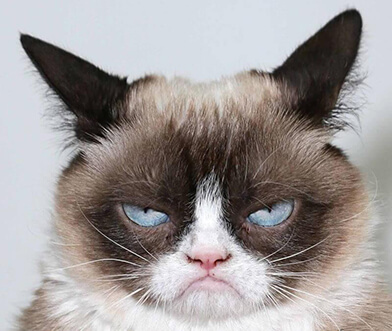 GOING ONLINE OPENS UP A GLOBAL MARKETPLACE;
AND A MORE SUSTAINABLE BUSINESS
Consulting and servicing one single, local economy is a HIGH RISK business model.
If that economy crashes, so does your business - just like mine was facing. (PLEASE don't let this happen to you!)
There was NO WAY that I was going to quit. Closing up shop was NOT an option.
I knew that I had to find another way to not only SAVE my business, but to make it EVEN BETTER than before.
But that would mean expanding my market reach to beyond my local economy. If I was going to recover, I HAD to go GLOBAL. And I had to do it FAST.
It was time to close the office door for good, and go ONLINE.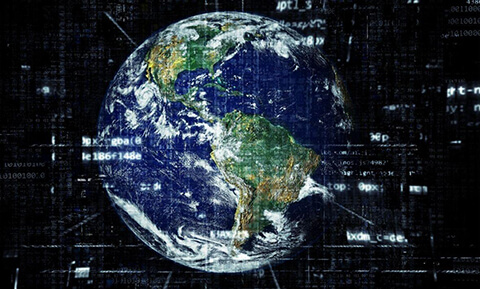 A MULTI-BILLION DOLLAR INDUSTRY OPENED UP TO SMALL BUSINESS OWNERS IN EVERY NICHE
Having been in the education sector for years, I knew that it was a sector that was booming internationally.
And, all of this is STILL happening at an even higher rate today!
I KNEW THAT COMPLETELY NORMAL PEOPLE WITH NOTHING MORE THAN AN INTERNET CONNECTION, WERE TURNING THEIR HOBBIES AND SKILLS INTO ONLINE COURSES.
And In everything from crafting, photography, golf, baking, coding, coching and more; and making THOUSANDS of dollars from them.
I also knew that unlike me, almost none of these people had any formal training in education, teaching or course design.
With my years worth of education experience AND my expertise in curriculum design, I knew that I too could quickly and easily join the BOOMING online course industry and begin to sell my knowledge 24 hours a day, 7 days a week - WITHOUT having to slave away with clients in person any longer!
THE REASONS TO GO ONLINE WERE A TOTAL NO-BRAINER
SO I BEGAN TO SKETCH OUT MY FIRST ONLINE COURSE...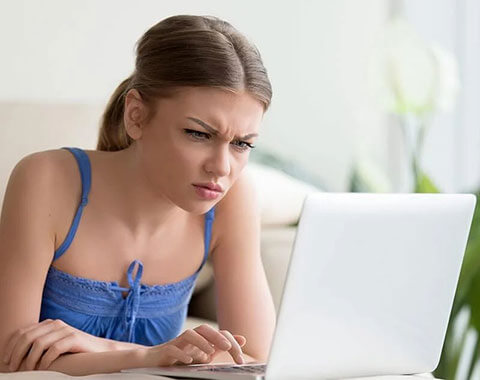 I was so excited at what turning my knowledge into digital products would be able to do for my business.
I knew I was just a 'publish' button away from reaching millions and making a passive income without me ever having to sit in another traffic jam again.
But I also remember the feeling of complete overwhelm... I remember thinking 'whoooaaa, I have SO much to learn'.
I was so excited at what turning my knowledge into digital products would be able to do for my business.
I knew I was just a 'publish' button away from reaching millions and making a passive income without me ever having to sit in another traffic jam again.
But I also remember the feeling of complete overwhelm... I remember thinking 'whoooaaa, I have SO much to learn'.
Even WITH formal training in e-learning design and development, I suddenly realised that moving from 'face to face' to 'online' involved lots of steps and a whole new way of doing 'my thing'.
I had to move from 'comfortable' to 'very very UNcomfortable' as I mastered new delivery techniques, new technology and a new way of communicating with my clients.
I knew everything about my topic inside-out, but I had no idea which e-learning platform was the best, or how to write digital sales copy, create landing pages, use filming equipment, edit videos, build an online school or connect multiple integrations for online payments and automated student follow-up email sequences.....
I nearly didn't go through with it; it felt like I'd never be able to learn it all. Then there was the challenge of working out what topics to create my online courses on first.
Just like most experienced experts, I had YEARS worth of content archived away in my head; I had boxes and boxes overflowing with files of training materials and resources; I had an entire storage box of hard drives filled with training presentations and workshop materials and hundreds of books littered with post-it notes, annotations and highlights.
Just THINKING about where I was going to start it all was overwhelming enough, let alone trying to decide which of the many topics I could create a course about and having to sift through all of that content to choose what I would put in the course.
But for me, it was DO or DIE. I had to learn these new skills, I HAD to sort through all of that content and I HAD to press publish, or the Tax Office would be shutting me down by the next quarter.
I took a deep breath, a sip of red wine, I rolled up my sleeves and I got to work.
I learned. I had wins. I had frustrations. I worked through the nights. I broke stuff...
But I persisted.
After 3 weeks my first course was ready. I hovered my finger over the big green button, looked at the debt statement on my desk, said a prayer and hit 'PUBLISH'...
my course went STRAIGHT to bestseller ranking out of over 30,000 courses on a well known online course marketplace - and remained there for more than 6 months!
I got over 2,000 students from all over the world in my first month.
The course marketplace started paying for Facebook ads to promote my course for me because it was making them so much money in commission.
Complete strangers were messaging me saying that my course had changed their lives.
Podcasters were reaching out to me and asking to interview me.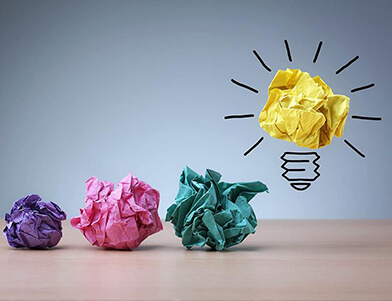 Conference organisers were contacting me asking me to speak at their next event.
Students began asking me if I had any other courses that they could buy; and then, my first payment hit my bank account from completely passively-made money. It was more than I'd been paying myself in wages for running myself ragged as a face-to-face consultant.
I was hooked. WHY HADN'T I DONE THIS SOONER?!!!!
MY SUCCESS IS 100% ATTRIBUTED TO MY FAIL-PROOF COURSE CREATION SYSTEM WHICH IS INFORMED BY PROFESSIONAL ADULT EDUCATION PRACTICES.
I knew that my success was attributed to the fact that I combined my many years worth of educational consulting and training experience, with my formal Postgraduate level training in course design and development - and these skills are now available for YOU to learn from and replicate - WITHOUT having to spend 5 years and tens of thousands of dollars at University like I did!
Quality learning programs follow specific rules, there are certain methodologies that must be implemented and principles that must be met.  I am going to show you exactly what to do.
It's a process that all of the 'online marketers' out there simply don't know because they are not professional educators.  You will know them by the end of this program.
My course creation process is one that can be replicated again and again, to ANY type of course in ANY type of industry for ANY kind of niche - even yours!
THE ONLINE COURSE WINS JUST KEEP ON COMING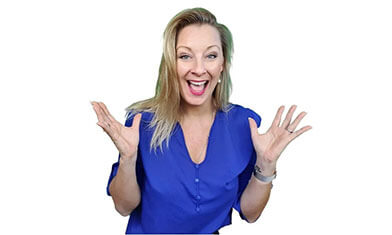 Within 2 weeks I used my UNIQUE course creation system to create and launch my second course, which became a course marketplace bestseller even faster.
Now BOTH of my courses were featured on the front page of Udemy as best-sellers in 'new and noteworthy'.
I earned thousands more students (and dollars) the following month.
There was absolutely no doubt now that my course creation system well and truly worked. I created over 40 more online courses in the following 3 months.
At the end of that year, despite starting it off facing administration AND having to lay-off all 23 of my staff, my business saw a 1,900% increase in revenue compared to the year before.
THE POTENTIAL IS FLABBERGASTING
Turning my consulting and face to face workshops into online courses had completely transformed my business beyond any expectation.  It can do exactly the same for you too.
I knew people were making big money with online courses, but I never imagined that it could have been possible for me - I was NOBODY when I first began in the online space....... but I discovered that it IS more than POSSIBLE.
It's a reality for those who dive in a do it, and the more you do it, the more fun, fast and addictive it gets!  before you know it, you'll have your own membership academy and monthly income pouring in on direct deposits - and a following of adoring fans and followers to boot.
I have made millions of dollars from my online courses over the years, including the income I've made off of the back of my online courses in consulting, one­-on-one coaching, bootcamps, public speaking, book sales and 'done for you' services.
As soon as you get your knowledge out of your head and into an online course, all of this will be a possibility for you too.
Creating a course in your field of expertise catapults you to becoming a recognised and respected authority in your niche, and leads to endless knock-on opportunities.
NOW IS YOUR CHANCE TO CHANGE YOUR LIFE AND YOUR BUSINESS WITH YOUR OWN ONLINE COURSES
Don't miss this life-changing opportunity!
This is the last round of C2C in 2023!!
FREQUENTLY ASKED QUESTIONS
Yes, you can enter a payment plan.  Payment plans are 3 x equal payments.  You can click on the 'Payment Plan' option in the pricing section of this page to get started on your payment plan, or contact me on sarah@sarahcordiner.com if you'd like to enter a payment plan. 
C2C only runs twice a year.
The next C2C rounds are:
1st-30th September 2023
1st-30th March 2023.
You get to be part of TWO rounds when you join C2C on the Standard Package, and unlimited rounds if you join the PLUS Package.
Jokes.  
Nobody asked me that, but I BET a few were thinking it haha.
​​​​​There are a LOT of dodgy, scamming charlatans out there who are teaching course creation but have NEVER been in a classroom in their LIVES.
This shocks me and you should RUN away from these people as fast as you can.  ​
​They know NOTHING about education design, adult learning principles, curriculum development standards, learning engagement strategy and all of the other critical things that a course creator MUST know in order to create quality courses.
Unlike those fakes, I am actually a QUALIFIED education professional, teacher trainer and curriculum developer; assuring you that you are being taught the RIGHT things based on actual educational development principles and years worth of successful experience.
I hold a Degree in Education, a Postgraduate Degree in Education, a Teaching Diploma and more.
I used to be the 'Executive Director and Head of Campus' of an Australian university - a university that was ranked number 1 in the country at the time of my leadership.
I have owned an international 7-figure education company for over a decade and currently have over 75,000 enrolments studying my programs in 168 countries with thousands of 5-star reviews.  
I have managed at and consulted Registered Training Organisations, Colleges, Universities, State Governments, ASX-listed and Fortune 500 companies on their training and people development.
My education work is cited in Forbes; I have been listed for my training work in Huffington Post; 
I am a 5 times international number 1 best selling author in the topic of education; my articles have ranked number 1 in e-learnings feeds, and I have won multiple awards for my education business.  
This is my vocation, passion and life - and always has been.
You are in the hands of a genuine professional - I promise you that hand-on-heart. 
That's exactly why I made this course.  
To help non-techie people learn how to do techie stuff.
I take you through step-by-step (follow along and click with me) training to get your tech set up and running.
I am patient, caring, understanding and work through this stuff with you slowly and lovingly to help you get past the unfamiliarity of it all, past the fear of 'breaking stuff' and into a place of confidence and competence.
You will feel like a tech-ninja by the time you're done! 
Check out one of my last students, Sally, who at 77 years old, used my C2C program to learn tech for the first time!
Watch: https://youtu.be/F01IBOb3_eE  
For those that don't want to learn the tech, I do have a PLUS Package option where my team of Teksperts do the entire tech set up FOR you.  
How much would it mean to you to finally have your course out there helping people? 
To have an ASSET in your business that generates income for you forever?
How much would you think it would normally cost for a QUALIFIED and highly experienced education professional to walk you through the course creation process for an entire month AND to have all of your technology set-up, running and open to students??
Thousands of dollars?
Tens of thousands of dollars?
Nope.
$497 USD 
That's it.   
​ 
You can join us for just $497 USD on the Standard Package.
OR...
Grab the 'PLUS Package' at $2,497 - where I set-up your full online school tech FOR YOU!
Yes.
Although the group intake only comes around a few times a year, you can join it TODAY, access ALL of the training content in the portal, and the secret Facebook group - and then join the group next time in runs.  The best bit is that your 'times access' (depending on your package) will only start when the next intake does.  Therefore, the earlier you join, the more time you get inside!
Terms of use apply to all of my online and coaching programs.  VIEW HERE.  If you select the PLUS Package, where we build your site for you, there are additional terms that detail part-refund terms based on the level of work completed prior to a cancellation. The PLUS Package Service terms are provided to you upfront for agreement prior to project commencement. 
This program is 30 days long.
You will need to put aside between 3-5 hours a week to get the best results from this program (which is probably less time than you spend on Facebook!)
You can watch the tutorial videos at whatever pace you wish as all of the content is available to you from the day you purchase the program for the full duration of your package.  (Your package 'timer' doesn't start until the first day of the next group program - even if you join weeks before!).
You get to join 2 rounds of C2C and have a YEAR'S access to all of the training when you join the Standard Package, and you get LIFETIME ACCESS when you join the PLUS Package.
There is a live group call with me on Zoom once each week for the 4 weeks of the group program.
These usually run on Wednesdays, 9:30am Perth, Western Australia time (which is Tuesdays at around 9pm in EST).
Your questions are collected the day before the call and all are answered.
This is an international group of learners, so all calls are recorded and uploaded to the portal within 24 hours, so those in different time zones or with other commitments at the call time can watch the call at a convenient time for them.
When you log in to this course, there is a lesson inside your portal detailing the exact dates, times and links for your live calls.
All group call recordings are added to your portal to watch at your convenience if you cannot make them live. It is NOT necessary to make the calls live to get value from them.  All questions are gathered in advance and answered in the recorded call.  Sadly it is impossible to get a time that suits every timezone, so we have selected a time that suits the majority (Australian and US timezones).
Hard to believe isn't it?!
But this is what I have dedicated my entire career to for 14 years and have taken THOUSANDS of people through this process in every type of course topic you could imagine.
It is an absolutely tried and tested system that works for ANY type of online course, and has done every single time.
YES.  
EVERYONE who follows along and implements the tasks, creates and launches their courses on my C2C program.  If you'd like to see a list of courses that students created in this program, just email me on sarah@sarahcordiner.com and we will send you a list of members who have given permission to be shared and contacted.
My online course "

How To Create Profitable Online Courses

" is a self-study online course and is great for those who like to learn independently, at their own pace and don't need any coaching.  You can join this at any time you like as there are no set enrolment dates.  
'Concept To Course' 30 Day Course Creation Group Coaching Program

.  This is best for those who like to have the accountability of a coach, like to feel part of a group and just want to get it done in 30 days with daily support from me personally. You have direct access to me daily (if you want to) for 30 days.  I guide you and keep you accountable and you are part of a group of 30 participants doing the journey with you.  This is the ultimate fast-track to getting it done with maximum support, and making lifelong friends in the process.
If you have already bought "How To Create Profitable Online Courses" [HTCPOC] and want to also join Concept To Course, send me an email on sarah@sarahcordiner.com and we will deduct what you have already paid us (for HTCPOC) from the package you'd like to join, as a thank you for being an existing customer 🙂
What if they DO?
This program teaches you the all-important market research techniques to check if your idea has any market demand.
It also has a module on marketing - the exact techniques I use to have such success with my online courses.
I cannot ethically however, promise that you will market your courses once you have created them - as such, only you know if you will implement the marketing techniques that I teach.  Sadly, courses do not sell themselves (truth bomb).  Your course sales will be completely dependant on you doing marketing afterwards. 
To quote Erin Hansen, 
"There is freedom waiting for you, On the breezes of the sky, And you ask "What if I fall?" Oh but my darling, What if you fly?"