Non-Fiction by Sarah Cordiner
Sarah Cordiner is a multiple-times international Number 1 Best-Selling Author.
Sarah's children's books are all based on real stories inspired by her own pets, her wildlife rescue animals, or memories from her own childhood.  They are all rhyming stories that aim to educate children about the world around them, to have compassion, to see the world differently, to feel happiness and joy.
Sarah's first children's book 'Why Does The Wind Move' is now available.
Her second children's book 'Grandma's Fairies' is currently in illustration and will be available from October 2017.
Latest Release: "Awaken Your Course Creation Mojo: Beat Procrastination and Fire Up Your Course Creation Motivation"
Available in: Paperback, Kindle (+Audio book coming soon)

Size: 203 pages
The mojo.
That 'magic thing' that puts us into productivity hyperdrive and has us feeling 'on fire' when it's around, yet we miss like a vital bodily organ if it's not working.
There are many reasons why so many course creators out there haven't started sharing their expertise with the world - or keep retreating back into obscurity each time they peep their toe over the course creation starting line.
It breaks my heart when I think of all of the unfinished courses in the world, all because our inner course creation mojos have taken a hall pass.
Having been the CEO of a curriculum design and training company for well over a decade and created hundreds of courses for my own business and for my customers, I have seen and personally experienced every course creation mojo-killer out there.
In this book I will explore some of the most common course creation stoppers and use this opportunity to remind you of your inner brilliance, share with you my top tips, strategies, advice and pep-talks to coax back that mojo of yours and to get your course creation fire burning bright.
Beat your procrastination, overcome your fears and just get a friendly kick up the butt to get yourself back on form and feeling more motivated to get your courses out to the world than ever before!
This book is also found as a chapter in one of my other books 'Entrepreneur to Edupreneur: The 10 Stages To Creating A Wildly Successful Education-Based Business & Online Course'. But being aware of the fact that it is often not the course creation process, but instead a missing mojo or a little self-doubt that causes many courses to never leave people's heads; I felt it deserved a title of it's own.
Are you ready to get your fire started so that your course can finally get out to the world?
"The Theory and Principles of Creating Effective Training Courses: What To Do Before Creating Your Course"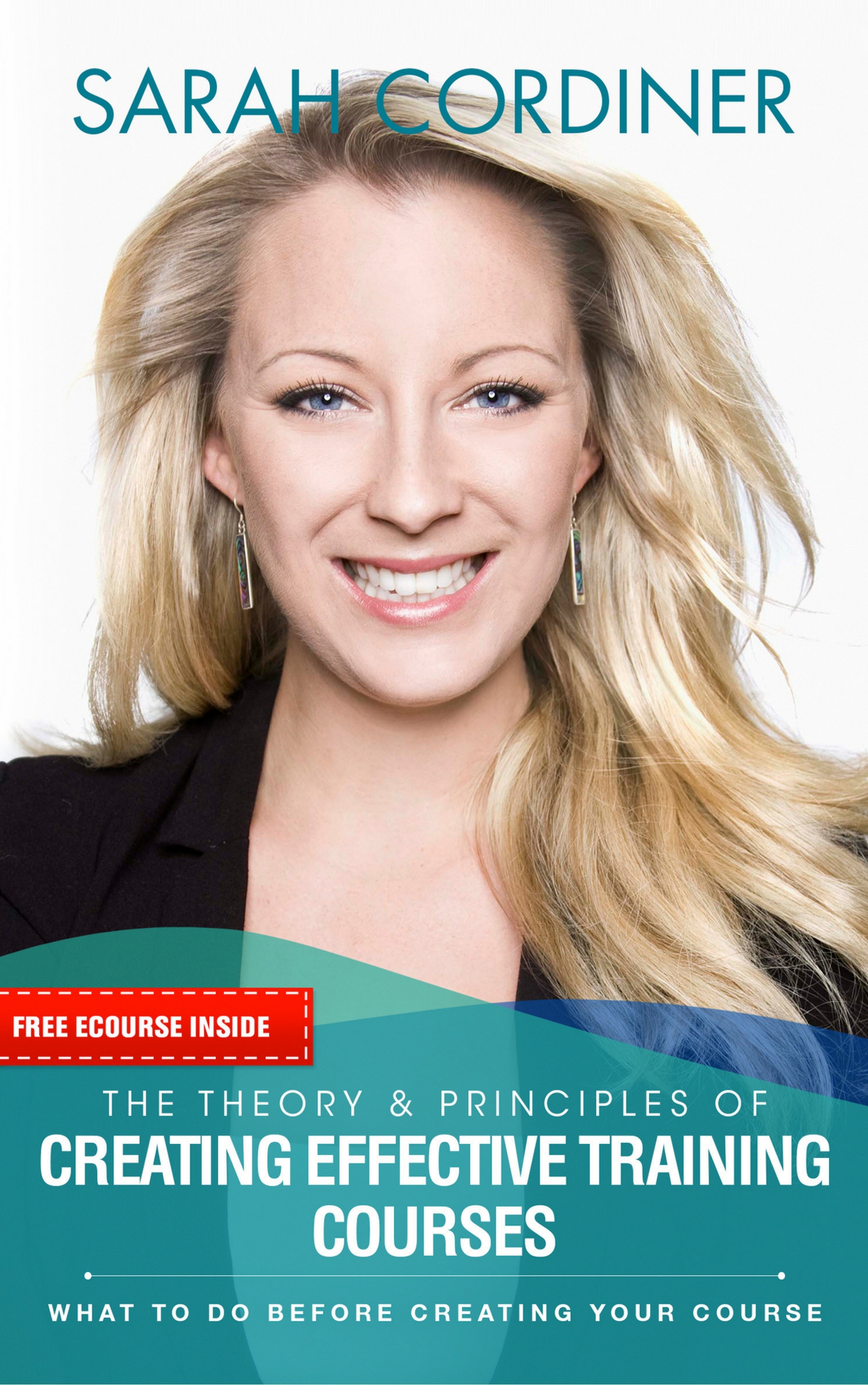 Sarah reading a chapter from the book:
Sarah's speech at Perth book launch:
Available in: Paperback, Kindle (+Audio book coming soon)

Size: 317 pages
It is no secret that the online learning industry is booming. But with a mass influx of course creators and marketers jumping into the 'educational gold rush' to make money, the critical components of developing quality and effective training are being lost.
Anyone can create and sell online courses to a global marketplace today, at minimal expense and from their own spare rooms – which is a great thing for everyone. However, if you aspire to create transformational online or face to face training programs that engage and enrich your learners; it is vital that you design and develop your programs with the fundamental theory and principles of adult learning and course creation in mind. Training that does not satisfy your learners, or follow quality educational practices, will attract negative reviews, a bad reputation and refund requests – something that no course creator or 'edupreneur' wants to face.
With the learning industry becoming a rapidly more competitive field, survival in this lucrative market is about creating remarkable training that has the learner experience at its core.
This book has been especially designed by multiple-award winning, qualified education professional, Sarah Cordiner for the modern day, quality-conscious course creator, edupreneur and training manager who cares about their learner experience. It is for those who want to plan, prepare and deliver transformational training that changes the lives of those that they teach.
By presenting timeless theories, principles, frameworks, processes and practices for designing, developing and delivering highly effective training programs, this book will help you create learning that will positively impact your learners - and your business.
"Maximising Staff Training on a Minimum Budget: The Training Manager's Guide"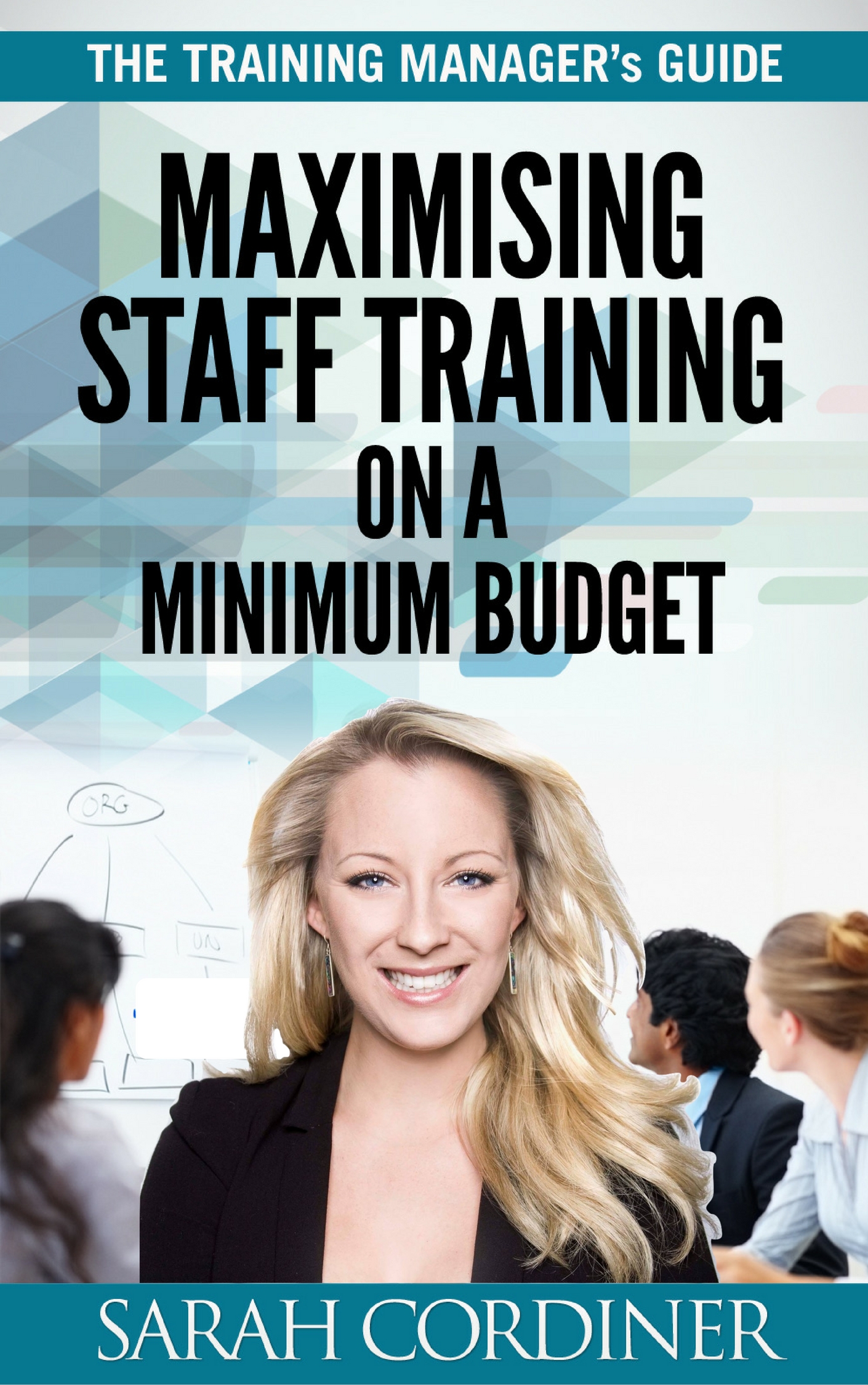 Sarah presenting Strategy 1 from the book:
Available in: Kindle and eCourse

Size: Kindle, 52 pages / eCourse 90mins
In this book you will learn Sarah's top 12 strategies that will help every organisational training and development professional ensure that they are facilitating excellence in professional development, whilst keeping their senior bean-counters on their side, as well.
•Strategy 1: Add these people to your organisational guest list to enhance your staff training without increasing your spending.
•Strategy 2: Use this strategy as a 'done for you' training design template for world-class training without the expense.
•Strategy 3: This one simple strategy will add specialised expertise to your staff's professional development, increase staff morale AND ensure that the most advanced skills remain within your organisation—without spending a single dollar.
•Strategy 4: This strategy will eliminate 'waste of time' meetings and instead create valuable learning opportunities without the extra effort, organisation or expense.
•Strategy 5: These 'eliminate and replace' methods will save training budget wastage.
•Strategy 6: This strategy will ensure that you smash your training department objectives, resulting in an INCREASED budget next year.
•Strategy 7: Get the top experts in your training room—without having to pay their travel expenses.
•Strategy 8: Use this strategy to give your staff access to world-class training, without it taking up work hours and for less than the price of a coffee.
•Strategy 9: Give your learners even more content and an increased learning experience whilst decreasing the expense.
•Strategy 10: Use this strategy to release pressure on your training team, free up their time, get more results and reduce your HR spending.
•Strategy 11: Conduct the most extreme, highly technical, high-risk training in the most expensive niches ever, without killing anyone or spending a fortune.
•Strategy 12: Use this strategy to reduce long term expenses on staff career development.
Regardless of whether your organisation has a great budget for you to work with or a limited one, there is no doubt that the training professionals using these strategies to get more results for their department at a much lower cost are going to reap the rewards from every angle for their team, their employees, their colleagues and their senior management!
If you would like to smash your training department targets whilst pleasing the heck out of the bean-counters by learning how you can quickly and easily implement these simple, results-focused strategies, all you need to do is read on, and it's all yours.
Bundi's Adeventure: Why Does The Wind Move?