ALL of The Training, Systems & Support You Could Ever Need To Succeed As An Industry Expert Online
Being in business can be tough.  There is SO much to learn, SO much to do, SO little time - and sadly, SO many useless, waffly training programs out there that promise the world but end up leaving you feeling ripped off, even more confused and like you've royally had your time wasted.
But you still have to figure it all out and get stuff done if you want to succeed - right?
Creating your courses, coaching programs and membership academy; writing books and eBooks; setting up websites and marketing funnels; creating landing pages and email opt-ins; setting up tech like an online school and creating high-converting automated email sequences; having an online presence that increases your credibility, leads and sales and SO.MUCH.MORE.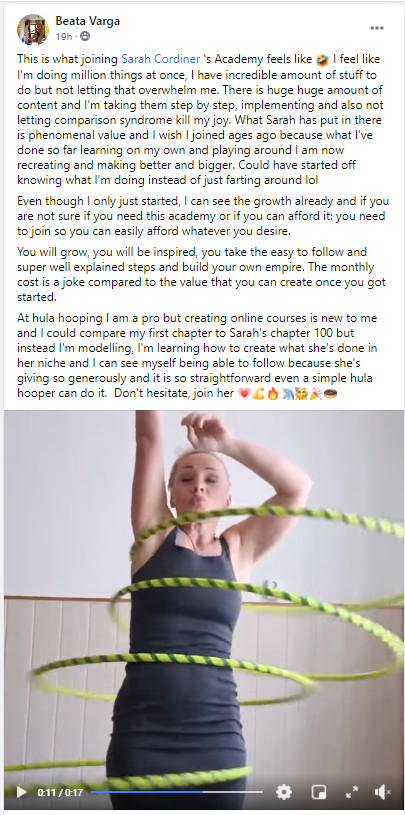 **SORRY! As of 1st July 2020, the free trial is no longer available 
What You Get As An Edupreneur Academy Member:
Not only do Edupreneur Academy members get full access to my best-selling online course "How To Create Profitable Online Courses", but my Edupreneur Academy members also get:
An e

xclusive, members-only,

LIVE group Q&A training call on Zoom with Sarah personally EVERY MONTH

for training workshops, Q&A sessions, review and feedback of your work!!

Full access to over 40+ of my other online courses (no drip release)

Access to any new online courses that are released with no extra charge

Exclusive members-only LIVE monthly group 'power hours' and virtual office, including timed/focused content creation sessions for accountability
A monthly updated 'Edupreneur Vault' of my Livestream tutorial recordings, Q&A session recordings and expert interview recordings every month

An exclusive online community for members to network, make friends, chat and share as your grow your businesses and digitised your expertise together

An eCopy of ALL of my published books (downloadable and printable)

Exclusive discounts to my coaching programs, done-for-you services, one-on-one coaching and live events

Monthly growth group challenges
Yes! I am ready to join a community of highly motivated entrepreneurs and start succeeding online!
What you get in your member's area immediately
Here Are Some Of The Online Courses and Books That Are Already Waiting For You In The Member's Area
$197 Inlcuded in membership
$497 Inlcuded in membership
$197 Inlcuded in membership
FREE Inlcuded in membership
$497 Inlcuded in membership
$97 Inlcuded in membership
$97 Inlcuded in membership
Free Inlcuded in membership
$47 Inlcuded in membership
$997 Master Training Inlcuded in membership
$197 Inlcuded in membership
$25 Inlcuded in membership
$140 Inlcuded in membership
$147 Inlcuded in membership
$1250 Inlcuded in membership
And new courses are being added Regularly...
40+ titles currently available!
EXISTING MEMBERS SIGN IN HERE
If you are already an Edupreneur Academy member, or have purchased any of my courses individually, you can access your courses here:
This Is THE Exclusive Community for Edupreneur's, Course Creators, Information & Knowledge-Based Businesses, Coaches, Consultants, Experts, Speakers, Education Professionals And Anybody Who Wants To Digitise Their Expertise For Maximum Profit & Income
A huge library of all-access online training, mini-courses, eBooks, challenges and LIVE coaching calls to help you:
ALL of the online courses and books listed below are INCLUDED IN FULL in the Edupreneur Academy members area.
You also get to join the exclusive monthly LIVE group Q&A training call with me personally, which is held in the second week of every month.
You can access your online courses at any time, take them in any order you like and are not restricted by any drip-release of content. It's all yours, right from day one of your membership.
Each of the buttons below shows you more detail about each course, as well as the normal price you would pay if you bought each course individually.
However, all Edupreneur Academy members get access to all of the courses and books below, as WELL as the monthly group coaching/training call with me for just $47 a month - cancel ANYTIME subscription.
Join today to access ALL of this for just $47!
Also, You'll Get This Exclusive Members Only Bonus!
live Q&A training call with me
$350 value
One of the most valuable aspects of being a member of my Edupreneur Academy is having live access to me every month to answer your most pressing questions, topical training, live tech demos and even reviews of your work!
Even more than having access to all the courses, other Edupreneur members say that the coaching call is what they get the most out of.
A 1-hour coaching call with me is usually $350 alone, so you are ALREADY getting almost SEVEN TIMES the value just from the monthly live Q&A training call with me each month!
Join me and the hundreds of other Edupreneur members and let's take your business, brand, impact and profits to the next level!
Everything You Need To Succeed Online
Get Full Access To The Edupreneur Academy
Members of the Edupreneur Academy get over 40 online courses, OVER 7 books and frequent challenges in all of the topics above to access anytime, in full, whenever they wish.
They include highly practical, follow along demo videos, explainers, templates, downloads, discussion areas and more.
You ALSO get access to future added online courses as part of your membership too at no extra cost.
There is ALREADY over $10,000 worth of online training openly available to all members of the Edupreneur Academy right now, and that grows all of the time at no extra expense to existing members.
**Please note that not ALL courses I publish are included in the Academy. My coaching programs are NOT included in the academy, my Virtual Assistant Marketing Instructions Manual and Advanced Email Automations courses are not in the academy.**
Edupreneur Academy Includes
Frequently Asked Questions
When you sign up, you will get immediate access to all training. Unless you cancel your subscription, you will then be automatically charged $47 (USD) per month. Your nominated payment method will be automatically deducted from once a month. You can cancel your subscription at any time from within your learning dashboard, but as soon as you cancel, you immediately cease to have access to all of your training.
Yes. You can cancel your membership yourself at ANY time from inside your own dashboard with no questions asked.
The first time you click to purchase your Edupreneur Academy membership, or start the 30 day $5 trial you will need to sign up and create your own login details.  As soon as you have started your $5 trial, or paid your first $47 you will have full access.  You will need to log in with your own log in details each time you access your training. It is recommended that you save the Edupreneur Academy to your favourites so that it is easy to find next time.  You will also be sent a welcome email with the link to your member's area for reference.
You get immediate upfront access to all content in full. There is no drip-releasing of content around here! Get stuck in!
No. You can purchase the online courses individually for a one-off fee. Simply go to my online school, click on the course images above to purchase them one by one. Note, if you purchase courses individually, you get lifetime access to the course. If you get the subscription, you only have access for as long as you are a member.
Not if you stay a member, no. Although the membership price does increase every year to reflect the huge additions of courses to the member's area, all existing members maintain their access at the same price FOR LIFE (as long as you don't cancel), and the price increases will only apply to new subscribers. If you cancel, you are then considered a 'new' member again and if the price has increased, your monthly membership fee would reflect the most up to date pricing. If you do not cancel, your monthly membership fee will be honoured for as long as you maintain the payments and include all future upgrades at no extra costs.
Yes. All members will have new courses and content automatically added to their member dashboard at no extra cost to their monthly subscription.  New courses are not released monthly however.