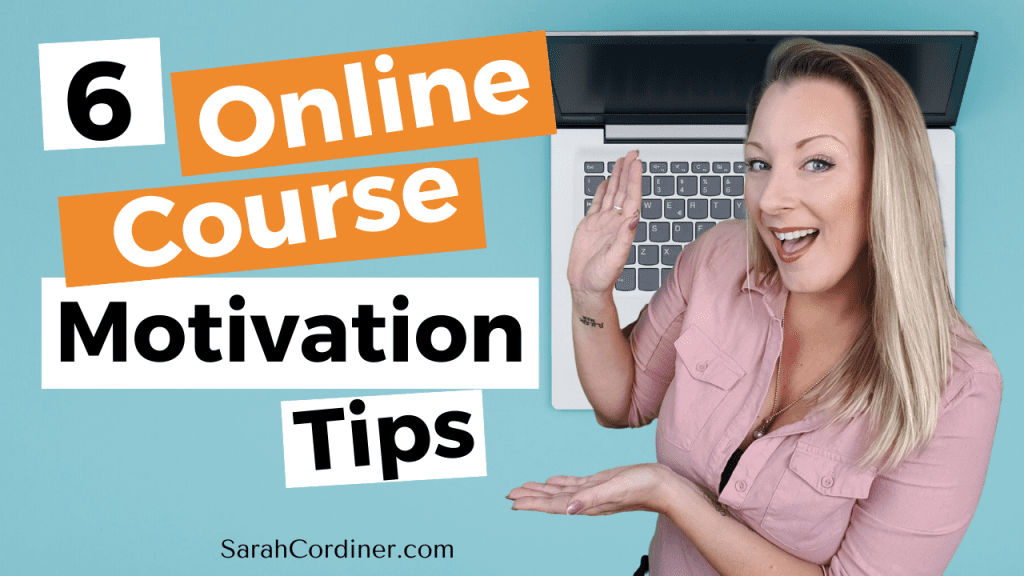 6 Tips for Online Course Creation Motivation
6 Tips for Online Course Creation Motivation
Thank you to those who answered the 2 questions on my quick survey last week.
I aim to answer as many of your questions as possible over the next week – and have started today with this video (below).
Most of the questions fit into the 4 main phases of creating an online course (which I detail in the video below). 
However, there was one group of questions that come one stage BEFORE creating your online course.
These questions included:
"Is creating an online course really worth it?"
"I feel overwhelmed about even getting started – how can I get motivated to start creating courses?"
"I think I need some guidance around my course creation mindset, I really want to do this but keep procrastinating and letting everything else take priority and I'm not sure why"
I have recorded a video today that aims to answer these questions, give you a dose of course creation motivation and help those of you who have been thinking about creating a course to overcome your procrastination and put it to the top of your list before the year is up!
In this video, I share:
 6 x online course creation motivations, AND
Some tips for overcoming the top 3 fears and causes of course creation procrastination that I saw coming up in the survey results
If you have any further questions or comments, do leave them in the comments below, or message me here.
Summary of main video points
If you are a 'global' learner type, and prefer to just skip to the main points, here is a summary of the main points in my vidoe and the exact time at which that point in the video starts so that you can fast-forward to the points you are most interest in.
[06.20] Course Creation Motivation 1: Scale your business
From one on one to > one to MANY
Impact unlimited people
Go global instantly
Bigger market
Millions of people at the same time without any extra work or overheads
[10.06] Course Creation Motivation 2: Make more money
More people means more money
It's a commercial product
It doesn't need you to be present
Passive (you don't do anything!)
Subscriptions / mega-launches / evergreen
 
[14.37] Course Creation Motivation 3: Build your email list
Your email list is a business asset
Can be a cheap or free lead magnet
Highly targeted leads
Immediate value provision
Have it as a pop up on your website
Give away on podcasts, blogs, social media, conferences etc
 
[17:45] Course Creation Motivation 4: You'll get have more time
No longer exchanging your time for money
Less labour-intensive services, more passive course sales
Serve the people who can't afford you usually
No more 'picking your brain over a coffee'
 
[20:30] Course Creation Motivation 5: Become an industry authority
If you are teaching something, you automatically position yourself as a 'leader' or 'expert'
You are 'showing' your expertise rather than promising it
 
[20:46] Course Creation Motivation 6:
Multiply your content 
 
Your course can be repurposed into many other income generating, authority positioning products and services
Books, eBooks, membership academy, Bootcamps, keynotes etc
[23:52] There is No Reason NOT To Do It!
If you want any of this, creating your online course will make it happen:
 
More time
More money
Help more people 
Make a bigger impact 
Leave a legacy
More products to sell
More authority and credibility
Go global
Bigger audience
[26:19] Course Creation Fear-Busting 1: I'm Overwhelmed / Where do I start?
Don't focus on the end product
There are just small, simple steps
Nothing is 'born' in its 'adult' form
It's an evolutionary process that comes in stages
Follow the given and proven process one step at a time
[30:42] Course Creation Fear-Busting 2: Judgement, criticism, imposter, I'm not good enough
You are only teaching what you DO know (not what you don't)
You are only teaching those who DON'T know it yet
To every 1st grader, a 4th grader is an expert
Intelligent people doubt themselves the most
You must call yourself an expert in order to become one
You've been training for this your entire life
 
[34:47] Course Creation Fear-Busting 3: What if nobody buys it? / What if they think I'm boring?
You have 100% chance of it not selling if it's not created 
Market research and beta-testing a pilot version
It's not just about content – you may just need marketing help
Like attracts like – you can't make everyone love you
There are 'people' out there for everyone – you can only find your tribe by being yourself
They way YOU explain it is unique (ignore comp)
 
HOW TO GET IT DONE, NOW!
[39:41] Set yourself some non-negotiable goals
What will you win if you DO?
What will you lose if you DON'T?
 
Plan, design, film, publish your course in 30 days
Online learning portal and tutorial videos
Live Q&A group coaching video call weekly
Private members-only Facebook page
One on one coaching session (PLUS only)
Step by step process guides, checklists, swipe files and templates + more
Launch your online course before Christmas!
 
REGISTER / LEARN MORE HERE: >> www.sarahcordiner.com/doit