JOIN THE LAST "COURSE CREATION LIVE GROUP COACHING PROGRAM" OF 2019!
LAUNCH YOUR ONLINE COURSE FOR CHRISTMAS! 30 DAY ONLINE COURSE CREATION - LIVE GROUP TRAINING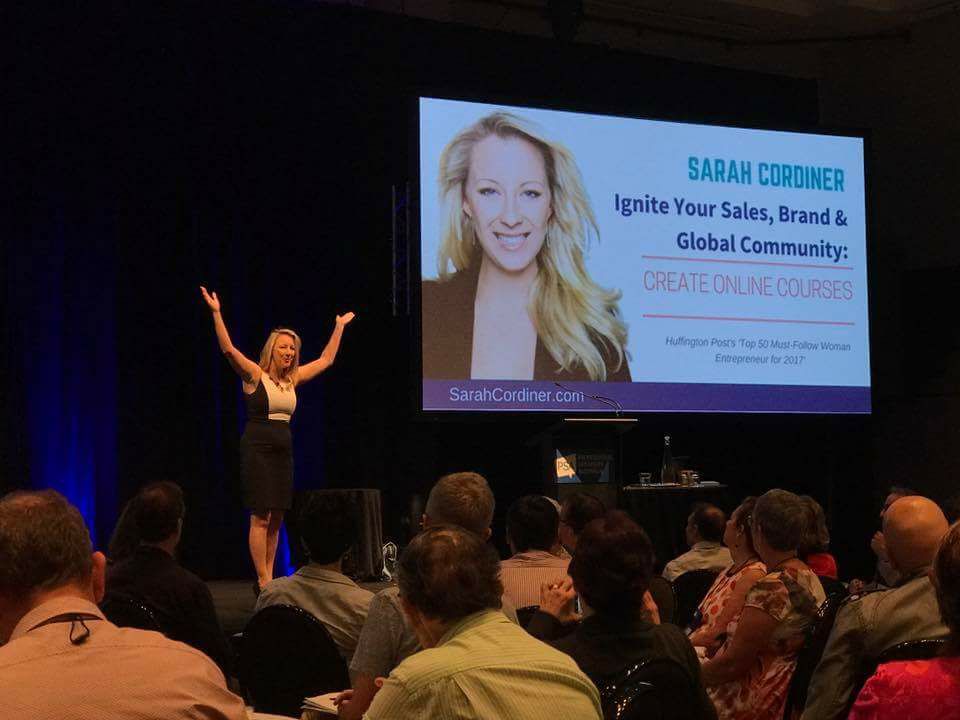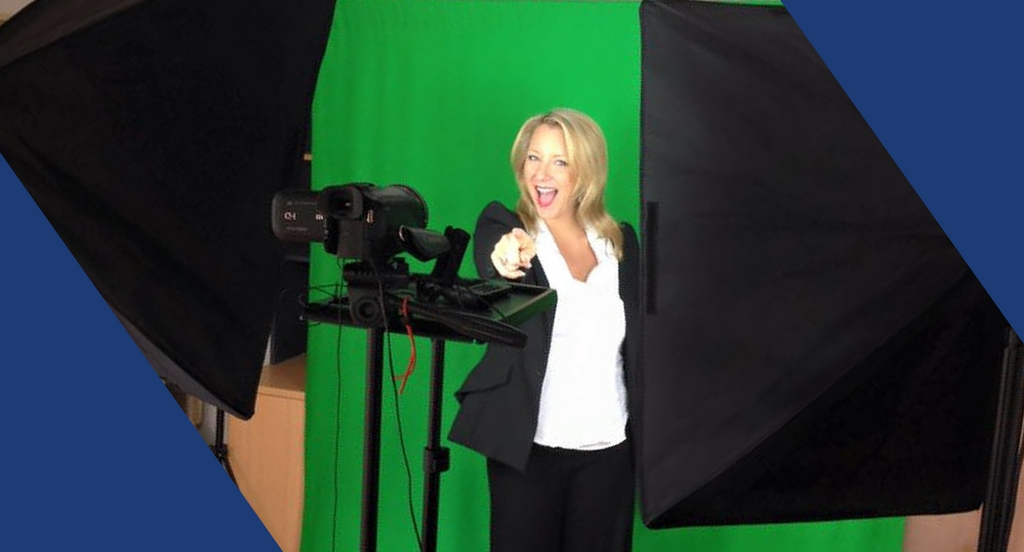 12 years ago I qualified as a teacher trainer (BA Hons Degree in Education) and started what went on to become a highly-successful international education and training company.
Since then, I have taught over 20,000 entrepreneurs, speakers, authors and enthusiasts from across the globe, how to turn their knowledge, expertise and life experiences into profitable online courses.
Many of these people have gone on to create multiple courses, established a highly lucrative passive 'side income' and even turned their courses into published books, eBooks, high-ticket training programs and top-end keynotes as further expert-positioning income streams.  
My 'Course Creation Group Coaching Program' combines practical, step-by-step guided 'watch and replay' video tutorials;
Provides downloadable cheat sheets, checklists, landing page and email swipe file templates and 'quick course creation templates';
AIt ALSO provides live, personal, hands-on coaching and guidance from me personally from beginning to the day your course goes live..... and more....
TICKETS GO ON SALE: 25th October 2019
TICKET SALES CLOSE: 30th October 2019
Training starts on 1st November 2019! Limited places!
TIME REMAINING UNTIL COURSE CREATION KICK-OFF:
My next live group coaching program starts on 1st November 2019; where I will personally coach and mentor a small group of you over a 30 day period to get your online course created and LIVE before Christmas!!  
The 30 day Course Creation Group Coaching program includes:
Group training over 4 weeks (delivered online via pre-recorded tutorials + live video coaching calls + live streams + online learning portal + secret Facebook group)

Lifetime access to a self-study video course that accompanies the live training 

A private Facebook group for the participants and weekly Livestreams - lifetime access

Daily accountability emails and progress actions 

LIVE weekly group coaching and Q&A calls with Sarah Cordiner to ensure that your online course is ready to make you money for Christmas! (plus more bonuses and goodies)

Step-by-step process sheets, Checklists, swipe files, email sequence swipe file, landing page copy template and more 'quick course creation' dosuments

Plan, design, create, film and PUBLISH your online course by Christmas 2019!!

and more........... (keep scrolling)
ONLINE LEARNING PORTAL & VIDEOS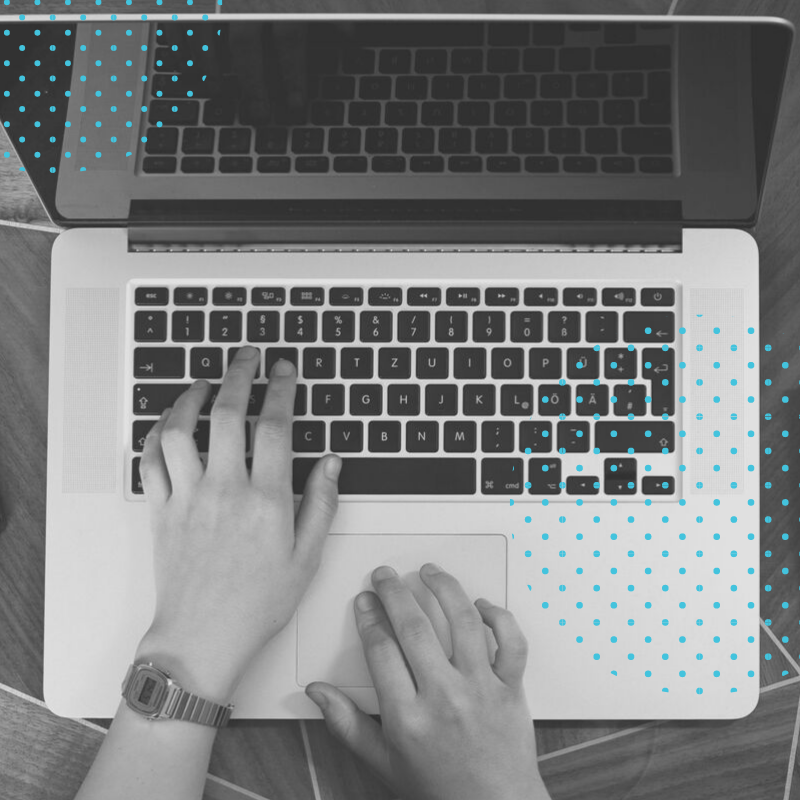 MEMBERS-ONLY  FACEBOOK GROUP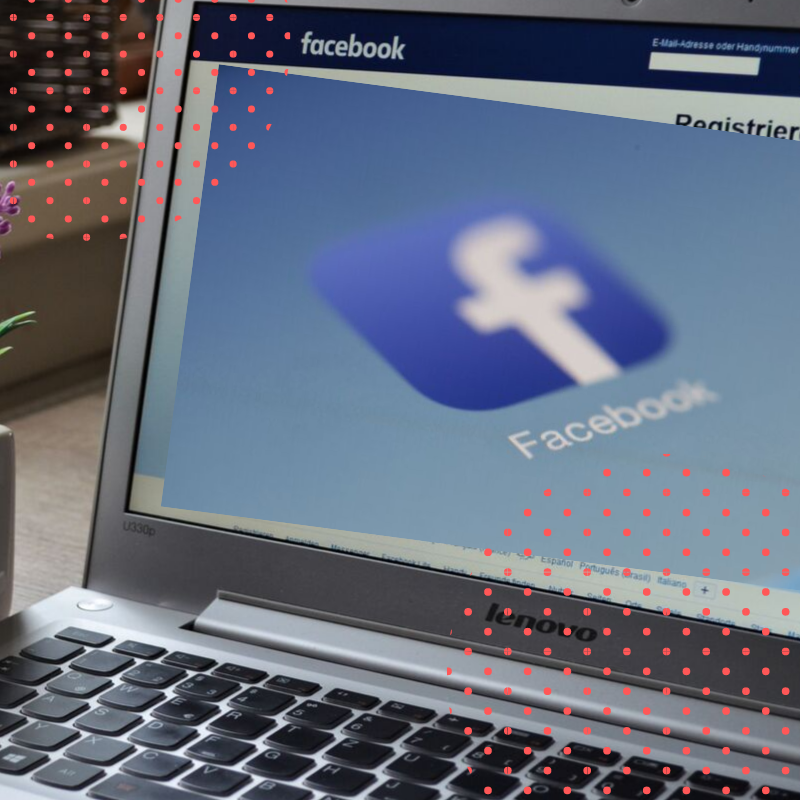 LIVE Q&A VIDEO CALLS WEEKLY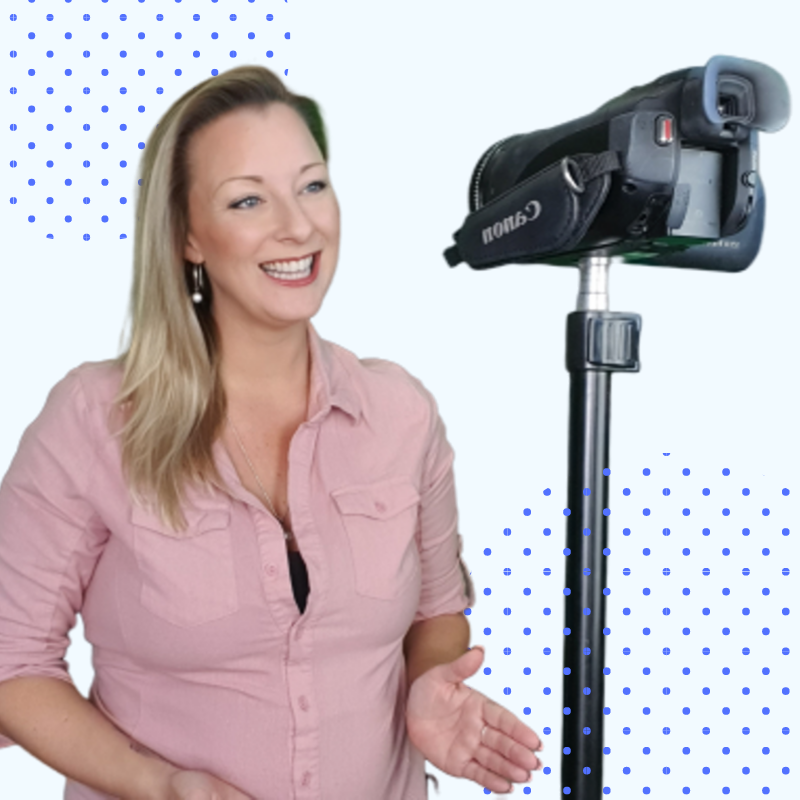 CHECKLISTS, SWIPE FILES, TEMPLATES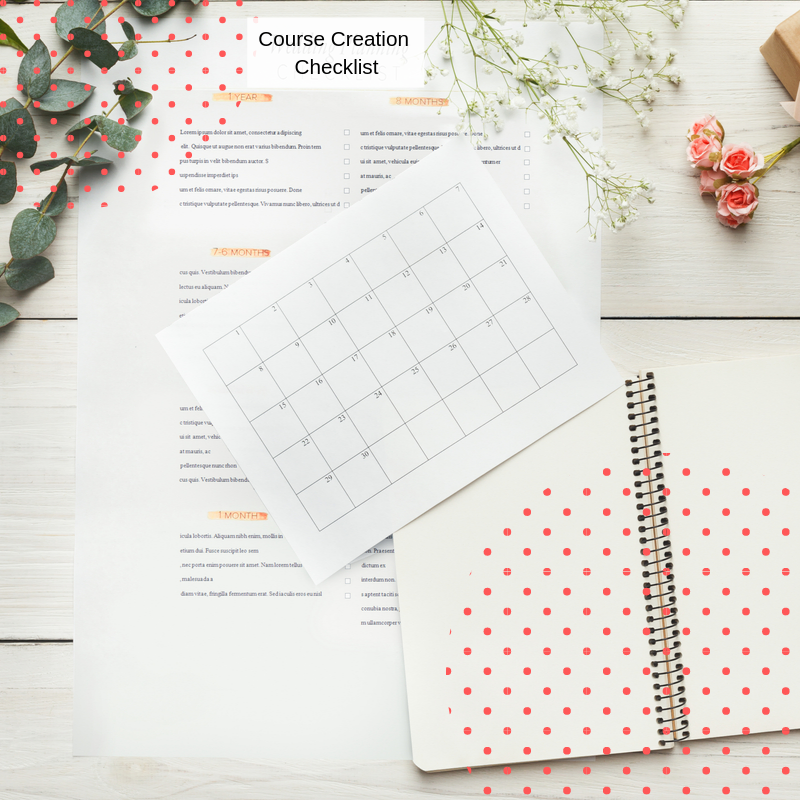 LAUNCH YOUR COURSE BY CHRISTMAS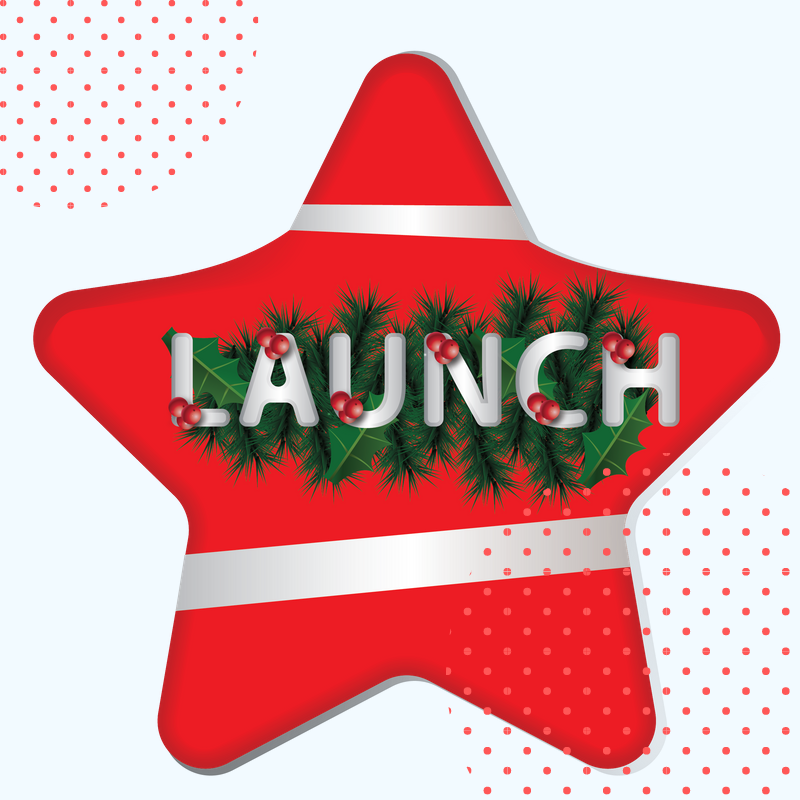 WHAT YOU GET IN THE COURSE CREATION COACHING PROGRAM
There are two options for the group coaching program participants to choose from:
OPTION 1: Standard Package
Your 'Course Creation Group Coaching Program' Schedule:
WEEK 1: PLAN AND PROFIT
1st November - 7th November 2019
Join the SECRET Facebook Group - Coaching members ONLY

Plan & Profit Checklist

Pick the perfect topic for your online course (+ topic selection worksheet)

Ensure your course has high market demand - build a course that will SELL! (+ Market research checklist + survey & email swipe file)

Maximise your business model profitability with online courses (+ profit package template)

Week 1: LIVE COACHING CALL
Get It Done!
WEEK 2: COURSE CONTENT
8th November - 14th November 2019
Quickly and easily get your course content together (+ process guide + worksheets)

Structure your online course modules and lessons (+ worksheet)

Complete your online course outline (with download template)

Course content creation checklist

WeeK 2: LIVE COACHING CALL
Get It Done!
WEEK 3: COURSE TECH SET-UP
15th November - 21st November 2019
Course technology flow chart + checklist

Film your online course videos - even on a budget

Set up - and OPEN - your online school (step by step guided walkthrough + Checklist) (**Thinkific)

Publish your landing page - use my course sales page swipe template

Set up your automated student emails (step by step setup walkthrough AND email swipe copy) (**Active Campaign)

Week 3: LIVE COACHING CALL
Get It Done!
WEEK 4: COURSE LAUNCH
22nd November - 30th November 2019
Publish your online course! (+ 'final check' checklist)

Online course launches, marketing and promotion strategies

Course marketing strategies & ideas list + planner template

Week 4: FINAL LIVE COACHING CALL

Then >>> YOUR COURSE IS LIVE!!!! 😀
Get It Done!
TICKETS GO ON SALE: 25th October 2019
TICKET SALES CLOSE: 30th October 2019
Training starts on 1st November 2019! Limited places!
It's time to master the art of online course creation and
FINALLY GET YOUR ONLINE COURSE COMPLETED AND OUT TO THE WORLD.
Don't waste anymore of your precious time 'thinking' about it and wondering how to start - when you can FINISH it before Christmas!
Start The New DECADE With a Course To Be Proud Of!
How long have you been thinking about creating your own online course for?
A few weeks, months, YEARS?
ALL THOSE THINGS STOPPING YOU, ARE THE PROBLEMS THAT CREATING YOUR COURSE WILL SOLVE!!
Let me guess, there are SO many reasons why it's still on your to-do list....(comment below if any of these are true for you, or if there is another reason for you):
You don't have time / you're too busy

You're scared of / confronted by the tech

You get totally overwhelmed by how much content you have to sort through, what order to put it in, how to structure it

You're worried about wasting your limited time creating something that nobody will buy or subscribe to

You're hesitant to spend any money on the creation and launch process (such as software and equipment) when funds are low and the ROI is uncertain

You just can't get yourself 'in the zone' because life is so full of demands and distractions

You just get lost even knowing where to start, so keep putting it off 'for later'
Or maybe, you're just feeling flat, uninspired, demotivated and tired of your business right now and can't find the motivation to get bothered
- it's been a long, battle-infested year, right??
Sound familiar? I know, I was there once too.
BUT ironically - creating your online course is the solution to smash all of the above issues.
Your new online course will:
Create a new income stream for you

Save you endless hours of your time

Allow you to offer something to those customers who prefer to 'DIY' or can't afford your high-end services'

Give you another way to help people without having to exchange your time for money or take on more service customers

Establish and enforce your credibility

Build your email list

May even just save your business from failure if you're balancing on the edge right now - just like they did for my company back in 2015 
NOT prioritising your course creation to get finished this year is going to ENSURE that you STILL have all of these problems NEXT year (next DECADE)  too (noooooo)!
DO NOT LET THAT HAPPEN.
COMMIT to solving your problems

COMMIT to achieving your goals

COMMIT to hitting your once-set targets

COMMIT to finishing your first (or next) online course BEFORE this year is out, and to start the new decade proud of yourself, motivated and excited about your new business potential

COMMIT to joining me and your course creation teammates in this last Course Creation Group Coaching opportunity of the year.
This is your LAST chance to do it this DECADE!
How much longer are you going to let all of that passive income sit idle on your to-do list for?
Long enough for regret to takeover? (Already chewing at you, isn't it?!)
Long enough for your COMPETITORS to takeover? **aarrgghhh**
Your audience deserve the information that's locked up in your head and they are ready and willing to pay you for it.  Your bank account deserves to get the benefit from getting your course created too!
It's going to be impossible to let your course go 'uncreated' for another day longer for those action-taking few who join in this last, limited-space Course Creation Group Coaching Program of 2019!
TICKETS GO ON SALE: 25th October 2019
TICKET SALES CLOSE: 30th October 2019
Training starts on 1st November 2019! Limited places!
Action-Takers are Money-Makers!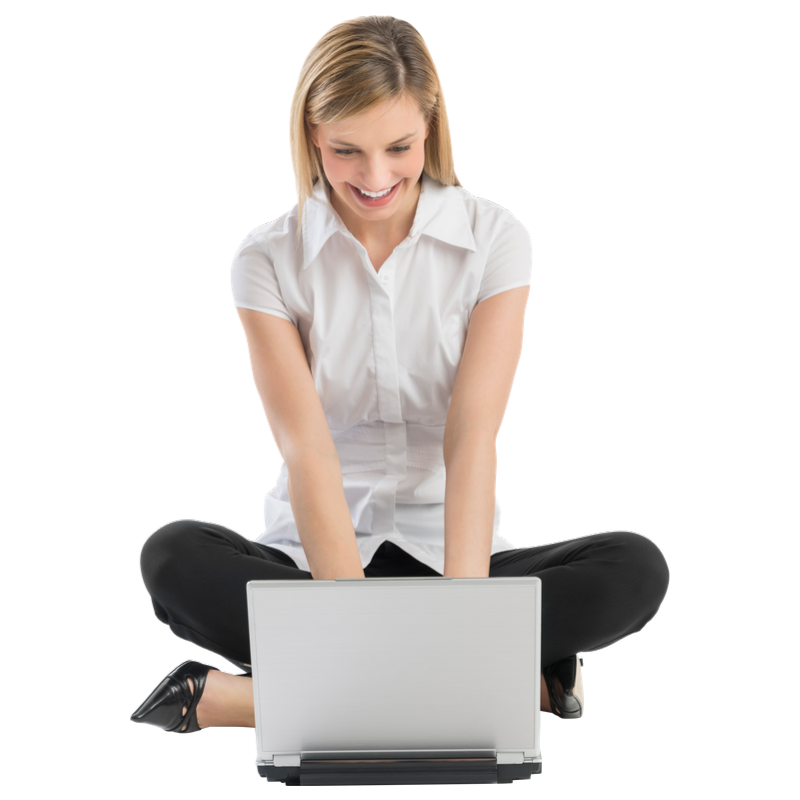 When you have created your online course, and published it on 1st December with the rest of the group, you will:
Have an income-generating product that sells itself

Be able to serve a lot more people and thus massively scale your business (there is no limit to how many people can enrol in your online course at any one time)

Have a product that you can use to generate leads with by using it as your 'lead magnet'

Be able to help those people who cannot afford your usual product and service prices by using your course as your entry-level priced option

Have a product to sell from podcast interviews, from stages and from your website, blogs, videos, articles and social media

Have a product to give away or sell at conferences and expos as a lead magnet

Use your course to increase your speaking fees by including it in your tickets

Use it to add value to your other package offerings

Include it in or with your books

Turn your online course into a published print book and eBook 

Establish yourself as an expert in your field automatically by having a published online course in your topic - teachers as seen as leaders
Use it as your leade magnet, side-hustle or main income
JOIN THE MULTI-BILLION DOLLAR ONLINE COURSE INDUSTRY
This is Your Chance to GET IT DONE!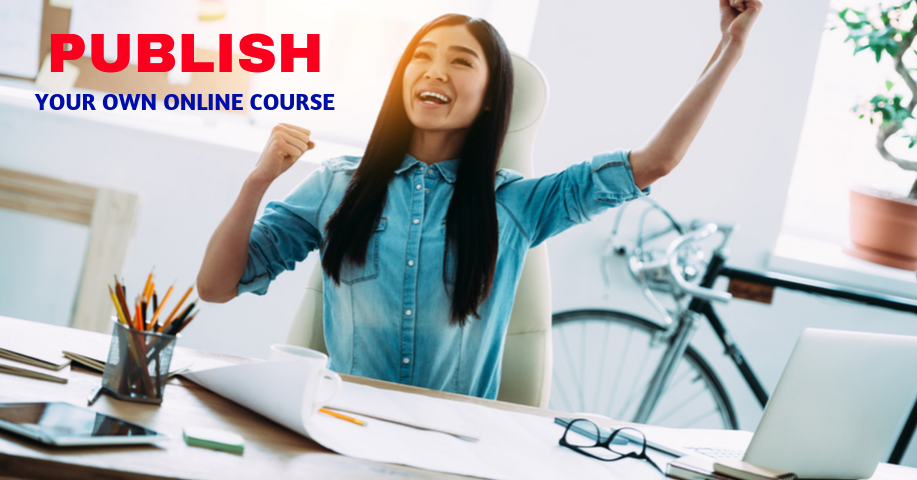 This practical, immersion 'get-it-done' group coaching program will take you through every single step to:
design and create your own engaging and profitable online course

build your own online school

and FINALLY get your online course published, helping your customers and making you money
The online self-study version of this program has helped over 15,000 entrepreneurs, authors, speakers, experts and professionals like you,
to turn their knowledge, expertise and hobbies into passive income-generating online courses.
This is YOUR chance to do it too!
If you're ready to get your online course out of your head and into the world to finally start making you a bigger impact and a bigger income, this program will take you there -
WITH Sarah Cordiner holding your hand and guiding you and your course creation group-mates through every step of the way.
Are you a total beginner with no idea what you even want to teach yet?  I've got you covered!

Or are you an experienced expert in your field? I've got you covered!

Or maybe you're somewhere in between? I've got you covered!
This live (online) group coaching program has everything you need, to turn your online course into reality by Christmas 2019!
If you are interested in reserving one of the limited places, getting the pricing or more info for the LAST group course creation coaching of 2019, o register before 30th October 2019.
TICKETS GO ON SALE: 25th October 2019
TICKET SALES CLOSE: 30th October 2019
Training starts on 1st November 2019! Limited places!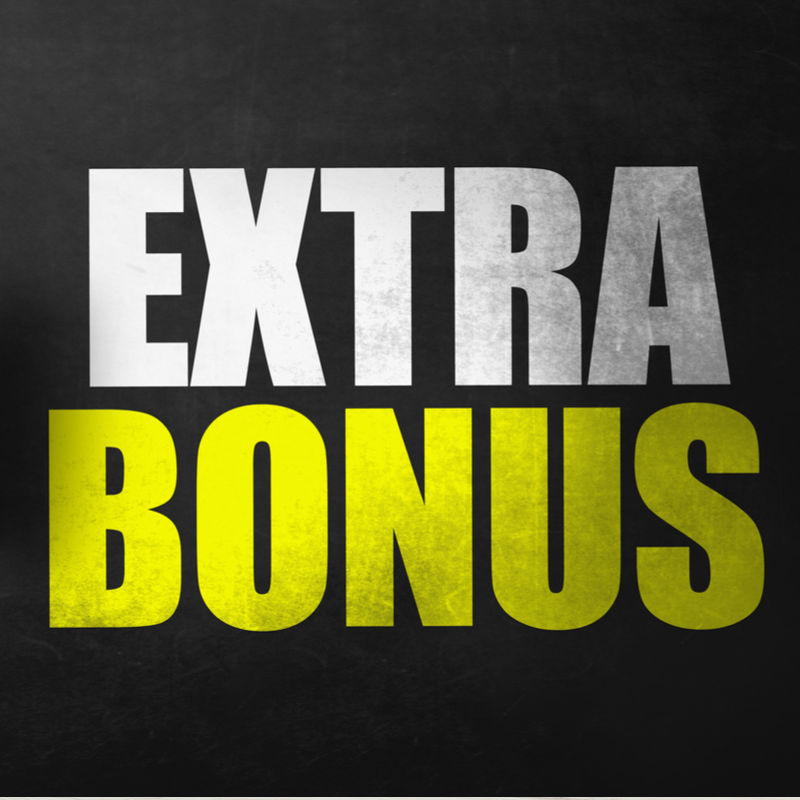 BONUS DISCOUNTS FOR EXISTING STUDENTS & MEMBERS:
If you are currently a paying member of Sarah Cordiner's Edupreneur Academy, or have previously purchased one of Sarah's online courses, you are entitled to a massive 50% loyalty discount IF YOU BOOK YOUR PLACE BEFORE MIDNIGHT ON 27TH OCTOBER!
Existing PAYING academy members: get 50% discount on either package

(must have been a member for at least 3 months)

PAYING Course students: get 50% on either package

(must have paid for a course)
REMEMBER: The discount is only available for those existing students, who book before midnight on 27th October.
Enter your details below to reserve your place get more information and pricing for the LAST group coaching course creation program of 2019! 
(PS: It'll be the last one for at least 6 months, as I am about to have a baby! So DON'T MISS OUT ON THIS LAST OPPORTUNITY FOR A LONG TIME!)
ABOUT YOUR TRAINER SARAH CORDINER (PGCE & BA HONs Ed)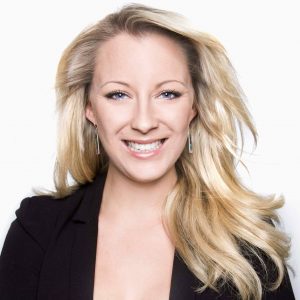 Hi there, I'm Sarah.
I am a Postgraduate qualified education professional with over 13 years of experience as a qualified teacher, trainer, curriculum developer and education leader.
In this 4 week 'Course Creation Group Coaching Program' I am going show you exactly how to create your course so that you are equipped with these talents FOREVER;
AND I am also going to MAKE YOU DO IT so that you finish the program on 1st December having ticked this online course creation task OFF of your 'to­-do' list!
I am going to give you all of the hands-on training, support and coaching to enable you to PUBLISH your online course on 1st December 2019 so that it is finally DONE.
YES, REALLY.  No more procrastinating for you! I am going to (really kindly and supportively) kick that online course out of your butt. 
For those who like to 'do their homework' to ensure that I'm not one of those dodgy online marketing chumps who once watched a YouTube video and now calls themselves a 'Course Creation Coach', you can check out some of my work history on LinkedIn - you'll note that I have been working as a leader in the education and training sector for well over a decade and even have some of those bits of expensive paper to go with my years of practical experience. 
Somebody once even let me run an entire UNIVERSITY by myself - I'm a grown-up Course Creation Coach, and can assure you that you are in exceptionally good hands - even if I do say so myself 😀
I am an ex-university 'Executive Director and Head of Campus' and was the most senior leader of one of the most remote university campuses in the world - a university that was ranked number 1 in Australia at the time of my leadership.
I am also the CEO of an award-winning international education and training company which has designed, developed and delivered training and education (accredited and non-accredited) to thousands of learners across the globe - including small businesses, colleges, registered training organisations, universities, schools, ASX and Fortune 500 companies and State and Federal Governments.
Over the past decade, I have helped tens of thousands of course creators and who I call 'Edupreneurs' to create and sell their own engaging online courses and build successful education-based businesses.
I have a BA (Hons) Degree in Education, a postgraduate Degree in Education, a Diploma to Teach and Certificate in Training and Assessment. 
These qualifications combined with the practical experience of teaching, training and building a highly successful education services company can assure all of my students that they are in great hands.
Sarah Cordiner was listed as "Huffington Posts' 'Top 50 Must-Follow Female Entrepreneur for 2017'
Postgraduate qualified in Education
Over 13 years running an international education & curriculum design company
Acclaimed leader in 'profitably educating your marketplace'. 
Sarah is a 5 times international number 1 best-selling author in the topics of education, training, course creation and building successful education-based business
Sarah is the content creator and TV host of the 'Course Creators' TV show on 'Bizversity'
Podcast host of 'The Course Creators' Podcast
Over 15,000 students in 146 countries and multiple awards - Sarah combines education and entrepreneurship to help ANYONE commercialise and monetise their expertise.
Sarah is a 5-times international number 1 best-selling Author in education, course creation and education-based business development
"The Educator's Educator; Sarah is the absolute best in the business"
What some of Sarah's clients are saying about their Course Creation experience with her:
REVIEWS AND TESTIMONIALS OF THIS COURSE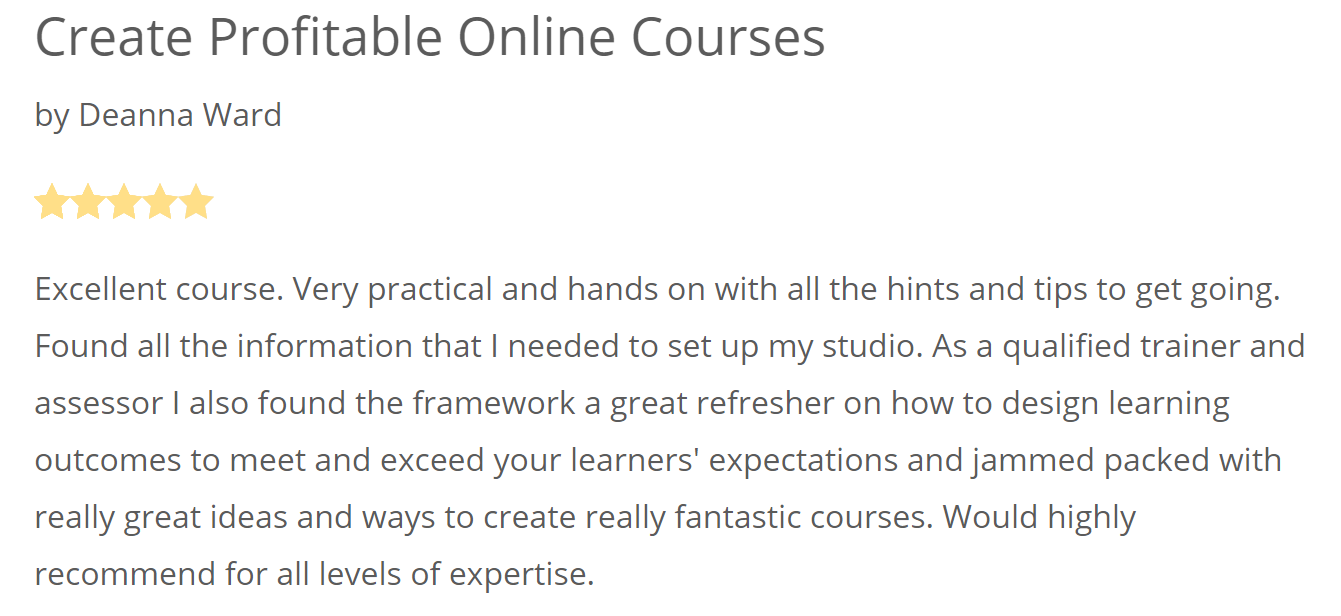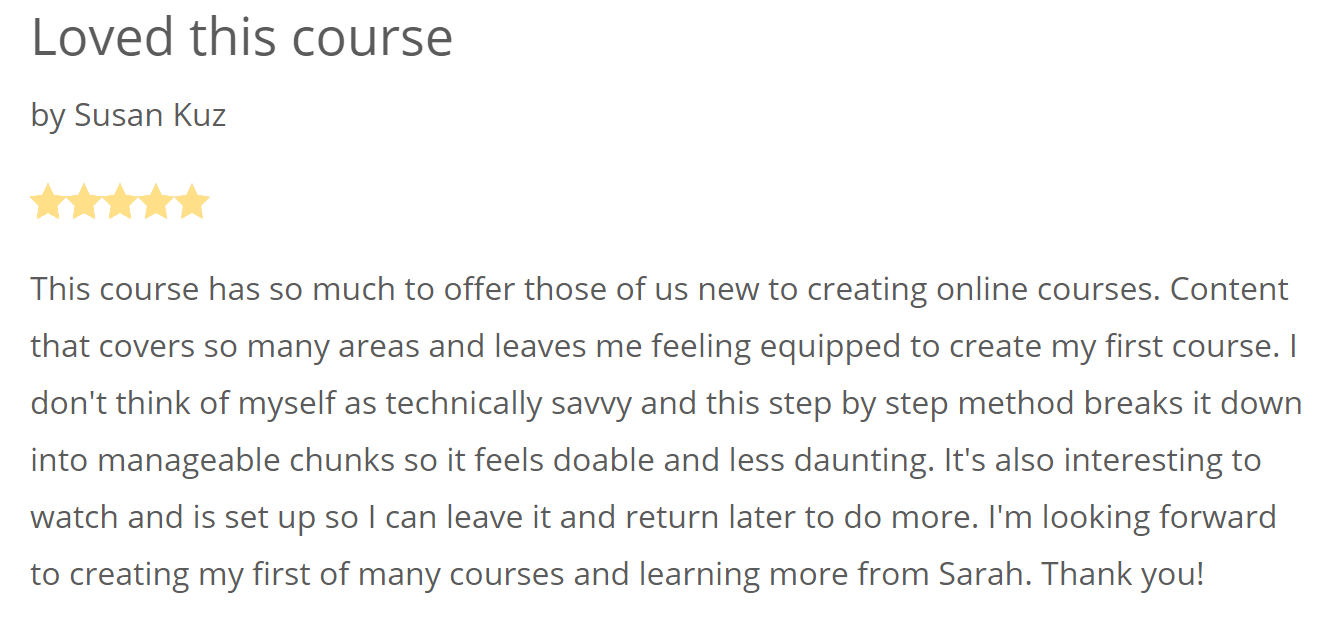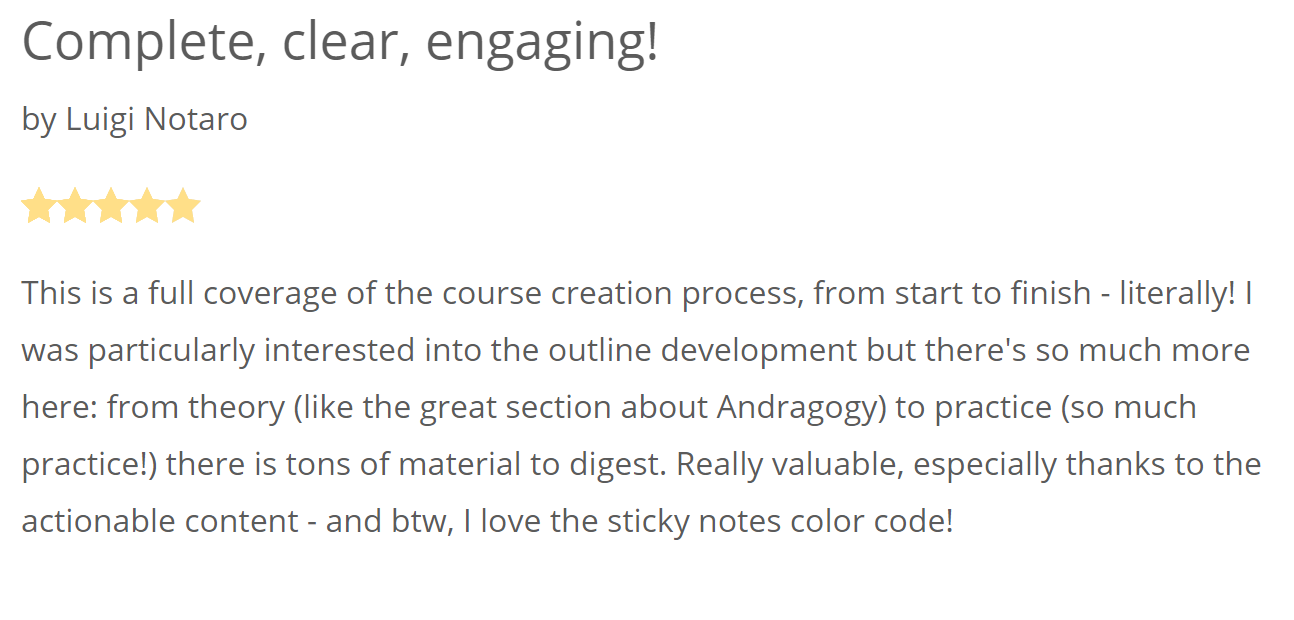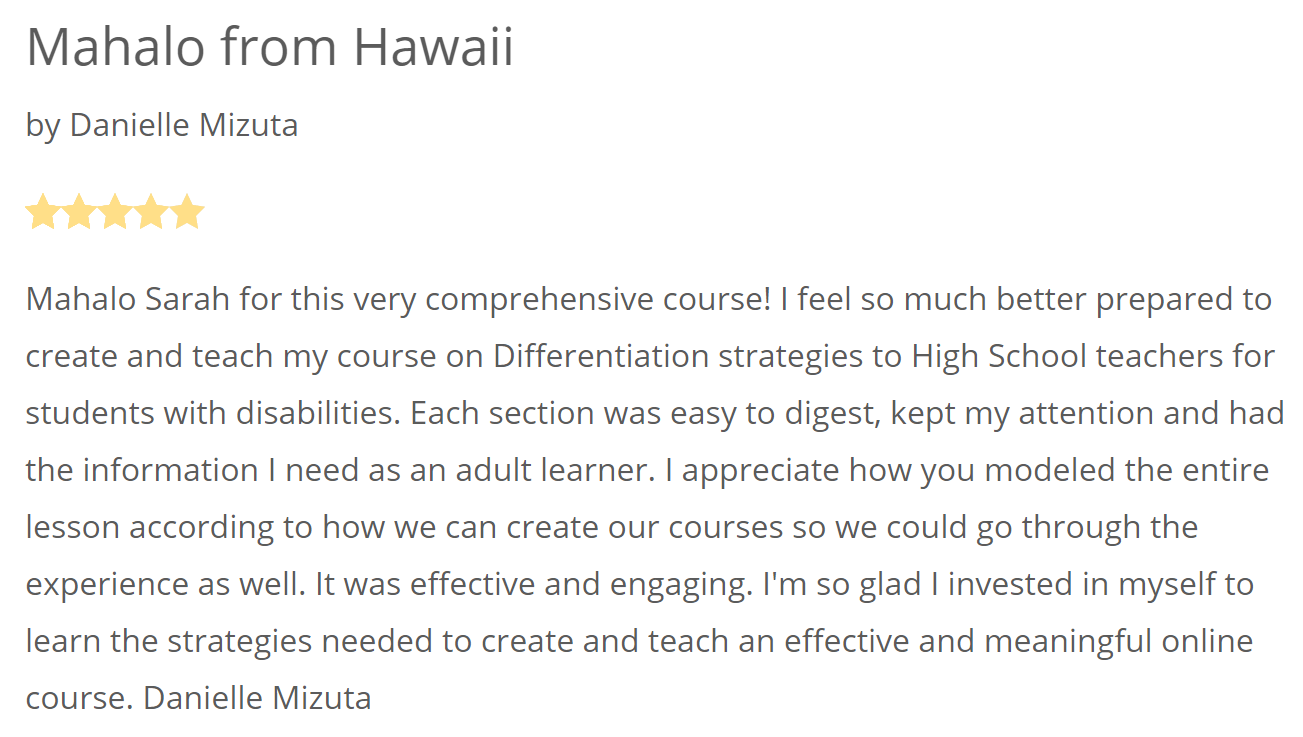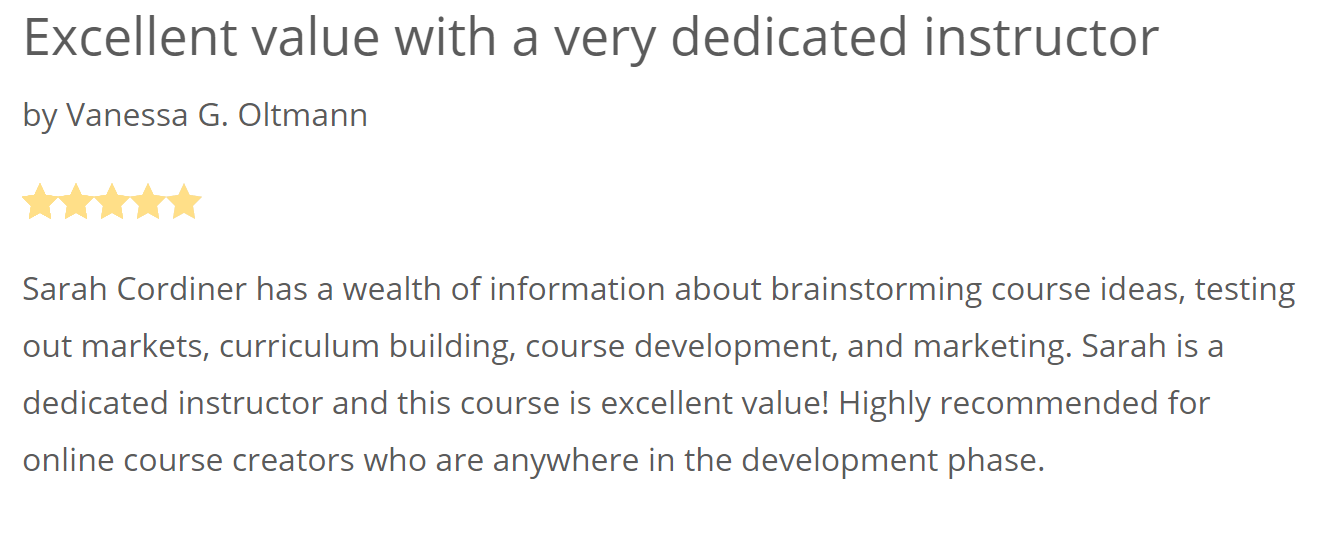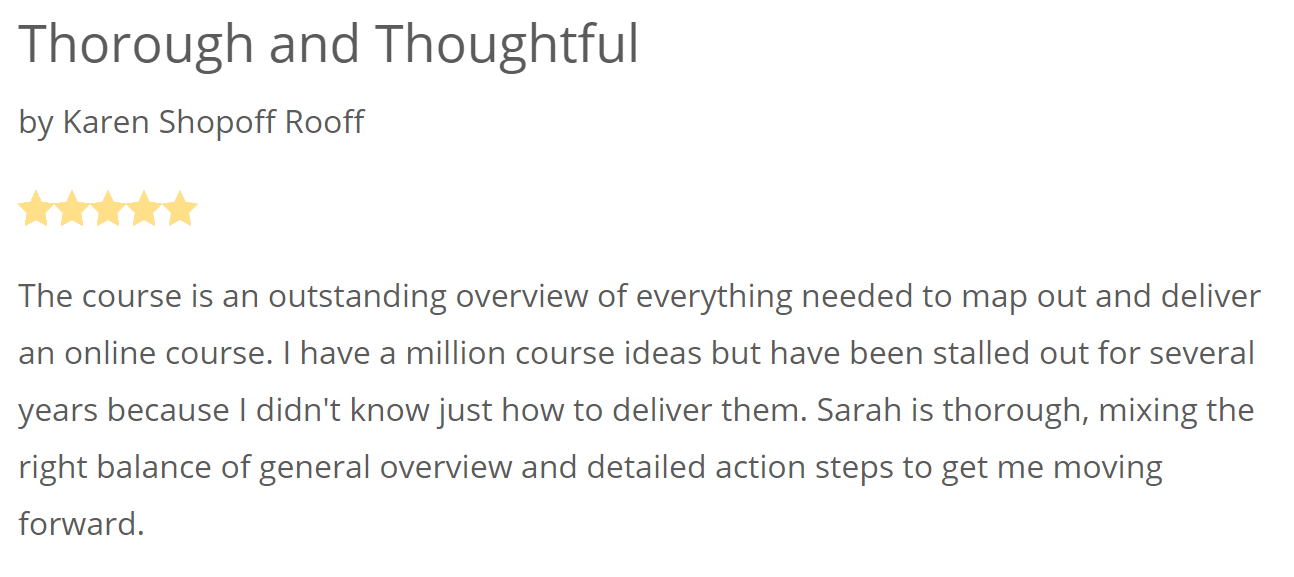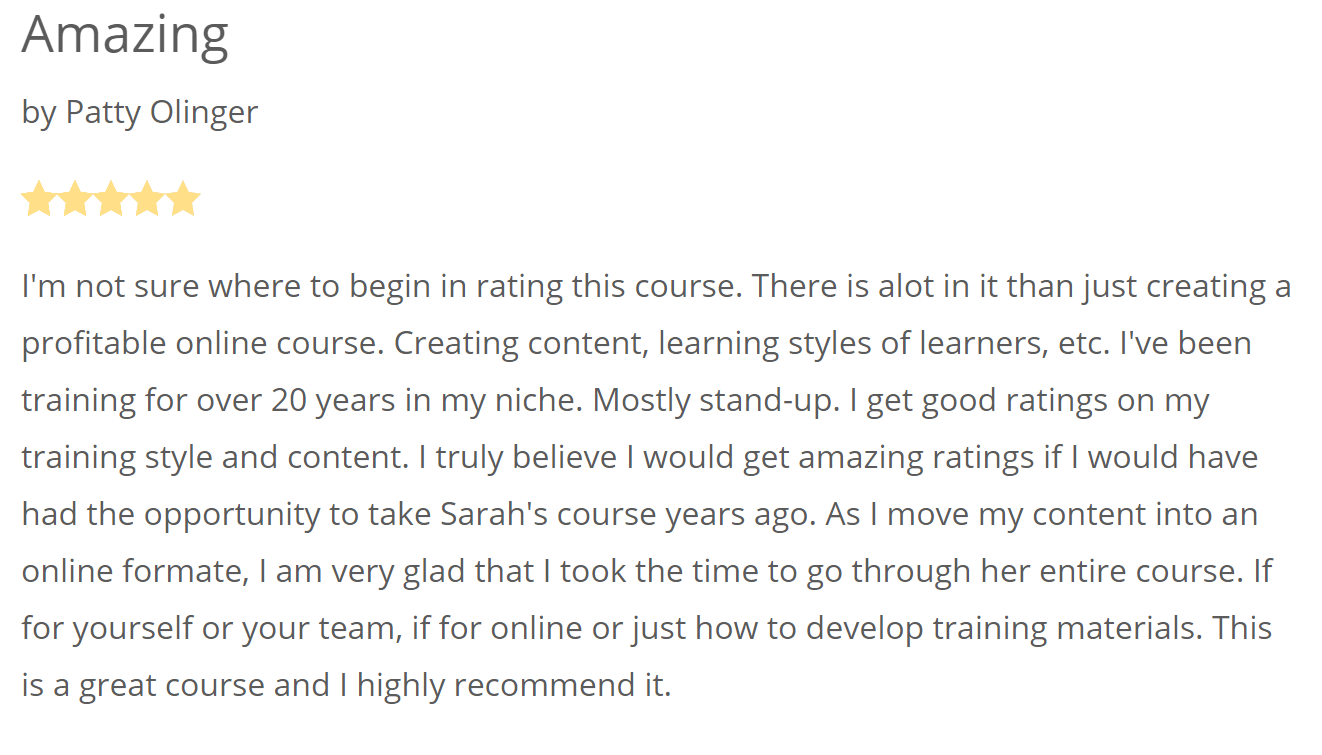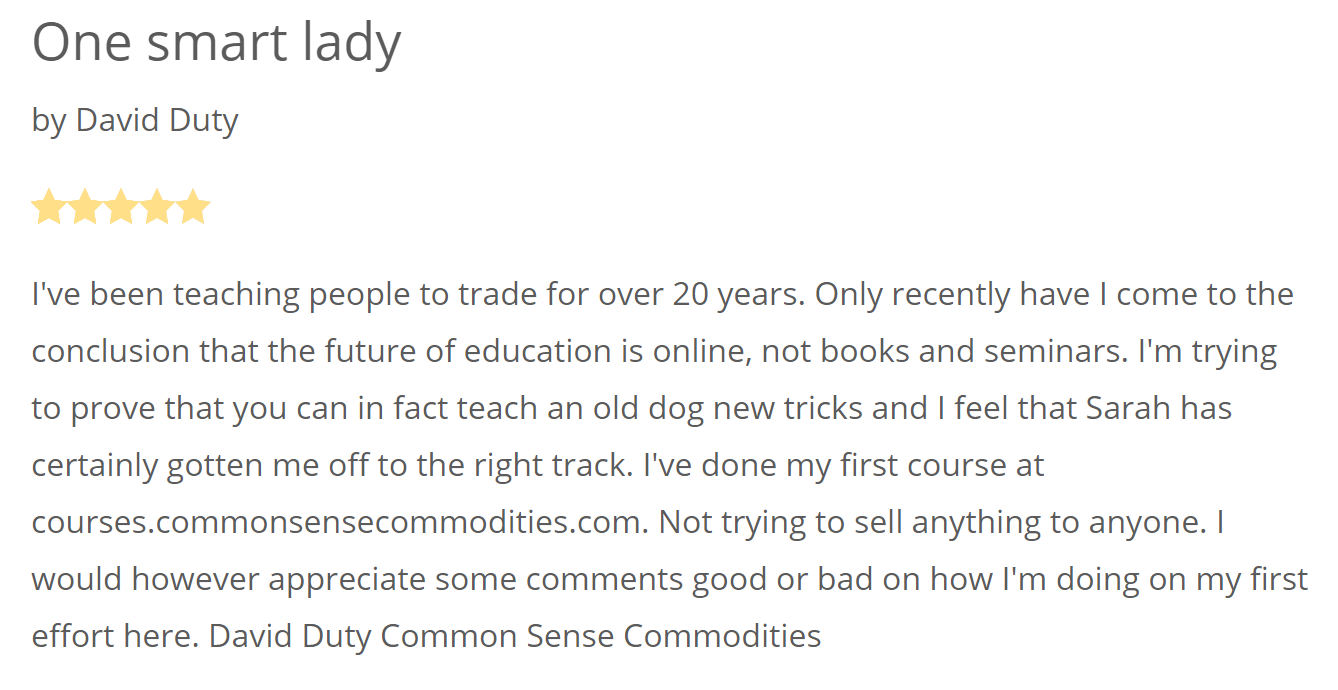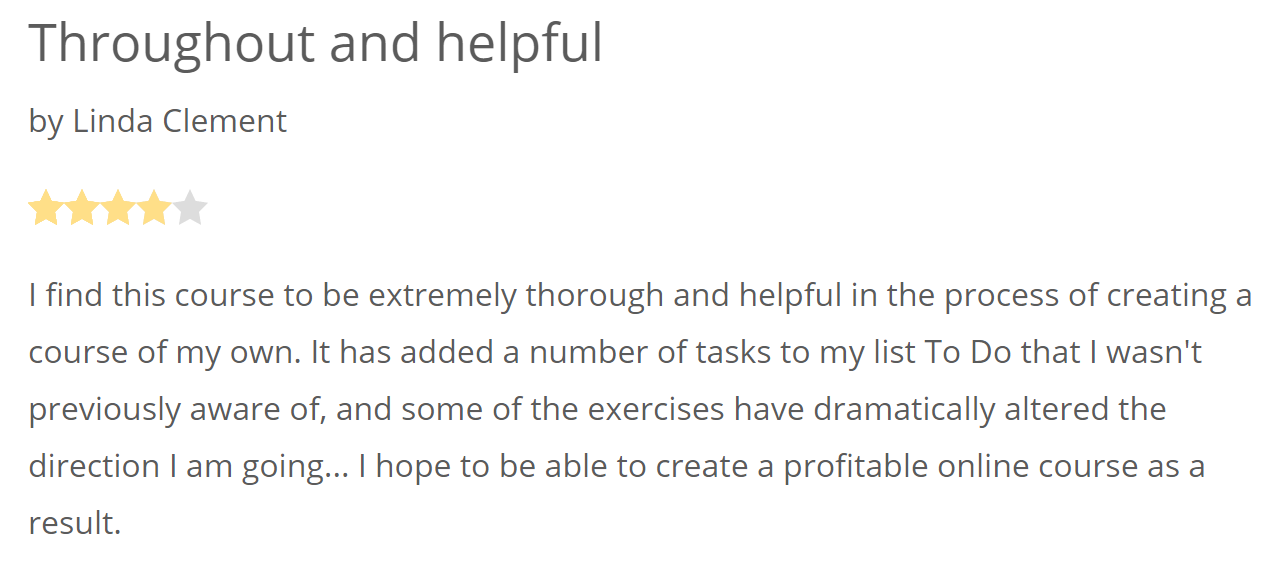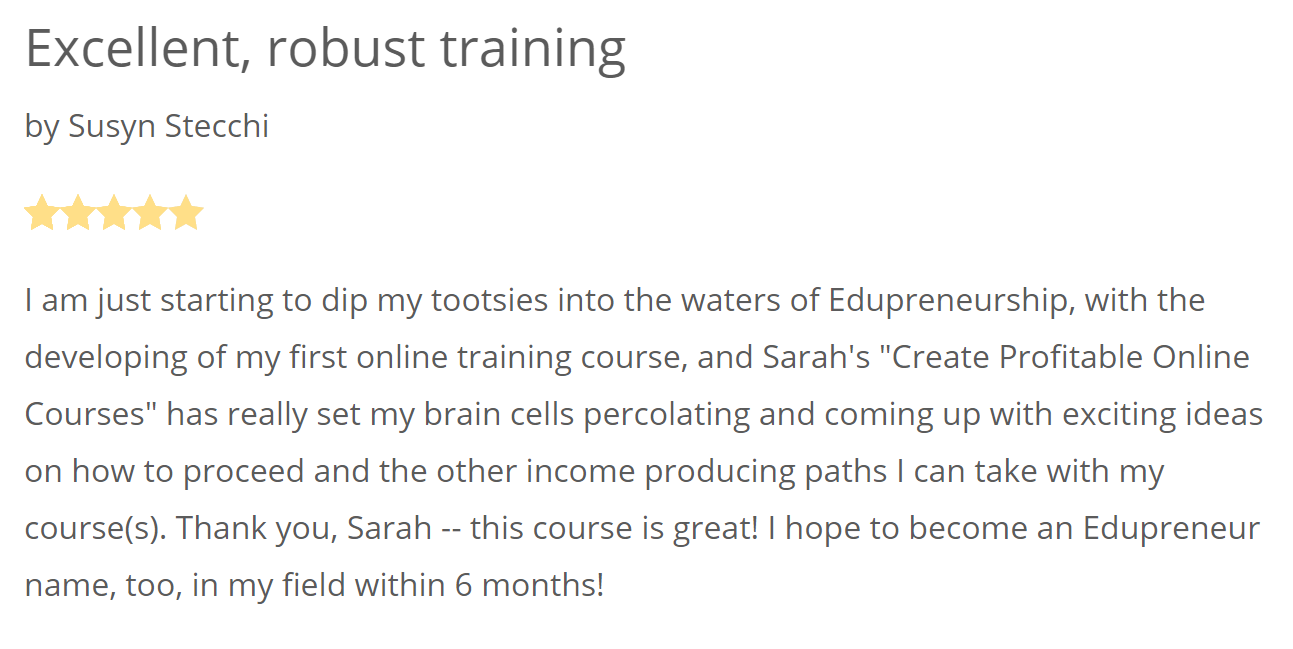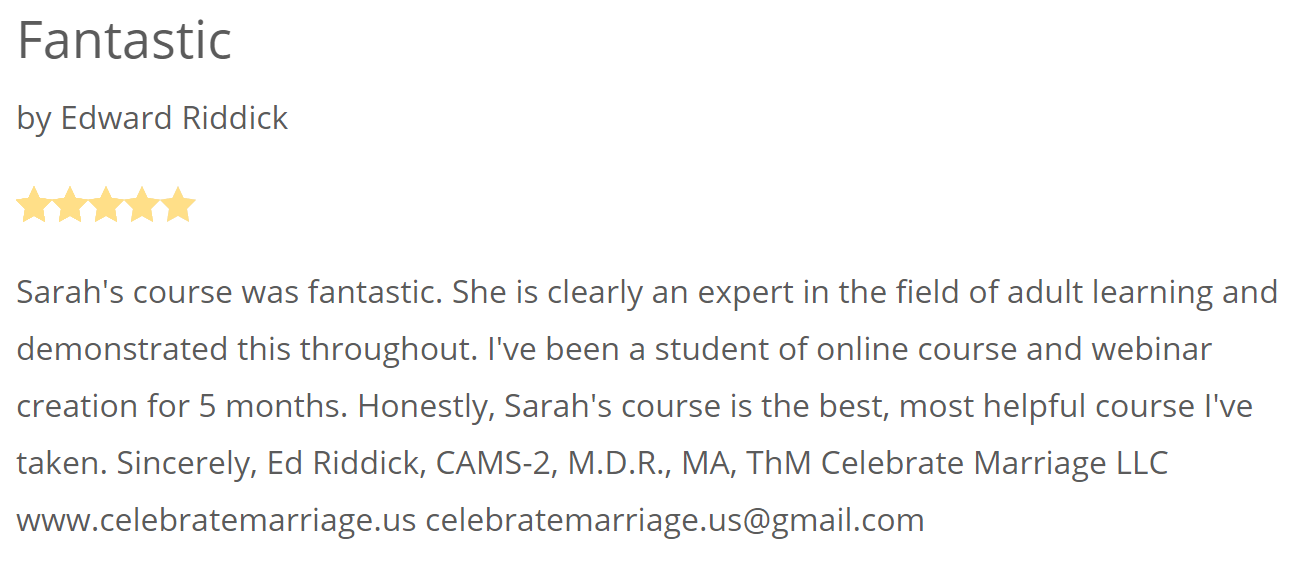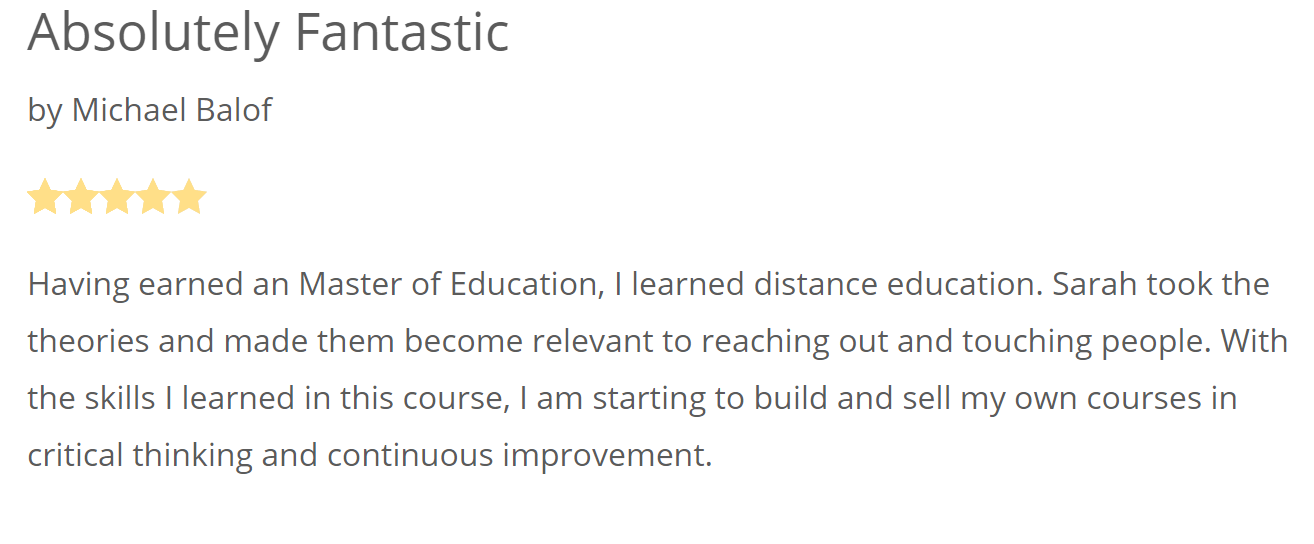 WHAT PEOPLE ARE SAYING ABOUT SARAH'S COURSE CREATION TRAINING
Results That Sarah's Clients Get: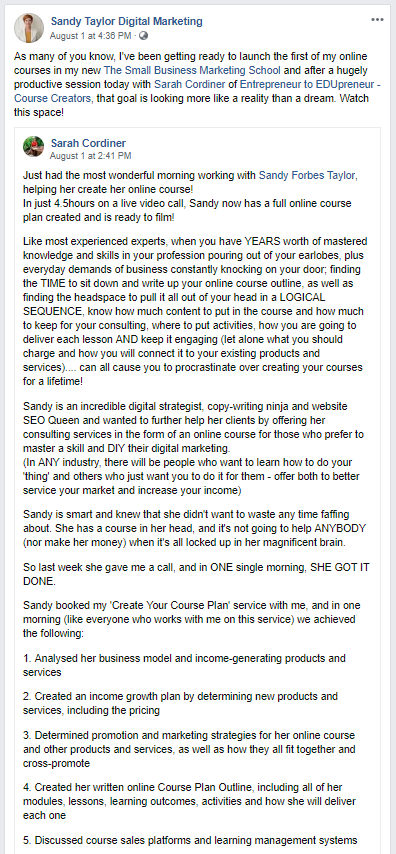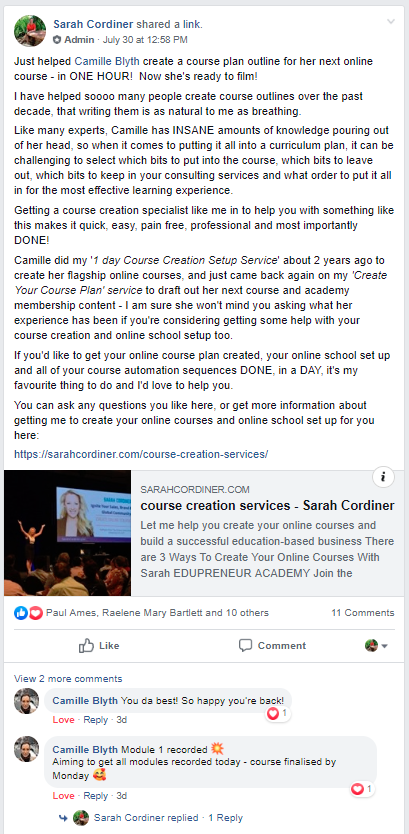 YOUR LAST CHANCE TO GET THIS DONE THIS YEAR
Don't miss out on this FINAL opportunity of the decade to create your online course, setup your income-generating online school AND start earning more money from your expertise - PASSIVELY!
There will not be another group coaching program until at least June 2020 - just think of how much money you could be earning between now and then if you finally get this done NOW!
REGISTER now to get the pricing and more information, or to ask me any questions about the program.
I can't wait to help you get your online course out to the world!
Sarah x
TICKETS GO ON SALE: 25th October 2019
TICKET SALES CLOSE: 30th October 2019
Training starts on 1st November 2019! Limited places!