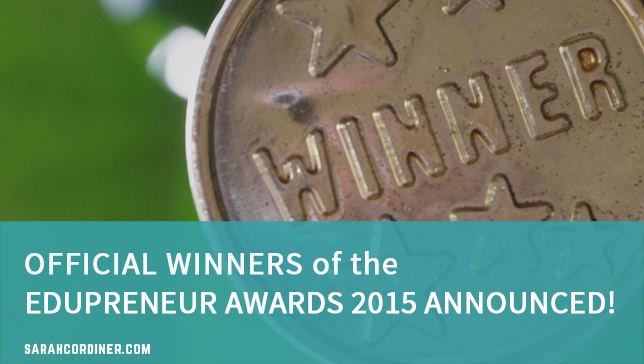 Official Winners of The Edupreneur Awards 2015 Announced!
Friday 31st July 2015 saw The MainTraining 
Edupreneur Awards
 2015 take place in Perth, Western Australia.
The Edupreneur Awards are all about celebrating, recognising and appraising the positive contributions Eduprneurs make to the knowledge, skills and competencies of their market.  Without Edupreneurs helping people grow and learn, our collective evolution would be slow and unremarkable.
Our markets would be uninformed, less autonomous and alone in their pursuits for progression.
Without the value Edupreneurs selflessly give, our markets would still be experiencing agonising sales pitches as the only form of exposure to service providers and products.
Edupreneurs build content, they share their expertise.  They allow their audience to learn, grow, receive value and experience their expertise in order to make buying decisions, instead of ramming sales down their throats.
The awards thank Edupreneurs, for not only recognising that there's a better
way to do business,
to gain exposure, to generate new customers, to create raving fans and to make more sales – but to position themselves as an authority within their marketplace in a way that 
gives back to others
 every single time.
Deciding how winners were going to be selected was a challenging task indeed.
At first, we considered the peer voting method – but that method assumes that all good edupreneurs have large networks, which of course is not always the case.
Secondly, we considered judge voting, but this limits the nominees exposure and can restrict the judging decision to how well the nominees write their answers to the entry questions.  And so, we decided that to keep the voting as open and fair as possible, that we would combine these methods.
All nominees had the opportunity to increase their exposure and win an award via peer voting.  And all nominees had to answer a series of carefully constructed questions about their edupreneurial activities, methods, aims, objectives, outcomes and impacts in order to enter.
With these qualitative and quantitative measures and criteria in place, our judges then deliberated to agree upon the winners.
Founder of the awards, Sarah Cordiner gave an opening speech which resonated with the 'Edupreneur'
But here is the actual transcript of her speech which truly sums up who edupreneurs are, what they do and why they do it:
"Today we recognise, celebrate and appraise those who have built a business around not just their own bottom line, but around contributing to the body of knowledge within their industry; around contributing to the knowledge, skills and capabilities of their marketplace.
The people who I call, Edupreneurs.
You are the people that selflessly learn, continuously develop and expand upon your own expertise – and then spend hours and hours finding ways to share that knowledge with others.
Whether it be through webinars seminars, face to face courses, online courses, how-to guides, books, eBooks, video tutorials, or the many other ways of sharing your expertise.
Whether it's for profit in its own right, or as a generation tool for your primary products and services.
You see, edupreneurs have discovered and tapped into something powerful that most entrepreneurs have not, and this sees you far ahead of your entrepreneurial competitors; especially as we enter a new era of doing business.
The world of business has changed.  Our customers have changed how they want to engage with suppliers and service providers.
Those who carry on doing business the old way – telling and selling – will die out as a new , stronger, more influential breed of entrepreneur comes forth.
The edupreneur has realised that we can no longer just go out there and sell.
They have realised that we need to attract and retain our customers buy giving them VALUE.
We have to share our best kept secrets, provide the recipes to our most special dish and freely expose our winning strategies to win them over and create paying and raving fans.  They will no longer tolerate the sales pitch.
They're hungry for information and knowledge, and by giving it to them we get to DEMONSTRATE our credibility, capability and expertise as much as they get to EXPERIENCE it.
I was once guest speaking at a high ticket event; some of the delegates there had paid my client more than $36,000 to be there – so I conducted a little experiment to make the value of this point ring through.
I asked them how they had come to be at that high paid event by a show of hands.
I first asked them, how many were there as a result of the amazing website that promoted the event, the perfectly designed brochures, the TV ads or the sensational lead pages all over facebook. 
Not one single person raised their hand.
When I asked them how many had paid 5 figures as a result of attending a FREE workshop, the entire room raised their hands.
Education IS the new currency, regardless of what business you're in.
Edupreneurs have realised that giving away your trade secrets WILL win you the trade.  That credibility is only generated by your customer consistently experiencing your expertise, as this is the true catalyst for trust and sales.
Using the platform of education is not restricted to training providers and educators.   Regardless of your industry, it gets you in front of many more people than traditional sales – increasing your exposure, leads, sales and your authority positioning – he who teaches a topic is automatically seen as the guru in it – provided you teach it well of course ( which I can help you with).
Edupreneurs have also realised that a little goes a long way.
That success does not come overnight.
That a persistent and consistent message goes a long way in creating desired results and getting business by referrals – especially when done with oodles of passion.
It was quite some time ago that I decided I wanted to be an edupreneur – to start my own business educating others.
It was a freezing winters day in the UK.  The kind with sideways rain and pitch blackness by 3pm. 
But this was a day I didn't notice the misery.  I excitedly ran home to tell my partner at the time 'I'm going to be an entrepreneur!!'
He paused his TV show, smiled at me, and said "Don't come crying to me when it all goes wrong!".
Ouch.
Annoyed but not deterred I drove to my mums house as fast as I could and excitedly told her 'mum mum mum, I'm going to  be an entrepreneur!!"  She took a long puff on her cigarette, looked at me inquisitively and said, "What the hell is wrong with you Sarah? Get your head out of the clouds and get a real job! And don't come crying to me when it all goes wrong!"
 **Face palm**
 10 YEARS on from that day, I have now run my education business in 3 different countries, I have employed over 50 full time employees, hundreds of contractors, been the catalyst of the education of thousands of people globally and now have an asset worth millions of dollars.
Needless to say, mu mum is my BIGGEST fan – and my ex is totally kicking himself!
You see, entrepreneurs are unique.  They are different because they are intrinsically futuristic.  They can see things that havnt happened yet, so clearly that they bravely risk everything to pursue its fruition.
They are not understood by the rest of the world.
Their ideas are ridiculed and opposed until they have materialised.
They work passionately and tirelessly, often without pay, to make a new idea come to life.
They do all this not just for themselves, but because they feel that they have something that can make the world better – and they DO.
They don't have a boss to praise them or  pat them on the back when they've overcome the toughest challenges.
They don't get offered a paid day off when they are tired.
They often cannot share their victories with their friends and family for fear of looking like a bragger – despite the fact that achieving the victory nearly killed them.
They often cannot share their fears, failures and troubles for fear of looking like an ungrateful complainer when they 'have such a PERFECT life as their own boss".
We know that there is no magic epiphany to the perfect idea.
That there is no perfect recipe for success.
That everything we have, are and do are the results of hard work, persistence and dedication.
Of unwavering commitment in the face of adversity, of innovative resourcefulness in times of drought.
We persist because of our passion and because the world needs change creators, movement makers and efficacy effectors like us.
For this is how these awards were born, and how every movement is created.
A decision, followed by deliberate action.
One step is all it takes to make our dreams come true.
Your message, knowledge and expertise will help people in ways you cannot even imagine.
Keep sharing, keep giving, keep edupreneuring and keep changing the world – because only those who are crazy enough to think that they can, actually do.
Congratulations edupreneurs, the world is a better place because of you."
THE OFFICIAL LIST OF EDUPRENEUR AWARDS WINNERS 2015
| | | | |
| --- | --- | --- | --- |
| Category | First Name | Last name | Company / Organisation Name |
| Accounting & Finance | Tracy | Angwin | |
| Accounting & Finance | Hems | Thakrar | |
| Accounting & Finance | Lincoln | Pan | |
| Aged Care | Samantha | Bowen | |
| Beauty | Belinda | Hughes | |
| Beauty | Heddy | Macaulay | |
| Business Coaching | Victor | Ahipene | |
| Business Coaching | Shar | Moore | |
| Business Consulting | Rosalind | Cardinal | |
| Business Consulting | Jason | Rogers | |
| Business Training | Grant | Mullen | |
| Business Training | Diana | Simich | |
| Charitable | Carol | Dalglish | |
| Charitable | Barbara | McNaught | |
| Community | Shivi | Bhalla | |
| Community | Adam | Przytula | |
Culture

Yamina

Hofer-Boase

Culture

Phil

Moore

(Fashion only has one winner)

Fashion

Vanja

Stace

Health & Wellness

Renae

Bressi

Health & Wellness

Rory

Koch Callaghan

Health & Wellness

Cally

Smith

Indigenous Contribution

Christopher

Garner

Indigenous Contribution

Rebecca

Paris-Hewitt

Legal

Katie

Richards

Legal

Stacey

Smith

Life & Career Coaching

Jenny

Gleeson

Media & PR

Annette

Densham

Media & PR

Linda

Reed-Enever

Networking

Zeeshan

Pasha

Networking

Fleur

Allen

Online Marketing

Peter

Engelhardt

Online Marketing

Nathan

Hague

Australia wow

Online Marketing

Samith

Pich
| | | | |
| --- | --- | --- | --- |
| Personal Development | Jeff | Muir | |
| Personal Development | Michelle | O'Hara | |
| Professional Speaker | Trish | Springsteen | |
| RTO Trainer | Jeff | Irvine | |
| RTO Trainer | Louise | Kinloch | |
| Technology | Peter | Moriarty | |
| Vocational Education & Training Sector | Maria | Doyle | |
| Vocational Education & Training Sector | Wendy | Perry | |
| Outside Of Australia – Canada | Kristin | Garn | |
| Outside Of Australia – China | Jeff | Lunz | |
| Outside Of Australia – Germany | Felix A. | Schweikert | |
| Outside Of Australia – Kenya | Teresia | Shiundu | |
| Outside Of Australia – Malta | Dr Rita | Micallef | |
| Outside Of Australia – NewZealand | John | Komarkowski | |
| Outside Of Australia – UK | Manal Moris | Gayed | OM trading |
| Outside Of Australia – USA | Holly | Kolman | |
| Outside Of Australia – USA | Gregory | Strom | |
| Edupreneur Of The Year | Sam | Cawthorn | |
A HUGE congratulations to all of this year's winners.
Sarah Cordiner