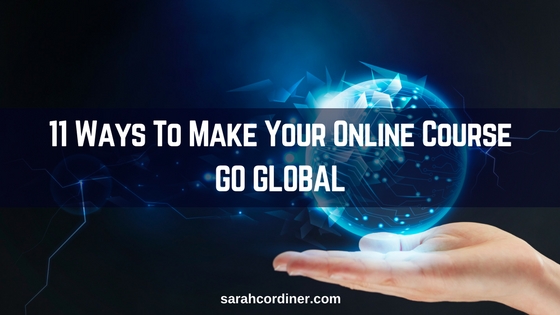 11 Ways To Make Your Online Course Go GLOBAL
11 Ways To Make Your Online Course Go GLOBAL
After creating their online courses with me, many edupreneurs then ask "so how do I get students in my online course?"
We've all heard of the '7 figure online course launches' and the endless passive income that online courses are bringing to many entrepreneurs and experts.  But the truth is, many online course launches are a miserable flop.  In this article, learn 11 ways to ensure that your hard work pays off.
As soon as you put your knowledge into an online format, you immediately open it up to a global marketplace.  
However, too many online educators think that creating an online course and pressing the 'publish' button is the endpoint.  They mistakingly believe the old adage of 'build it and they will come'. 
I don't mean to be an entrepreneurial party-pooper, but this is not how it works at all.  Publishing your course is just the beginning.  After that, the real work begins!
Unless you are putting in the effort to get it out there, it's extremely unlikely that it will ever be 'stumbled upon'.
I have over 40 online courses of my own, have built close to 1,000 courses for other people and have helped thousands of edupreneurs create and publish their own online courses.  I have been the Executive Director and Head of Campus of a university (which was ranked the number 1 university in Australia at the time of my leadership); I am postgraduate qualified in education and have run an award-winning, multimillion-dollar education company for over 12 years.  In this time and through all of this direct experience, I have come across some easy yet effective methods for promoting and selling your online courses for maximum enrolments internationally.  
In this article, I will share 11 methods that I have used to successfully grow a global student base, so that you can go global with your online courses too.
1. Break it up into its smallest parts
Consumers are now in control of their knowledge – because now they have the power to jump onto Google and ask 'How to xxx' and get an immediate answer.  With this in mind, a great way to rapidly go global, is to start providing your audience with those answers.
If your content appears as the result for every 'how to' question that your audience taps into Google, then it is your online courses that they are going to buy.
Have a look at my YouTube channel or the videos in my Facebook group to see how I create videos that 'answer questions' to increase my reach.
Here's what to do:
Write down every question that your audience has on your topic

Write a simple 'tip' answer to each question

Record that tip answer as a video

Keep each video as close to the 1-3 minute mark as you can.  Please note that it is not 'wrong' to film longer videos than this at ALL. It's just that the modern day online learner may not watch the entirety of a video that exceeds this length and therefore may not get the full value of your content.

Make sure the 'title' of your video is the actual question that your target audience are most likely to type into Google – this will make your video more likely to come up in their search results

 

Add the video to YouTube, your own blog and social media, ensuring it has a 'how to' title that is the most likely to be searched by your audience.

Add subtitles to your video (85% of Facebook videos are watched without sound!)
MOST IMPORTANTLY – ensure that in the description of your video you add a link to your online course! After all, this is the point of sharing your content!  I usually write something like "This video is an extract from my online course called 'XYZ'.  Get it here: www.sarahcordiner.com/academy"
Every video you add to the big wide web increases your chances of coming up in search results and being found by your audience as the one 'who has all of the answers'.  Soon enough your courses become a no-brainer for them to take.
2. Add smaller pieces of your courses to marketplaces
Online course marketplaces are like the supermarkets of online courses.  
They are big, powerful, have huge reach and customer numbers often in the millions.  The downsides to them are that you as the course owner does not own the student data, or have full control over your course pricing.
However, many of them have millions of users – all of whom you have the opportunity to get your course in front of if you have a course on the shelves.  Because these marketplaces can highly discount your courses, I advise you only put a smaller (quality) 'taster' version of your course on these sites and use them as a way to get yourself in front of millions of customers from around the world that otherwise wouldn't know you.
If you are new to the online course world and are unsure what an online course marketplace is, then watch these videos where I explain:
3. Add your courses to marketplace discount websites
The online course marketplaces have now become so big, they have markets within their own market! There are hundreds of websites and social media groups that are dedicated to sharing discount coupons and promotions for marketplace listed courses.  
Create a discount coupon and add them to these promotion sites (I have a whole downloadable document of these available in my online course "How To Market, Promote and Sell Your Online Course') and you will see a huge influx of international students.  You can get this course as a member of my Edupreneur Academy – why not watch it now in the 30 Day Free Trial?
4. Start blogging and guest blogging
Every online course is essentially a collection of tips, advice and strategies for something, organised and delivered in a manner that is logical and engaging.
Pull out what every single tip and strategy from your online course and for each one, write a short blog post about that tip.
Not only will your own website be more discoverable in search engine results due to the keyword content and data (meaning that more people can find you from search results), but you can also repurpose those blogs as articles that you can send out to industry relevant magazines.  Getting your article (that is related to your online course) into a popular online magazine could get your course in front of hundreds of thousands of highly targeted readers.  Just remember to always promote your online course at the end – I usually offer a free course of some kind to give people that are unfamiliar with me a risk-free way to trial my content. 
5. Run a webinar
Webinars are still a very popular global classroom.  There are endless webinar tools out there that are free or very cheap.  
Select a small handful of tips from your online course – the ones that people want to know that most are the best ones to pick, and create a free webinar where you share sensational value and blow your audiences' mind.  
Then at the end of the webinar, reveal to them that there are lots more tips just like those that you have to share in your online course – give them a discount coupon and expect to see some significant enrolments if you wowed them.
6. Hijack YouTube's audience
YouTube has over 1.3 billion users.  You'd be crazy not to tap into that global platform.
Add a selection of the videos from your online course to YouTube.  You can now schedule the publication of your YouTube videos so that they drip publish over a period of time maximising your exposure.  Create a discount coupon to your course (or better yet create a freebie) and add it to the YouTube video description to entice the global viewers into your courses.
7. Create a free taster
Just like the deli counter lets you taste a little square of cheese for free before you buy a block of it, allow your prospective customers to nibble on a piece of your training for free too.  This will allow them to be assured that you are the expert that you say you are by seeing for themselves.
Create a mini version of your online course and give it away for free as a lead magnet opt-in on your website.  Ensure that you let them know that they can upgrade to the full course at the end of the freebie.  Or do what I do and offer a free trial of your entire suite of content for a limited period of time!
8. SEO your course
Make sure that the search engines can find your course so that it can display it to your customers following their search queries.
Write down at least 20 words and phrases that people might type into Google to find a course like yours. Then go back through all of your course descriptions, lecture titles and module titles as well as the course name itself to make sure that they are optimised for search ranking by including the keywords you have selected. Then go into the back end of your website and your online school and ensure that you list all of your keywords and phrases into the SEO areas on your site to increase the opportunity for it to be found on Google.
9. Create your own Facebook group
Facebook groups are a fantastic opportunity for you to build strong relationships with your customers. They go way beyond the power of a Facebook page which these days have very little reach without paying.
A Facebook group is a way to make your audience feel like they belong to something.  If you can create this in your own global community you will create loyal fans from around the world forever.
You can get my eBook on how to create a Facebook community HERE
10. Turn your courses into books and eBooks
Books are another fantastic way to reach your audience at a global level, and these days it's really easy to self publish one of the most credibility-enhancing mediums out there. Simply send your online course videos to a transcriber, do some heavy re-writing, filling, editing and formatting, upload your book on to the Amazon platform and you'll immediately have your content open to over 197 million people.
The added benefit of this is that your book and your courses then begin to promote one another.
Having now published 7 books, I have an online course called 'How to Write and Self-Publish Your Own Print Book and eBook' in my Edupreneur Academy.
11. Create a podcast
I only started podcasting at the end of 2016 and the first thing I asked myself when I released my first episode is why I hadn't done it sooner. Create a podcast delivery plan around the content in your online course.
The key here is to remember that everyone likes to consume information in different ways, so you don't have to work 10 times harder to get 10 times the reach.  You simply have to take one single video from your course and share it in ways where more people can find it.
The more you can repurpose your content into every different medium possible the more your global student base will grow.
Good luck in making your online course go global!
If you found this helpful, do feel free to share it.
Author: Sarah Cordiner
Get over 30 of Sarah's online courses for just $47: GRAB THE SPECIAL OFFER
Youtube: https://sarahcordiner.com/youtube
LinkedIn: https://www.linkedin.com/in/sarahcordiner
Entrepreneur to EDUpreneur Facebook Group: https://www.facebook.com/groups/entrepreneur2edupreneur/
Facebook: https://www.facebook.com/cordinersarah
Google+: www.google.com/+SarahCordinerEDU