30-Days To Grow Your Own Profitable, Prominent and Highly Discoverable Blog
Blogging Bootcamp with Sarah Cordiner: 30-Day Challenge To Start, Build & Blow-Up Your Blog!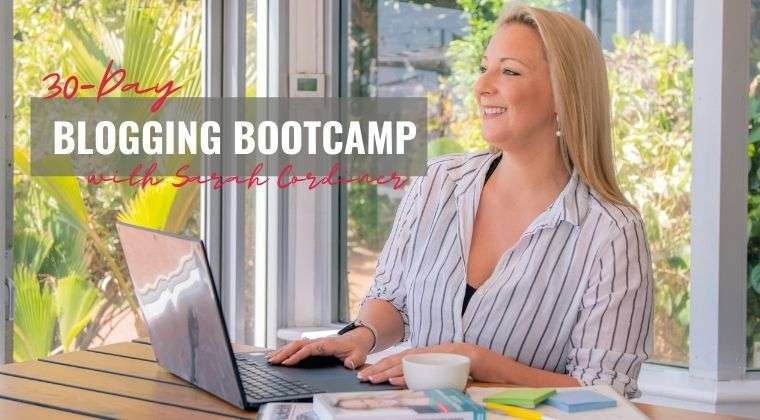 In this workshop - I am going to show you how to get started with blogging, how to write your blogs for the best results, and how to monetise it
Blogging Bootcamp with Sarah Cordiner: 30-Days To Grow Your Own Profitable, Prominent and Highly Discoverable Blog
Are you ready to add a blog to your business? OR, maybe you have one that has been neglected and needs a content boost?
Blogs = business!
Whether blogging is completely new to you, or you are an experienced blogger that just needs a kick up the hoo-hah to get it back off the ground again - come and join the Blogging Bootcamp with Sarah Cordiner!
Other than paid Google ads, BLOGS are the top search results in Google for anything that is searched.
Blogs mean internet traffic.
Internet traffic means business.
Every single word written in a blog post is searchable by your customers.
If you are writing short articles, lists, information, recipes, 'how-tos', entertainment, sharing images or videos on a blog, your chances of being found, trusted, liked and making money dramatically increase.
If you can peel yourself away from social media or Netflix for just 15 mins a day, then you have time to create a highly successful and insanely profitable blog.
Aside from opening you and your business up to a global marketplace, demonstrating your credibility in your field and sharing what you can give your customers in terms of products, services and experiences; blogs can also become lucrative streams of income in their own right – on top of your usual business.
There are 2 ways to join this training.
Either purchase it with lifetime access for one payment of $97 USD;
OR, join my Edupreneur Academy to get this training, and all of my monthly group challenges, masterminds and online courses for $79/m (more info in the academy button below)
Your students results = YOUR results. Learn how to make EVERYONE a winner.
In this 30-Day Blogging Bootcamp with Sarah Cordiner, you will learn:
How to set up a simple blog on WordPress or Blogger
How to start blogging profitably TODAY, even if you don't have a website!
How to use your WordPress or Blogger blog (creating, scheduling and publishing posts)
How to schedule your blog posts in advance
How to optimise your articles/posts for maximum searchability and to hack search engine optimisation (SEO)
What kind of content to share on your blog that will get you the most fans, followers, subscribers and customers.
How to use keyword research tools to discover EXACTLY what content your customers are searching the internet for
How to find what content is trending and being shared the most by your target audience so that you can hijack the traffic
How to write and structure a blog post
How to add images and clickable links to your blogs
How to ensure that your blogs make you money
How to use your blog to build a highly profitable affiliate income
How to use your blog to build your email list
How to create simple lead magnets and opt-ins on your blog so that you can grow a highly targeted database of subscribers
How to ensure that every single one of your blog posts encourages readers to engage with your paid products, services, coaching, consulting, books, ebooks and other offers.
Write, schedule and publish your next 3 MONTHS of blog posts during this challenge!
.... and more secrets tricks, tips and hacks to dominate Google with YOUR blog content!
This 30-day online blogging challenge is designed, developed and delivered by number 1 ranked blogger, Sarah Cordiner, who has had her blog ranked Number 1 in the world by e-Learning Feeds in 2017.
Sarah has also had her advice cited in Forbes, was listed as a top 'must follow female entrepreneur' in the Huffington Post and regularly writes as a columnist for numerous international business and education blogs and magazines, including CEOWorld, Flying Solo, EdTech Review and more.
Sarah generates over 1 million quarterly blog views in a small niche (e-learning), and generates tens of thousands of dollars per month from her blog.
In this workshop - Sarah will be showing you how to get started with blogging, how to write your blogs for the best results, and how to monetise it.
It is also a highly practical 'get it done' challenge where you will be shown how to find the current trending and highest-searched for content in your industry right now, so that you can create new content that has viral potential; and work through Sarah's rapid creation process so that your next 3 MONTHS worth of blog content can get created, scheduled and published.
This Blogging Bootcamp will suit brand new bloggers who don't have a blog or site, as well as experienced bloggers who just want refreshed structure, accountability and motivation to revamp their blog presence and ranking.
When you join this challenge, you will get access to all of the pre-recorded training videos that you can watch at anytime that fits in with your schedule.
It comes with an active secret Facebook group that Sarah will be present in daily to answer your questions as you go through the 4 modules and actions (one module per week).
You will need approximately 3-5 hours per week to get through the challenge successfully with your 3 months of blogs created at the end.
There are 2 ways to join this challenge.
One is buy simply purchasing lifetime access to the course ($97);
or, by joining my Edupreneur Academy where you will get access to this course, over 50 of my other online courses and much more ($79).
All of the information is here: https://sarahcordiner.com/blogging-bootcamp/
If you have any questions, feel free to email me at sarah@sarahcordiner.com
Happy blogging!
Join here: https://sarahcordiner.com/blogging-bootcamp/