Dominate search engines and create content that will bring you leads for LIFE!
30-DAY CONTENT MARKETING CHALLENGE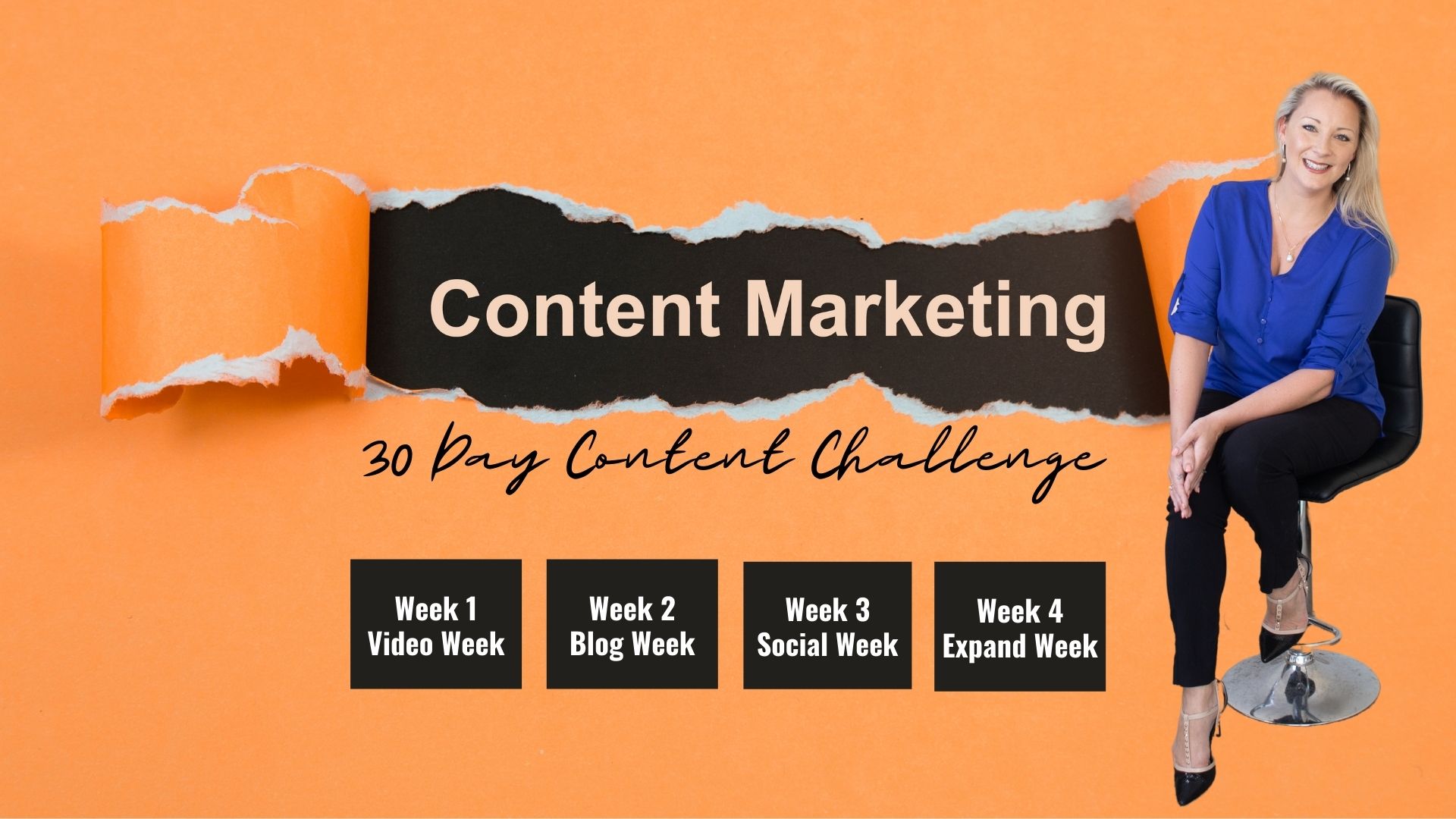 This action-packed 30-Day Content Marketing Challenge will teach you how to use content marketing to get traffic, leads and sales forever!
Did you know that when you publish content online, it has the potential to bring you customers and income FOREVER?!
I have blog posts and YouTube videos that I published almost a decade ago, that STILL make me money and bring in thousands of website visitors every month!
Create it once, get returns forever - THAT is why I adore content marketing so much!
This 30-Day Content Marketing Challenge will walk you through growing your business with digital content, re-purposing and organic marketing.
This group challenge is broken down into 4 modules (one per week), with an implementation exercise to get done each week:
Week 1: Video week
Week 2: Blogging week
Week 3: Social media week
Week 4: Expand week
In this practical 'get stuff done' group challenge, you'll learn the exact steps to create content to dramatically grow your business;
and create an organic marketing strategy that will bring you in email list subscribers, paying customers and an enviable reputation as an expert in your field for years to come.
In this challenge you will have the group accountability and support to get your content plan created, the next 30 days worth of content fully planned out, videos pre-scheduled, blog posts published AND some strategy behind your game!
There are 2 ways to join this training.
Either purchase it with lifetime access for one payment of $79;
OR, join my Edupreneur Academy to get this training, and all of my monthly group challenges, masterminds and online courses for $79/m
Massively scale your business, grow your email list, become known as an authority in your industry
In this 30-Day Group Challenge, you will learn:
What is content marketing and how to use it to grow your business
How to create content today, that will still be earning your traffic and income in YEARS from now
The different types of content that you can produce to get global exposure and highly targeted leads (blogging, articles, videos etc)
Discover the most effective and magnetic types of content to create in your industry
How to increase your sales, traffic, and brand recognition using the power of digital content
How to find out exactly what your customers are searching for on the internet and ensure YOUR content comes up in their search results
How to develop a system for consistently generating new content ideas that are in huge search demand and generating the most traffic in your industry
How to repurpose your content to get maximum reach and exposure with minimal effort
How to use your content to educate your market and obtain respect, fans and credibility in your field
How to create your content marketing plan
Where and how to share your content for maximum exposure
How to use your content to grow your email list and make money
Create your next 30 content posts
This workshop is delivered by content expert, Sarah Cordiner (www.sarahcordiner.com); who has successfully used content and organic marketing strategies to attract over 130k students from 168 countries into her online school and build a successful online business with a global client base.
If you are ready to massively scale your business, grow your email list, become known as an authority in your industry - and start a system that will bring you in customers on auto-pilot for years to come; then come and join this ambitious, active and supportive group of online business owners as we all master content marketing and get productive together!
It also comes with a secret Facebook group where all of the challenge members can interact daily, and communicate directly with Sarah to get all of your questions answered and stay accountable!
That ALONE is priceless!
What's more priceless?
Creating assets in your business that will work FOR YOU for the rest of time - bringing in a never-ending stream of leads and sales through your door!
So join us......