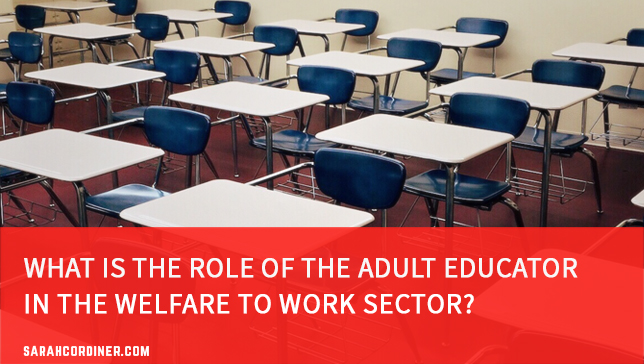 What is the role of the adult educator in the welfare to work sector?
There's a lot to be said about our roles as educators – and they definitely don't get easier when you have a class full of adults.
I'm a Trainer and CEO of a company that runs various activities and training initiatives for the long term unemployed, benefit claimants and offenders – often referred to as the 'welfare to work' sector.
I'm a young Trainer, and I often find myself in front of students more than twice my age.  I also have a great job, nice clothes and a year-round tan that shows off my regular holidays.
With these obvious facts in full glaring sight, I'm not naive to the fact that on first impressions, my students are always thinking 'what the hell do you know about being jobless and helpless?'.
To ensure that my students don't immediately 'turn off' by being consumed with the 'what the hell could you know about my life?' question; clearly my role, and how I execute it requires very special attention – as does that of all adult educators.
So I ask you; What is your role in the adult classroom? and, How do you connect with learners that initially consider themselves as from another world to you?
I make a point of addressing the elephant in the room (or rather the young 'life looks so perfect' girl), right at the beginning of the session, and that I am not there to by any means, to teach them about life – and certainly not how I think they should live it.
As an adult educator, I feel that my purpose in a classroom is largely to share and 'pass on' the ideas and knowledge that has been passed onto me by others and various forms of learning.
That is, to propose scenarios, make suggestions and supply them with what I call 'different lenses' to look through upon life or a certain subject.
With the obvious and given outcome of skills and knowledge acquisition aside, here's what success in the adult classroom is for me:
Success is measured when a student says they have seen something differently – whether it be a way of perceiving something, dealing with something, approaching
something, other people or work, and most importantly themselves and their own personal issues equivalent de viagra.
Above attaining the learning outcomes of any course, I want my students to challenge their perspectives, and view them from a different standpoint to better their options, choices and decision making – not to necessarily change them.  I want to enable my learners to grow from the inside out.  In the welfare-to-work sector especially, an employability program is NOT just about producing a CV; it's about enabling your learners to believe that they have skills worthy of shouting about to an employer.
I believe that all educators tend to have the common trait of 'futurism' about them.  This is what enables them to see a great tree instead of a seed, a King instead of a Prince, an architectural feat instead of a building site.  Use this trait to be inspiring, thought-provoking and nurturing and you'll create masterpieces in the form of efficacious lives.
What is your role in your learning environment?
What do you hope to achieve?
Sarah
MainTraining Pty Ltd