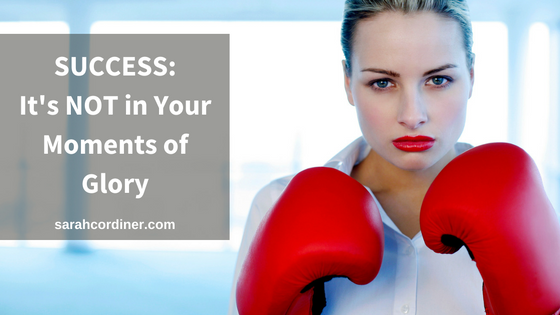 Success – It's Not In Your Moments of Glory
Only 18 months ago I felt like I didn't have an ounce of breath left in me.
The business I'd worked so hard to build took a brutal hit when a number of my clients were unexpectedly hit by a sudden Federal budget cut and it left them all unable to see their contracts through with us.
I lost all 23 of my team members.  I had to shut down the office and sell everything in it – which didn't even touch covering the high 6 figure debt I had to pay out staff, leases and tax bills.
I was facing liquidation.  And I had just found out I was pregnant.
As the WA resources bust and budget cuts began claiming businesses like mine all around me, I knew had two very distinct choices:
a) Take the (much easier) route and fold – follow the advice of everyone around me which was "Know when to let go Sarah, you tried and it didn't work, go and do something else".
—  OR  —
b) Realise that I got myself into that situation and that I could get myself out.  See this experience as a powerful lesson, one that was giving me an opportunity to adapt to a changing economy, to become a more innovative business owner and to ultimately become a better teacher.
I knew I couldn't give up.
With tears streaming down my face, the weight of the world suffocating me and a feeling of failure so cutting that my heart felt like it was bleeding, I dragged myself through each and every day knowing that I had a world to make better for the tiny life inside of me and everyone else who might learn from my lesson too.
Everyone kept telling me to give up. To not put so much pressure on myself.  To rest.  To 'LET GO'.
But they didn't understand.
I wasn't holding onto anything in the past – it was gone.  I was building a new future.
Day by day I built, I learned, I created, I dared, I pushed, I cried, I tried, I ran, I climbed, I shared, I gave.
In that time, I have built well over 100 online courses.
I have enrolled over 6,000 students in 121 countries; won multiple awards, traveled the world as a speaker, become a two-times international Number 1 best-selling author, and even got my own TV channel.  I've increased my original profit margin from 31% to 60%, increased business by 1,900% and now have a global client base.  Not to mention, recently being listed byt the The Huffington Post as one of the 'Top 50 Must-Follow Female Entrepreneurs for 2017'.
But my biggest success?  NOT GIVING UP.
If I had given up when the world seemed so heavy on my shoulders 18months ago, when everyone was telling me to, none of those accolades would be mine and 6,000 people would not be educated.
Success is not in your moments of glory.  It's showing stamina, determination, commitment and unwavering dedication to your mission when things are hard.
Success is not when days are going great for you, its continuing to get out of bed and trying to put one foot in frot of the other when the days are dark and frightening.
Success is not in winning.  Success is in the good that you choose to do in the face of failure.
I'm not a success story,  I'm an '11 years of never quitting' story.
I heard this song on the radio this morning and a tear randomly sneaked out of my eye.
As it trickled down my cheak I realised just what a wonderful gift my beautiful failures have been.  I wouldn't be anything without them – less still, if I'd given up in the face of them.
This song is for every single one of you – whether you are trying to make a business work, a relationship better, learn a new skill, get a better job – whatever you are doing PLEASE DON'T GIVE UP.
What story will you write when you have got through whatever you are going through?
I believe in you.
Turn this up loud my friends, I'm dancing with you xxxx