Subscription Academy Success – How To Run a Successful Course Subscription Site
Get The FREE Course Creation Starter Kit
Subscription Academy Success – How To Run a Successful Course Subscription Site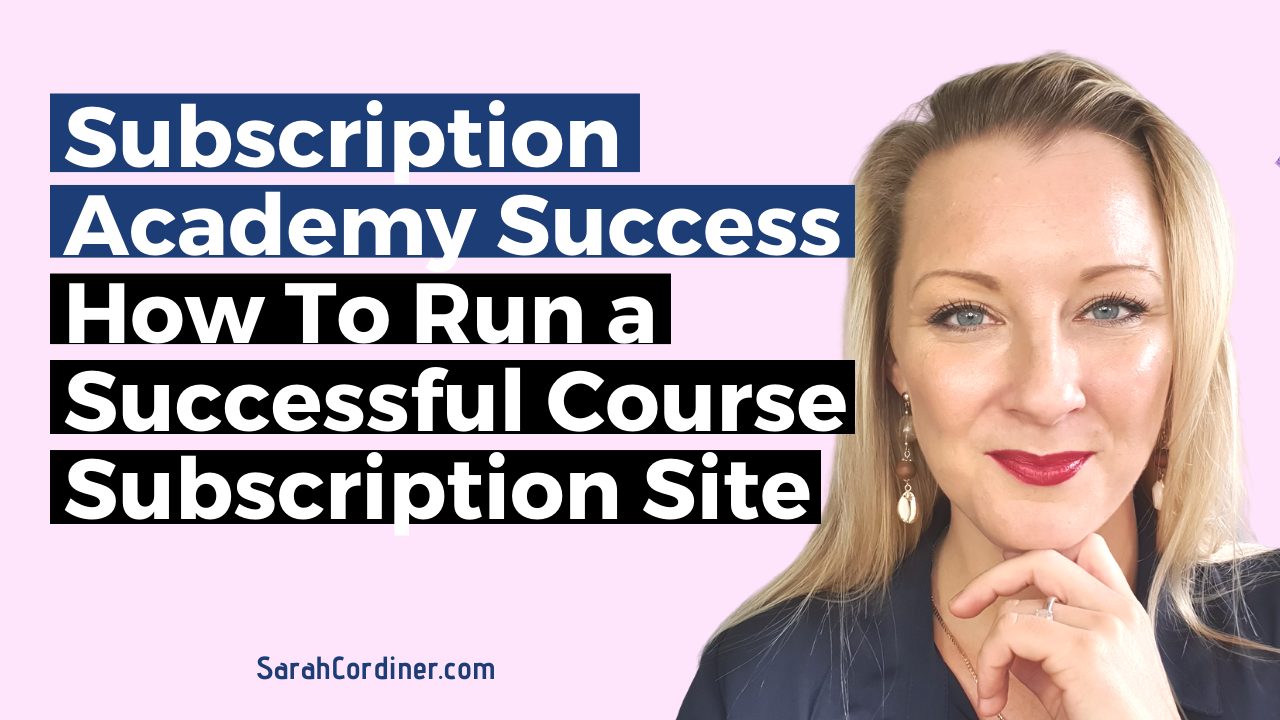 Do you have an idea for a membership program, but no idea where to start?
I only charge $79 a month for my Edupreneur Academy – which gives members full access to well over 40 of my online courses, a live call with me every month and much more.
Many people tell me that my pricing is waaayyyyy too low.
But there's a strategy behind it, and a mission (help as many people as possible)….  not everyone's mission, but it's good for me.
Now imagine if you charged just $47 a month for your own membership academy……, and you had 100 members?
Thats $4,700 a MONTH that you'd be earning.
Imagine if you had 200 people… that would be $9,400 a month in your bank account..
Imagine 500 members… just a sweet little $23,500 a MONTH….
Not so crazy now, HUH?!
However, the whole process of creating a membership site can be really overwhelming.
There's loads of tech to learn.
There's lots of new language to learn.
How does it all connect together?
How am I going to find people to sign up?
In this workshop, I will walk you through the steps for creating  your own subscription/membership sites for your business:
Mastermind Call: How To Set-Up Your Own Membership Subscription Academy and get Recurring Revenue for LIFE!
Free Resources:
Below is a video where I discuss a little about memberships in a chat on my podcast:
Automation, organization and systems
If you are going to try and manage anything in business where you are doing everything manually, your business will not scale. You will find self exhausted, burnt out, you will probably have poor customer service, because you're not gonna be responding instantaneously. You're going to get to a point where there's only so much you can manage. If you want to have a successful subscription site, you need to be able to have lots of people. Subscription memberships depend on you having a lower price, because people are gonna be paying it every single month. So that means you need to have volume. You must have volume in order for you to get that massive product profitability. Now, you cannot get volume if you are not automating the majority of what you're doing behind the scenes. 
So, let me give you a couple of pieces of software that are really important if you want to reach unlimited scale opportunities for your subscription site. Number one is, you need a place where your online courses are going to live. I highly recommend that you use a learning management system to do this. There are lots out there that you can choose. Thinkific is one, Teachable, Kajabi, New Zenler. They all have free trials and they're all very similar in terms of their features and functions. So I generally recommend that people go out there on the free trials and pick the one that they just prefer the feeling of. 
The reason why you want this learning management system is because it's super easy for you to simply upload your content to this platform. Once you've uploaded your content, which is simply pressing upload. You then simply set your price. It manages all of the welcome notifications. It will automatically give them their link to login. It will automatically give them a button to reset their password if they forget it. Which means you're not dealing with all this admin.
What to charge for your membership?
Now, in terms of how much you charge, this is entirely up to you and I'll just touch on this where we're talking about the pricing option. There is no rule to this. You decide what your content is worth and what amount of money you need to run your business and make the money you need. But I always say to people, incentivize the membership over everything else. 
Now, all of my courses, all 60 plus of them, are available for people to purchase on their own. Some people are just like 'hey, just give me that product. I just want that, I want it for life. Just leave me alone after that.' So make sure you tailor and accommodate those kinds of bias because if you don't, you're missing out on sales. So this is the cool thing about a learning management system is you can say: you can buy this on its own for $297. Or, you can come over and join the academy for this much. 
Why do I want to incentivize people to join the academy? When you're selling one of purchases for online courses, soon enough people are going to stop buying stuff. You might have a month where you sold loads of stuff because you presented on a summit and then next month you didn't present on a summit, you don't have any sales. Your income goes up and down. Quite unpredictable, and unpredictability in business is a high risk business. As soon as you start getting regular income at the same kind of amount every single month, that's when you have a sustainable and a safe business. That's when you can start investing in helpers. It's going to enable you to grow. So, that's why you want to have a membership, because you're going to get that consistent income per month. 
How to attract the right people for your membership?
A membership is a low cost entry point. How do you really ensure that the people who are actually coming in, who are ready to purchase something more, who are ready to invest more time with you, who are ready to really pay you for the services that you offer? It all comes down to the lead magnet. People make decisions on what they're buying, by whether they feel like they click with you or not. If you're the person that's delivering that information based product or service, a simple couple of YouTube videos is the difference between them buying or not buying. So, I believe that it's really important to make sure you have lead magnets that show your face. Get on camera! It is the highest converting way of getting people into your system and of showing who you are and the quality of the content that you provide. 
The second tip is: when people get my free stuff, I then put them into a welcome email sequence. So let's say you downloaded my free course creation starter kit. Now, what it will do, it will automatically offer you my paid course, which is 500 bucks, for $97. It will show you, with a great landing page that looks high quality, that this program is worth $500. But if you act now you get it for 97. Well, if they buy that, then it offers them a book bundle. 
Now behind the scenes, whether you buy all that stuff or the upgraded stuff or not, let's pretend you don't. You just wanna have a look at the starter kit sequence. You've put your email address in for the starter kit. You said, no thanks to all the other stuff. So you just press delete and off those pages are gone. What will happen is over the next 10 days, I will send you the 10 steps to creating an online course. Now you wouldn't have downloaded the free course creation starter kit if you weren't interested in creating a course. Well guess what happens on the 10th day? I give you three things you can buy. You've now had 10 days of free training. I made sure it was really good, practical, helpful training. If you are not interested, you would have unsubscribed yourself by now. Brilliant, self clearing, one of the reasons why these email sequences are really, really good. I like people to self clear and unsubscribe themselves if they realized it's not for them. 
Subscribe To My Podcast
Get Notified of New Episodes
Receive regular course creation advice, tips and in-depth tutorials.
COURSE CREATION SERVICES
Whether you love to learn how everything works yourself to master course creation skills for life; want to join a group of like-minded people to enjoy the course creation journey with; or you just want the entire job done for you - I can help you design, develop and publish high-quality online courses in any industry on your own custom created online school, complete with all of your marketing integrations set-up and running.
There are 3 main ways to get your online course created.