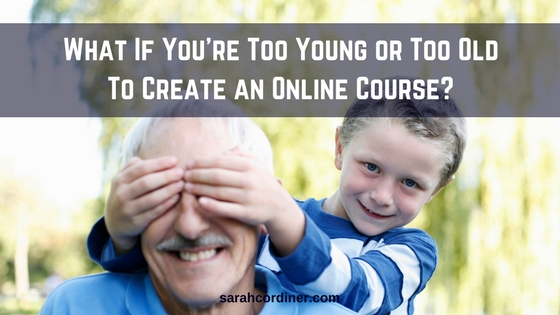 What If You're Too Young or Too Old To Create an Online Course?
"I'm Too Old or Too Young to Create an Online Course!"
Ever heard yourself say this?  If so, this article is for you…
there is no such thing as an age requirement for online teaching Click To Tweet
What amazes me about course creation is that the younger people think they are too young and the older people think they are too old to be out there educating their marketplace.  
Of course, they are both completely wrong, as there is no such thing as an age requirement for online teaching.  
These course creators have managed to pick this as a convenient excuse to wait at the procrastination station; as a convenient yet belligerent justification to give themselves for allowing their dreams to pass them by.
When I started an education company at the age of 19, I can assure you that I had crushing moments of self-doubt and very open criticism from others about my age – 'who on earth is going to listen to a 19-year-old kid and pay her to train their staff who are twice her age?!'.  
In short, it wasn't long before most of the critics asked me for a job when they saw the training contracts I had pouring through the door.
One of my clients, Juliette, was 13 years old when she came to me to do her 'one day school set up session' with me.  At that time she had 3 companies of her own.
She didn't have years behind her, but by sitting down with me and really extrapolating what she had done to get to where she is, we identified that she had an armory of strategies that she'd implemented for achieving what she had done.  
We simply pulled together all of the steps she'd executed, applied a little curriculum design, and 10 hours later she had an online course teaching other young people how they can replicate her success.
Before Juliette, I had David and Sylvia Marina in my studio filming years worth of their expertise into courses who are out there now with their own online school.  I won't share their age but let's just say that most people their age are very very retired. (You can see both of these clients in the videos section of THIS PAGE).
I've also had people with years and years worth of experience have almost identical doubts that crosses the minds of the youngest edupreneurs. 'Who would want to listen to me? I'm just an old fart compared to all these whizz kids out there?'.  
These feelings are actually all about self-esteem rather than age.
Being a good teacher has very little if anything to do with age.  
It's about learning how to best share your unique skills, experiences, and knowledge.
It's about imparting to others the shortcuts, tricks, systems, processes, and methodologies that YOU have in the way YOU see, use, apply and contextualize them.
What have you got or achieved that others may want to have or get?

What experiences have you been through that other people would love advice on how to survive too?

What knowledge have you obtained that you could share with other people?

What skills and talents do you have that you could share with others?
THESE are the things that need to be in an online course – not age.
New skills, new knowledge, new attitudes, new behaviours, new methodologies, new tools, new results – these are all measures of a great online course – NOT the age of the instructor.
When somebody is signing up for a training course of any kind, the LAST thing that would ever cross their mind when it came the decision making of whether or not to take the class would be 'I wonder how old the teacher is?'.  
Learners care about what they are going to get from your training – not what birthday you have coming up.
So whether you're about to blow out 7 candles (yes there are 7-year-old online instructors out there for real), or your 70th; step outside of yourself, scoop up your experiences and knowledge – because young or old or somewhere in-between, you have something to give to others and that's a fact.
The world can be a better place because of you.  All you have to do is stop assuming that age has anything to do with your talents and start.
This article is an extract from my book 'Awaken Your Course Creation Mojo: Beat Procrastination and Fire Up Your Course Creation Motivation'.