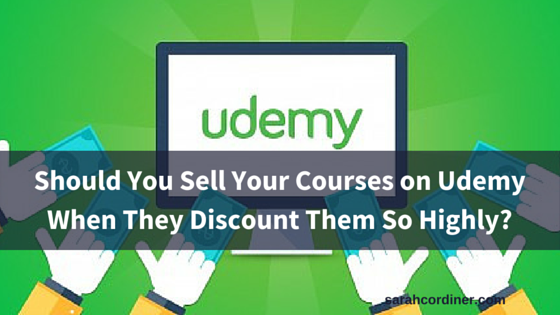 Should You Sell Your Online Courses on Udemy?
Should You Sell Your Online Courses on Udemy When They Discount Them So Highly?
 Many thought leaders, experts and professionals from all industry sectors, have started realising the untapped profits of their knowledge.
By turning their knowledge into tangible learning products and programs – particularly
online courses,
many are making the average annual salary every few weeks WHILE THEY'RE SLEEPING.
There are many
online platforms
that you can use to upload your tutorial videos and courses to make your passive income whilst helping others. However, they all come with their own unique pros and cons.
One of the most popular at present is the platform called '
Udemy
', which is free for any 'instructor' to use to sell their online training.  Many instructors are making thousands of dollars a month by doing so.   However, one of the supposed 'cons' of this platform is that Udemy actually discount your valuable training AND cap the amount that you can actually sell them for in the first place……. so why would you sell your courses from here????
I was recently asked my opinion on whether we should sell our highly valuable
training courses
on online learning platforms ( like Udemy), who discount the nuts out of them without our control….
The short answer is YES YOU SHOULD sell your courses on Udemy if you want to make money as an online instructor.  BUT, you must understand the nature of the ground you are building your course empire upon first.
Far too many aspiring course creators and online instructors set up their courses on Udemy's turf, and then get infuriated when Udemy change their business model.  The ONLY instructors that have anything bad to say about this platform, are the ones who quite simply don't understand what it is, and therefore cannot play to its advantages.
Selling from a marketplace means that you are renting someone else's land – AND their audience, which comes with pros and cons – depending on how you look at it.
In my opinion, there are only pro's to selling on Udemy; let me explain:
 1. No costs to you for having a fully set up 'supermarket shelf' to place your courses.  No set up costs, no maintenance or membership fees, no building.  Hello simplicity and budget-friendly option.
2. More than 30 MILLION users are registered with Udemy, all of whom are interested in buying online courses.  That is 10 million+ people that you wouldn't otherwise have exposure to, and you not only get in front of them for FREE – you actually get PAID to get in front of them (isn't this the BEST marketing you've ever heard of?!)
3. Oh, if point's 1 and 2 weren't enough for you, not only do Udemy spend hundreds of thousands of dollars marketing your courses for you, they also have MILLIONS of affiliates who ALSO market and sell your courses for you……  (I am still trying to figure out why people complain about this)……
4.  As long as you follow Udemy's rules and guidelines, you may also find that you get your Udemy students coming to your bigger, more expensive programs having come across you on Udemy…. cha-chiiiiiing.
 So if you hear someone moaning and groaning to you about Udemy, or you are one of the moaner-groaners; firstly may be go check out the costs associated with getting all of the above yourself (**chuckles a little bit**), and then make sure you check out my article explaining
the difference between a marketplace and an LMS
so that you can see WHY Udemy is actually a brilliant and VITAL element of any businesses MARKETING process – yes MARKETING….
Are you with me?!
If you' like to learn how I have successfully used Udemy as a major income stream, whist marketing my business (and being a best-selling instructor on multiple courses and categories), check out my
'Edupreneur Academy'
.
If you're interested in being a thought leader and/or making a passive income while helping other people; I'd highly recommend you start commercialising your knowledge and turning it into
profitable online courses
…
But many people don't really know where to begin and become overwhelmed at the thought of having to learn how to use and market on these various platforms.
My profession is to help you extract your knowledge from your head, design a curriculum for it, create your learning materials and then upload it onto your chosen online learning platforms for you so that you can start earning yourself a residual income whilst changing peoples lives for the better.