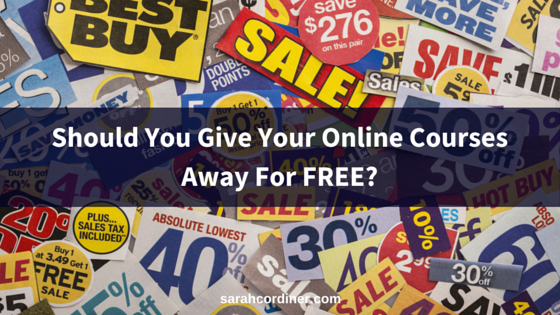 Should You Give Your Online Course Away for FREE?
The first criteria is 'Numbers'; which many online instructors get by giving away course coupons for free.  In this Part 2 article, we will look into whether or not this is a good strategy.
Now first, let's get something straight – I am  VERY big fan and advocate for giving away valuable content for free.  This is not just a great strategy for your ongoing marketing, authority positioning and continuous lead generation – it's a critical one.  However, does this same principle continue when it comes to online courses?
Is a best-selling course all about numbers?
Many online instructors think that getting a course to best-seller is all about simply getting a truck load of people to join your course, and therefore use the strategy of giving away their courses for free to 'get numbers'.  While this certainly gets your courses noticed by the algorithms that increase your courses search results, it's only temporary AND importantly, it doesn't earn you ANY money.
I've seen online instructors bragging in forums that they've got '10,000+ students in a month', but they've only got $20 in their bank account.  There isn't much 'best-seller' about that if you ask me.
I've also seen online marketers advising people to 'throw a free course up online simply so that you can use the statement "I have xxx number of students" as social proof to market your higher end products'.  It's not very impressive if none of them paid you and they all think your course sucked, is it?
Does it work?  Yes, it does….. in getting loads of freeloaders on your list.
Does it mean that you'll get rich quick using this method?  Not necessarily.
Number of free students don't make your Edupreneurial business take off.  The quality of your course and your student satisfaction is what makes your course and educational business a success.
I want to show you the strategies that I have used to not only get high student numbers, to get my course into 'top notch and trending' out of over 25,000 courses, but ones that actually PAY you for your lovingly developed training content too.
I have had multiple best-selling online courses (that I was actually paid for), and there is nothing I love more than sharing the methods I use to consistently have excited students enrolling in my courses, and happy students finishing them with fellow online course creators; so that together, we can all fill the world with knowledge and expertise.  I share my full collection of strategies, all of the hacks, tips, techniques and ways that you can promote, market, sell and maximise the sales and passive income from your online courses so that you can create that online learning lifestyle that you've been after in my
online course
. And in this article, we are going to look at three strategies
Strategy 1: Getting Numbers
Getting numbers – ie signing up students as soon as possible from your launch is very important when it comes to getting a best selling course.
The sudden influx of students in a short space of time gets your course noticed by the various algorithms in the host platform and/or search engines, and increases the ranking of your course.  There are a number of methods you can use to do this including giving away free coupons to your course, or discounted coupons to early bird enrolments.  
There are however some serious pros and cons you must be aware of when choosing which of these methods you will use for your course, which we shall explore now, as well as in my online course.
The Numbers Strategy – Free or Not Free?
In short, it depends.
There is no right or wrong answer to this as it entirely depends on what part your courses play in your overall business plan.
So what makes a best-selling course?
First, we need to understand that there are a number of criteria that are used when it comes to assessing how your course is recognised as a best-seller. 
So let's take a look at the most well known method – The Numbers Strategy
The most commonly used approach to getting a best-selling course is very much the same as the method used to get a best-selling book. In short, it's about getting a large number of people enrolling on our course in the shortest time possible from the day that we launch it.
This means that we need to be very proactive about planning our course marketing.
How do we do that?
In this article series and 
in my online course
, I will take you through over 
100 strategies
 that you can use to do it.  But in short, there are two major ways that most online instructors tend to do this on their launch days:
The Massive Discounts Strategy
The first strategy that a lot of online instructors use is to give away their vouchers or coupons for free, or for a massive discount for a limited time when their course is first launched.
You might just limit these freebies and discounts to your existing database or valued customers, or choose to open it up to the global marketplace right away – there are pros and cons to both of these.
Should You Give Your Online Courses Away For Free?
Ensure that you make it clear that your discount or freebie is only available for a short period of time.  Ideally, you want mass numbers enrolling within a week or even in a few days if you can, as this fires off algorithms within the online learning platforms and/or search engines, which is what makes the marketing teams and even Google take notice, and lift up your course ranking in the internal and external search results and listings.
When it comes to deciding whether you should pick the free or the discount option, make sure you think very carefully about your wider business model and what it is that you're trying to achieve for your business.
Ask yourself:
Why you are creating online courses?
Where, why and how do your online courses fit into your overall business income generation stream?
You would certainly use different tactics depending on whether they are your primary source of income; whether they are just a lead generation tool for other products and services, or whether they are a partial income stream from multiple list of inter-connected, or independent income streams that you have going on within your business.  Do feel free to 
get in touch
 with me if you'd like to have a chat about what's best for you if you're not sure.
When it IS a good idea to give away the freebies:
What we really want to be thinking about here is if we are going to give our courses away for free in order to get to the best-selling status, what overall benefit do we want it to bring us? Is your course just for list building?  If so, then free will be a very good option for you (so long as you're giving the free link away via a lead page to actually capture their email address!)
Do you simply want to get 'best-selling' course status on one course, so that you get market exposure and can use the free course as an 'up-sell' to your paid courses or other products and services?  Then again, giving it away for free would be a good option for you.
Another time to give your course away for free would be when your course has been live for a long period of time, you have exhausted every possible selling opportunity with your lists and wider marketing activities and it's gone a bit 'dead'.  By updating the course a little and doing a massive freebie promo for a few days, you will give your course a fresh boost of new enrolments, give it a lift on the rankings and have an excuse to contact your lists again to let them know that it has been updated.
If you have multiple courses, then giving away freebies can be a good strategy because it gets large numbers of people noticing you.  If it's the first time they've ever heard of you, then it's a very low-risk, objection-low way of them getting into your funnel and 'testing you out'. If your free course is really valuable and you give them amazing help and advice, they will be highly likely to want to know more about you and look into your paid courses, products and services.
Be aware of the pitfalls of the freebies:
However, be aware that when you're giving away your courses for free, you are much less likely to be capturing your target audience, as there is a tendency that lots of people will just enrol purely because it's free.
Although you benefit from some social credibility from this (as your course will show higher student numbers which makes paying students buy because it look 'popular'), it could actually negatively impact your best-seller status due to the fact that the 'freebie' students are less likely to complete or review your course.
Remember that three of the top criteria used to measure your course popularity by many hosting systems is based on student engagement rates, completion rates and reviews.  Free students are far less likely to do any of these which is not good for your course cred.
The other downer is that you are less likely to get any kind of genuine feedback about your courses from freebie students, which means you have no idea whether you have a product that has market demand.
Another reason why freebie students can be seen as a bit of a waste of effort, is that they are going to be much less likely to actually buy any of your other courses, products or services from you.
What do I do?
Well, as discussed, different strategies work for different purposes so there is no one answer to this.  Always ask yourself 'what result am I trying to achieve?'
I personally put a huge amount of effort, value and content into my courses and they take me a lot of time to put together.  Therefore I am personally not a fan of the free course strategy unless I'm giving away something that was free anyway (such as a free webinar) in exchange for a list of email addresses – even then I do it with extreme caution as my email host charges me by volume of database numbers (as most do); so the last thing I want is a list of 50,000 email addresses of people who couldn't give two hoots about my topic and perhaps only downloaded my course so that they could pirate it and sell it on the black market (which can happen when you throw around free access).
The times I do use free coupons is when I launch a new course.  I tend to give approximately twenty-thirty free links away to my best paying (existing) customers. I thank my existing customers who already pay me and work with me by giving them a free course before anyone else has it. Always look after those who already pay you.
The people that know me well are far more likely to watch the course, complete the course, are more likely to give me honest reviews; and more often than not, these are the people that are likely to share the course and promote it to their friends as they are likely already fans of my work.  This strategy alone has been enough for me to get my course into the 'top notch and trending' category on 
Udemy
 up against over 30,000+ other courses – so it works and proves that there is MORE to online course best-sellers than just numbers alone.
So in summary, whether you choose to give your coupons away for free or not is entirely down to your overall business model and what outcome you are trying to achieve from having online courses open to the public.
Think big picture and choose carefully based on YOUR business model, not on what everyone else is doing.