How 'One Year No Beer' took their alcohol education programs online – with Ruari Fairbairns
Get The FREE Course Creation Starter Kit
How 'One Year No Beer' took their alcohol education programs online – with Ruari Fairbairns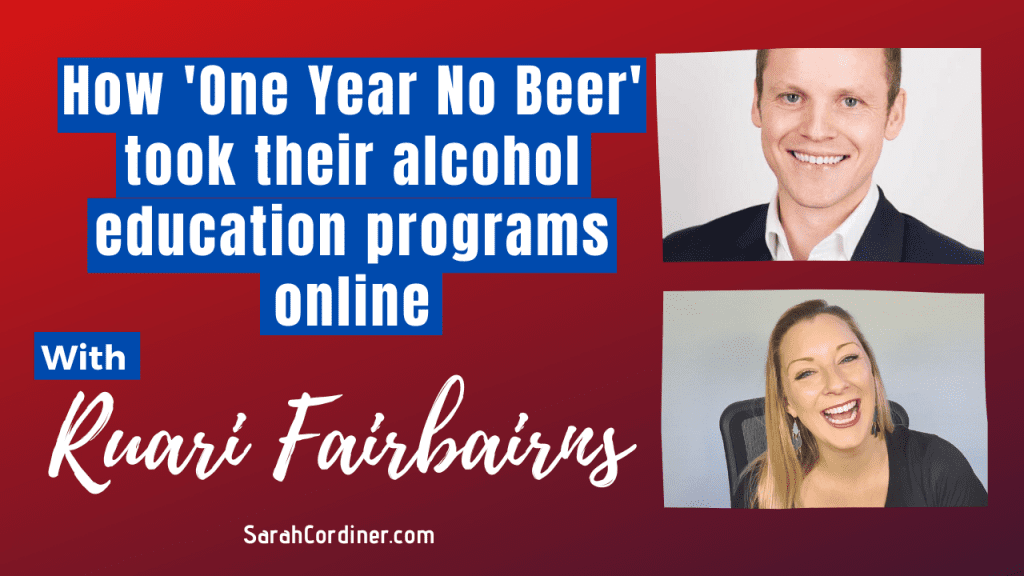 Shownotes
Ruari Fairbairns, CEO of One Year No Beer is going to be coming at us with a few tips about how we could all stay a little bit healthier, a little bit in control of our lives and our situations at the time. 
Listen in to learn how Ruari took his alcohol education program online and what he learned along the way.
Resources
Subscribe To My Podcast
Transcript
Ruari Fairbairns, CEO of One Year No Beer is going to be coming at us with a few tips about how we could all stay a little bit healthier, a little bit in control of our lives and our situations at the time. 
He took a 90 day break from drinking alcohol, and was completely blown away by the improvements in his life. He got together with Andy, co-founder of One Year No beer, and he had just done six months alcohol-free. They realized there's something massive here, people don't realize the advantages and the benefits of taking a break from booze. They thought about a way to get people to realize the advantages and the benefits of living alcohol free. In 2015, they started conjuring up the idea, and at the beginning of 2016, they launched One Year No Beer. 
At first the idea was to create a challenge, just a challenge. No stigma, no blame, no suggestions. This is a challenge, are you tough enough? Can you do it? A 28 day, 90 day and a 365 day challenge. And since then, they are now over 80000 members in 90 countries. They've helped lots of people. As of not so long ago, Ruari is now even coaching celebrities in Hollywood.
Creating the one year no beer program
Now obviously, a lot of course creators, educators, entrepreneurs, are all either in the process of moving online, or they are at the very beginning of this journey. One Year No Beer has a fairly big team, not to mention a very big community of users and followers already. So what was their journey like, creating the challenges, getting those up online, and the recent programs as well. What have they learnt? 
There's a huge list of expensive mistakes Ruari says that his biggest issue, is that he always just wants to sprint. He wants everything now, and immediately. And so the briefs would be poor and limited, there'd be very little planning, but the expectations would be enormous. 
I think that getting your systems right, is often absolutely key in creating an online course. We've been through lots of iterations of, in terms of platforms that we've tried to use, to deliver One Year No Beer. We've made lots of very expensive technology mistakes, I mean we built an app, that has never seen the light of day, and paid for it, unfortunately. And, we're now onto the second one, which will hopefully see the light of day, someday. 
One Year No Beer during the Corona pandemic
The opportunity with Coronavirus is that we are now, looking to hire a tech team. Tech teams can be very expensive, but I imagine that with what's going on in the world that there'll be a number of talent available, which gives us an opportunity. In terms of, our business, at the beginning of Coronavirus, we started to see, sales drop off. People were relying on drinking and now we're starting to see people look for more support, more help. We've massively bolstered what we are doing. We've totally doubled down, trebled down on how we, provide content in the community. 
For us, alcohol was always just the first step, it was like the trojan horse. What we are using is our learning and understanding, to build a behavior change technology that helps people change their relationship with habits, surrounded by peer support. And that is relevant in whatever vertical that we are looking at next. For instance, One Year No Bets, for gambling industry, caffeine, sugar, drugs, whatever it is, this is about empowering people to give support around behavior change.
Tips for transitioning online
Anyone can create an online course, anyone can create online products, online challenges, like you have done at One Year No Beer. Having gone through the process, have you got any tips for anyone? Any tips that you can give people as they start thinking about moving into this transition to online journey? Now that you've been there, done it and got your programs up online.
I would definitely trying to build some audience first, and that can be podcast and blogging and opening up a free group. Once you've got a little bit of audience, it doesn't need to be many, a few, to a hundred-ish. Those are your testers. And starting to put some content into a Facebook group and getting some response back onto that content, is a great way for market research. You test and test and test, and perfect the content. 
Also, when I need to do something that I don't know how to do, I'm gonna pile it in an expert. It will shorten down the journey, and it would massively reduce the time wastage, of going out and discovering and thinking about this, just follow a simple process. For instance, Sarah's process was so slick, that ours was done in like two weeks, from start to finish.
And, if you're thinking about doing a course, and you are still drinking, you're going to be able to build your course within 28 days. With the amount of time you'll save by stopping to drink. Productivity goes through the roof when you knocked booze on the head. 
This Coronavirus thing could be years, he effects. We've got to start getting ourselves in order. You've had a good time drinking, and trying to numb yourself out of it, let's get on front foot. Let's start thinking about the opportunity, let's build an online course, let's start working out, how we can make money, and look after our families, in this time of day. And we could do that superbly well, with both of us. Stop drinking with me, build a course with Sarah.
Get Notified of New Episodes
Receive regular course creation advice, tips and in-depth tutorials.
COURSE CREATION SERVICES
Whether you love to learn how everything works yourself to master course creation skills for life; want to join a group of like-minded people to enjoy the course creation journey with; or you just want the entire job done for you - I can help you design, develop and publish high-quality online courses in any industry on your own custom created online school, complete with all of your marketing integrations set-up and running.
There are 3 main ways to get your online course created.