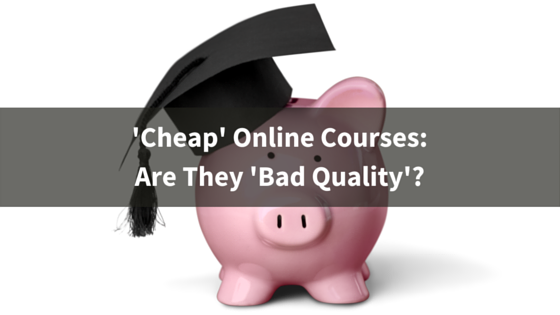 'Cheap' Online Courses: Are They 'Bad Quality'?
Cheap Online Courses – Are They Bad Quality?
There are lots of online learning platforms and online course marketplaces out there and they all have their pros and cons.  
One of the most well known platforms for selling online courses is the marketplace 'Udemy'.  (I talk more about whether you should sell your courses on Udemy in this article).  
While this platform is popular enough to have more than 30,000 courses published on it, one thing many new students and instructors alike first think when they come across this platform is how 'cheap' the courses are.
Courses on Udemy cannot be sold by instructors for more than $50 (at the time of publishing this article), and many even go for FREE.
Which begs the next question 'does that mean they are any good?'
I have taken $5 courses that have given me more helpful, practical and transformational advice than some 5 figure programs I have been on.
Here are 4 reasons why we should not be afraid of cheap online courses:
1. Competition is high
The online learning industry has never been more popular, and as a result, thousands of courses are being published across the globe every single day.  Naturally, this industry 'boom' is increasing the competition and online instructors are using all kinds of tactics to 'stay in the game'; including reducing the costs of their courses.
Let's look at Udemy as an example, where the platform has capped all courses to the same pricing limit of just $50.  When instructors are forced to sell their courses at the same price, they cannot compete for buyers with price.  Instead, the most successful courses are the ones that offer the greatest value and content.
For example, if you were trying to choose between 20 different courses on 'teacher training' that are all priced at $50, you are most likely to buy the course that has the most lectures, the right content and the learning outcomes that you're after. The smaller and weaker are going to eventually get swept down the drain.
2. Are all books bad?
You only pay on average up to $30 for a book, and millions have claimed that a book has changed their life.  I have even been on those 5 figure training programs of celebrity-level entrepreneurs and in terms of content, there wasn't much more in them than was written on the pages of their $30 book – I paid extra for the 'up close and personal' experience, one-on-one interactions and the elite-level friendships such programs can bring.  Of course, I've read books that are terrible, but my point is – $30 or less can change your life.
3. A price can't damage your brand
I often advise my clients who are creating high-end training programs, that they should include sample or 'taster' versions of their elite courses on the 'cheap' platforms like Udemy to generate leads. However, some have asked me whether selling any of their content for 'cheap' might damage their 'elite' brand.
My answer is 'absolutely not'.  The only thing that can damage your brand when it comes to creating online courses, is poor content.  
It's all about how the student perceives the value of what they got in exchange for their money.  You are far more likely to damage your brand by selling a course for $10,000 that a student felt was only worth $2,000, than to sell a course for $5 that a student felt was worth $10.
In short, if you over-deliver, give more to your students than what they could possibly have imagined for ANY price, then you're only going to come out super shiny, covered in glitter and with your learners hanging out for more.
Secondly, if you are buying one of these 'taster' courses for 'cheap', remember that it's probably cheap not because it's 'bad', but because it's simply a tiny sample.
4. Marketing isn't 'cheap'
I find it fascinating that many people turn their nose up at selling their courses 'cheaply', yet will happily conduct FREE webinars, talk on FREE podcasts, and even PAY for advertising in order to get in front of their audience.   I'm not saying these activities are bad (I actively encourage them for selling courses and demonstrating your expertise);  but, even if you are selling your course for $1, you're still getting PAID to get your expertise out in front of your marketplace. Not so 'cheap' now, is it?!
But we must proceed with caution:
Although cheap platforms like Udemy have pretty strict requirements and vetting procedures around audio and visual quality of uploaded courses; there is very little in the way (ok none) of vetting what is actually taught.   This means that pretty much anyone with the right AV equipment (or money to pay staff who do) can create online courses, and as such, means there are some very average and low quality courses out there too.
In Conclusion….
Price is not relative to quality
With these point in mind, it's fair to conclude that 'cheap' doesn't necessarily mean 'bad' – I have taken $5 courses that have given me more helpful, practical and transformational advice than some 5 figure programs I have been on.  
Anyone purchasing courses or any kind should ensure that the price point of the course is not used as a measure of 'quality'.  Make sure you carefully consider the full course curriculum on offer, how much 'implementation' and practical guidance the course provides, the expertise of the Trainer and if possible, ask to see a small sample of the course content.
What are the best 'cheap' courses you have been on?