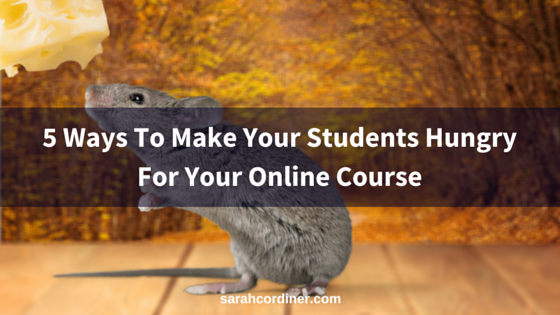 5 Ways To Make Your Students Hungry For Your Online Course
Have you ever bought a music album having not heard the music before?  Probably not.  Before you paid money for the last song you downloaded or CD you purchased, you are likely to have first heard it on the radio, at a friends house, in a club or at a concert.  
If we want to sell more online courses, we need to remember that until someone knows us, they don't know us….  Obvious isn't it?!  However, too many of us think simply creating an online course is enough to sell one too.  But the reality is, that people need to see you, hear you and get a taste of you and your content before they buy from you.
((NOTE:  For a full tutorial on '12 Ways To Market & Sell Your Online Course", see this blog post: >> https://sarahcordiner.com/12-ways-to-sell-your-online-course-in-2020-without-paid-ads/ ))
The free preview method
There are many ways that we can warm up the taste buds of our audience so that they are rocking to our tune and ready to tuck into our course as soon as it is ready for enrolments, and I call this is the 'try before you buy' strategy.
In most online course marketplaces and LMS's, you have the option to set some of your course videos to 'free preview' and this is a brilliant way for your audience to 'try before they buy'.  This function simply allows your prospective students to immediately view the videos that have a free preview available.
In some marketplaces, students can view these without having to exchange an email address (eg Udemy); but in most LMS platforms, students have to enter their email address (enrol in your school) to view any free content.  Obviously, you want to be making sure that you are at least collecting the emails addresses of your warm leads if you are not getting the sale.
If you're not giving away a free sample, selection or taster of your courses in some way, then you are potentially missing out on course sales – as people NEED the reassurance of seeing that they are actually buying something of value, especially in the digital market.
So when you have uploaded your course videos to your chosen online course platform, select a random selection of your videos (around 10-20% is a good guide) to be a 'free preview', so that your prospective students can see for themselves that you have content worth buying.
To ensure that I maximise the benefits of these free sample videos, I also follow the marketing process outlined in this article.
The 'Free Trial' Method
Slightly different from the 'free preview' which is an immediate free viewing of selected videos; the free trial usually gives your students access to all videos in the course (or a large percentage of them) but for a limited amount of time.  In the online course software that I use (Thinkific), you can very easily set time limits on coupon codes so that access expires after a set amount of time.  Integrate this with your email marketing software and you can then nurture them down the purchasing pathway during and/or after their trial.

Free Samples & Trials as Lead Magnets
Another way to generate leads and sales from your free trials is to offer them as lead magnets on your website.
For example, I have installed Sumome on my website (it's free) which enables you to place a banner at the to of my webpage, as well as a pop-up that offers the free sample of my videos.  When someone enters their email address, they get sent to the 'Free Preview' sign up page.
I also create Lead Pages to promote free trials of my online courses, which of course people have to enter their email address to get.
Here is a picture of what this looks like on my site at the moment:
Giving your learners the opportunity to see your content and have a taste of it before they buy can significantly increase your conversion rate, as it reduces their perceived risks and reassures them that your content is what they are looking for, that it's not boring, that it is practical and worth their time and money.
If you have good content, it's that very content that will act as the most convincing sales tool ever.
Offer a Refund
This might sound like a strange place to put this tip, but when people don't feel like they are taking a gamble with their money, in the exact same way a free trial or sample can reassure them enough to buy, so can a guarantee of a refund.
Make a big deal about your refunds.
If you are using Udemy, they have a default, non-negotiable thirty-day money back guarantee (you have no choice over this at all).  Instead of hoping your students don't know about it, make a song and dance about it. It's brilliant for sales.
If you're using a private LMS of your own, state that you offer a money back guarantee in your course description.
Making this offer shows your confidence in your course. It 'proves' that you believe in your content enough to assure them that they will love it and won't need to make a refund.
Use your money back guarantee as a promotional tool.  Tell them that if for any reason they are unhappy with the course, that you will give them their money back. If anyone is slightly unsure, the 30 day money back guarantee is sure to help reduce their resistance and increase their confidence to buy.
Out of more than 4,000 students, I have had less than 15 refunds issued on my Udemy courses and absolutely zero refunds requested on my private school at all.   For the number of sales this promise is likely to have converted for me, I count that as pretty good statistics!
The 'Half Video' Technique
Another technique that has worked well for me under the 'try before you buy' online course marketing strategy, is the 'half video' technique.
This is when you pick a video that drops an epic how-to strategy that your audience really want, and literally only show half of it.  Cut the video off just at the glory moment and replace the screen with a notice saying 'to watch the rest of this video click here' – then direct them to a free trial, free preview or lead page of some kind.
To show you what I mean, here is an example:
[yvi_playlist videos="651″]
I hope these tips help you make lots more online course sales!
Do check out all of the other tips I have here