12 Ways To SELL Your Online Course in 2020 – WITHOUT Paid Ads!
12 Ways To SELL Your Online Course in 2020 - WITHOUT Paid Ads!
https://youtu.be/RYgqYfZeXrg[/embed]
"How do I sell my online course?!"
This is THE number one question that online course creators ask me when they finish creating their course.
In the video below, I share 12 WAYS TO SELL YOUR ONLINE COURSE - WITHOUT PAYING FOR ADS.
These methods are what I personally used to get 32,000 students in 168 countries and they will also work for getting clients into any type of online business, product or service!
Grab a pen and paper and enjoy (PS, big thanks to Thinkific who live-streamed this webinar in their Facebook group)
What I cover in this video:
The two main types of online course promotion and which you should be using
How to quickly and easily create a YEARS worth of marketing content to promote your online course
How to make sure that YOUR course comes up in your target students' search results
How to turn ONE online course video into an online course marketing machine
How to get your course in front of thousands without spending any money
10 simple strategies for maximising your online course sales with no ad spend - even if you are as tech-savvy as a CARROT.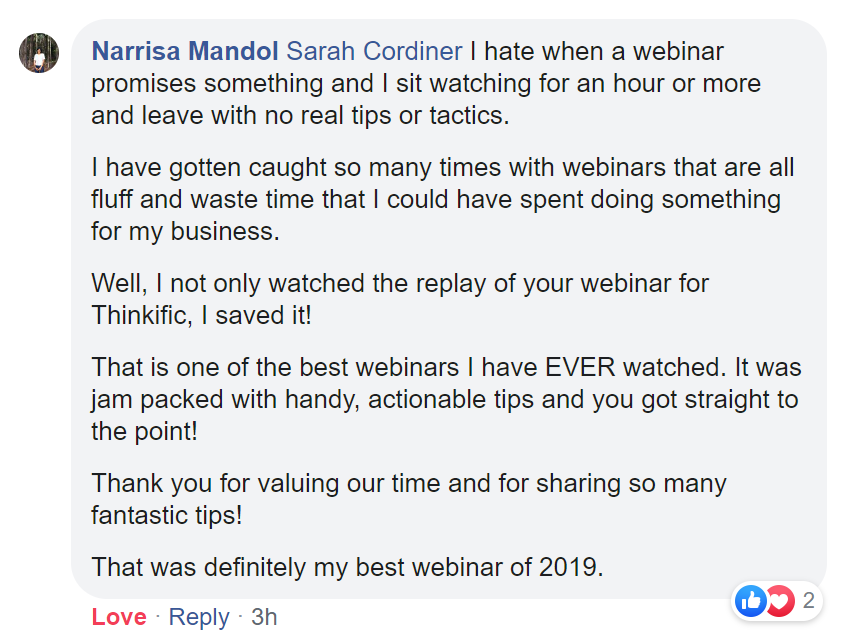 TWO TYPES OF COURSE MARKETING:
There are TWO main ways to market, promote and sell your online course:
FREE ORGANIC / CONTENT METHOD
Long term strategy that builds your presence, credibility, reputation, voice, relationships and genuine fans/followers.
Creates evergreen content that will help people find you forever.
Hack into other people's massive ready-built audiences with instant trust bridge built
It's slow but it works long term.
2.      PAID / DIRECT ADVERTISING
Quickly get mass leads via advertising
Much faster way to grow a list and get quick returns
Leaves you with little credibility affirming searchable content anywhere.
WHICH ONE SHOULD YOU USE?
Use BOTH methods strategically if you want to get the maximum results in your online course business.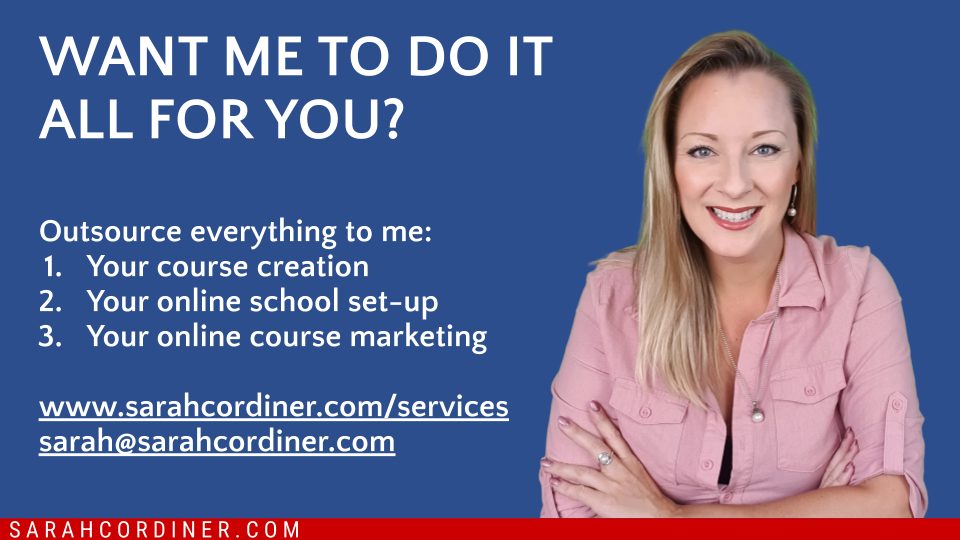 How to protect your online course content and IP from being stolen?: "14 Ways To Protect The Intellectual Property of Your Online Course"
Buy my online course marketing instruction and processes manual: www.sarahcordiner.com/services
How to create an online course? You can take my online course "How To Create Profitable Online Courses"
Recording of the webinar + slides + free quiz + course creation tutorials (ALL FREE): www.sarahcordiner.com/thinkificbonus