LEARN HOW TO CREATE YOUR OWN ONLINE COURSE with Sarah Cordiner
This self-study online course will guide you through every step of creating your own online course. From coming up with a topic, right the way through to your launch. Start creating your online course today!
UP TO DATE & NEWLY RELEASED CONTENT FOR 2020
**This course was freshly updated with LOTS of new video tutorial content, templates, workbooks, checklists, downloads and tech demonstrations in November 2019; ready for course creators to be ahead of the game for the leading edge of course creation in 2020**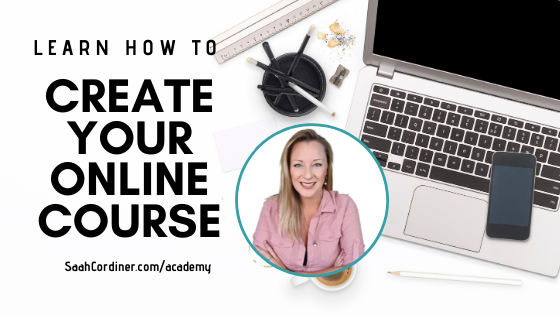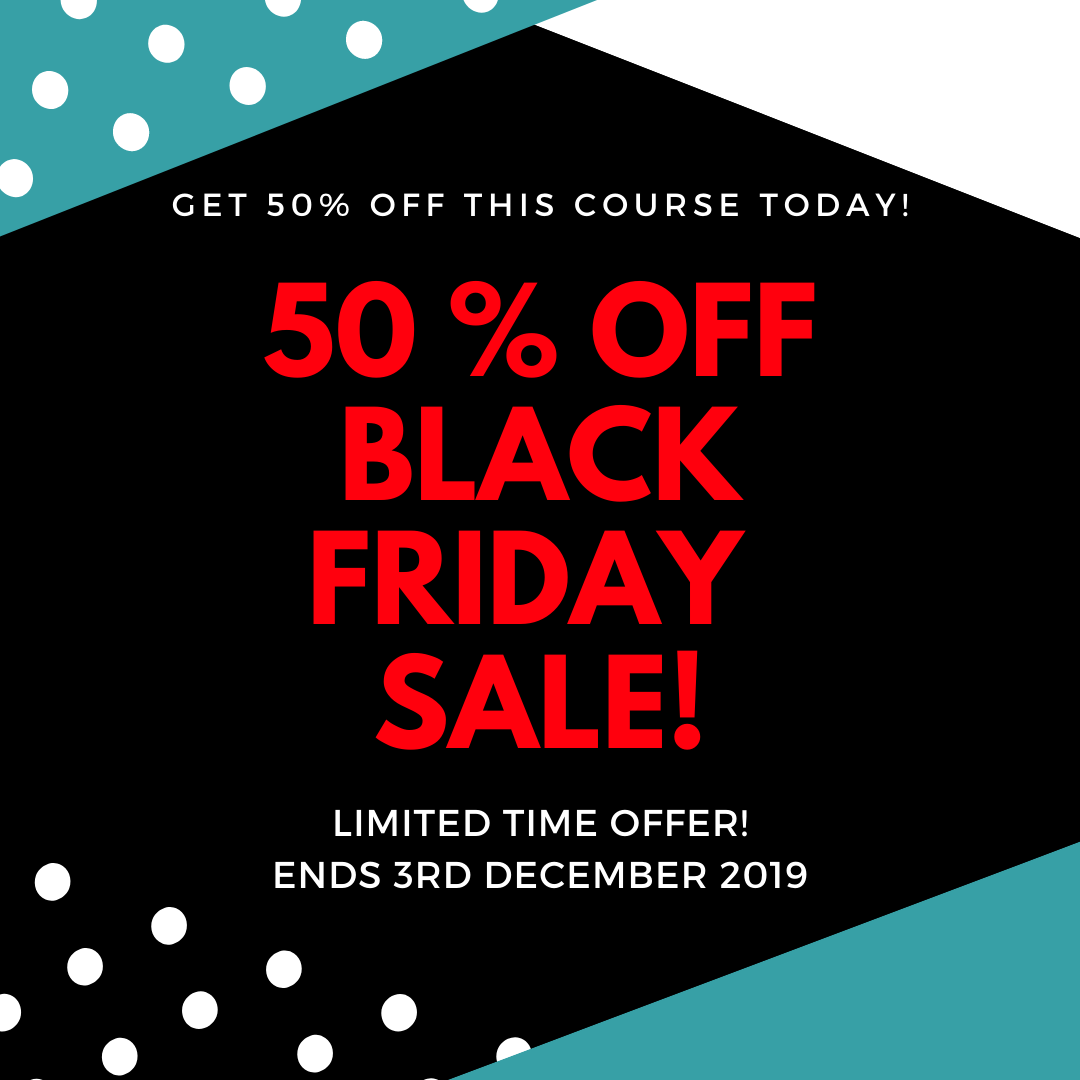 This practical online course (freshly updated in November 2019) by Postgraduate qualified teacher and education professional, Sarah Cordiner, will take you through every single step to:
design and create your own engaging and profitable online courses

build your own online school

and finally get your online courses out to the world!
This course has helped over 12,000 other people like you to turn their knowledge, expertise and hobbies into income-generating online courses.
If you're ready to get your online course out of your head and into the world, this course will help you get there step by step. 
Whether you're a total beginner with no idea what you even want to teach yet, or an experienced educator - this course has everything you need to turn your online course dreams into reality right now.
Master the art of online course creation and
FINALLY GET YOUR ONLINE COURSE COMPLETED AND OUT TO THE WORLD.
If you want to make a passive income, positively impact the lives of millions, take your expertise global, establish your authority in your industry, diversify your income streams or simply have a profitable hobby - then creating and selling online courses is for you!
BLACK FRIDAY 50% OFF UNTIL 3RD DECEMBER 2019 ONLY!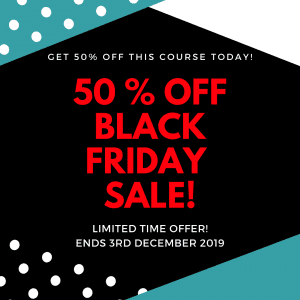 Don't miss out on this special 2019 BLACK FRIDAY special!
Get this online course for just $147 instead of $297 (price will increase in 2020!)
WHAT YOU IMMEDIATELY GET INSIDE THIS ONLINE COURSE
Here's exactly what you get in this internationally acclaimed online course:

As soon as you log in to this course, you get immediate full access to over 70+ detailed, practical tutorial and demonstration videos, editable templates, worksheets, discussion areas and more; all designed to help you learn:
MODULE 1:
ONLINE COURSE TOPIC & PROFIT
Pre-Preparation Workbook (downloadable) with set-up, tech and prep Checklists, process guides and tasks

Course Planning and Profit Workbook (downloadable) with tasks, processes and course planning checklists

How to pick the perfect topic for your online course 

How to ensure that your course has high market demand 

How to create an online course that will SELL!

Quick and easy (but crazy effective) market testing and research strategies to check that your course idea is viable

How to adapt your business model to make more money with online courses

How to make your overall business more profitable 
MODULE 2:
ONLINE COURSE CONTENT, STRUCTURE & DELIVERY
How to quickly and easily get your course content together

Downloadable workbook, course creation process guide, checklists and templates

How to structure your online course modules and lessons

Complete your online course outline 

How to ensure that your content is up to date, highly relevant, super-searchable, engaging and precisely what your market want to buy

How to make sure your online course is engaging and meets adult learning principles for maximum learner transformation and completion

How to deliver your online course - including online school delivery methods

Filming presentation and video structure guidelines

Course content creation checklist

Much more!
MODULE 3:
ONLINE COURSE TECH, EQUIPMENT & FILMING
Detailed downloadable workbook with checklists and swipe copy

Find out exactly what technology and equipment you need to create your online courses

Step by step set-up demonstrations and tutorial videos to get all of your online course tech set up and LIVE - and even enrolling students!

Film your online course videos - even on a budget

You will set up and OPEN - your online school (step by step guided walkthrough + Checklist) (**Thinkific)

You will design and publish your online course landing page - AND get my tried-and-tested online course sales page swipe template (responsible for hundreds of thousands of dollars in course sales)

You will learn how to use an email marketing software system; connect it to your online school; set up your automated student emails (all with my step by step setup walkthrough tutorials AND email SWIPE COPY (**Active Campaign)
MODULE 4:
ONLINE COURSE LAUNCH & MARKETING
Detailed downloadable workbook + instructions + processes

Publish your online course! (+ 'final check' checklist)

Online course launches, marketing and promotion strategies

Course marketing strategies & ideas list + planner template

How to market your brand and business as an industry authority and leading expert in your field

Then >>> YOUR COURSE IS LIVE AND OPEN TO STUDENTS!!!
BLACK FRIDAY 50% OFF UNTIL 3RD DECEMBER 2019 ONLY!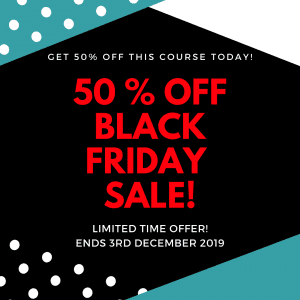 Don't miss out on this special 2019 BLACK FRIDAY special!
Get this online course for just $247 instead of $497 (price will increase in 2020!)
YOUR ONLNE COURSE BUSINESS MODEL
Design your wildly profitable Edupreneur's business model and master course pricing
In this section of the 'How To Create Profitable Online Courses' course, you will:
Apply the principles of Edupreneurship to your business to boost your impact and income

Re-strategise your business to complement and benefit from the learning revolution

Feel assured that you can be financially healthy AND a good person

Assemble your list of income generating Edu-products and services

Formulate your profitable 'packages' and offerings for your wider online course business using Sarah's profitable education business models

Determine whether you are an Entrepreneur or an Edupreneur

Establish and set the price of your online course, including payment plans for your students based on Sarah's course pricing guide

Recognise the warnings of a lucrative and global business model

Determine where and how to sell your online courses for maximum sales and exposure
PICK THE PERFECT TOPIC FOR YOUR ONLINE COURSE
Choose the perfect online course topic for impact and profit
In this section of the 'How To Create Profitable Online Courses' course, you will:
Find the perfect course inside of you to start teaching now

Implement strategies for finding the best topic for you and your unique combination of expertise

Uncover the course that is most aligned to your deepest passion and has the best potential for profit

Choose a course title that will attract your perfect students
CONDUCT YOUR ONLINE COURSE MARKET TESTING
Test that your course idea has high market demand
In this section of the 'How To Create Profitable Online Courses' course, you will:
Ensure that you are building a course that your audience will love

Establish the exact audience for your course and list the differences in what they want vs what they need

Determine your course mass market and niche market

Acknowledge the competition so that you can be better and different

Conduct the essential pre-course testing activities necessary to determine whether your course has market demand

Conduct at least 10 market research and market testing strategies to ensure that your course has a market of buyers

Gather real data on what your audience think about your course idea and what it should include

Recognise the differences between beta testing, pilot testing and taster courses - and how to use each one effectively

Implement pre-selling activities to determine final market demand - and start making sales!
GET CONFIDENT
Awaken your course creation mojo - beat excuses, crush procrastination and get motivated!
In this section of the 'How To Create Profitable Online Courses' course, you will:
Overcome your biggest fears, barriers and blocks to creating your online course

Crush the imposter syndrome

Conquer concerns about your IP being stolen or competitors affecting your course

Re-discover your course creation motivation and get fired up for implementation

Ensure you a have a clearly defined purpose, vision and mission to keep you focussed and on track
This module of the course includes a full free e-copy of my international number 1 best selling book "Awaken Your Course Creation Mojo: Beat Procrastination and Awaken Your Course Creation Motivation"
DESIGN YOUR ONLINE COURSE
Plan your course outcomes, craft the vision, design the learning experience
In this section of the 'How To Create Profitable Online Courses' course, you will:
Determine the results your course is going to provide and articulate how it will benefit the learners that enrol.

Formulate a clear plan for transforming your learners lives

Create your course aims, objectives and outcomes

Master the art of correct learning outcome creation and formulate your formal course outcomes for your landing page
CREATE YOUR ONLINE COURSE
Compose your content, build your structure and assemble the perfect course plan that inspires, transforms and captivates your audience
The tutorials and templates in this section will help you get your content into the right order and ensure that it is valuable and engaging to every learner.
BUILD YOUR ONLINE SCHOOL
Set up your own online school, integrate it with your marketing, and open your platform for students and sales
The demonstration tutorials in this section will show you how to build and open your own online school (basic).  You will be able to follow the videos and build your online school as you watch them - even if you are a total tech newbie!  This section also shows you tips and techniques for filming your online course videos - including filming equipment to use (even if you're on a budget!).
AND MUCH MORE!!!
Yes! SERIOUSLY!  You get ALL of the above content and more inside this online course. 
It is not drip-fed - you get FULL access to EVERY single lesson listed above as soon as you log in.
You get LIFETIME access to the content, including all future upgrades.
I will also send you a few check-in reminder emails to keep you accountable and progressing through your course creation. 
There really is no other more comprehensive course on how to create online courses out there.
ABOUT YOUR TRAINER SARAH CORDINER (PGCE & BA HONs Ed)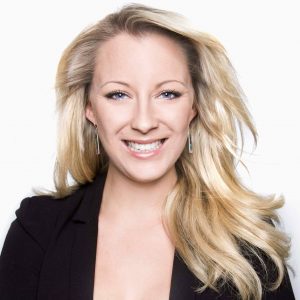 Hi there, I'm Sarah.
I am a postgraduate qualified education professional with over 14 years of experience as a qualified teacher, trainer, curriculum developer and education leader.
I am an ex-university 'Executive Director and Head of Campus' and was the most senior leader of one of the most remote university campuses in the world - a university that was ranked number 1 in Australia at the time of my leadership.
I am also the CEO of an award-winning international education and training company which has designed, developed and delivered training and education (accredited and non-accredited) to thousands of learners across the globe - including small businesses, colleges, registered training organisations, universities, schools, ASX and Fortune 500 companies and State and Federal Governments.
Over the past decade, I have helped tens of thousands of course creators and who I call 'Edupreneurs' to create and sell their own engaging online courses and build successful education-based businesses.
I have a BA (Hons) Degree in Education, a Postgraduate Degree in Education, a Diploma to Teach and Certificate in Training and Assessment. 
These qualifications combined with the practical experience of teaching, training and building a highly successful education services company can assure all of my students that they are in great hands.
Sarah Cordiner was listed as "Huffington Posts' 'Top 50 Must-Follow Female Entrepreneur for 2017'
Postgraduate qualified in Education
Over 14 years running an international education & curriculum design company
Sarah is a 5 times international number 1 best-selling author in the topics of education, training, course creation and building successful education-based business
Sarah is the content creator and TV host of the 'Course Creators' TV show on 'Bizversity'
Podcast host of 'The Course Creators' Podcast
Over 20,000 students in 146 countries and multiple awards
Learn more about Sarah here: www.sarahcordiner.com
Check out Sarah's work history on LinkedIn
Join Sarah's Facebook group 'Entrepreneur to Edupreneur - Course Creators'
Sarah is a 5-times international number 1 best-selling Author in education, course creation and education-based business development
BLACK FRIDAY 50% OFF UNTIL 3RD DECEMBER 2019 ONLY!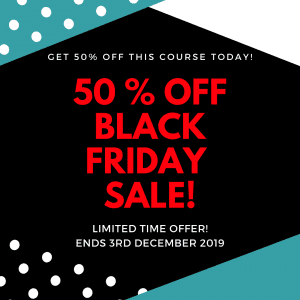 Don't miss out on this special 2019 BLACK FRIDAY special!
Get this online course for just $247 instead of $497 (price will increase in 2020!)
GOODBYE PROCRASTINATION
HELLO IMPLEMENTATION
How long have you been wanting to create your own online course academy? A few weeks, months, YEARS?
How much longer are you going to let your dream pass you by? Long enough for regret to takeover? Long enough for your COMPETITORS to take over ?
Don't let this be one of your life's regrets your audience deserve the information that's locked up in your head and they are ready and willing to pay you for it.
It's going to be impossible to let your course go 'uncreated' for another day longer for those who follow the steps in this 'How To Create Profitable Online Courses' course with Sarah Cordiner.
Just look at some of the benefits that having an online course creates for you:
You will create a passive income as your students will be able to find, buy and study your online course without you having to do anything!

You will have a product to sell from stages

You will have a product to give away at conferences and expos as a lead magnet 

You can use your online course to increase your speaking fees by including it as part of your speaker package

You can use it to add value to your other package offerings as a 'BONUS' product

You can turn your online course into published books - and  include it in or with your books so that they promote each other

You can turn your book into an online course to make extra income

You can give it away or sell it from podcast and media interviews to grow your audience base and email list

You can turn your online course into a keynote presentation, professional talk and corporate/public workshops

You can turn your online course into high-ticket bootcamps and mastermind programs

You can add some of your course content to YouTube and social media to grow your following and subscribers - which further promotes your course

and much more......
In this online course you will be given tools, knowledge and skills to be the master of your own online course business forever after.
THESE SKILLS ARE SIMPLE, FUN & EASY TO LEARN
I remember when my first online course was just a dream.
How excited I was at the possibilities that turning my knowledge into a digital product would bring me for passive income, for scaling my business without having to do more work, for reaching thousands, even millions of people across the globe, without even have to leave my office.
But I also remember the feeling of complete overwhelm.
I remember thinking 'whoooaaa, I have SO much to learn'.
I had SO much training content from years of working in my field, and I was like a deer in headlights trying to decide where on earth I was going to begin in transforming it into an online equivalent.
There were so many online learning platforms to choose from, so many features to understand, so many ways that I could package and deliver my online content.
I didn't know whether I should film 'talking head videos' (or how to do that), I didn't know how to price my online course, how long they should be, what tech I'd need or how to connect it all together.
But being a qualified education professional, I excitedly took on the challenge of learning a new form of curriculum design and development and immersed myself in the online learning world.
After a month or two, I got my first online course published and it immediately went to bestseller ranking out of over 30,000 courses on a well known online course marketplace - and remained there for more than 6 months.
It gathered thousands of students from around the world and my following and reputation as a professional educator and online course creator went global.
My second online course had exactly the same success.
I now have over 50 online courses of my own and have created thousands for other people and organisations.
I have made millions of dollars from my online courses over the years, including the income I've made off of the back of my online courses in consulting, one­ on ­one coaching, bootcamps, public speaking, book sales and 'done for you' services.
To add to that, more than 95% of my total turnover in the year after I published my online courses, came from overseas as a result of creating such global content - that was a 1,900% increase in revenue compared to when I was only delivering face to face training ­- income that I would NOT have otherwise had if I didn't have my courses online.
I now have trained over 20,000 students from over 146 countries studying my online training 24 hours a day.  ANYONE can do this too - you just need to get that first course out there!
YOU CAN HAVE THIS TOO!!
The first step is getting that online course completed and out to the world to make it happen.
All you have to do is START.
How much more (passive) income would your business be earning if you increased your revenue by 1,900% too???
I am proof (and so are thousands of my students) that all of this is possible with online courses,­ and you're just one click away from learning how to build an online course of your own.
Creating online courses will increase your market share, grow your network, your NET WORTH, your community and importantly how many people you can help -­ whilst actually doing less work.
So I get it, I've been there, I know how overwhelming this can all feel.
But, you are very capable of learning and you will totally kick yourself for not starting sooner when I give you start the steps shown in these tutorials to make it happen and show you just how easy it is.
HOW MUCH DOES IT COST TO MASTER ONLINE COURSE CREATION WITH SARAH CORDINER?
One-time payment - learning for LIFE
Make a one-time payment of $497 for immediate lifetime access to this course (including all future upgrades)!
BLACK FRIDAY 50% OFF UNTIL 3RD DECEMBER 2019 ONLY!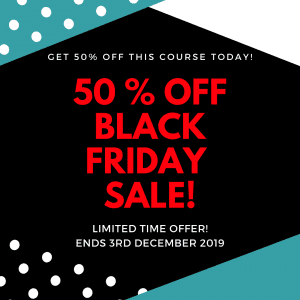 Don't miss out on this special 2019 BLACK FRIDAY special!
Get this online course for just $247 instead of $497 (price will increase in 2020!)
REVIEWS AND TESTIMONIALS OF THIS COURSE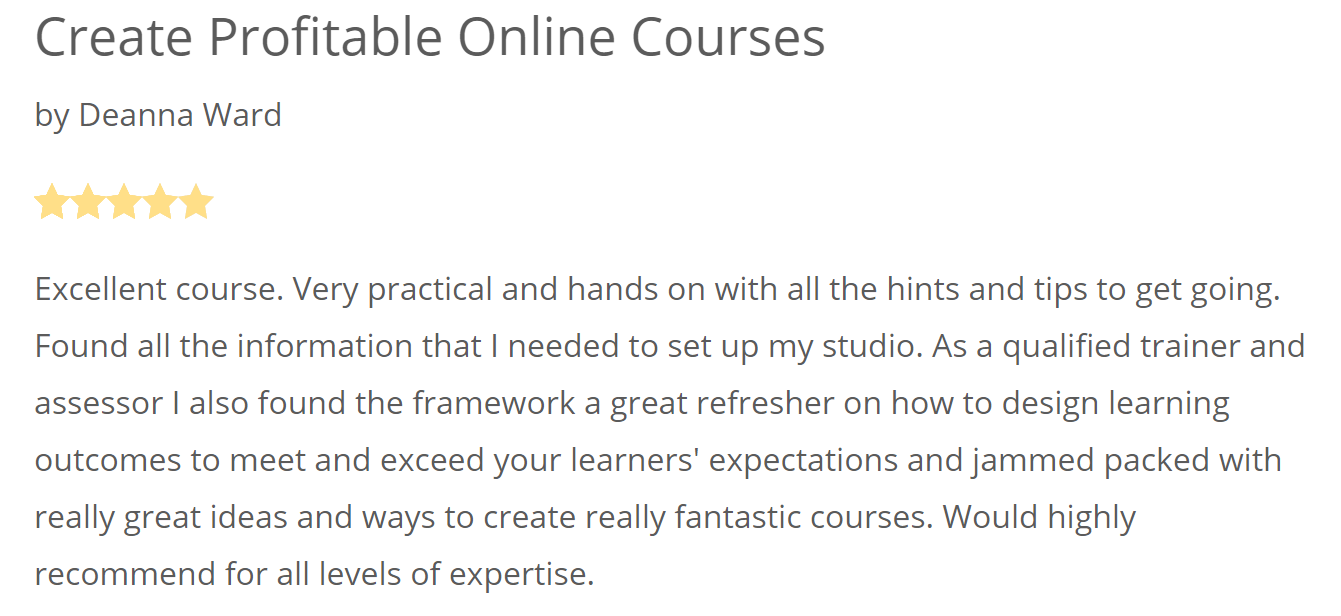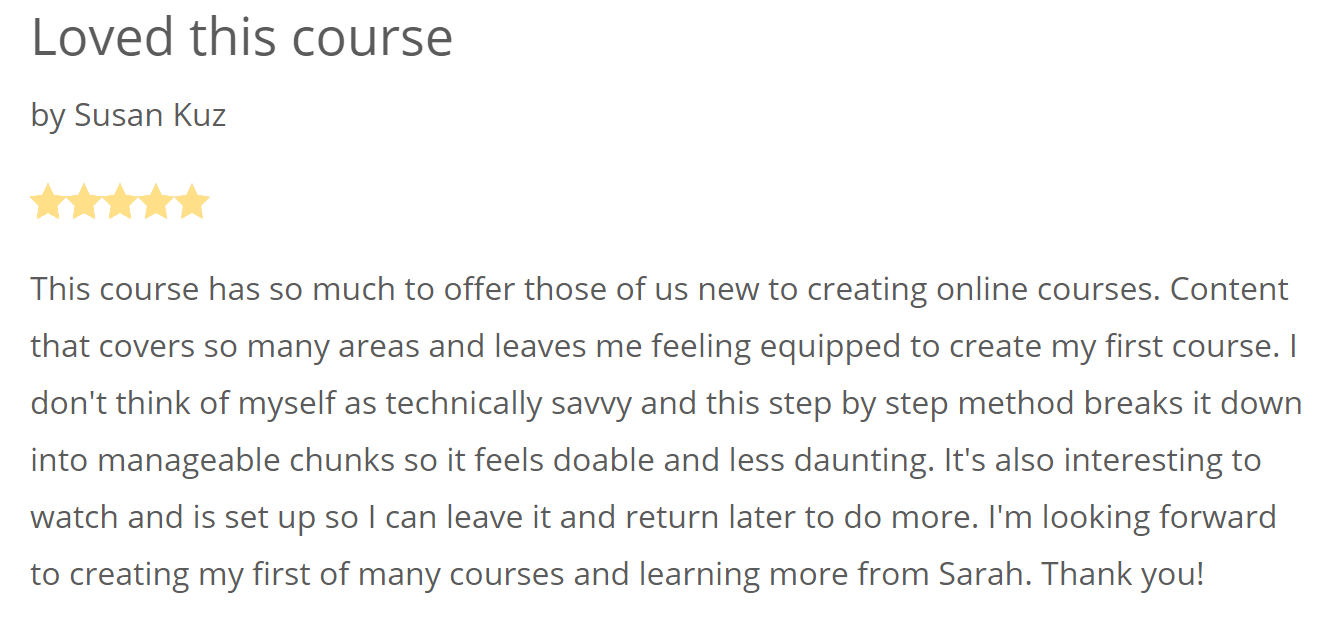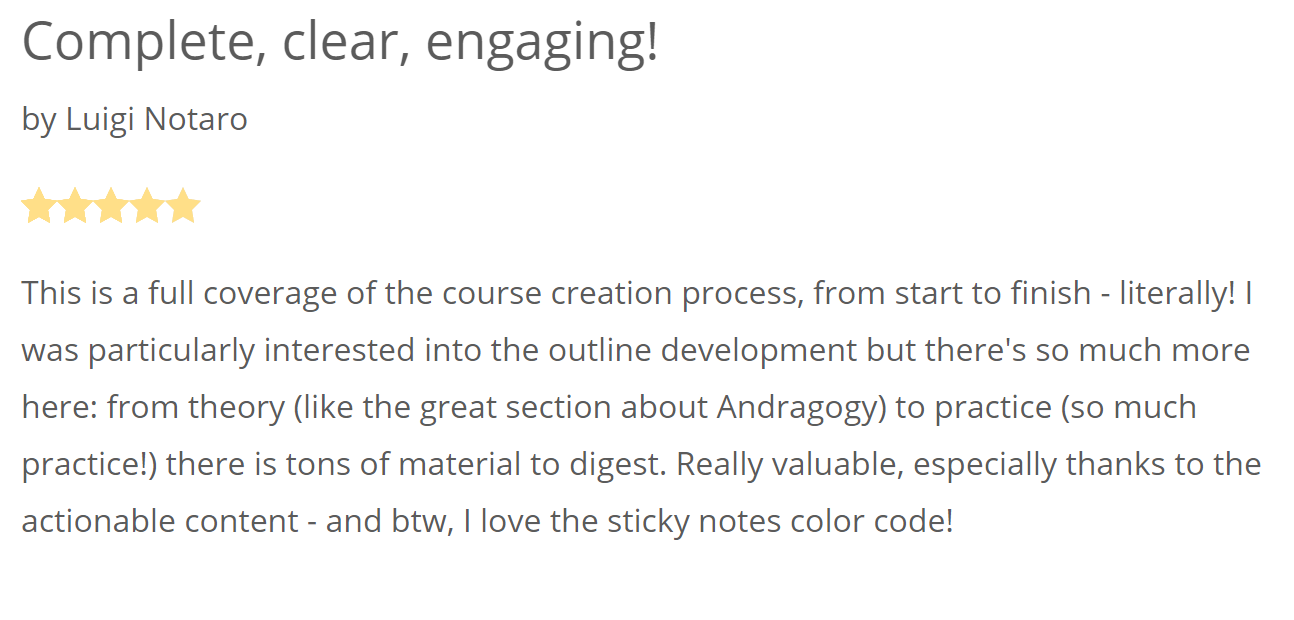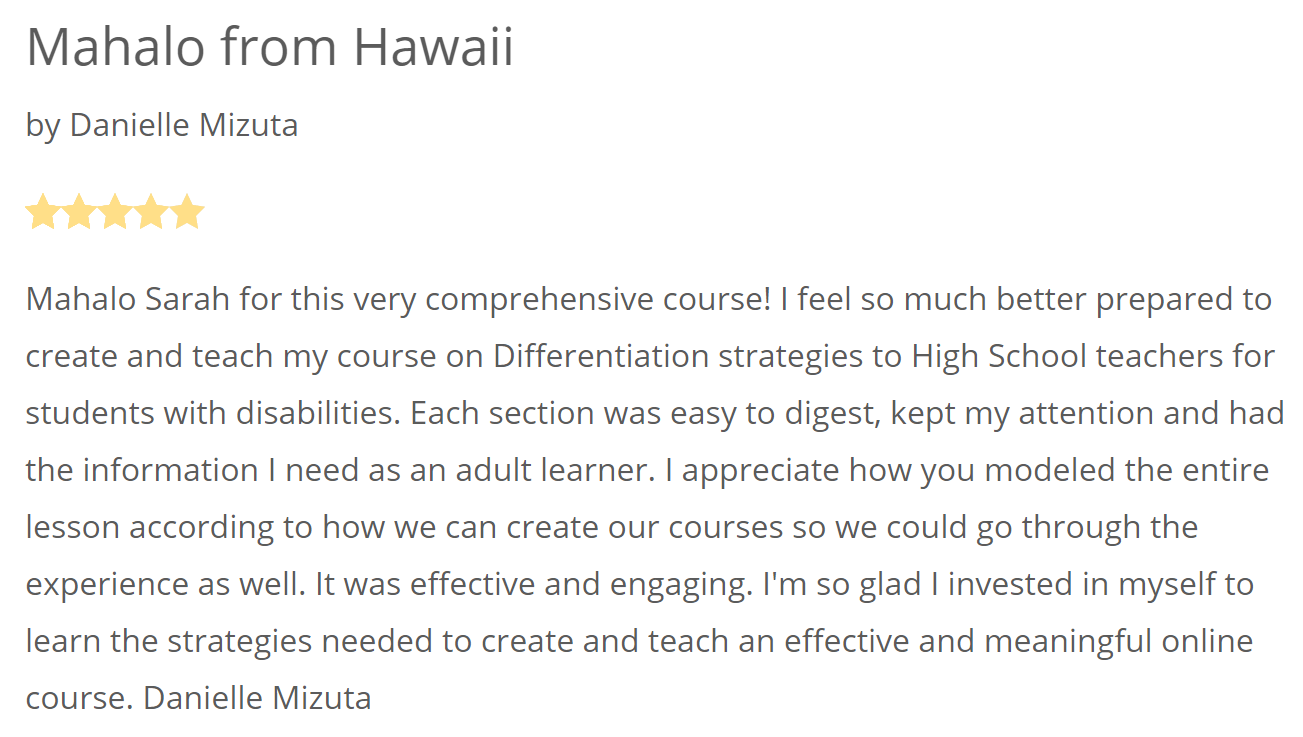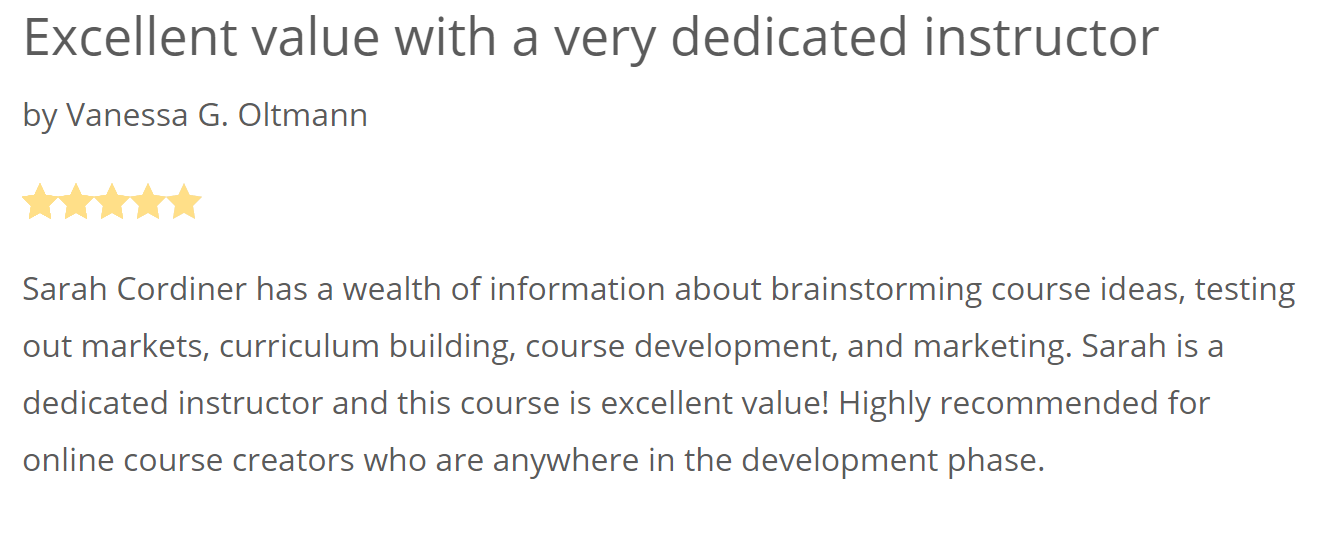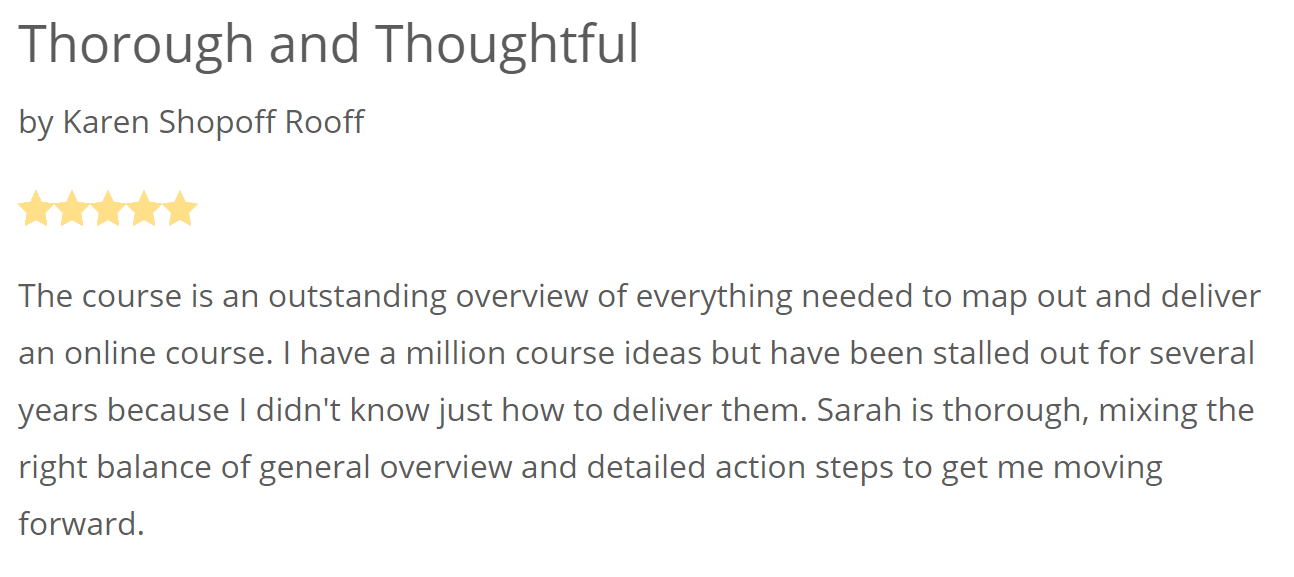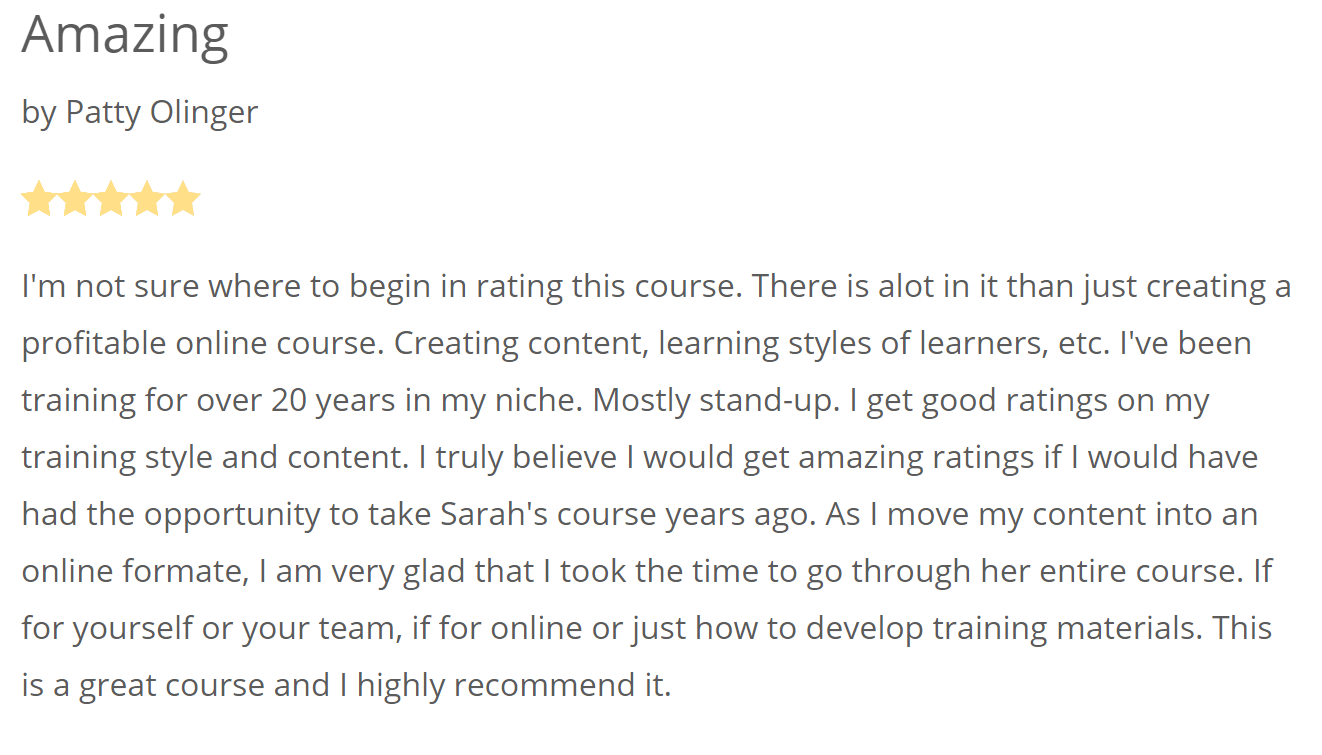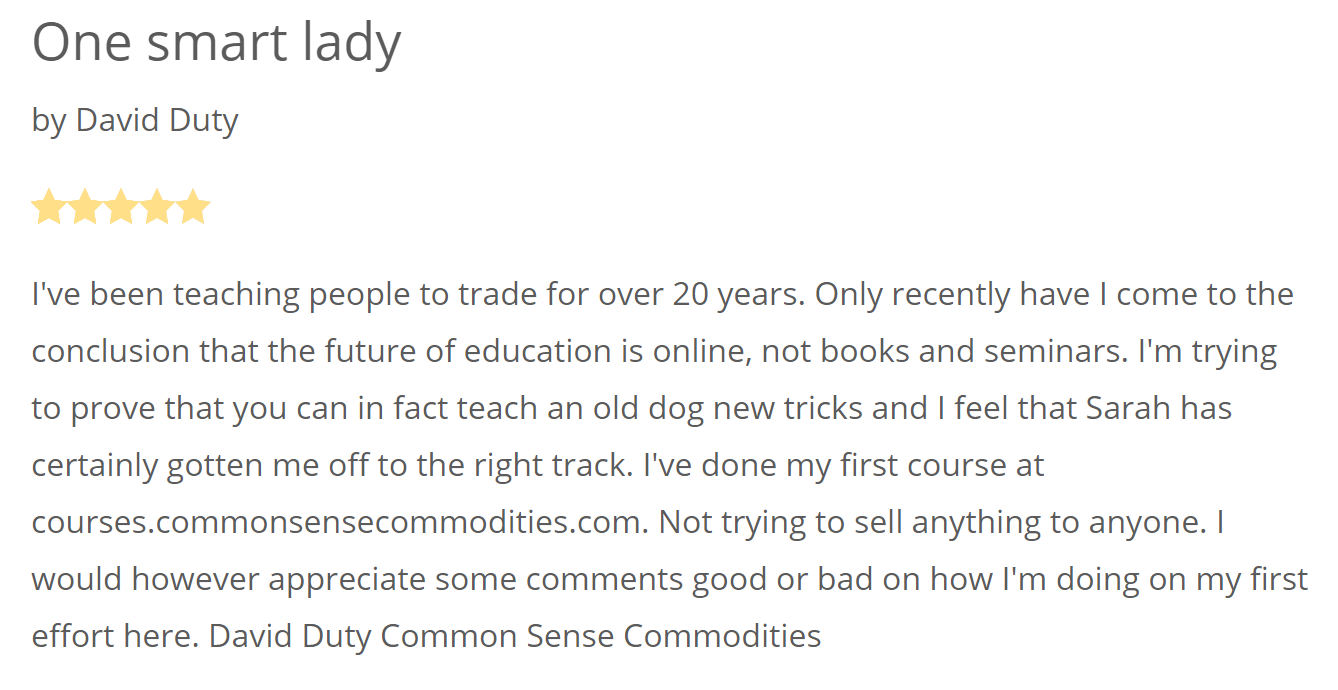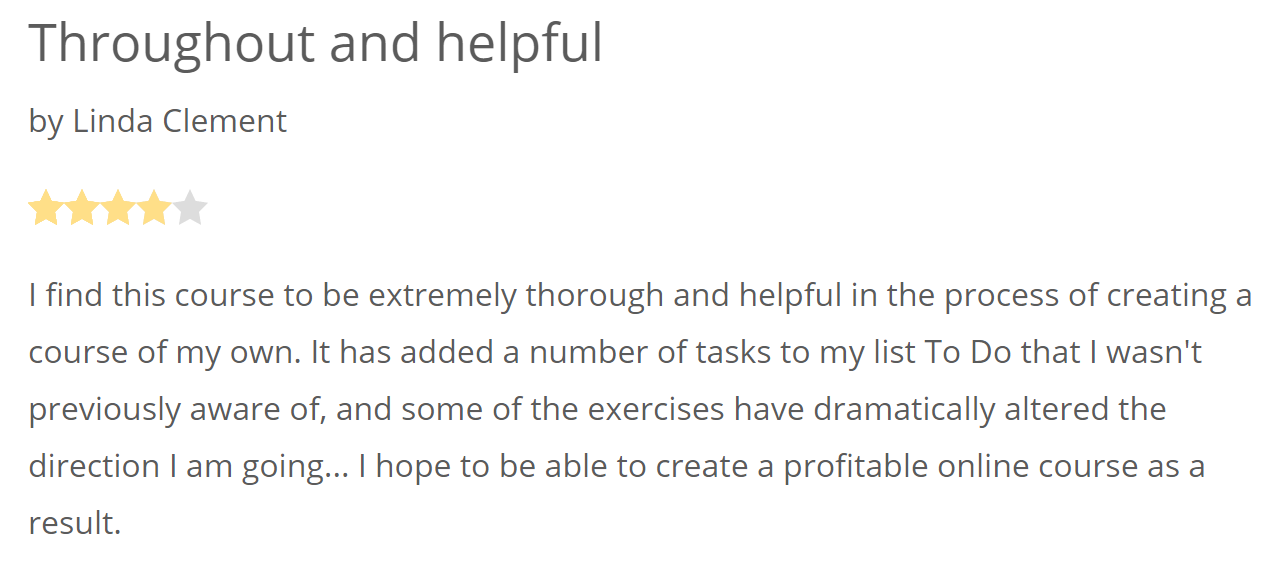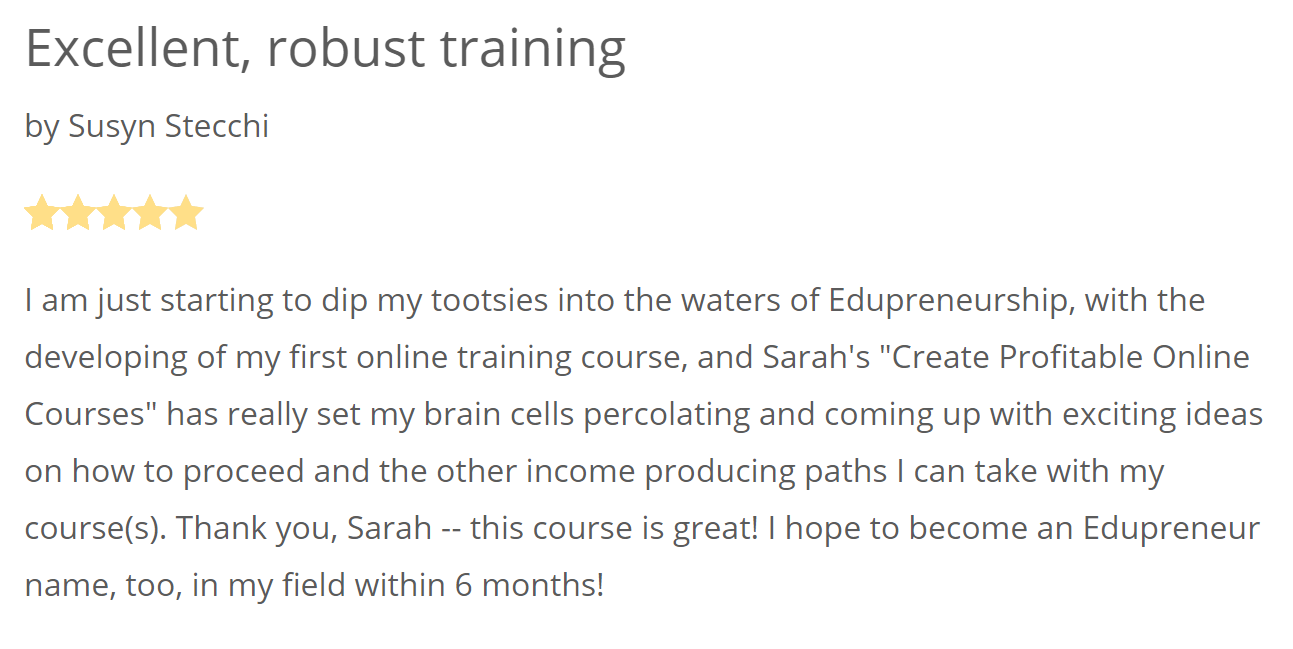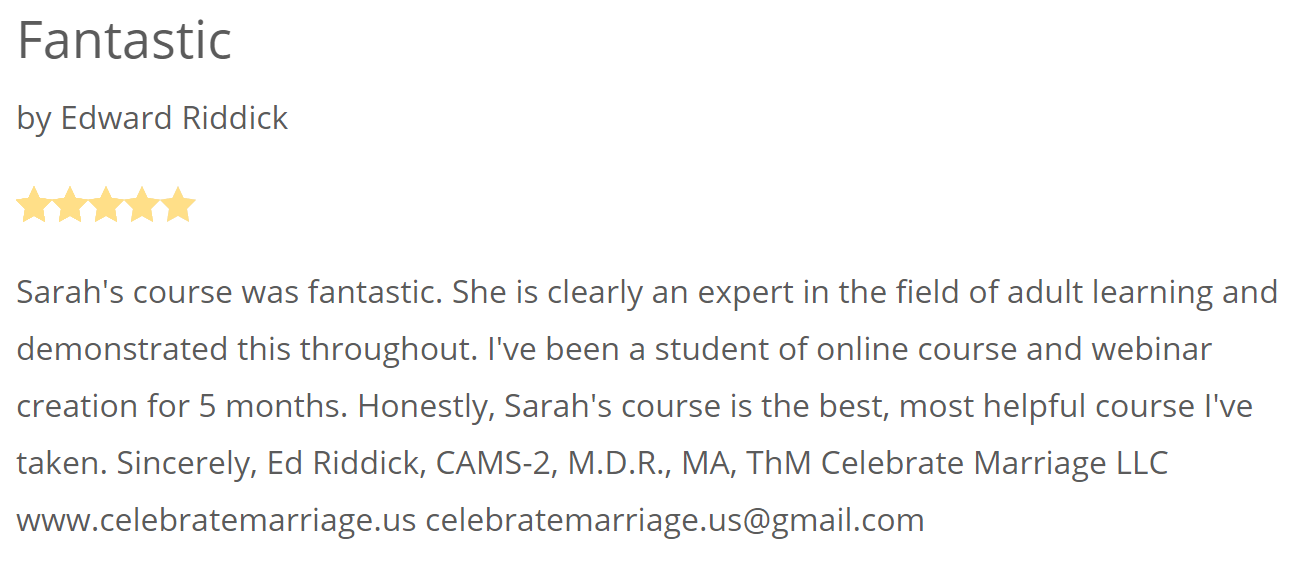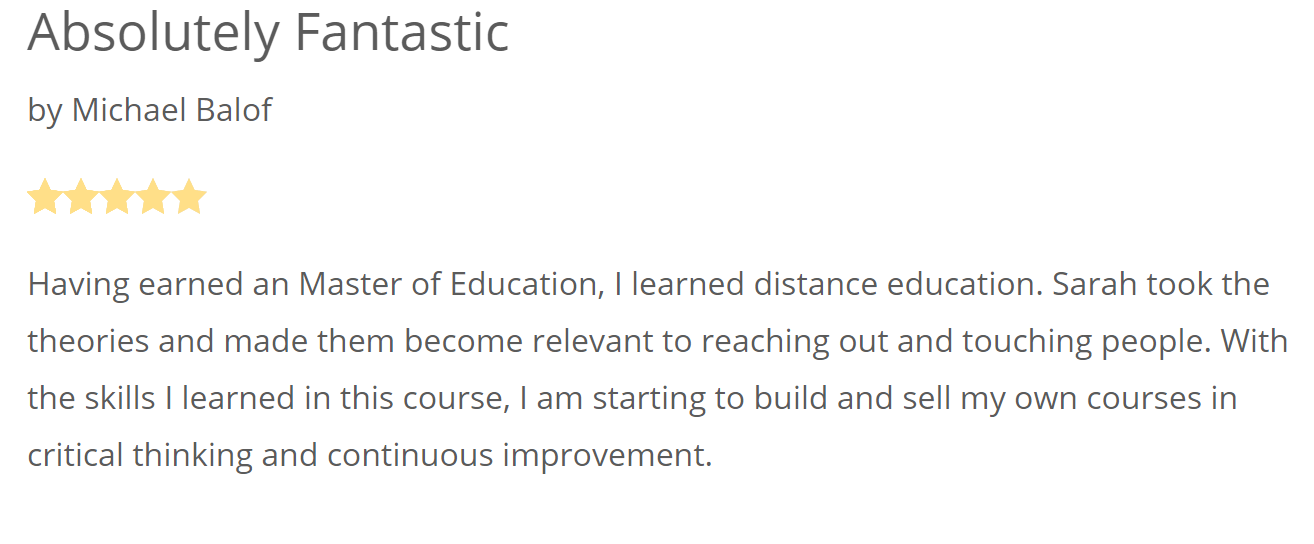 WHAT PEOPLE ARE SAYING ABOUT SARAH'S COURSE CREATION TRAINING
THIS IS YOUR LAST CHANCE TO GET IN AT THIS INSANE PRICE - DON'T MISS THIS OPPORTUNITY TO CHANGE YOUR LIFE AND THE THOUSANDS OF STUDENTS THAT ARE OUT THERE SOMEWHERE WAITING FOR YOUR ONLINE COURSE TO BE BORN!
BLACK FRIDAY 50% OFF UNTIL 3RD DECEMBER 2019 ONLY!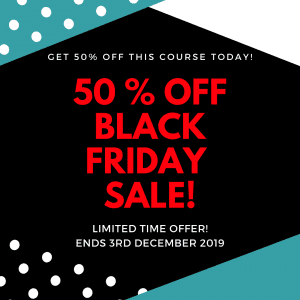 Don't miss out on this special 2019 BLACK FRIDAY special!
Get this online course for just $247 instead of $497 (price will increase in 2020!)