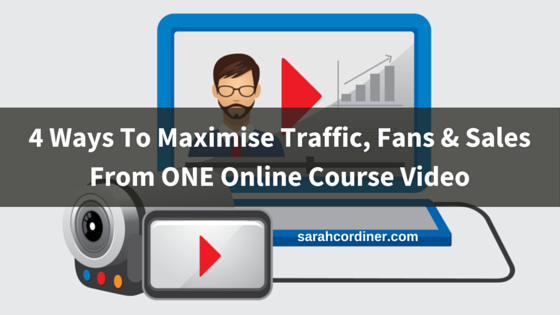 4 Ways To Maximise Traffic, Fans & Sales – From ONE Online Course Video
Video is currently one of the highest converting sales and marketing techniques that you can possibly be using for your business right now; and as online instructors, we have these in abundance.
The thing is, most online instructors I meet are humble creatures.  They love to teach, but they don't necessarily like to promote themselves and as such, miss out on way too many online course sales.
For those that get 'icky' at the thought of doing 'promotional' videos, you are going to love this – your content videos are the BEST sales tools, just as they are!
People hate being sold to, so your instructional videos already poop all over promotional videos.  But there's more….
People don't type into search engines 'Sarah's promo video'.  They type in 'how to <insert topic here>'.
Therefore, if your videos answer a question, you're significantly increasing your opportunity of getting traffic, fans, followers and sales from them.
If your videos answer a question, you're significantly increasing your opportunity of getting traffic, fans, followers and sales from them.
The videos that get the most views, the most clicks and convert into the most sales, are the videos that show up when someone types in 'How to ____'.  
Are your tutorial videos answering the 'how to' questions your audience have?  
Are your videos coming up as the number one solution to your customers' 'how to' questions?
In this article, I will share with you some top tips on how to use your online course videos to get the absolute most fans, followers, traffic and sales.
 Keep your videos short and sweet
The first and biggest piece of advice, is to make sure your videos are short and concise.  
Keep ONE key piece of information per video

Make sure the video answers a 'how to' or 'how do I' question

Keep every video under 9 minutes long where possible.
In part, this is because people have very short attention spans and barely last more than 2 minutes watching a video before they get bored and move on.  Secondly, (and importantly for course sales) the reason for keeping ONE key point per video, is so that it can act as a marketing tool for you.
How? Keep reading……
If your videos answer questions, then don't just WAIT for someone to ask you the questions – actively go out of your way to FIND the questions so that you can answer them.
Search Facebook groups for the questions your videos answer
Did you know that you can search within Facebook groups to find people and keywords?
This is brilliant for leveraging your expertise in target groups by being super helpful.  For instance, I have joined numerous Facebook groups where my audience hang out, and on a weekly basis I go into those groups and search for the questions that my videos answer.
Eg.  If I have a video on 'How long should your online course videos be?', I will go into those groups and type in 'how long online course videos' to find all of the posts that include those keywords.  
Then, it's as simple as answering those questions with:
'Hello <person's name>, this video might help you out! <insert your YouTube video>'.  
Depending on the group rules and the situation (you want to be helpful, not salesy), you may even be able to add a link underneath to say 'this is from my xxx online course'.
I have found this method to get me lots of followers, fans and buyers as it is laser focussed on solving your prospects problems – whilst presenting them with a full solution in a non-salesy way.
So this goes back to why our videos should be short and sweet with only one key point in each one.  If your video was 20 mins long and covered numerous points, this marketing method simply would not work for you.  It would be vague and feel spammy, instead of a super helpful, direct answer to a specific question.
Here is an image to show you how to search for your keywords in Facebook groups:
Search online forums for the questions that your videos answer
Using the exact same method as I do for the Facebook groups, searching online forums has been another big traffic and sales generator for me and my online courses.  
Quora is a great site for using this marketing method, as it's a site where millions of people ask questions about everything, and I'll bet my bottom dollar that your topic will be in there somewhere too!
Simply create a free user account, and search for the keywords and questions your videos answer and post your helpful replies!  
Be aware however, that in Quora, you have to be a little bit more helpful than just posting the link to your video in order to milk their traffic.  You will need to insert some substantial text with your video, so transcribing your video is another top tip for this very reason.  You can read more about transcribing your video in this article.
How to find questions on your video topics in Quora:
Reddit is another online forum that can be used just like Quora – although be aware that Reddit has slightly more, how do I put it, 'hard core keyboard warriors' in it.  So only post your answers here if you are tough enough to receive the odd bit of criticism or objection.  Still, it's a magnificent lead and traffic generator so take a deep breath and get on in there!
Hashtag your answers
Hashtags aren't just there to make tweeters look cool.  They are an amazing search tool and are a marketer's dream.
If you are using tools like Tweetdeck, you can laser target your prospective customers by searching for their hashtags, just as they can find your content by searching for yours.
Make a list of keywords that your audience may use to search for the answer or solution that your video provides, then use the Google Keyword Planner to pick the most popular ones.  Use those as your hashtags so that your video is super searchable.
Secondly, go into Tweetdeck and set up feeds for each of those hashtags, and it will bring up every single tweet that includes those hashtags, right on your dashboard.  Simply find the appropriate tweets and you can directly reply to people tweeting about your topic with your video link.  Genius.
So there you go.  Four super simple ways to get maximum traffic, fans, followers and sales from every one of your online tutorial videos.
If you'd like to massively increase your online course sales, don't miss my online course 'Successfully Promote, Market and Sell Your Online Course, which has over 100 easy but impactful online course marketing methods that you can start making more sales from today!
Can I ask a favour?!  If you found this lovingly produced article helpful, it would mean a lot to me if you'd share it! Thank you!