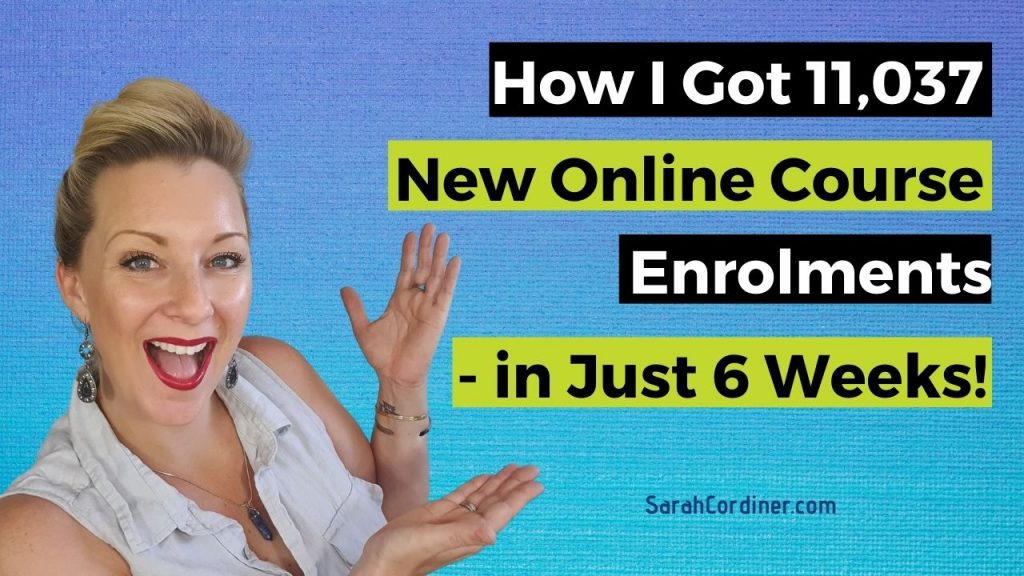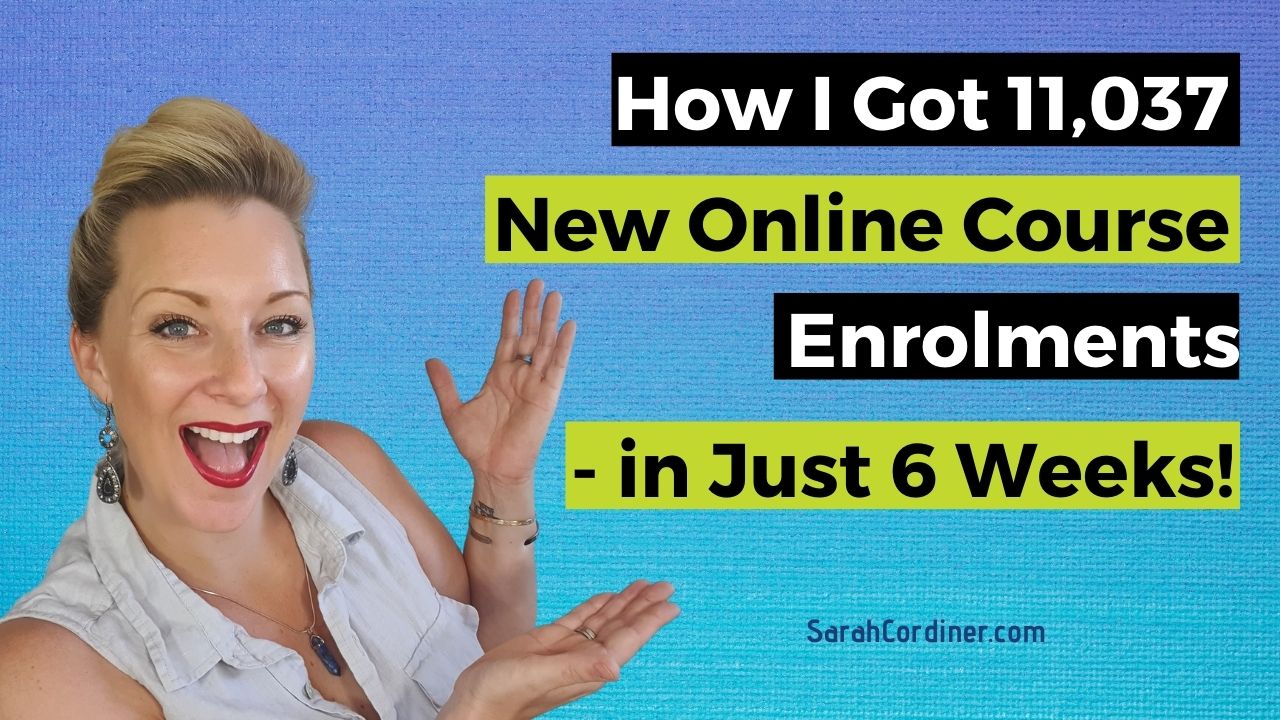 How I Got 11,037 New Online Course Enrolments – in Just 6 Weeks!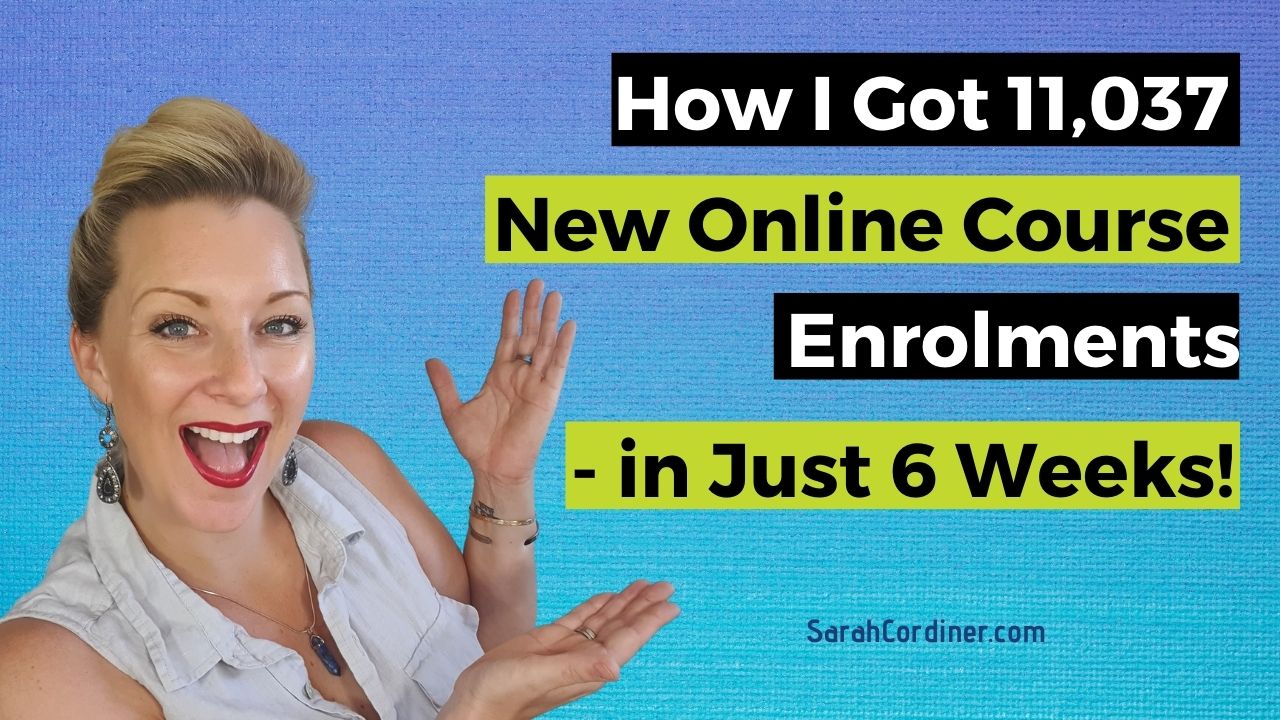 I absolutely love reading (and listening) to books.
I always find them sparking an idea, rousing some inspiration and igniting renewed motivation.
I recently read 'One Million Followers' by Brendan Kane which is largely about using paid Facebook ads to rapidly generate a large following of highly targeted prospects.
As many of you know, I have thus far in my decade+ of business, built my success entirely from organic marketing.
Until very recently, I had never done a paid ad before and had acquired all 32k of my students and clients through organic marketing alone.
However, this book got me a bit excited.
Brendan made it all seem quite simple – and very possible – for anyone to build a huge audience fast.
I'd been wanting to start experimenting with paid ads for a while, but was dreading the recruitment and selection process of trying to find an ads expert.
I was having a wine with one of my girlfriend's, Kim a couple of months ago and said "I reaallllyyy need to find an ads person!".
Just at the exact second that I said that, my phone pinged and a complete stranger who had done some research on my business, made me a 'test him' offer for ads set-up that I couldn't refuse.
In just a few weeks I have made thousands of dollars and thousands of new email subscribers.
In fact, in less than 8 weeks, I have gone from 32k enrolments to 43,037 enrolments – as a result of the ads starting – and we are still only testing!!
Needless to say, I'm delighted.
And guess what?
This is ALL something that YOU can have and do too!!!
What Has made It So Successful?
A few things that are important to note if you are planning on gunning for results like this….
1. Free Lead Magnet Course
You first need a free lead magnet course to give away in the ad itself. 
This is what your prospects give you their email address in exchange for and is usually a mini-course that answers your target markets' top 3-5 burning questions.
I cover in-depth, how to create and publish your lead magnet course (and your authority course, coaching programs and subscription academies) in the upcoming 'Concept To Course' program starting in just 48 hours from now – still time for you to join!
You need a solid 'funnel'
For me, the real financial results started coming in when we added an immediate 'upsell' page – a page that immediately pops up after they get the free lead magnet course, offering them a paid course on the same topic. 
In my case, the upsell offer was my 'How To Create Profitable Online Courses' self-study course for just $97. 
Obviously, not everyone buys this, but those that do are then offered a second upsell. 
In my case, that is a bundle of my books for just $27.
Those that do buy something are completely covering the costs of the ads – and making me a profit as my list grows….  this is in fact how many of you reading this have recently got here!
It Takes Dedicated Testing
The book 'One Million Followers' talks heavily about the importance of testing, testing, testing.
So I went into this willing and ready to make endless edits, changes and tweaks, and boy can I tell you that this is critical if you want success.
We are currently testing well over 100 different variations of ads – all for the exact same product.
Different images,
Different videos,
Different variations of text,
Different headers,
Different colours,
Emoji's vs no emojis,
Different interests,
Different countries,
……….and it goes on and on.
My expert helper is going into my account manager EVERY DAY to analyse, tweak change and optimise.
We turn off unprofitable ones and turn up the profitable ones, and keep tweaking some more.
But its WORKING.
Make sure you are ready to go all-in on your testing if you want it to work for you too.
4. Prepare Your Thick Skin
Ads open you up to the uncensored, brazen world of people who genuinely enjoy being miserable turds and angrily punching their inner self-hatred at randoms online.  
What I have learned over the past few weeks is that ads attract intergalactic level, keyboard-smashing, troll-faced nut-jobs!! Hahaha. 
Oh my word, the team and I have genuinely been in stitches laughing at some of the mad comments and hilarious insults people leave me on the ads thread!!
My favourite one this month was a guy who commented a GIF of a dog doing a poop, with the text "You've just sh** on my feed with your ad, I'm just returning the favour". 
Baaaahahahahahaha OMG I was CRYING with laughter!!!
That was so funny!!
Make sure you have a thick skin and a sense of humour when you get those ads on!
..
Funny, right?!
Anyway – I hope that helps any of you thinking about doing ads and the book inspires you to get moving on it like it did for me.
There truly is a world of billions out there waiting for your expertise, your course, your coaching and your services.
Get them created, get them published and get them out there so that you can start changing lives – and your business.
And, if you'd like my help, come and join my next 'Concept To Course' program.. … www.sarahcordiner.com/c2c