Course Creation Confidence & Unleashing The Warrior Within – with Donna Gunn
Get The FREE Course Creation Starter Kit
Course Creation Confidence & Unleashing The Warrior Within – with Donna Gunn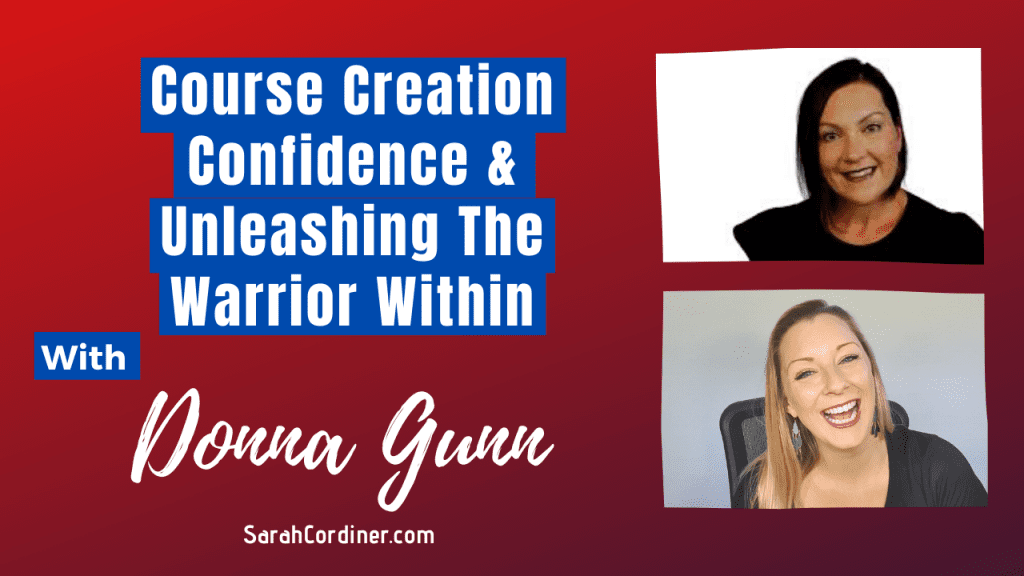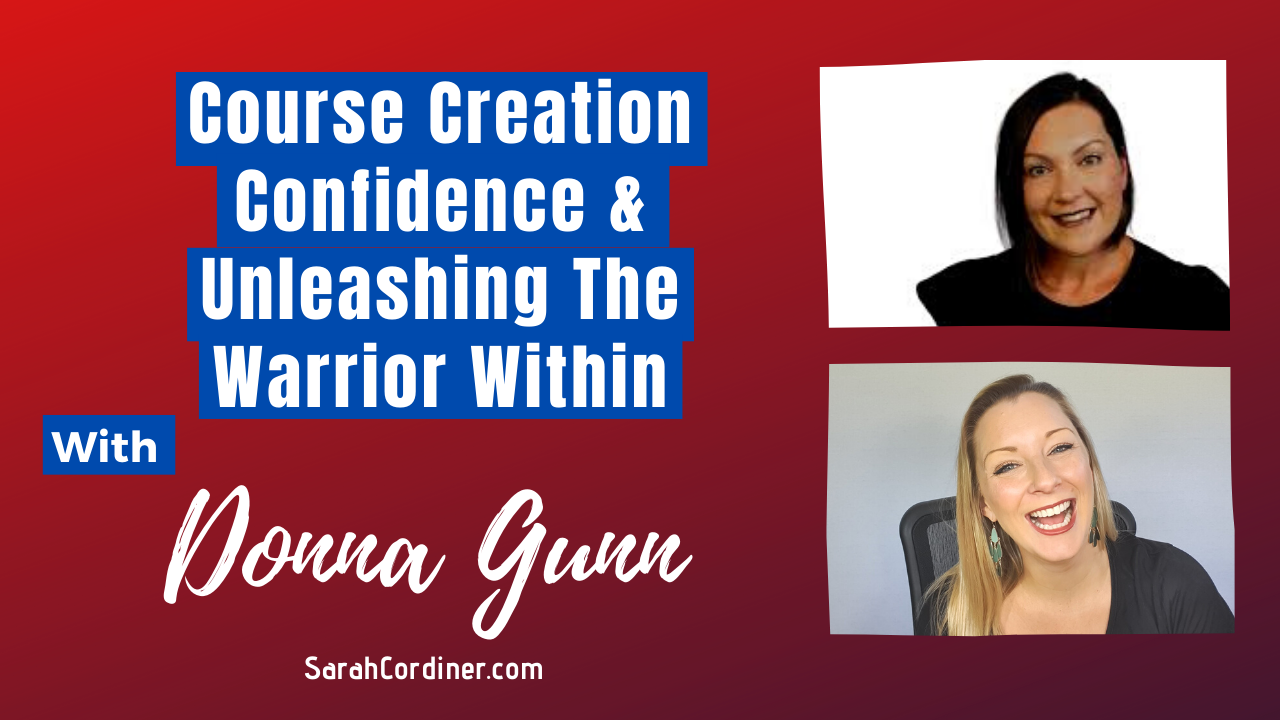 Shownotes
Have you ever found yourself in a situation where your confidence is a tiny bit knocked?
You're about to launch that online course…
You're about to put that book out…
You're about to do that first livestream, and some inner voice says to you that you can't do it. 
Yep.  We have ALL been there. (Too many times!)
In this episode, we're going to be coming at you with some tips and some techniques to unleash the warrior within you.
Watch the Video-cast Here:
Resources
Subscribe To My Podcast
Transcript
Have you ever found yourself in a situation where your confidence is a tiny bit knocked? You're about to launch that online course… You're about to put that book out… You're about to do that first livestream, and some inner voice says to you that you can't do it. 
Well, that is not true. And today I have the master of confidence. Her name is Donna Gunn, founder of Unleash the Warrior. Donna works with adults with experts, entrepreneurs, executives and help them keep that warrior alive so that they can lead the best they can. So they can push through those crises when they come. The can push through moments of self doubt. It comes up for all of us. But she also works with children, helps children unleash the warrior as well. 
We've got a lot of course creators listening, experts, authors, entrepreneurs, coaches, consultants. We're all having to shift. We all put ourselves in positions of leadership. But that doesn't necessarily mean that we are going to find ourselves oozing with confidence every single day. In this episode, we're going to be coming at you with some tips and some techniques to unleash the warrior within you. 
Confidence is the foundation for anything in life 
If you have the confidence, you can obviously move forward, do the things that you need to do, have the success. And confidence, you do need that to chase your dreams. Unfortunately, dreams don't just come to you. 
Resilience goes hand-in-hand with confidence as well. So not only do you have to be confident and move forward, you have to be resilient because there are going to be knocks. There's going to be life challenges every step of the way. And it's how you actually view them. Not saying that you can't have those down days. Everybody does, I do, I still do. But it's actually getting back up and letting that make you stronger to move forward. 
Imposter syndrome
It's really interesting what I'm seeing in the expert space at the moment. I'm talking about top leaders in their fields who have been doing what they do for years. 
They're moving online and everyone's starting to put their content into online courses, because obviously that's the way the world is moving, and the only way we can reach our audience today. But despite the fact that they've been doing their thing for many, many years, what I've seen in my Facebook group is that the biggest set of questions and posts coming up are not, "How do I use the tech? "How do I use the equipment? "How do I put a course plan together?"  They're about the fear of going online. They're about the sense of self-doubt, fear of criticism. All of the posts are about imposter syndrome that are coming up. 
The first tip is definitely: you need to get back to basics and actually believe in yourself. Nobody is going to do that for you. You need to work out if you have those weaknesses. You need to also play on your strengths. But actually believe in yourself. And one of my red-hot tips is, manifesting and meditating. You need to sit down and take that time to really question what it is what you want, what you need to get there, and how do you do it? 
The manifesting is incredibly powerful. You are giving yourself a whole list of things that you need your mind to do. And that's what it's coming back to. It's going back into your mind and telling it what you need it to do. And your mind will do what you tell it to do.
What our mind needs to hear
Because of my therapy training, I know exactly what the mind needs to hear. And it's very, very basic. We are still primal. We still only need to hear a couple things. We need to know we're enough. We also need to know we belong to a tribe or family, whatever words you want to use to cement it all together. And that's it. 
We need to believe we're enough. So typing those things in is basically will give you an abundance or words to say. But it's picking those powerful words. The mind really latches on to powerful words and says, "Right, I can do that." Strength, courage, vulnerability, all of those things that your mind needs to hear. And then it will actually take it forth and it will slowly come over. If you practice something properly for 21 days, it will set back into your subconscious. And that's where you need to operate from. 
Overcoming camera fear
So how could we practically apply this incredible factual science into the everyday life of a course creator, an expert whose biggest fear is getting front of the camera? Absolutely practice! The first thing that I actually say to my new course creation group is to get on and post a live in the Facebook group. If you practice that every single day, you don't have to go and post it anywhere, but you also don't have anywhere to hide. There was lots of ums, and scratching my head and all those things, but it got me actually once I'd done it. I went "That's not scary." 
We've all got something to say, and getting online is basically that practice. The 30-day course creation program is perfect for that, because you've had your 21 days of practicing. Then that last week, you're recording and you're getting that out there to the world. It's timed perfectly for the mind to adjust to what it needs to do.
How to grow your confidence
We all have events, and we all have major disasters and traumas in our life, but that really doesn't strip you of confidence. If you already had it, you'll still have it no matter how you go through that traumatic experience. It's that we never ever got given it. And it's because no one really knew any better. 
It's actually just about believing you are enough. It sounds too simple to be true, but it is. You actually just have to believe that you're enough. And there's a couple of ways you can do that. The best way to do it is, we go into a state of an evening, just before we go to sleep and it's called theta. And it's basically the closest you can get to subconscious mind, other than hypnotization. If you write down everything that you need to hear, what do you like to be told? Do you like to be told you're clever? Or you're gorgeous or you're beautiful? There's no right or wrong in that. Whatever you want to hear. Whatever success or happiness looks like to you, write that down. And as you go to bed overnight, and you start to get sleepy, read all of those things to yourself and you're in theta, and if you do that for 21 days, that is going to reprogram you for complete success.
Fear of publishing your course
We're in that moment, I'm just so scared of pressing publish. What can we do here? Moment of glory, the classic impostor. It's actually about sitting down, and that is the perfect time to take that step back, that manifesting that we're talking about, and trying to strip your mind of any of those negative thoughts. The best way to do it also, is go for a walk, get those endorphins pumping, and really just keep chanting to yourself, "I'm going to do this, I'm going to do this." Then press publish. And walk away if you need to, but you just need to do it. 
It's always like you expect the world to suddenly applause and fireworks to go off. And you just kind of go, "Publish, oh." "Oh, it's done." "That wasn't so bad." "What was I worried about?" We talk ourselves out of everything that we need to do when it's actually just about going. That take action is super important, because it also creates a whole new wave of confidence. And then your life just starts to slowly flow through. Oh, I'm going to do another one. 
I think this is one of the most powerful things we can do as experts as we're going out to the world is that whole going live on Facebook, that whole getting on the camera and uploading something to YouTube, is going to be the key to your success. Once you've got these tips from Donna, you've got that big filled up cup of confidence, so many people will make decisions on who they work with based on whether they feel like they like them. And this will only happen, this connection, this decision can only come if we take a deep breath. We unleash that warrior within. We find that confidence, and we just press publish. We just press record. We just press upload. We just press go live and do it. 
Get Notified of New Episodes
Receive regular course creation advice, tips and in-depth tutorials.
COURSE CREATION SERVICES
Whether you love to learn how everything works yourself to master course creation skills for life; want to join a group of like-minded people to enjoy the course creation journey with; or you just want the entire job done for you - I can help you design, develop and publish high-quality online courses in any industry on your own custom created online school, complete with all of your marketing integrations set-up and running.
There are 3 main ways to get your online course created.