The Easiest Method I Used To Get 32% More Online Course Sales
Promoting and selling your online courses can happen in the most unexpected ways; and as online instructors, we should be paying very close attention to where our online course sales are coming from so that we can focus more time, effort and attention on the marketing methods that are working and filter out those that are not.
I am ashamed to admit that I was a bit slow on the uptake of assessing my analytics – I got distracted by trying to market anywhere and everywhere.  Whilst smart business owners tell us that what we cannot measure, we cannot improve, my initial 'marketing saturation' approach gave me some interesting results when I did start measuring.
I was very surprised to find that in the first week of November 2015, 32% of my course sales in that week had come from my email signature . How crazy is that?!
So 32% of the sales I made that week (which was a notable amount of money), came from just from my email signature!  How easy is that?! Anyone can do it!
My email signature is by no means good looking.  In fact, it's hideous and I can hear my graphic design friends squirming in their seats.  But it clearly works…..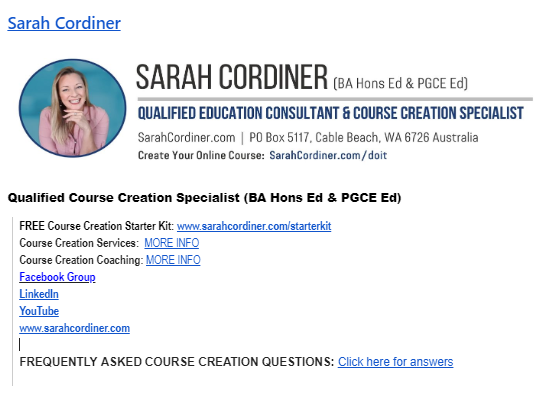 So feel free to copy the content that I have in mine (maybe make yours prettier) so that you do not miss out on any of the most easy sales imaginable.
Here are some things you might consider adding to your own email signature:
Your name

You business name

Your phone number

Your website(s) (hyperlinked)

Your social media channels (hyperlinked)

What you actually do

Link to your online school/course

A PDF download of your online course brochure

 Credibility badges (eg awards won etc)
Any Facebook groups you admin
Frequently asked questions
Publishing your course does not mean that people are going to find it.  You have to present it to them.
The easier you make it for your audience to follow you, connect with you and access your courses, the more likely it is that they will buy from you.
We cover marketing and launching your course in my 'Concept To Course' 30 Day Course Creation Group Coaching Program: www.sarahcordiner.com/doit