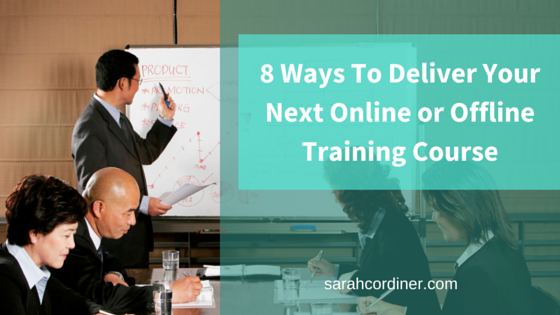 8 Ways To Deliver Your Next Online or Offline Training Course
8 Ways To Deliver Your Next Online or Offline Training Course
There are many different ways of delivering training and transmitting your expertise to your learners; and as a Trainer, online instructor, course creator or a curriculum developer, it's important that you have a basic idea of what the most common methods are so that you are choosing the right ones for your courses.
Knowing that there are a number of ways to develop your learner's skills and competencies will enable you to plan the best possible learning experience by designing the delivery to best suit your learner's needs, context and learning environment.
((NOTE: If you are more looking for content delivery methods, check out this article: >> https://sarahcordiner.com/how-to-deliver-your-online-course/ ))
Here is a list of 8 methods that you can choose from to deliver your next training course:
This list is by no means exhaustive of the many different ways that you can deliver your learning program, but will provide you with a solid list of options to choose from at a foundational level of course design:
Method #1: Face to Face Training
As the boom of online learning is very much upon us with it's array of benefits, it cannot be argued that face-to-face training brings advantages to learning that could never be replaced by digital education.  
There will always be learners that prefer to learn by face to face training; not because they are by any means 'old school', but because that is simply their preferred style of learning, and therefore it is unlikely to ever go out of demand.  
Humans by nature are social creatures, and even our obsession with social media comes from a place of wanting interaction and connectedness with other humans.
Despite being able to provide this to some degree in online learning through forums and online communities; they will never compare to the teacher-to-student and student-to-student relationships that form in a face to face learning environment.  
Face to face training also allows for a multitude of learning modes and styles to be met, as well as ad-hoc teacher coaching, as the physical presence facilitates more interactive and practical activities that would not be possible online.
Although more expensive, less scalable and harder to organise than online learning, the face to face learning environment will always bring significant benefits to the learner and the overall learning experience.  It won't be going out of fashion any time soon.
Method #2: Online Courses – Self-Paced or Asynchronistic
Ah, the online course.  It opens up access to education that might not otherwise be available to students due to geographical location; it increases your profits as there are no overheads such as venue hire and it makes your business super scalable as you can train thousands of people from all over the world all at once whilst you're sipping a pina colada on the Gili Islands (I do this a lot!).
A self-paced online course simply means that you have built a course that sits on an online platform, that your students can enrol in at any time they like, and progress through at their own speed without having to hit any deadlines of any kind.
The term 'asynchronistic' is synonymous with this, as it means that a learner's enrollment does not have to occur at the same time as anyone else's.  Eg, there are no 'cohorts' or 'intakes' of students on set start dates.  Asynchronistic essentially means that anyone can start and finish at any time.
Method #3: Online Courses – Instructor-Lead or Synchronistic
The instructor-lead online course lends itself best to the 'synchronistic' method of delivery.  
This is when the online course is more formally structured with set start dates, end dates and even staged completion milestones such as module and assessment completion deadlines.
The main purposes of a synchronistic method of teaching would be to ensure that a group of learners are all progressing through a course of study at the same time, and could include instructor lead components in addition to the self-paced elements of the course such as set date webinars, live discussions or one on one mentoring sessions at key milestones.  This method is particularly well suited to delivering corporate training and accredited training.
Method #4: Simulation or Scenario Based Training
Simulation or scenario-based training is when you re-create the actual environment in which the new skills and knowledge will be applied as closely as possible so that skills can be tested under the contextual circumstances that the learner will need to use them.  This method is particularly well suited for vocational and workplace training.
As an example, fire safety training is usually conducted in a controlled environment but with real fires and real extinguishers, so that learners can truly practice their fire management skills.  Pilots learn how to fly in simulators to safely yet as realistically as possible learn the essential skills they need to operate an aircraft before they take to the skies; and customer service skills can be practised through scripted role play and fantasy shopping scenarios.
Although this method tends to be more practical (and therefore face to face) in nature, you can also use the scenario concept very well in online courses by 'setting a scene' that the learners are faced with, and facilitating a guided discussion, a series of open-ended questions or multiple choice questions to ascertain what the student would do in that situation.
Method #5: Virtual Reality Training
Virtual reality education is rapidly taking over the delivery of training and assessment in the vocational education sector, as it allows for the immersive learning experiences for the most high-risk, dangerous or difficult to train for jobs without any risk whatsoever and at the absolute minimal cost.
By carefully combining curriculum design with virtual reality technology, we can recreate exact replicas of working environments, such as underground mine sites, deep sea oil rig maintenance, defence force frontlines and the heart surgery operating room; in a way that it actually responds to the learners actions and triggering consequences that could really occur depending on their behaviour.  One of the most magical elements of virtual reality education, is that when immersed in the virtual experience, our brains don't actually know the difference between the real and the virtual, and therefore it can truly test a student's actual workplace behaviour.
Method #6 : On-the-job Training
Sometimes, the only way to learn something (that's not highly dangerous), is to just get stuck on in there and get your hands dirty! Experiential learning is immensely valuable in that it combines the theoretical, the practical, the contextual and the unpredictable nature of real-life.  Effective on the job training should follow a structured series of learning outcomes with clearly defined performance criteria that can be measured and recorded by a workplace assessor.  
One way of adding a workplace training element to your online or offline courses could be to create a detailed 'observation checklist' that guides the learner and their 'assessor' through the task and the conditions under which that task may or may not be completed.  The 'assessor' (which could be their work supervisor if it's not accredited training), would then observe the student conducting the task and 'tick off' where it was completed to the specified standard.  This checklist can then be uploaded to your course Google Drive or DropBox as their evidence to complete your course.
I go into a lot more detail on designing and delivering workplace training in my Advanced Train the Trainer & Curriculum Design online course.
Method #7: Coaching & Mentoring
The difference between coaching and mentoring is something I go into in much more detail in my online course 'Mentoring in the Workplace', but are both excellent ways to educate your learners and pass on your expertise.  You can deliver your entire 'course' of development to your learners entirely one-on-one as a coaching program, or you could include coaching and/or mentoring as part of your training program.  
As an example, I have created 'up-sell' options with my online courses where my learners can choose to pay a little extra to have one on one coaching/consultation with me (usually by zoom) to help them create their own online courses once they have gone through my video training.  This adds that extra layer of support for those that desire or need it.
In fact, since co-vid-19 my Course Creation Group Coaching Program has become has become my most popular offering, as people love the personal interaction and human connection that comes with coaching.
How could you add a coaching element to your courses, programs or offers?
Method # 8: Blended Learning
Blended learning could be argued to be the most effective and comprehensive form of training delivery; for it involves combining two or more of a number of delivery methods.  This facilitates a number of learning modes and styles which means that learners are more likely to get their needs met and be fully challenged in the learning process.
As an example of how this applies in practice, I deliver a Business Development Program to franchise businesses which is primarily delivered as asynchronistic online tutorials which are drip-fed to the cohort to keep them all at the same pace.  
We have created tutorials with the franchise group that deliver the principles of learning in accordance with their workplace policies and procedures, and the activities are then contextualised to be practiced and applied in their work environment.  
Every month we then run a live Q&A webinar where the franchisees can join in from anywhere in the world and get live support from me based on the theme of the previous module studied. Their learning is further blended into practice with quarterly workplace reviews with their franchisors and then a live face-to-face training workshop as one group once a year at the franchise group annual conference.
All learners are then given the opportunity for one on one coaching/consulting at an additional cost if they wish to have extra support.
Like my real-life example above, how could you combine a number of training delivery methods to really enhance your learner experience?
By carefully considering all of the different types of training delivery methods, you can ensure that you are setting the playing field for an excellent learner experience.
If you would like my help creating and launching your own online course in just 30 days, come and join my next 'Concept To Course' group coaching program: >> www.sarahcordiner.com/doit