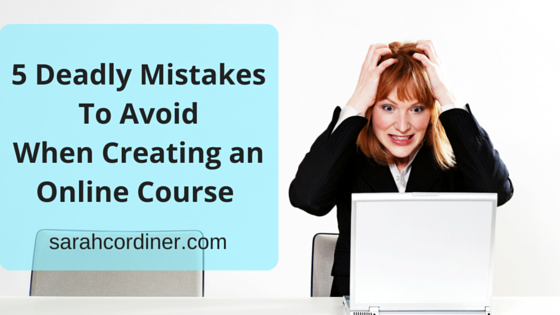 5 Deadly Mistakes To Avoid When Creating an Online Course:
5 Deadly Mistakes To Avoid When Creating an Online Course:
If you are a course creator, online instructor or an entrepreneur who aims to generate revenue through the new trend of 'edupreneurship' (educating your market profitably), then don't create anymore of your course until you've read this.
You might be an excellent course creator with an abundance of skills and knowledge; but by failing to understand some basic principles of online course creation, you are at the risk of completely wasting your time.
Below, we have listed some critical mistakes that you must avoid while creating your online courses:
Mistake #1: Making the Session Too Lengthy
Creating video tutorials that are too long is a simple but big mistake that many online course creators make.
The modern day online learner has a very short attention span.  A growing majority are now accessing online education via mobile devices, and by nature this means they are likely watching your course whilst on the commute to work, during ad breaks when watching television, during their lunch break or whilst sat on the toilet!
No matter how much effort you have put in and how strategic your approach is, a module that exceeds 15 minutes in length is likely to have a very low completion rate, and anything you say after that point could be missed.
For optimum engagement, retention and completion, keep you tutorial videos between 2-9 minutes in length.
Mistake #2: Creating One Big Course
You are an expert course creator with a lot of passion, and your aim is to give as much knowledge to the viewers as possible.
Interestingly however, just as online learners seem to prefer shorter videos, they also prefer shorter courses, and therefore creating one big course can be the shortfall in your e-learning business.
Online learners get motivated by progress and with bigger courses, this reward comes slowly.
So instead of creating one big course, create many shorter courses.  The motivation of completion encourages repeat purchasing – especially if each of the smaller courses follow a 'series' pattern and flow logically from one to the other (without feeling disjointed).  This has numerous benefits for you too as it opens up your market considerably.
If you have just one big course, you have to charge accordingly and may miss out on customers who are either not yet ready to spend that kind of money on you (because they don't know you yet), or who simply don't have the budget. It also gets you buyers who may have only wanted a module or two from your big course.
When you break the big course down into lots of smaller courses, you can of course bring the purchase price down without actually losing out.  You can also create 'bundles' of courses giving the perception of much higher value.  As an example, selling a bundle of 10 courses for $200 is seen as far more valuable than selling one course for $200 – even though the content is exactly the same.
I tried this with my 'Advanced Curriculum Design & Train the Trainer' online course, which as a single course has well over 230 video tutorials and exceeds 8 hours of content.  It made 'ok' sales, but I obviously wanted more.  So I broke the course down into 10 x smaller courses.  Despite the fact that the smaller versions were selling much cheaper, my sales increased dramatically.
**As a side note, when it comes to accredited training, this method must be considered much more carefully, as breaking up the training could have an impact on nominal hours and compliance, as well as make student progress tracking unnecessarily complicated.  A 'drip feed' approach from a big course is often better in this instance, as it still delivers content in manageable chunks, without altering the approved delivery structure.
Mistake #4: Seeing Negative Reviews As a Bad Thing
Receiving a bad review, especially a public one, is every online course creators worst nightmare.  When you have put so much love, guts and work into getting your course together, it can be heartbreaking or even infuriating when someone leaves a negative review.
Most online course creators delete these comments and brush them under the carpet as a 'troll' comment or 'someone trying to get a freebie by asking for a refund'.  But the thing is, the bad feedback is the most important feedback you can ever get.  Ignoring the negative reviews is another massive mistake that online course creators make.
One strategy that many best-selling authors used to create their best-selling books, is to go onto Amazon and search for the competing books within their category.  They then filter the results to find the books with the best reviews and take notes of what the readers loved; then filter the results again to show the lower reviews and take notes of everything the customers didn't like about the book – then they create a book that contained all the bits the readers loved but particularly all the stuff the audience said was missing from their competitions books!  You can use this exact strategy when creating a best-selling online course.
Mistake #5:  Creating A Course You Think Your Audience Need
When I put together my first online course for online course creators, I thought I knew exactly what my audience needed – I'd been in the industry teaching teachers and curriculum developers for years.  I wrote out a list of learning outcomes and a curriculum plan, then created a likert scale survey which for every one of my learning outcomes, asked the audience how much they'd like to know about that topic in a course.  I was very shocked to discover that there was a very big disparity between what I knew they NEEDED and what they actually WANTED.  And the thing is, people don't always buy what they need, they buy what they want.  So before you spend hours and hours creating the content for a course that nobody wants to buy, make sure you do some thorough market research to check whether you actually have a 'wanting' market for your course.
Make sure you ask very specific questions; give them a list of outcomes to rate and a space for further suggestions.
If you are ready to create and launch your own online course in just 30 days – with my help, then come and join my next 'Concept To Course' 30 Day Course Creation Group Coaching Program!