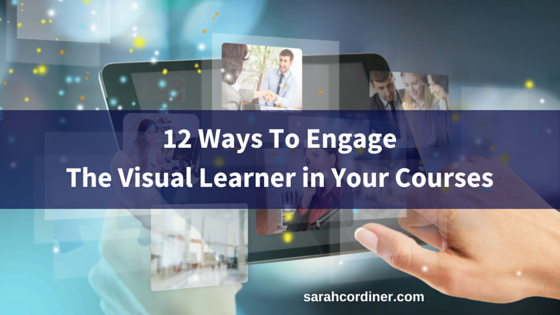 12 Ways To Engage The Visual Learner in Your Courses
12 Ways To Engage The Visual Learner in Your Courses
One of the major things we need to consider when it comes to designing our online or offline training course, is whether we have designed our program for the four main types of learners:

visual learners

audio learners

kinaesthetic learners

reading and writing learners
In this post, we will look at optimising our courses for the visual learner.
Our visual learners like to see. They are people that learn best by watching, seeing and observing.
To ensure that your training is engaging for the visual learner, make sure that your courses contain elements such as the following:
Videos

Animations

PowerPoint slides

Pictures/images

Drawings/Doodles

Diagrams

Mindmaps

Visualisations

Flashcards

Opportunities to write, highlight and colour

Maps

Physical demonstration that they can watch
You can now get highly professional animated videos and PowerPoint slides, as well as every other form of professionally designed graphic very affordably using web sites such as fiverr.com and upwork.com.
I like to further enhance the visual learning component of my tutorial videos, by having myself actually on the screen in front of my PowerPoint slides, which is called a 'talking head' video.  This is not because I have some egotistical desire to be on everyone's computer screens. It actually comes from the simple fact that people relate and engage more to a human.
The type of online training I teach is very theoretical and 'classroom like' in nature and therefore would be very dull and have a real of lack of interaction if my human face wasn't there to engage them. This simple combination of my human face and the PowerPoint slides behind me ensures that I am maximizing on the learning opportunity and learning potential of this program as it meets the visual learners needs considerably.  It also meets some other modes of learning too…
How can you make your training more visual for your learners?