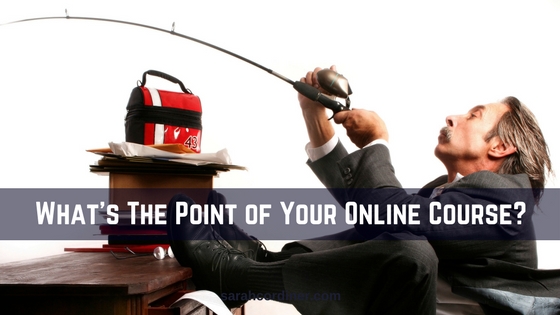 What's The Point of Your Online Course?
Been struggling with your online course motivation?
Feel like creating your online course is a bit of an uphill battle?
Well, why are you doing it?
Let's see if we can coax your course creation motivation back in this article…
I'm Not Clear On Why I'm Doing This
I once got thrown out of a history class for asking my teacher 'what the point was' of his lesson.  If as adults, we cannot clearly see the purpose, relevance or meaning behind something we are doing, then our motivation will be extremely short lived and completion of the task in question will be unlikely.  
Not only will our students be asking you what the point is in taking your course – but YOU need to begin the entire process by asking yourself the same question.
What's the point of creating your course?
If you are only in this for the money, you should probably pack up your tool box now and find something else to do – this industry requires a whole lot of love if you want to survive, let alone be successful.  
You need to uncover what's beneath that need for cash and then decide if this is the best path to obtain that for you.
Creating and selling online courses isn't all 'lights, camera, action' and laptops on beaches.  In fact, it's hard work and sometimes very challenging.  Even if your courses do start earning you the big bucks, I can categorically assure you that it's not the money that'll keep you getting up in the mornings when you're pushing through one of the harder times in edupreneur life.  
The key to success as an edupreneur is being absolutely passionate about what you do and having a driving sense of purpose behind you.  It's about knowing your 'edupreneurial why'.  
Now this doesn't necessarily need to mean, knowing the purpose of your life, or your career direction or having a clear idea of even what your real 'thing' is as such.  
I truly believe that you can still be really successful whilst still trying to find that out.  
Why are you doing this?
However, when it comes to course creation, you do need to know why you are creating that course.  
Why teaching it is important to you.  

Why you want to invest your time and effort into producing it, marketing it, building a platform for it and giving your heart to your students.  

May be you are doing this to simply give back to world, to make a difference in some way to your industry, to be the person you wish you'd had when you started out.
Why do you want to create your course?
If you are doing this to earn money, or become famous in your industry, or because it's a great lead into another primary product or service you have, that's all great too – but make sure you delve down deeper into the 'why' you want the fame or the money in the first place.  
What emotion are you seeking from that fame or money?  

What change are you seeking in your own life or others lives from that fame or money?  
Everything has a deeper reason, and you need to know what these deeper reasons are for you if you are going to cut it and survive in this industry – coins in the pocket alone are not enough.  Ask yourself why you want those coins and you'll begin to uncover that real 'why'.  Your why is what will get you through.  Quite simply, if your 'why' is big enough, then your TRY can be big enough.
The important thing is to get explicitly clear on that 'why', that reason, that purpose, so that you can design your course in a way that will be certain to achieve that (yes, course creation is as much about serving you as it is your students); and also to be sure that you have a powerful list of motivators to come back to if things get tough in the process.
Our 'why' needs to be much deeper than vague statements like 'to make the world a better place'
Instead we must ask ourselves, WHY do we want to make the world a better place?  
And then keep going until we get to the CORE of why doing that is important to us.
Vicktor Frankyl tells us that if man has meaning, he is able to push through any experience, any trauma and do so without faltering from his mission – if you know what your ultimate mission and vision is (even if only for this course) this will alone add endless fuel to your mojo.  Nobody and nothing can take away your drive and motivation when you have a mission and vision that is much bigger than you.
ACTIVITY: Finding Your Course Creation 'Why'
Here are some questions to ask yourself to get clear on your 'why' for your online course:
The first method is to ask yourself 'why' 5 times, or until you get to an 'emotion' answer.
The 5 whys method was originally stemmed from engineers in the Ford factories who wanted to find the root cause of defects and problems in the production process.  
We can replicate this method to find the 'root cause' of our our course.
Why do you want to create this course?  Write down your answer.
Then ask yourself 'why you want that?'
Then ask for a third time, 'why do you want that?' And so on, until you get to a really deep emotional answer.  Get really specific.  'Feel happy' isn't enough.  Why do you want to feel happy?  Get a friend to challenge you and push you to go further.  It may feel a little repetitive as you go around and explore, but every answer you give is really important in pulling out those drivers, motivators and reasons behind your course.
What emotions and 'whys' did you ultimately end up at?
What is the bigger picture for you?

How will building this course help others?

How will building this course help your industry?

How will creating it help you financially?

How will it help you emotionally?

How will it contribute to the greater good?

What other motivating reasons can you list for creating your course?
Still Struggling To Get Motivated To Create Your Online Course?
Healthy Fear, Or Out of Alignment?
There is a difference between being afraid and being totally out of alignment.  
Putting yourself out to the world, especially if this is your first time, is scary- and i'd even go as far as saying that if you don't have the teeniest, tiniest bit of apprehension then maybe you don't care enough.  Fear is healthy.  Fear makes you check and double check that you are delivering to the best of your abilities.  Fear makes us stop for a moment and check that we are delivering something we are truly proud of.  
However, if we are feeling dread, agonising despair, if we are feeling like the whole process is a painful drag and something we simply don't enjoy or have any excitement for whatsoever, then it's likely we are going down the wrong path entirely and perhaps should reconsider where the source of our self-doubt is coming from.

Find and address the source of your fears and ask yourself 'do they actually have anything to do with course creation, or are they about something else?'
Although hard work, creating your courses and programs should be fun, motivating and inspiring.  If you're feeling like this is an uphill battle, start asking yourself very seriously, 'what's the point in me doing this?', until you find your why and your course creation mojo.
Because if it's not fun and joyful for you, it won't be for your students either.
This is an extract from my book 'Awaken Your Course Creation Mojo'.