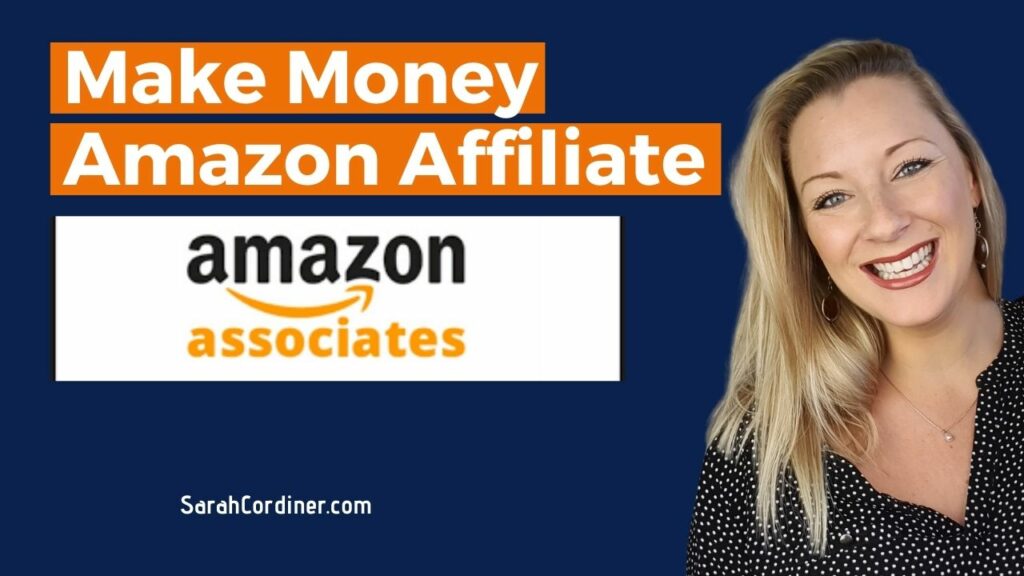 How To Get Paid By Amazon For Recommending Products – Become an Amazon Affiliate
How To Get Paid By Amazon For Recommending Products – Become an Amazon Affiliate
Who would like to earn more money?!
Did you know that you could be making money just for suggesting items that are for sale on Amazon?
Eg, if you have book recommendations – you could be making money from those recommendations!
Here is an example of how I have turned my recommendations into an Amazon recommendations list – and anyone who buys from these links (and ANYTHING else they buy 24 hours thereafter) earns me a comission – and YOU can do it too!
In this video I will show you:
"How To Get Paid By Amazon For Recommending Products – Become an Amazon Affiliate"
VIDEO TRANSCRIPT:
—
hello
how are we all doing now i have a tip
for you today which is all about
becoming an amazon affiliate now we
could all do with an extra
stream of cash we could all do a bit of
extra money um especially with a lot
more people
working at home working online there are
millions of different ways that you can
be earning more money and one really
simple thing that anyone can do
is to start getting paid by amazon
simply for recommending products on
amazon right it's a really really cool
thing
now look you're not going to become a
millionaire necessarily doing this but
every little helps right
so um one of the things you want to do
basically becoming an affiliate means
that you
recommend a product that somebody has
and you give out a special link that's
associated to you and then
amazon or whoever you're an affiliate to
will pay you a percentage a commission
for the recommendation so to do that
with amazon and you can be by the way an
affiliate with anyone you can go to
anyone who sells anything and ask them
if you can become an affiliate
but how to do it with amazon is quite
simply first of all is to join their
associates program
so amazon associates is amazon's
affiliate
program so you're going to go to google
type in oh have a minute i'm actually
going to share my screen with you that
might help let's do that let's go up
here and share some screen edge so you
guys can see the screen
i'm going to show you what to do here so
we are going to go to google
type in amazon associates and you will
find the amazon affiliate program that
comes up
so click on that and then you're going
to
simply sign in if you already have an
amazon account so this will be the same
login details that you use
as a shopper on amazon of course if you
don't yet have a login with amazon
um then quite simply create an account
with amazon but
otherwise you just log in with your
usual
contact details now at the moment you
can see that i'm logged into my united
states account
and you can have an account in pretty
much any country
now just be aware that when you do first
set your account
up in the country that you're choosing
to be set up in
each amazon country acts as a separate
account
so i do have a united kingdom account i
do have a united states account i have
an australian account
you will have to go through the setup
each time you log into this account then
you go to the country and you go
join the associate program now the other
thing that will you'll be asked to do
when you first join up
is you will have to put in some tax
information you will have to
um give amazon a lot of info because
obviously they're paying you they have
to make sure that they
are adhering to their tax regulations
and legislation as well so you're going
to have to pop in your own tax
information
from your own country and a bunch of
other stuff but then you're set up
and you tell amazon which bank account
you would like them to pay you into
and voila you are now an amazon
associate it normally
takes about two to three days for them
to then go in and accept you
so um the cool other cool thing that can
happen with this once this is done i'm
going to show you how to get your links
in a second
is that once you become an amazon
associate you can actually
set up um a amazon influencer store
so i would just try and find mine for
you here and i'll just show you what
this looks like
so you once you've got your amazon
associates account you can then apply to
become an amazon influencer
which is where you can actually create
like little shops
of stuff that you recommend so i work
with entrepreneurs and business owners
and a lot of people were saying to me
you know what books do i recommend um so
i've created
for instance here a little shop of
all these books that i've read that i
recommend that i love that i love
sharing with other people
now because this is under my store um
and you'll see up here it says
shop forward slash sarah corner
according to sarah
anyone who buys any of these books
through this link i make a commission
from
right so it's not massive money but
still there's money that's going into my
account because
i'm sharing this i teach people how to
create online courses so a lot of people
say what equipment do you recommend
and you can buy really affordable
equipment for filming online courses um
right from your um your spare room with
really really really cheap stuff so i
recommend some of these products that
i've purchased
and again i just give them this link to
my amazon store
and amazon will pay me a commission
every single time
somebody purchases through here so this
can get really really good if you've
already got a following
if there's already people asking you
questions of stuff that they reckon you
recommend
um i even have one in here for makeup
because i've had a lot of people say to
me you know what makeup do i use
so i've made a store there now as you
can see like my total earnings from the
us store at the moment is
22 us dollars we're going to go crazy
with that 22 bucks
um but look these things add up and like
i said i've got multiple stores and
over um across all of them it does add
up to a few extra hundred dollars each
month which is you know it's not
terrible is it
um but there you go all you have to do
is let's pretend um i'm writing a blog
post for instance
and uh let's pretend my blog post is
about i know how to keep a goldfish i
don't know i could say you know and as
part of having a goldfish you're gonna
need a fish tank you're gonna need a
pump you're gonna need some
cute little goldfish decoration things
for your tank you know
so i would maybe type in here for
instance fish tank
right this could be books it can be
products it can be anything
so if you're going to be here you go
here's some cool fish tanks on here
so i would scroll through here for my
blog post and go you know i could
recommend some
fish tanks so let's pretend i want to
recommend this particular fish tank here
all i need to do is click the little
arrow and boom
i have a link now i simply
share that link with the world hey guys
here is the fish tank i recommend
boom if somebody clicks that link
i get paid so if it's your link you get
paid
so anyone can do this you do not need to
be some
high techy tech person the hardest bit
is setting the account up
and but that's it so let's pretend i'm
writing another blog article
and i want to recommend a great book you
know um so
i would type in here's a book i've
recently read which is awesome
i would type in profit first the name of
the books that i want to recommend for
instance there we go
the books come up boom get link that's
the link i share in order for me to go
and get commission now
um that blog that link goes in my blog
post i share that everywhere
and whenever it gets clicked on i'm
gonna make some money
so there's my little tip for you today
one way to earn some extra income
is to become an amazon associate and
share links of any kind that your
followers your audience are going to be
interested in
and you will get paid commission simply
by
recommending products or linking to
products in
your world on your website in your blog
post in the comments of videos
on your social media wherever you want
to share them good luck
have fun and i really hope that tip has
helped you today see you
soon for another tip bye