The FREE 5 Day Challenge To Plan, Outline & Map Out Your Online Course or Coaching Program
With Postgraduate Qualified Educator & Teacher-Trainer, Sarah Cordiner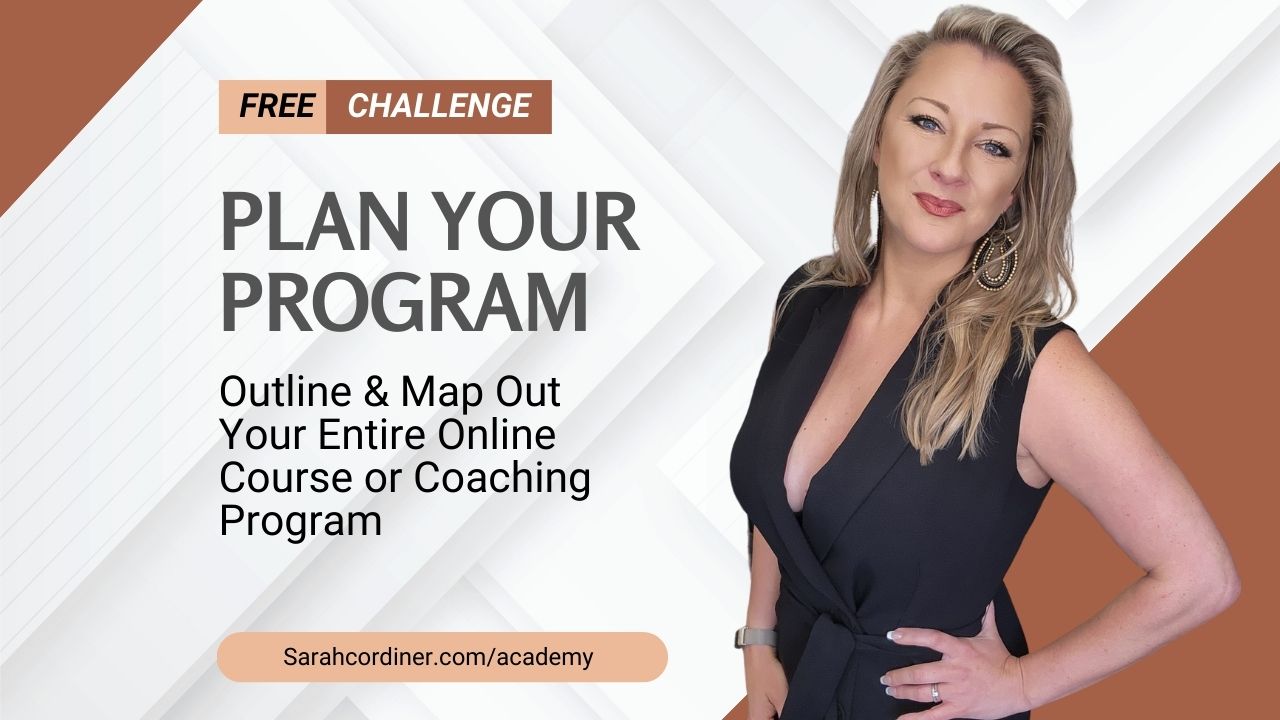 In this FREE 5-day challenge, I am going to walk you through the 5 simple steps to plan out the entire outline for your very own amazing online course or coaching program, and get yourself ready for filming!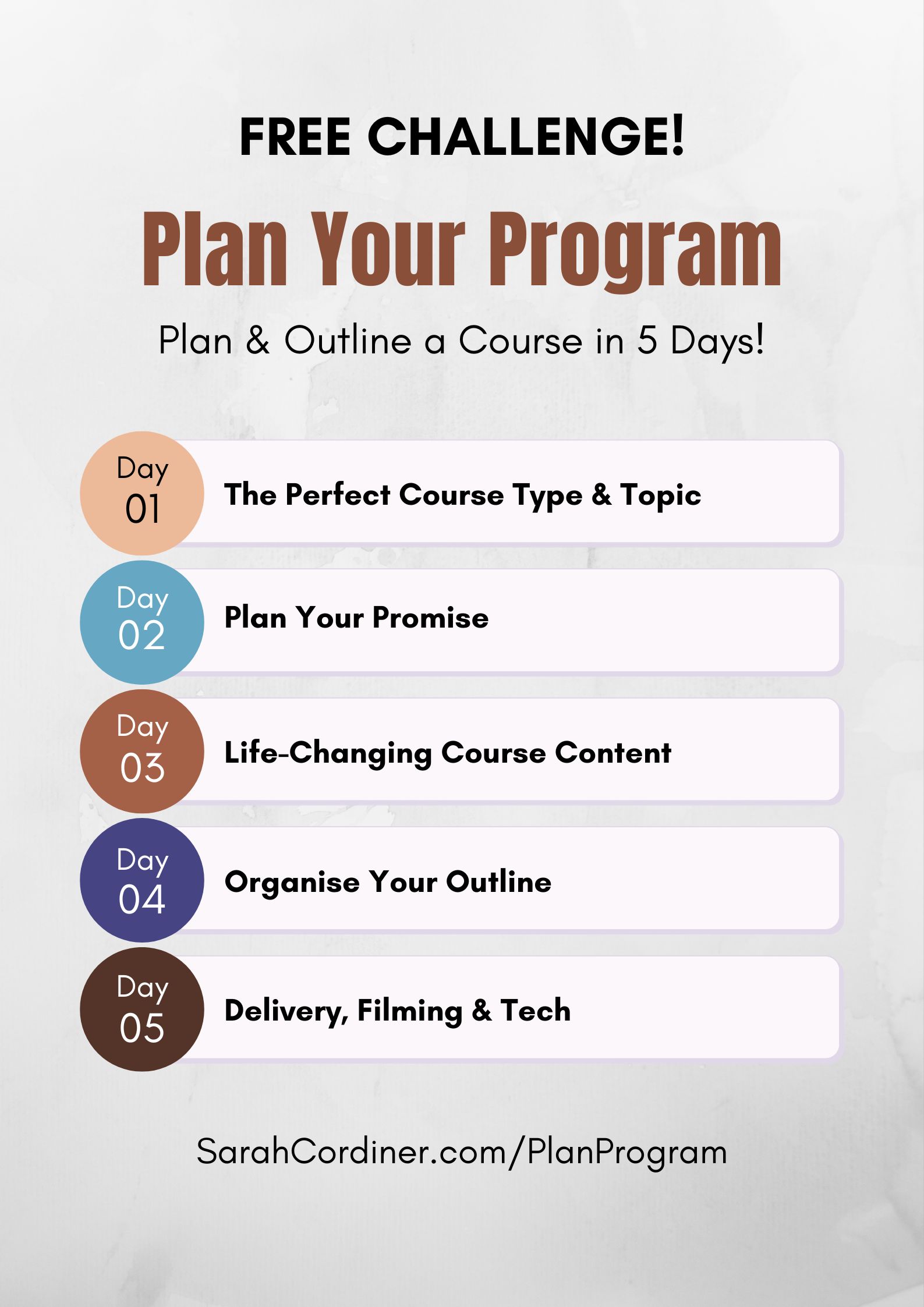 Welcome to the "Plan Your Program" 5-Day Challenge for Course Creators and Entrepreneurs!
This free, 5-day challenge is designed by successful Course Creation Coach, Sarah Cordiner, who boasts over 200,000 student enrolments in her courses and has made millions of dollars in revenue from course sales over the past 7 years as an online educator.
This FREE challenge will guide you through the quick, simple and results-generating process of planning and outlining your own amazon online course or coaching program.
Get your course plan outlined and mapped out in just 5 days!
What you get in this FREE challenge:
When you join this free challenge you will be given login details to an online portal where you will find the daily training videos and tasks to complete.
The training videos are highly practical and step-by-step on-demand screen recordings to walk you through every step for planning and mapping out your course outline - watch at your own convenience.
Daily check-in reminders will come to you by email for 5 days to keep you on track
Access to my Facebook group to stay accountable and motivated with other challengers, and to ask Sarah anything daily
If you follow each step, by the end of this challenge you will have created a full outline of your course or coaching program and be ready to start filming it!

DAY 1 - The Perfect Course Type & Topic
Learn how to choose a topic for your course or program that is high in demand and plays to your natural talents

Decide which one of the 5 five different types of online courses and programs you will create

Use Sarah's course type framework to determine your course length and depth, to help you find the perfect format for your business

DAY 2 - Plan Your Promise
Set outcomes and goals for your course, including your "big promise" that will set you apart from the competition

How to use free AI tools to help you quickly craft your learning outcomes, title and summary that will magnetise buyers and build a loyal following

Check that your course idea has high market demand for maximum success

DAY 3 - Life-Changing Course Content
How to choose what content to put in your course
How to decide what NOT to include in your course
How to ensure that your content is exactly what your target audience are desperate to buy and consume right now

DAY 4 - Organise Your Outline
How to organise and structure your course content so that it flows and helps your learners succeed
How to use Sarah's Course Outline Templates (plus download)
Plan the delivery methods for your course, including the use of video and other multimedia, to make your course engaging and interactive

DAY5 - Delivery, Filming & Tech
Sarah's tips and advice on filming your course videos, including guidance on lighting, sound, and setting, to ensure that your learner experience is excellent 

Tips on tools and equipment for filming, editing and creating additional resources

Understanding the different types of online course platforms and which one you should use

Plus a course platform demo showing you how to upload your course and open it up for students
Frequently Asked Questions
Is this amazing challenge really free?
Yes. there is absolutely zero cost to joining in with this challenge and getting all of the training in full.
....
Do I need to use any particular software?
No. There is no required software or tools to join and complete this challenge.
.....
Are there any live calls in this challenge?
No. We have a global group of challengers joining this round and therefore it is hard to pick times that suit everyone. So all of the training videos have been pre-recorded so that you can watch at any time that suits you regardless of your timezone or commitments.
....
Can I get extra help on this challenge if I get stuck?
Sarah's Facebook group 'Entrepreneur To Edupreneur' is the main community space to ask questions and get support during this challenge.  If you would like special one-on-one support, feedback or guidance, you can book a call with Sarah here: www.sarahcordiner.com/services