The 90 Minute Fast-Action Mastermind with Sarah Cordiner (in Partnership with 'The Professor is Out')
How To Expand Your Impact and Income - Beyond The Academy
Perth (Australia – Western Australia) Friday, 29 July 2022 at 8:30:00 am AWST
New York (USA – New York) Thursday, 28 July 2022 at 8:30:00 pm EDT
San Diego (USA – California) Thursday, 28 July 2022 at 5:30:00 pm PDT
Sydney (Australia – New South Wales) Friday, 29 July 2022 at 10:30:00 am AEST
London (United Kingdom – England) Friday, 29 July 2022 at 1:30:00 am BST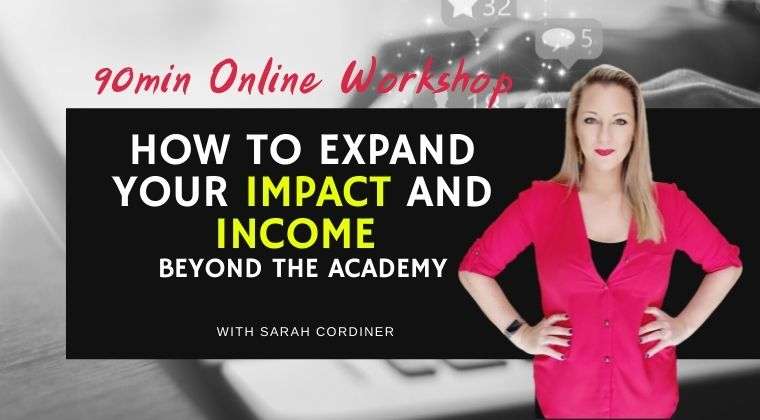 In this 90min LIVE training, I am going to show you become a highly expert in your field of experitse
Those working in academia have significant expertise in their field and could be impacting the lives of far more people than that which they can reach in the confines of the academy - not to mention, make a lot more money too.
In this 3rd workshop of 3, former University "Executive Director and Head of Campus", Sarah Cordiner, will walk you through the most effective methods that she has used to build up a 7-figure business with over 150,000 students from 181 countries - that she runs from the spare bedroom of her rural Australian home.
To join this training, purchase it with lifetime access for one payment of $45;
Learn how to promote yourself as an independent expert in your field to the public and corporate markets
In this 90min masterclass, you will learn:
The importance of an email list, why you need to start building one now, and HOW to build an email list
How to reach millions of people - for FREE
Understanding organic marketing and how to use it to become a leading expert in your field of expertise - outside of the academy
How to quickly start your own profitable blog
How to publish a book on Amazon
Sarah's '7-Figure Marketing Blueprint'
Join here for just $45 USD!
About Your Instructor: SARAH CORDINER [PGCE Ed & BA Hons Ed]
Trainer, Entrepreneur, Author, Speaker
Sarah holds the record for being the youngest University "Executive Director & Head of Campus" in Australian history; and stepped outside the tradition of her Gypsy roots to build a global 7-figure education business.
With over 14 years in business in the education industry, over 150,000 students currently enrolled in her courses from 181 countries and the recipient of multiple awards – Sarah encapsulates a mesmerising marriage of education and entrepreneurship as the EDUpreneur's internationally acclaimed leader in 'profitable education'.
She is also a Trainer and Consultant in education business development, education leadership, educational strategic planning, workforce planning & development, training design, online learning development, Train the Trainer, commercialisation of education, marketing educational programs and ed-tech strategy to large organisations.
*Join here for just $45 USD*
This workshop is being held in Partnership with 'The Professor is Out'.