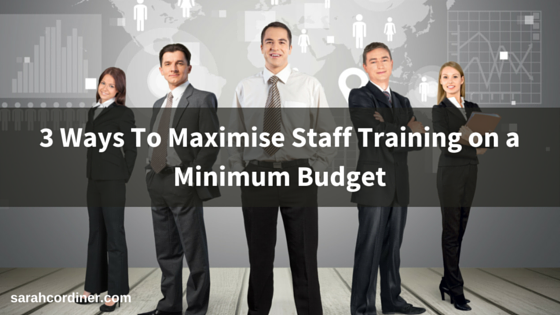 3 Ways To Maximise Staff Training on a Minimum Budget
3  Ways To Maximise Staff Training on a Minimum Budget
 So you're a training manager, a learning and development manager, or you have a role that oversees the growth and development of employees within an organisation.
 We DON'T have to reduce the quality of training in our organisations when budgets get tighter; and in this article I will share three ways that you can get more with less.
It's always been tough for professionals working in this role, constantly having to battle with the bean-counters and senior management about the ever-decreasing training budget and the value of training, as well as having to deal with the frustrations of staff who feel they deserve more in the form of professional development.
 Or maybe you're one of the lucky ones who work for an organisation that cares passionately and already invests heavily in people development, but you want to find ways of getting even more out of your efforts for the business.
 Although the training budget per head is increasing in some industries, the reality is that many organisations are still feeling the pinch from a downward economic trend and are being expected to conjure up more results than ever, with fewer resources and smaller budgets than they've ever had.
 As a result, dedicated training managers and the results-focused training professionals out there are working harder than ever to find innovative and creative ways of not only excelling in their roles by exceeding KPIs and achieving excellent outcomes for their teams and their departments but also doing so under a tight budget—and you can do it, too!
 With some very simple, cost-effective and easily implemented strategies, you can increase your training department's results and smash your targets whilst staying within budget, having the rest of the organisational department heads begging you to share how you did it!
 Sarah Cordiner has been an education and training professional for over a decade.  She has worked as a corporate trainer, training manager, training consultant and has been the CEO of her own education and training services business in three different countries, not to mention being post-graduate qualified in the topic. She has learned a thing or two about getting maximum employee training results in the most cost-effective manner possible WITHOUT reducing the quality of the training initiatives.
Here are three ways that you can get more out of your staff training, with less in the budget:
Use what's already freely available to help you create quality learning experiences
This strategy is about making the most of what's already been done for us and is readily available.
 Many organisations think that accredited training is the only way.  It isn't, and it's not ALWAYS the best option for your specific needs, either.
Whist accredited systems are extremely thorough and very carefully constructed by industry professionals, the curriculum can be restrictive and limited to more generic outcomes.
But this can work in our favour!
If there is not a requirement for staff training with an accredited outcome, you can not only massively reduce your costs but also significantly increase the learning impact and organisational outcomes.
I encourage my clients to familiarise themselves with the freely available, accredited curricula and use them as a guide for developing your own internal (non-accredited) training programs or defining what you would like a training developer to create for you.  This not only provides you with a program that is 'aligned' with an accredited unit of competency, skill set, qualification or course, but it also gives you the freedom to completely adapt, change, add to and alter the learning outcomes and performance criteria to meet your own organisational preferences—when the training is non-accredited, you are not limited or restricted by the many compliance requirements.
It also means that a huge part of the work has been done for you, saving you, your training development team or training development consultants a huge amount of work (and therefore expense) as you can clearly define what you want by using the publicly listed curricula as your starting 'template'.
So where can you get your hands on this awesome stuff?  It depends on the country you are in, but in Australia we have a training 'bible' known in the Aussie industry as the TGA website: 
www.training.gov.au
.
Go to the tab 'search for nationally recognised training' and then, using your keywords, you will find a huge array of the many accredited training outcomes available from recognised training organisations in Australia.
The really great bit is when you click on each result, it will take you into the in-depth learning outcomes, known as performance criteria, elements, required skills and required knowledge—all of which can be used as an inspirational guide or template from which you can base your own adapted (non-accredited) version.
High quality, low cost!
 2. Conduct Live Virtual Training.
It was about 2004 when I experienced my first ever live virtual training session.  I was studying an A-Level in Psychology at a college in the UK, and our teacher was facilitating our class in real-time from the US.  It blew my mind.
Now we can live stream from anywhere in the world from our mobile phones using free live streaming apps like Periscope, Meerkat and Blab; we can use free online video conferencing software like Zoom Cloud Meetings and Google Hangouts, and even Facebook has recently launched a new live streaming feed.
Many of my clients love to have a regular 'live Q&A' via one of these platforms as an add-on to their online learning or blended learning programs.  It really adds those interactivity and connectivity elements to modern-day training.
This sensational technology (did I mention FREE sensational technology?) now means that we never again have to listen to the excuse from an absent trainer or a learner that the car broke down, or they've got a cold, because they can now join live online meetings whilst waiting for the AA truck or with hot flannels over their heads.
All learners can see the presentation slides, screen sharing, screen casting, instructor's webcam, white-board notes, ask questions live, post comments live, share with their colleagues and contribute to discussions as if in a real classroom together.
One of the greatest results of this training delivery method is that it opens up your classroom not only to the world's best educators without the costs of their travel and accommodation, but it also allows for live, interactive training to take place between teams who are geographically widespread.  It means that we no longer have to have one department, site or office running behind another group—everyone, everywhere can be part of it together, and the sessions can all be recorded for later reference and uploading to your LMS or intranet. What a result!
On top of all of these benefits and cost savings, it also completely eliminates the need for venue hire, catering, printing, staff travel and parking. It reduces down-time and acts as a highly efficient method of group learning when it's not possible to physically come together as a group.
 3. Replace Face-to-Face With A Blended Approach
Depending on your work environment, objectives and group type, face-to-face training can be essential.  To enhance the experience and reduce cost, however, we should also be asking ourselves as learning leaders whether we need to deliver the entire program in a face-to-face manner.  As discussed, reducing the face-to-face element not only significantly reduces your costs but also can significantly enhance the learning experience by meeting a variety of learning styles and preferences.
Blended learning is all about carefully designing a learning program in way that effectively achieves the learning objectives via a combination of delivery and learning methodologies.
Blended learning has many benefits besides the obvious cost-effectiveness.
It enables tailored customisation and contextualisation of the training as learning delivery can be designed to fit in with your specific workplace, industry, site, geographical workforce spread and even individual learner personality, attitude and behaviour types.
You can select, integrate and use numerous tools, resources and content, and the possibility for combinations are endless.
Blended learning can also enhance the retention of information and real-world application of knowledge by progressively introducing new levels of skills and knowledge over a period of time.  As an example, some of our clients like us to deliver an intense two- or three-day training program to cover the basics and ensure everyone starts off on the same foot. They want to be confident that they have all grasped the essentials going forward—which also boosts a mass movement towards organisational change.  This is then bolstered with an online learning program, broken up with monthly live Q&A webinars during which our trainers check in with the learners, answer questions, share progress reflections, explore how real-world implementation is going on in the workplace, facilitats the sharing of good practice between staff, obtain informal feedback about the program and make everybody accountable for continued progress.
One of the Australian clients of our '
Franchise Business Development Program'
also adds to this model an annual conference where all of the year's learning is consolidated, reviewed and amended accordingly for the upcoming 12 months.  We build in the learning that already exists on their company intranet, account for building upon and referring back to their other company training (such as induction and compliance training) and include modules that draw upon their operations manuals, various policies and procedures and contractual requirements, thus combining a number of learning sources that all reinforce one another to create a highly effective blended learning experience.  To give you some idea of the effectiveness of this program, this client of ours (which requires all new franchisees to go through our Franchise Business Development Program), was recently voted by 
Business News BNiQ
 as the Number 1 Franchise in Western Australia.  Although we certainly cannot take all of the credit for this, I can confidently say that good training contributes to good results. **Polishes fingernails**
 In this book you will learn Sarah's top 12 strategies that will help every organisational training and development professional ensure that they are facilitating excellence in professional development, whilst keeping their senior bean-counters on their side, as well.
 Strategy 1: Add these people to your organisational guest list to enhance your staff training without increasing your spending.
 Strategy 2: Use this strategy as a 'done for you' training design template for world-class training without the expense.
 Strategy 3: This one simple strategy will add specialised expertise to your staff's professional development, increase staff morale AND ensure that the most advanced skills remain within your organisation—without spending a single dollar.
 Strategy 4: This strategy will eliminate 'waste of time' meetings and instead create valuable learning opportunities without the extra effort, organisation or expense.
 Strategy 5: These 'eliminate and replace' methods will save training budget wastage.
Strategy 6: This strategy will ensure that you smash your training department objectives, resulting in an INCREASED budget next year.
 Strategy 7: Get the top experts in your training room—without having to pay their travel expenses.
 Strategy 8: Use this strategy to give your staff access to world-class training, without it taking up work hours and for less than the price of a coffee.
 Strategy 9: Give your learners even more content and an increased learning experience whilst decreasing the expense.
 Strategy 10: Use this strategy to release pressure on your training team, free up their time, get more results and reduce your HR spending.
 Strategy 11: Conduct the most extreme, highly technical, high-risk training in the most expensive niches ever, without killing anyone or spending a fortune.
 Strategy 12: Use this strategy to reduce long term expenses on staff career development.
 Regardless of whether your organisation has a great budget for you to work with or a limited one, there is no doubt that the training professionals using these strategies to get more results for their department at a much lower cost are going to reap the rewards from every angle for their team, their employees, their colleagues and their senior management!
 If you would like to smash your training department targets whilst pleasing the heck out of the bean-counters by learning how you can quickly and easily implement these simple, results-focused strategies, all you need to do is read on, and it's all yours.