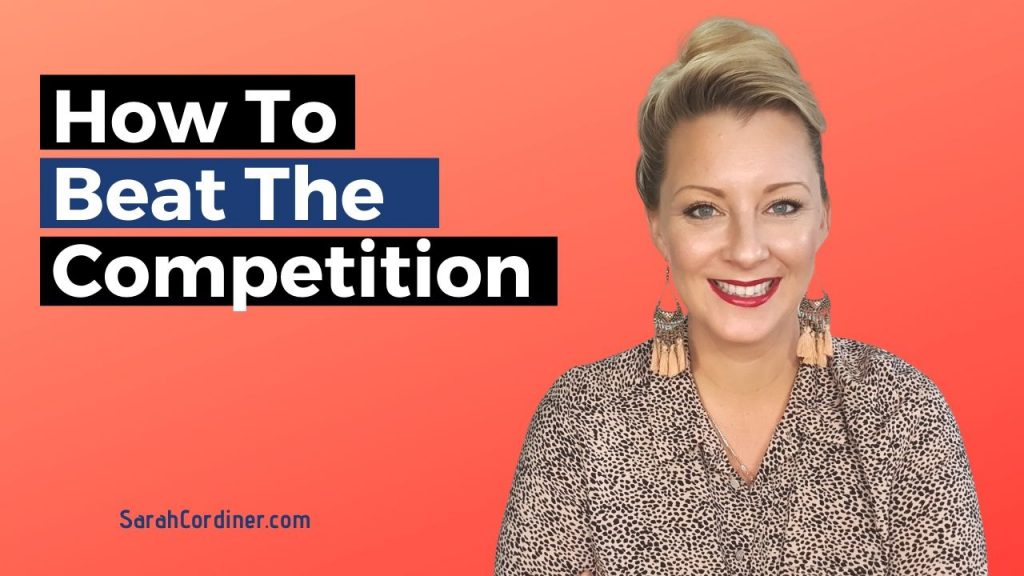 13 Ways To Beat Your Competition
We are always going to have competition. 
Instead of worrying about them, focus on being better than them.
In this article, I will share 13 tips with you that will help you get ahead of the pack – and stay there!
Don't Be Afraid To Look
When was the last time you checked out your competitor's courses, programs, websites and offerings?
Do you know what the benchmark is in your area of expertise right now?
What are people paying for other services and products like yours?
If you are not continuously keeping your finger on the pulse in your industry, you could end up drifting away or underperforming.
To succeed as an expert, you need to ensure that you are strategically researching your market – not only before you start, but forever along your journey.
Don't be afraid to take a look at what's going on in your field – it's essential. 
BUT also – never spend too long peeking over the garden fence, that the weeds start choking up your garden!
This article is not about market-testing or checking the market demand for a particular product or online course (I have another article on that); instead, this is about just being aware of what's going on in your industry in general.  
13 Ways To Stay Ahead of Your Competition
Join your competitor's courses, programs, Facebook groups and mailing lists
This is not to copy – never ever do that.  But it will help you keep on top of current industry trends, the benchmark that you are up against and what others in your industry are focussing on.
Read every book you can possibly find on your topic
The world around us is constantly changing and there will always be new ways of doing things, new ways of explaining things, new language being used and new tools available.  If you don't keep on top of these changes, latest updates and knowledge then you will get left behind.  Every industry is so huge that you can never know everything.  The more you read, the more perspectives you will understand your topic from, the more ways you will be able to apply it and the more examples and context you will be able to apply to your own way of explaining your topic.  Not to mention the fact that it will keep growing your confidence and self-efficacy in your topic, the more you consume about it. 
Listen to every podcast on your topic
Just as reading books keeps you educated and up to date, listening to podcasts in your topic will give you the most up to date information, ideas, perspectives and gossip in your field. 
Review the pricing of your competition 
Your prices for your products and programs should never be static.  I review mine at least once a year as the market demands and expectations change.  See what your competitors are charging for similar products, courses and services to make sure that you are not under-charging.  Never price lower than them either – always add more value and increase your pricing accordingly. 
Go more expensive and better – never cheaper
Stand out by being the luxury, top-end or higher value-return than your competitors.  If your only tactic is to price lower, you are devaluing yourself and underselling your content. 
Get testimonials – look at those of your competition to see how they collect and share testimonials 
We can say all we want about our products and services, but what prospective customers listen to far more seriously, is what other people are saying about us.  Make sure you collect feedback and testimonials at every opportunity.  I personally add an automated message at the end of every one-on-one call, at the end off all my free content and at the end of every online course to ask people to leave a review or feedback for me.  I then add a few to all of my sales pages to 'speak for me' when my prospective clients are aiming to make decisions about buying.  
Micro-niche as much as possible and speak directly to one specific audience member 
The more you niche, the less competition there is in that market segment; and the more chance you have of dominating in one particular field.  It can be really tempting to say that 'everyone needs this' and try to target the world.  But that will never help you have a competitive edge.  If you teach confidence for example, of course everyone in the world could benefit from it, but YOU will benefit more if you say 'confidence for authors' or 'confidence for single mums' etc.  It's easier to find those people, get to know them and stand out as THE person to help them specifically, making their choice to go with YOU over anyone else a total no-brainer.  
Play to your unfair advantages – what are your competitors 'horn-blowers'
We all have unfair advantages over our competition.  Milk them like mad! For example, I'm qualified in course creation.  So I make a MASSIVE song and dance about that, not because it makes me feel special, but because I know that most of my competition are NOT qualified educators.  I make them look less 'qualified' than me, simply by focussing on my own advantages.  Unfair advantages can be the number of years you've been in your field, any training you've had, notable clients you've worked with, special media mentions you've had and so much more.  Go and see what your competitors are tooting their horn about themselves to see if it reminds you of any of your unfair advantages.  
Look at their reviews on public sites like amazon, Udemy, Google, Facebook reviews etc and see what they are not doing well 
If your competition have made any waves worth shouting about, they have likely upset some people too.  Go and check out the public pages and see what their poor reviews are.  This will give you clues about what you CAN do and add to your consortium of offerings so that people can't complain about the same things with you. 
Don't be 'me too' 
Don't JUST offer what they offer, make something different, find their gaps, limitations and flaws.  When you review their work, social media and brand, see if you can work out what they miss out or don't cover.  Fill the gaps that they've missed and be the better version. 
Be more omnipresent and prolific than them 
Quite simply 'out shine' them.  Produce more content, give more helpful advice, be more generous with your time, show up more often and be always around.
Go to their social media channels and mailing list and see how often they post – simply post more than they do and better content than they do.
Look at their tags on social media 
Tags, hashtags and SEO are a thing.  You can use TubeBuddy and VidIQ on YouTube to see the tags that the most successful videos are using to get their search results.  Keep track of the hashtags your competition are using on their social posts and add them to your own posts and uploads.
Who do they have partnerships, alliances and affiliations with? 
Partnerships have power.  Find influencers who have the same audience that you are targeting and reach out to them offering affiliate income or payment for mentions and promotion.  You'll be amazed how having your name shouted about by a big influencer or two can drown out your competition in an instant.  
Conclusion
If you want to stay ahead of the competition, it's important that you know who they are, what they are doing and how they are doing it. Following these tips will get you well ahead of the pack – and stay there!
Do leave a comment if you found this helpful!
Sarah x