Survive & Thrive
~ Reset Your Mind, Reactivate Your Motivation, Realign With Your Divine Business Purpose & Ignite Your Wealth Attraction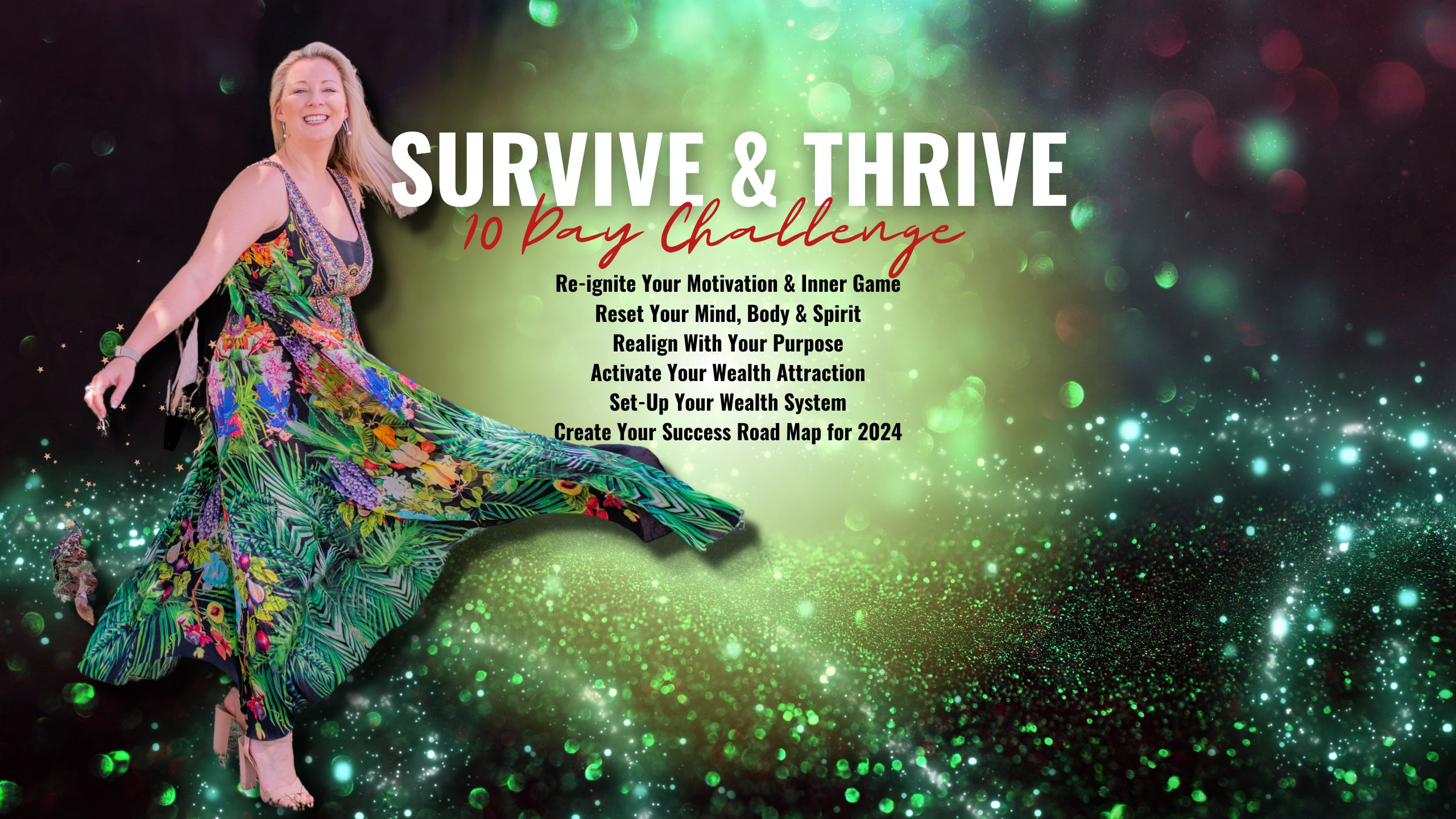 Click the video below for more information.....
There are 2 ways to join this challenge:
Get lifetime access to this challenge for 1 payment of $57 USD, OR
Join the Edupreneur Academy for $79 per month (cancel anytime) and you'll have access to this challenge, over 50+ of my other online courses, monthly group challenges, monthly live workshops and much more (incredible value!)
YOU are invited to reactivate, remotivate and recalibrate your motivation, mindset, wealth attraction  - and realign with your divine business purpose with us on this 10-Day Challenge!
Feeling burned out?
Feeling less productive than you'd like to be?
Feeling overwhelmed, tired, confused, choice and task-fatigued?
Too much on your to-do list?
A bit unclear what to do with yourself next?
Feeling out of alignment with your purpose?
Unsure where your business is meant to be going next?
Got a bit of niggling anxiety or sense of uncertainty going on?
Just need to clear your head, have a break from the 'hustle' and get yourself and your head wiped clean and re-invigorated for 2024?
If you answered YES to any of these questions, then this "Survive and Thrive" 10-Day Challenge is definitely what you need in your life to close up this year!
I am running this 10-Day "Survive & Thrive" Challenge to help you get back on track in mind, body, spirit, purpose and business, so that you are refreshed and ready for a new year.
So what is The Edupreneur's "Survive & Thrive" challenge?
This challenge will run in a secret Facebook group AND include an online portal, where you will get a daily training, meditation, journal prompt and ritual that have been designed to help you:
reset your mind, body and spirit
neutralise and clear negative energy, stale mindsets and the effects of negative experiences accumulated in the subconscious
Reactivate your money and wealth attraction frequency
Reignite your self-efficacy, self-belief, motivation and ambition for your business and goals
create deeply embedded feelings of calm, focus, determination and motivation
develop positive daily habits to elevate your health, wealth and inner game
set-up the simple wealth accounting system that I use in my business, so that you can start paying yourself a wage and dramatically increasing the profits and owner dividends you deserve (even if you are just starting out and not yet turning over much money - this will set you up for life, wherever you are in your business!)
Define your 'OBT' ('One Big Thing') for 2023
Craft your 'BHAG' to get absolute clarity on your mission for next year (and I'm not talking about an airy-fairy mission statement - I'm talking about a 'pack your backpack and hit the road kind of mission'!)
Schedule your 'Success Road Map' for 2024 using my Edupreneur's Success Journey
Steps and have your whole year of strategic growth planned out
Get absolute clarity on your next action steps and tasks to do, so that you Survive and Thrive in 2024
Are you ready to go to the next level?
Are you ready for some re-invigoration, reignition, a reset, some clarity - and on top of that and an absolute black and white plan for 2023?
Come and join the Survive & Thrive 10-Day Challenge with me 5th-16th December online!
This challenge is FREE to members of my Edupreneur Academy and will automatically appear on your dashboard on 5th December.
If you are not a member, you can join just for this challenge and cancel your subscription at any time.
The Edupreneur Academy is ONLY $79 and comes with access to over 50+ of my other courses, ALL of the 2023 live call workshop recordings and challenges, and access to me throughout the challenge in the Facebook group to ask ANYTHING!
$79 to upgrade yourself and your business?
YES PLEASE!
It would be crazy NOT to, right?!
Let's do this - I'll see you in there for a very special end-of-year challenge.
You don't want to miss out on THIS one!
Day 1 - Awakening, Awareness & The Nature of Change
Day 2 - Conduct your Life Audit & The Miracle-Maker Exercise
Day 3 - Activate Your Wealth Attraction & Set-Up Your Wealth System
Day 4 - Igniting Your One Big Thing
Day 5 - Reset Your Conditioning, Uncover Your Prophecy, Re-write Your Life Script & Shift Your Locus of Control
Day 6 - Uncovering Your True Destiny From Your Stars & Your Name!
Day 7 - Untether Your Soul, Reactivate Your Energy Centres & Make Space For Change
Day 8 - Tiny Things Create Big Results - The MICRO Method To HUGE Outcomes
Day 9 - Cultivating Courage
Day 10 - Start BEFORE You Are 'Ready' - Be Unapologetically YOU
There are 2 ways to join this challenge:
Get lifetime access to this challenge for 1 payment of $57 USD, OR
Join the Edupreneur Academy for $79 per month (cancel anytime) and you'll have access to this challenge, over 40+ of my other online courses, monthly masterminds and live calls with Sarah Cordiner and much more (incredible value!)