Concept To Course: +PLUS Package
My Concept To Course PLUS Package is the ultimate 'GET IT DONE' solution!
Not only do you get LIFETIME access to Concept To Course and an entire YEAR in the secret Facebook group, but you also get ME personally helping you to map out your business model and create your course outline in a one-on-one call, AND my Australian-based team will set-up your entire online school FOR YOU, connect all of your payment gateways, connect your email marketing software, create your student check-in and welcome automated email sequences, design your course landing page and have you completely ready to launch, fast!
If you just want to get this course or academy up and running ASAP, without having to worry about doing ANY of the tech - then this absolute bargain of a set-up package is perfect for you!
Watch the video below to learn more about what you get in the C2C PLUS Package..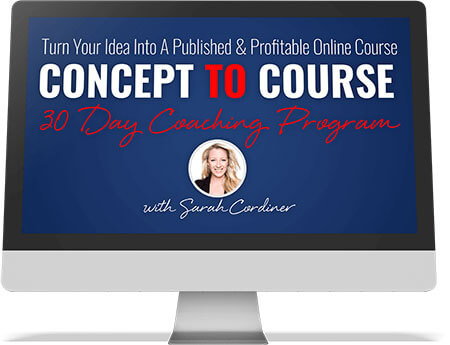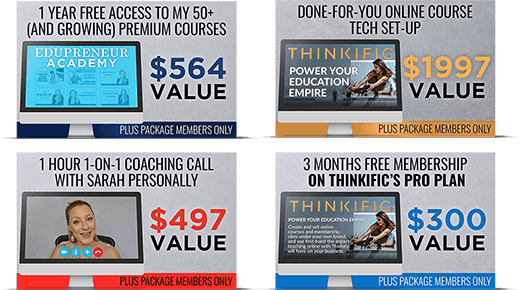 Concept To Course Coaching Program with Sarah Cordiner where you'll create and launch your own profitable online course in 30 days.
You get LIFETIME access to the online learning portal for this program in the PLUS Package... AND...
We will set-up your online school tech and email automation for you!
Here is what you get in the Concept To Course PLUS Package.......
Yes really!
All of your tech setup and running, ready for students!
A YEAR of monthly live coaching calls with Sarah;
over 50+ online courses and your OWN course launched (and more)
all for JUST $18,000.....
$2,997 USD!! INSANE Value!!
WARNING: Only 10 PLUS Packages Available!  Due to the size of our team and the personalised service we provide to you (with your own Project Manager), we only take on a MAXIMUM of 10 'PLUS Package' clients per Concept To Course intake.  First come, first served.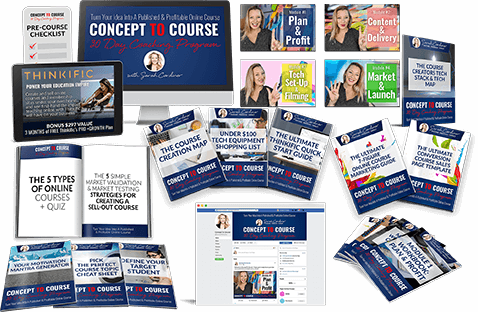 Details of the Set-Up Service That you Get in this Package:
Payment plans ARE available for the PLUS Package service. Simply click on the button below to enter into the payment plan for the PLUS Package.
If you have any questions about the PLUS Package, please feel free to contact me on sarah@sarahcordiner.com