Mid-Year Business Review, Readjust & Recalibrate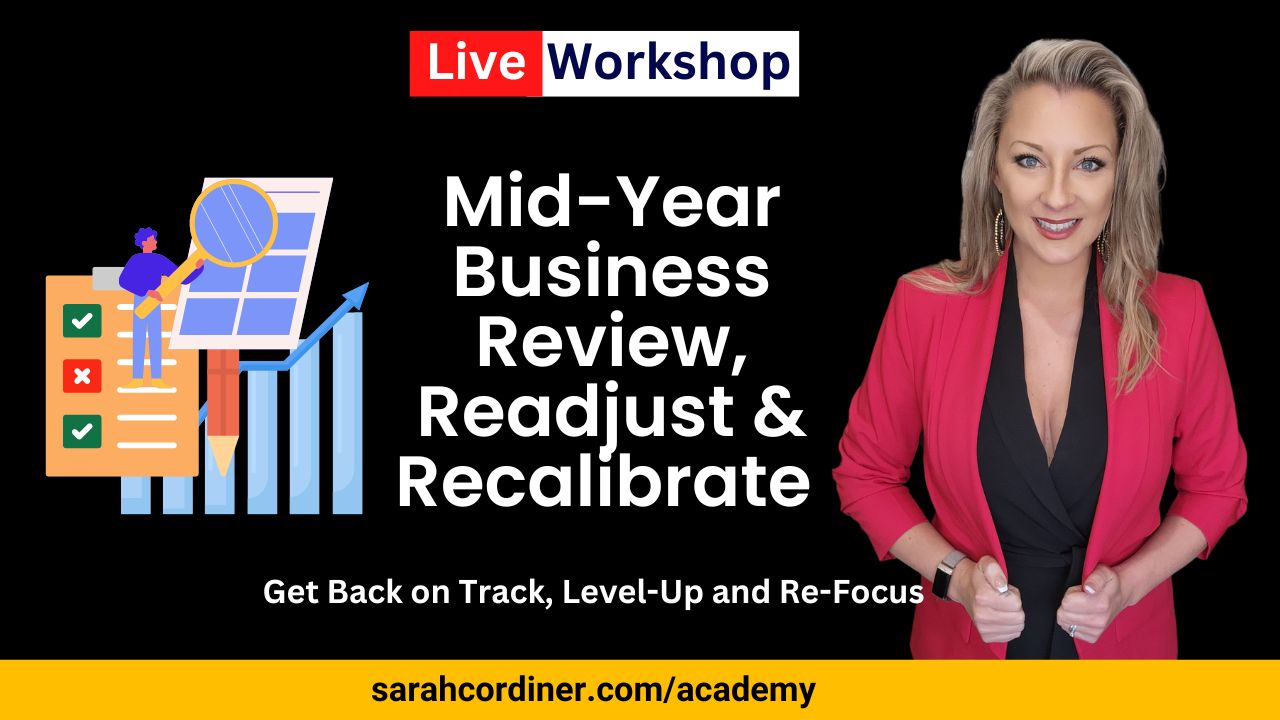 Get Back on Track, Level-Up and Re-Focus
Business can be a bit like conducting an orchestra of wasps in the middle of a hurricane whilst trying to follow an invisible yellow brick road.
We have a plan, but then the daily grind takes over and before we know it, we are wildly off course - and lost all of our wasps.
In the everyday hustle, our compasses can go eschew and the wheels can go wonky - and if we don't recalibrate them, we've got ourselves a one-way ticket to no-mans land.
It is critical as business owners, that we regularly check in on where we are at, review what's working, what's not working, enhance the plan or make a whole new one.
In this 90-minute workshop, 7-Figure Ed-Tech Course Creator Sarah Cordiner, will walk you through the essential 'check in' areas of your business and help you re-set your goals, action plan and route for the coming 6 months so that you are aligned on the path of success.
Introducing the Mid-Year Business Review, Readjust & Recalibrate Workshop!
If you are an entrepreneur, course creator, coach, or consultant that would love some refreshed clarity and a clear plan on what to do and where to go next in your business, then come and join us in this 'get back on track' and 'make a path to success' goal setting workshop.
You will gain clarity, focus on your 'one big thing', and create a solid 90-day action plan to boost your growth, marketing, and productivity.
During this 90-minute, interactive workshop, you'll dive deep into your business operations, assess your progress, and align your goals for an unstoppable journey to success.
There are 2 ways to join this training.
Either purchase it with lifetime access for one payment of $97;
OR, join my Edupreneur Academy to get this training, and all of my monthly group challenges, masterminds and online courses for $79/m (more info in the academy button below)
Join the 'Mid-Year Business Review, Readjust & Recalibrate' with Sarah Cordiner and regain Your Momentum, Elevate Your Game, and Refine Your Focus

Here's some of what we will cover in this workshop:
Review The Year So Far: What's hot and what's not in your product and service revenue, a determine what to turn up and what to turn off
Pump Up The Profit: Assess your pricing and profitability - how to tell if you need to increase your prices
Create Your 'Success Scoreboard': Sarah's weekly 'Scoreboard' system will help you stay on track every day for the rest of time, keep hitting your goals and surpassing your targets (PLUS - FREE copy of Sarah's Scoreboard Template)
Determine Your Hit Number: The formula for working out exactly how many people you need to reach in your marketing to hit your revenue goals for the year
Review Your 'One Big Thing': Uncover the single, most crucial goal that will propel your business forward and set you apart from the competition - or readjust it to meet your new position
Craft a 90-Day Action Plan: Map out a detailed and achievable roadmap to success, with specific milestones and deadlines to ensure you stay on track.
Master Your Marketing: With a clear 90 day plan, now you can set a clear 90 day marketing plan.
Automate Your Success: Streamline your business operations and implement time-saving systems to improve efficiency, productivity, and work-life balance. Sarah will share a number of ways that you can automate your progress and multiply your productivity to reach your goals faster.
This is your chance to work ON your business instead of IN your business and help get that ship sailing in the right direction.
There are two ways to gain access to the 'Mid-Year Business Review, Readjust & Recalibrate:
Pay just $97 USD ONCE to get lifetime access to it

Or, join Sarah's 'Edupreneur Academy' for just $79 USD monthly (cancel anytime) to access this full training AND everything else in the academy too!