Create Your Master Plan, Marketing, and Growth Strategy for 2024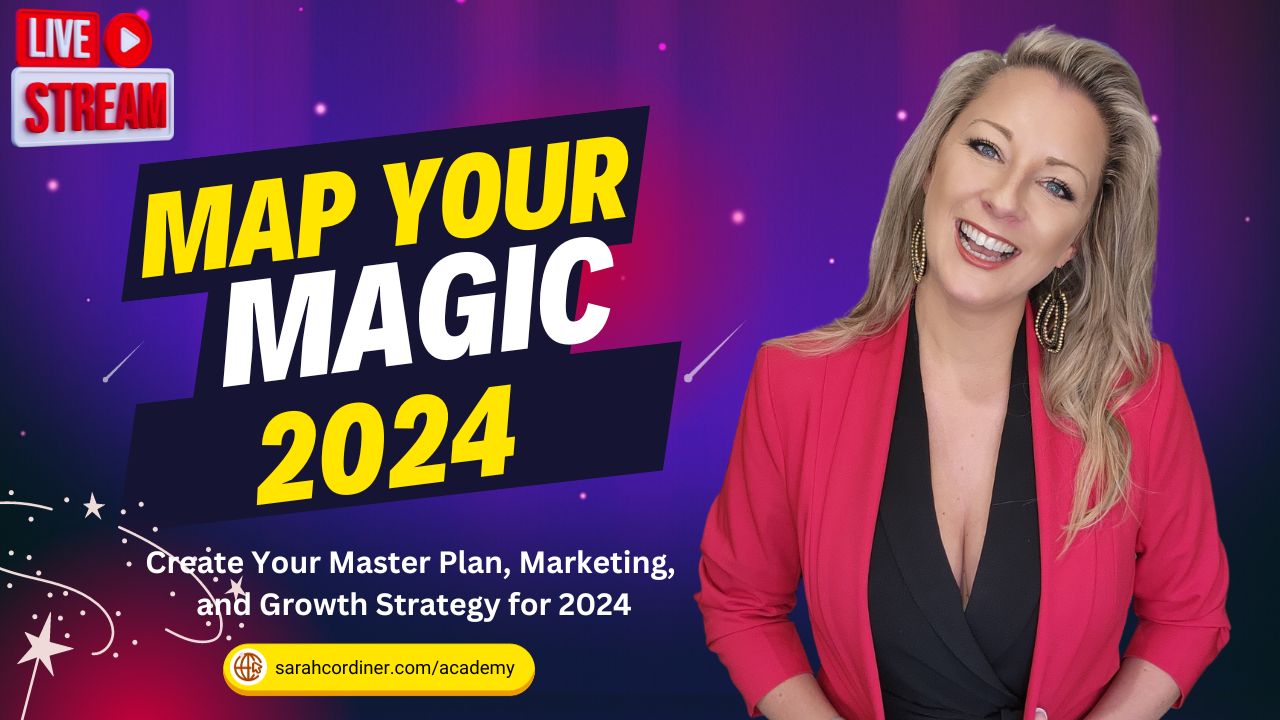 The dawn of a new year beckons fresh opportunities, renewed energy, and the chance to redefine your business trajectory.
As 2024 looms on the horizon, the time is now to strategically plan, execute, and transform your business dreams into tangible results.
And success ONLY comes from effective planning and strategy.
But how do you plan for success and growth?
How do you turn a plan into action and stay on top of it with every day life taking over?
Introducing "Map Your Magic," a 90-minute intensive workshop to help you plan out your 2024 goals, strategies and fail-safe methods for reaching your goals.
Sarah Cordiner is an award winning entrepreneur, crowned 'Female Entrepreneur of The Year 2023' by Titan and has been recognised as one of the top performing businesses in all of Australia by the largest, most prestigious and meticulous awards in Australia - The Telstra Best of Business Awards.
Not only, she is raising 2 young children as a work-from home, neurodivergent mum, but she just had her business formally valued at 8-figures.
How did she achieve so much?
PLANNING, structure and a SYSTEM.
This workshop, Sarah will share the exact planning, project management, goal setting and every day task management she uses to not only keep herself on track and focused, but also manage a global team too.
Whether you are brand new start-up, a solopreneur or a seasoned business owner with a team - this workshop will help you get clear and come out with a plan to make your 2024 be brighter than any year you've had.
Delve deep into designing your offerings, charting your 'One Big Thing (OBT)', making a marketing plan, organising your days and breaking it down into manageable yet impactful milestones….
If mastering the balance between vision and execution has ever felt elusive, this workshop is your key to clarity, strategy, and next-level growth.
No matter where you currently stand in your business journey, 'Map Your Magic' is tailored to infuse clarity, strategy, and decisive action into your 2024 blueprint.
Thank you for sharing the previous workshop outline. It offers great insight and adds depth to the concept. Keeping the essence of the new workshop in mind and incorporating some elements from the previous one, here's a refined description for "Map Your Magic":
Create Your Master Plan, Marketing, and Growth Strategy for 2024
There's a thin line between steering the ship of your business through the ever-changing tides or feeling adrift in a vast ocean. The key lies in meticulous planning, unshakeable clarity, and the right strategies to propel your business toward its destined success.
As 2024 unfolds its chapters, don't let your business narrative get swayed by unforeseen challenges. Instead, equip yourself with a master plan that stands resilient against any storm. Presenting the 'Map Your Magic' workshop, a 90-minute immersive experience that will transform your business compass from erratic to precise.
Crafted meticulously for ambitious business owners, this session is the golden ticket to chart out your products, services, and 'One Big Thing (OBT)', and then delineate this into concise 90-day action plans teeming with purpose and productivity.
Learn How To Create Automation Sequences That Put Your Emails and Admin on Learn Auto-Pilot, Give You Freedom and Wow Your Customers!

Learning Outcomes:
Blueprint Your Offerings: Dive deep into what's been working in your business and what hasn't. Decide what products and services will define your brand in 2024.
Unlock Your OBT: Set or recalibrate your 'One Big Thing' for 2024 – that pivotal goal that can redefine your business trajectory, and ensure consistent progress and momentum.
90-Day Action Plans: Transform your vision into quarterly, actionable plans, ensuring every day counts towards your big picture.
Operational Excellence: Embrace Sarah's weekly 'Scoreboard' system, ensuring daily alignment with your objectives and an unwavering focus on surpassing targets. You'll also learn how to harness the power of digital task managers to keep your operational, administrative, and marketing activities organized and efficient.
Daily Task Mastery: Dive deep into structuring your day-to-day tasks that inch you closer to your OBT without feeling overwhelmed.
Pricing and Profitability: Reflect on your pricing structures. Understand the signs pointing towards a price hike and ensure your offerings are priced for maximum profitability.
Marketing Mastery: With your 90-day action plan in hand, devise a laser-focused 90-day marketing strategy, ensuring every campaign, post, or advertisement aligns with your bigger picture.
Automate Your Success: Dive into time-saving systems, digital solutions, and automation strategies that not only streamline your operations but ensure you're working smarter, not harder.
Outsourcing Smartly: Identify the tasks that need your touch and those that can be outsourced, ensuring you focus on what truly matters.
The Hit Number Formula: Decode the number game. Learn how to determine the exact audience reach needed in your marketing endeavors to meet your annual revenue aspirations.
Join us and make 2024 your biggest and bestest year ever!
There are two ways to gain access to the 'Map Your Magic 2024':
Pay just $97 USD ONCE to get lifetime access to it

Or, join Sarah's 'Edupreneur Academy' for just $79 USD monthly (cancel anytime) to access this full training AND everything else in the academy too!