Create and launch your own membership subscription for monthly recurring revenue, in 10 simple steps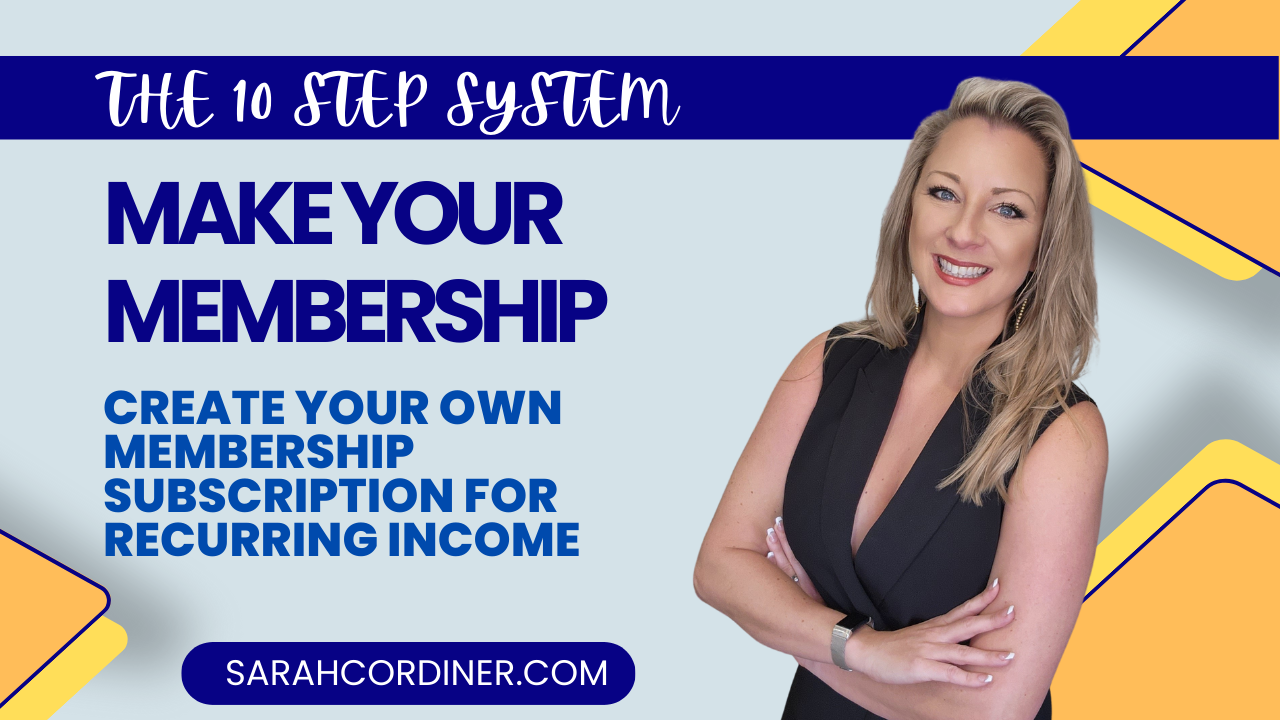 Only 10 Steps To Transform Your Business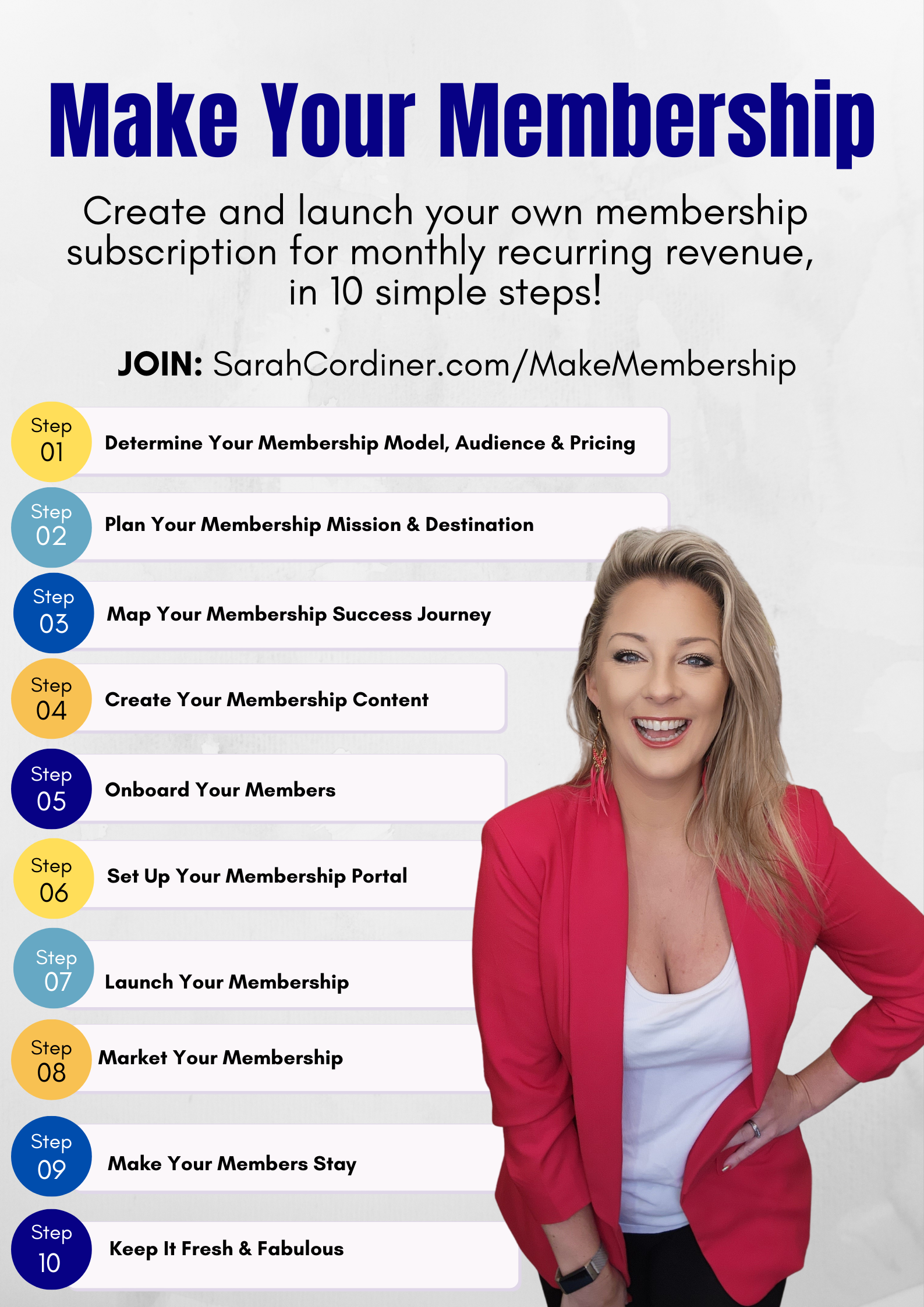 The most successful, financially stable and lowest-stress businesses today, are membership subscription model businesses.
All you need to do to dramatically improve your income and lifestyle is charge a monthly fee for your customers to access your products or services.
And this challenge shows you HOW to do it.
You market once, sell one product and get recurring revenue every single month that continues to increase over time.
No more constantly unpredictable income months!
Hello to a sustainable bottom line that brings in repeat profits forever, and is actually FUN to create and deliver!
What are the exact steps for creating and publishing a membership?
What should you include in a membership?
How often should you create new content?
How do you do the tech stuff?
How should you price a membership?
How do you launch a membership?
How do you get people continuously joining it?
How do you keep your members engaged and paying for life?
Follow Sarah's 'Make Your Membership' Model To get It Done FAST
Qualified Educator Sarah Cordiner, has been running her membership the 'Edupreneur Academy' for over 7 years - attracting tens of thousands of members through her top-rated training for course creators and online business owners.
In this 10-Day challenge, Sarah will walk you through every single step to plan, create and launch your own membership academy or subscription.
And it's not just 'what' to do. It's HOW to do it.
Sarah's training is highly practical 'GET IT DONE' style, and includes step-by-step screen demos of setting up your tech, templates and IMPLEMENTATION throughout.
There are 2 ways to join this training.
Either purchase it with lifetime access for one payment of $149;
OR, join my Edupreneur Academy to get this training, and all of my monthly group challenges, masterminds and online courses for $79/m (more info in the academy button below)
Join the 10-Step 'Make Your Membership System' to get your own membership up and running!


STEP 1: Determine Your Membership Model, Audience & Pricing
The different types of memberships and which one is right for you

How to pick your niche & target audience

The income opportunity and how to price your membership
STEP 2: Plan Your Membership Mission & Destination
What to include in your membership

How to craft the purpose and mission of your membership for your member's ultimate success

Determine the content, themes and topics of your membership

STEP 3: Map Your Membership Success Journey
Create your success journey map

Create your 12-month schedule

How to create 'streams' or options for people at different stages of their journey or skill level

How to instantly reduce drop-outs and churn rates

STEP 4: Create Your Membership Content
How to create recurring monthly meetings, Q&As or group training using automated calendars, zoom and automated email reminders - detailed tech demo

How to create video content - basic tips for filming screen demos and talking head videos, workshops or webinars

STEP 5:  Onboard Your Members
What to include in your 'members hub' to ensure they are onboarded with a wow

What to include in your members welcome emails + swipe file

How to set up a basic automated welcome sequence - tech demo

STEP 6: Set Up Your Membership Portal
What technology, platforms, tools and equipment you need to sell, host and manage a membership 

How to set up your own membership portal

Your 'Tech Steps' checklist for getting up and running fast
STEP 7: Launch Your Membership
How to launch your membership

The 9 different styles of launching a membership - including the steps for each one

Plan your personal launch schedule

Tips for affiliate and JV launches

STEP 8: Make Your Members Stay
The statistics the matter in a membership

Why members will leave you

How to make your membership sticky and keep your members for life

STEP 9: Market Your Membership
How to plan your marketing to keep your membership thriving

The best types of organic marketing that you can start today on zero budget

Plan your marketing schedule for the next 12 months

STEP 10: Keep It Fresh & Fabulous
The 'Make Your membership' Checklist for ongoing creation and maintenance

Your monthly schedule as a membership owner

Admin tips and tricks for smooth membership management 
This program was freshly redesigned and re-filmed in it's entirety in February 2023, making it THE MOST up-to-date and industry-leading training in creating and launching a membership subscription.
There are two ways to gain access to the 'Make Your Membership' program:
Pay just $149 USD ONCE to get lifetime access to it

Or, join Sarah's 'Edupreneur Academy' for just $79 USD monthly (cancel anytime) to access this full training AND everything else in the academy too!