Concept To Course: LITE Package

I used to ONLY have the 'Standard' and 'PLUS' Packages available for this program, but when COVID-19 hit in January 2020, many people asked if there was a cheaper option to join Concept To Course.
In order to help those who are on a smaller budget, I created this 'LITE' access option.
You get EVERYTHING that the Standard members get, but only for 3 months (and you can upgrade later if you want to).
Lite Access option includes:
Concept To Course Coaching Program with Sarah Cordiner where you'll create and launch your own profitable online course in 30 days.
3 MONTHS access to all of the 'Concept To Course' online learning portal, tutorial videos, templates, swipe files and downloads.
Plus, the following bonuses detailed below...
LITE Package: What You Get
What You get in the Concept To Course LITE Package:
(Over $4,700 worth of coaching and training - for JUST $497 USD!!)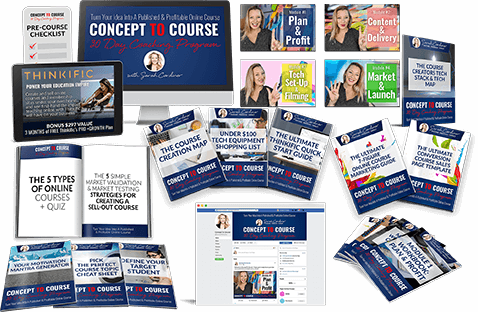 LITE Package: Complete Your Order ($497 USD)