How To Win At Email Marketing And Put Your Income On Autopilot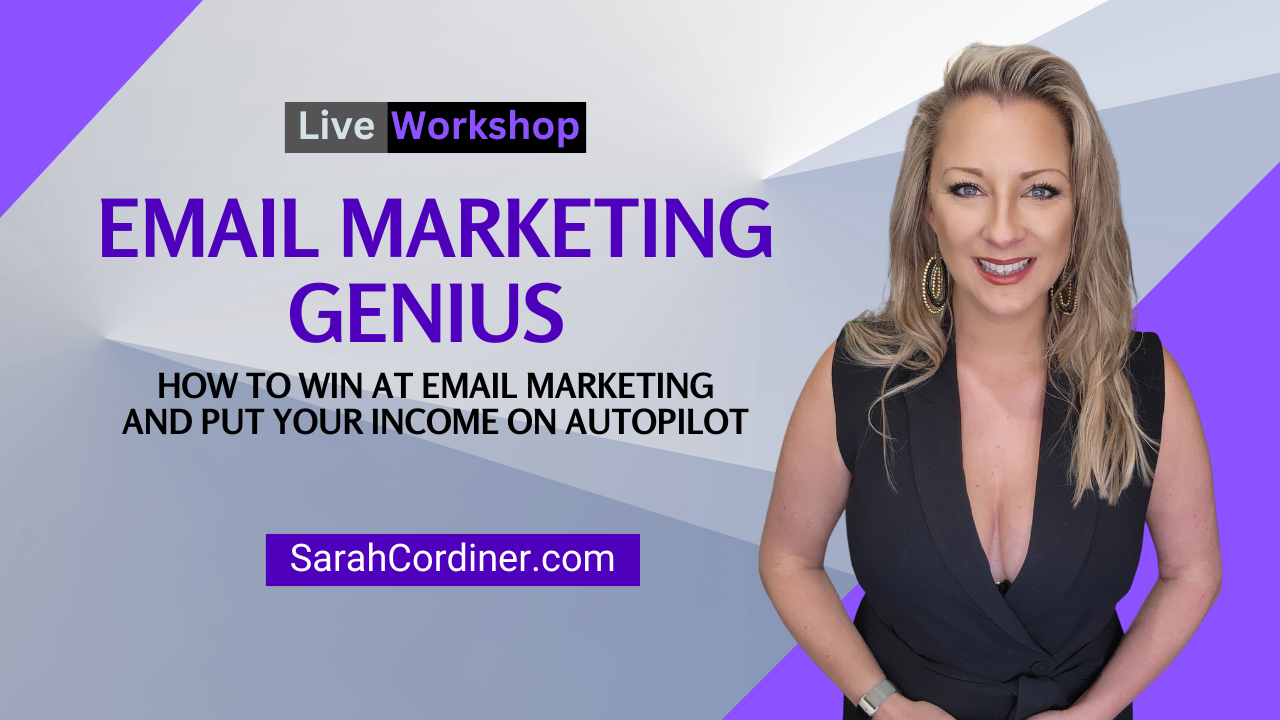 Email marketing is FAR from dead!
In fact, now that we have witnessed over the past 2 years just how fragile businesses are who depend solely on social media platforms, email marketing is more important than ever.
If you don't have an email list, you literally have zero control over your communication with your customers.
Email marketing is a direct-to-customer method of communication that isn't affected by an ever-changing mysterious 'algorithm', or ripped down for no reason.
And it is EXTREMELY lucrative.
If you are not doing email marketing, or are doing a 'bit', then you NEED to join this workshop to get onboard with one of the most profitable, effective and simple marketing and sales methods there is.
"Email Marketing Genius" is a 90-minute workshop designed for entrepreneurs, course creators, coaches, and consultants who want to learn how to start or improve email marketing to build better relationships with their leads, create a cult-like tribe, improve their customer experience, automate their business operations and dramatically increase their sales.
There are 2 ways to join this training.
Either purchase it with lifetime access for one payment of $149;
OR, join my Edupreneur Academy to get this training, and all of my monthly group challenges, masterminds and online courses for $79/m (more info in the academy button below)
Join the 'Email Marketing Genius' with Sarah Cordiner and learn how to win at email marketing and put your income on autopilot

Why email marketing is so critical right now and MUST be built alongside socials
How to build a strong email list and attract high-quality subscribers
The 3 MUST have email automations for any business owner
How often you should email your list, how long your emails should be, what to include and not include in your emails
What is segmentation, automation and custom fields and how you can use them to personalise your emails and increase your conversions
Strategies for building trust and rapport with your audience through email
Tips for improving your email deliverability and avoiding the spam folder
The kinds of emails that work best
How to create a never-ending email automation that will make you sales for life, an auto-pilot
How to track and analyze your email marketing performance to improve your results over time
By the end of this workshop, you'll have the skills and knowledge you need to create a powerful email marketing strategy that drives sales, builds customer loyalty, and grows your business.
Join us!
There are two ways to gain access to the 'Email Marketing Genius':
Pay just $149 USD ONCE to get lifetime access to it

Or, join Sarah's 'Edupreneur Academy' for just $79 USD monthly (cancel anytime) to access this full training AND everything else in the academy too!