The 3 Email Sequences Every Course Creator MUST Have - AND How To Set Up The Tech!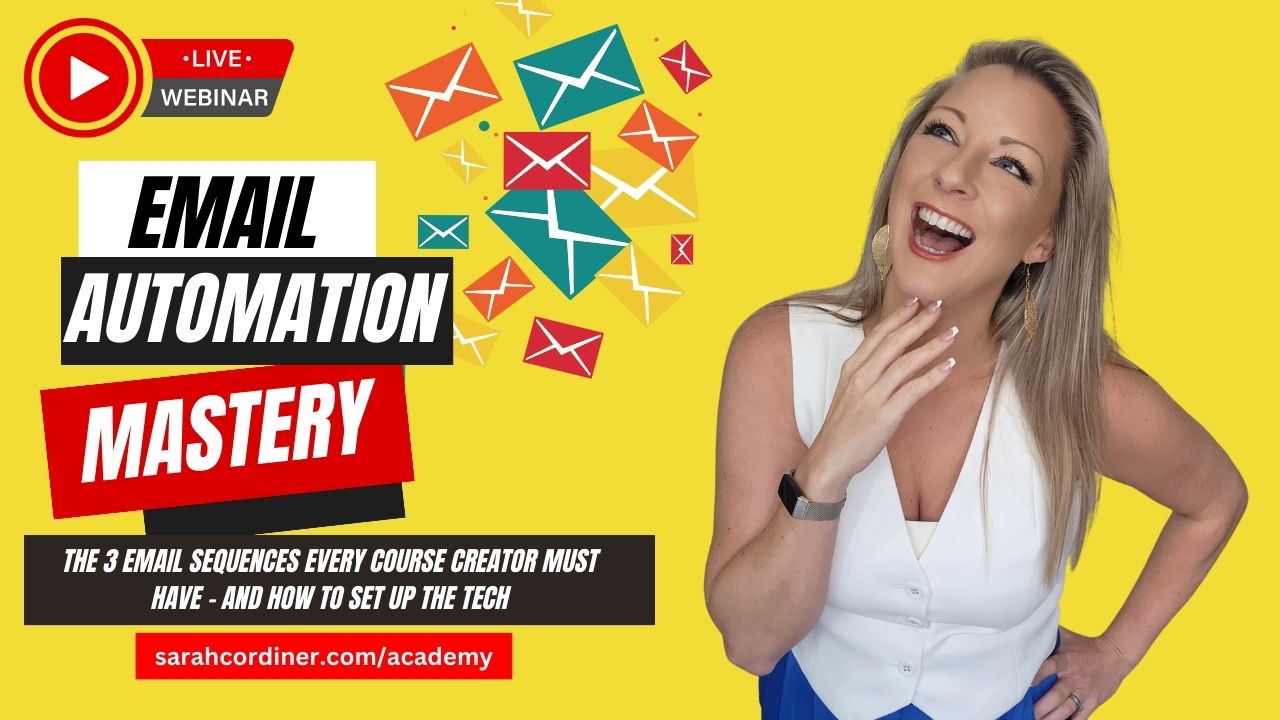 Why do all of your admin, marketing, SALES, nurturing and follow ups manually, if you could be doing it all on AUTO-PILOT?!
This 90-min workshop will teach you How To Create Automation Sequences That Put Your Emails and Admin on Auto-Pilot, Give You Freedom and Wow Your Customers
Do you have a simple 'welcome sequence' of emails that nurture and upsell to your email subscribers go through when they subscribe to your list?
Do you have a simple check-in sequence of emails that go out to people who buy courses, programs, products are services from you to make sure that they are getting the most out of it?
Do you have an automation that puts your project management of client services into a highly organised and automated workflow that keeps every project on time and expertly managed?
Well you SHOULD!
And in this live workshop I am going to show you EXACTLY what kind of workflow automations EVERY online business owner and course creator should have in their business - AND how to actually do it!
An 'automation' or 'workflow' is basically a set of actions that you pre-schedule into an email marketing software that will send email sequences, tag subscribers, notify staff, automatically grant or revoke access to courses, check-in on customers, book appointments, request reviews and SO much more - all on auto-pilot!
But how on earth do you set this all up?
What tech do you need?
Is it hard?
Learn How To Create Automation Sequences That Put Your Emails and Admin on Learn Auto-Pilot, Give You Freedom and Wow Your Customers!

In this live 90min workshop experienced tech-Trainer, Sarah Cordiner, will walk you through showing you some real examples of automated workflows for course check-in sequences, welcome and upsell sequences and project management workflows; as well as show you a tech demo of exactly how to set up an email automation or workflow automation in your business.
We will do the training demonstration using the all-in-one online marketing and course creation platform TekMatix, but the same principles apply to ActiveCampaign and other email automation softwares.
See you there!
There are two ways to gain access to the 'Email Automation mastery':
Pay just $47 USD ONCE to get lifetime access to it

Or, join Sarah's 'Edupreneur Academy' for just $79 USD monthly (cancel anytime) to access this full training AND everything else in the academy too!