The FREE 5 Day Challenge To Plan, Create & LAUNCH Your Lead Magnet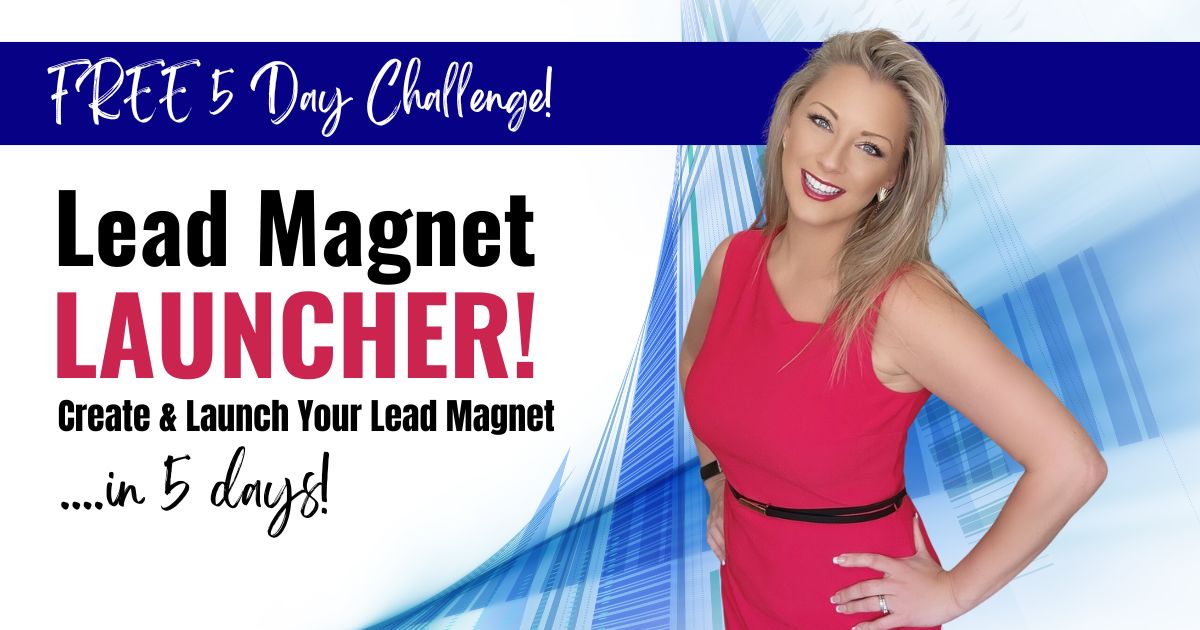 In this FREE 5-day challenge, I am going to show you how to plan, create and publish a list-building lead magnet step-by-step (including all of the tech stuff!)
In plain and simple terms, a 'lead magnet' is something that you give away for free, in exchange for the email address of your target customer.
This gives your prospects the opportunity to 'test' you out, check you out and see if they like you, your content and your style risk-free - to EXPERIENCE your fabulousness for themselves.
Once you have the email address, your relationship-building, nurturing and sales process can commence (on auto-pilot, if you've done it right!) 😉
BUT -
HOW do you actually set up the page and opt-in form in the first place?
HOW do you actually DELIVER the free 'thing' automatically?
HOW do you automatically send that email saying 'hello, here's your free thing'?!
You'll be pleased to know that it is much easier than it sounds, and anyone can do it - even if you are as tech-savvy as a potato.
Create an asset that will grow your list for years to come
Welcome to the Lead Magnet Launcher, a FREE 5-day challenge designed specifically to help entrepreneurs and course creators create and publish a list-growing and fully automated lead magnet!
Do you want to grow your email list and attract more potential customers? 
Do you want to create a lead magnet - but get confused with what to create and how to do the tech?
If so, this challenge is for you.
In just 5 days, you'll learn everything you need to know to create a high-converting lead magnet and start growing your email list.
What you get in this FREE challenge:
When you join this free challenge you will be given login details to an online portal where you will find the daily training videos and tasks to complete.
The training videos are highly practical and step-by-step on-demand screen recordings to walk you through every step of creating and publishing your lead magnet - watch at your own convenience.
Daily check-in reminders will come to you by email for 5 days to keep you on track
Access to my Facebook group to stay accountable and motivated with other challengers, and to ask Sarah anything daily
If you follow each step, by the end of this challenge you will have created and published your own list-building lead magnet WITH ALL of the tech set up!

DAY 1: Plan Your Product  
In this session, you'll learn how to identify the perfect product to use as a lead magnet for your niche, and create a plan for producing it.
Plan Your Offers & Customer Journey + Your Niche, Audience & Objectives
Determine what Kind of Lead Magnet To Create
How To Map Out Your Lead Magnet Content FAST
How To Name Your Lead Magnet

DAY 2: Produce Your Product
It's time to bring your lead magnet to life! In this session, you'll learn how to create and produce your lead magnet, including any necessary graphics or materials.
How To Produce Document-Based Lead Magnet Files
How To Produce Video-Based Lead Magnet Content
Upload To Your TekMatix Account Ready For Leads To Access

DAY 3: Create Your Opt-In Page 
Once you have your lead magnet, it's time to create a landing page to showcase it. In this session, you'll learn how to design an opt-in page that converts visitors into email subscribers. You'll even get HUNDREDS of free, ready-made landing page templates that you can use!
Choose a Template opt-In Page or Create Your Own From Scratch - Including How To Use The Page Builder To Design Beautiful Landing Pages
How To Structure Your Landing Page Information & Content
How To Quickly & Easily Create Your Opt-In Page Copy

DAY 4: Automate The Access 
In this session, you'll learn how to set up automation to deliver your lead magnet and welcome email to new subscribers and manage the distribution process on auto-pilot.
Use Our Automation Template To Create an Automated Delivery Email, With Automatic Login Instructions & Access

DAY 5: Publish and Promote
It's time to get your lead magnet in front of your audience! In this final session, you'll learn how to promote your lead magnet and get it in front of the right people.
Discover where to immediately put your lead magnet link to maximise your opt-ins and get long-term list growth.
How To Add an Opt-In To Your Website
How To Update Your Social Bios & Covers With Your Lead Magnet
How I Plan & Pre-Schedule My Organic Content For Endless Leads & List Growth
Frequently Asked Questions
Is this amazing challenge really free?
Yes. there is absolutely zero cost to joining in with this challenge and getting all of the training in full.
....
What tech platform is used in the demo's of this challenge?
The tech training will all be done on TekMatix, which is the most feature-rich and affordable online business and course creation platform on the market.
You can join a free trial on this platform to check it out on this challenge, with no obligation to use it afterwards.  You will get hundreds of free landing page templates and a pre-built email automation sequence template ready-made for you.
.....
Are there any live calls in this challenge?
No. We have a global group of challengers joining this round and therefore it is hard to pick times that suit everyone. So all of the training videos have been pre-recorded so that you can watch at any time that suits you regardless of your timezone or commitments.
....
Can I get extra help on this challenge if I get stuck?
Sarah's Facebook group 'Entrepreneur To Edupreneur' is the main community space to ask questions and get support during this challenge.  If you would like tech support or help building any of your pages, setting up the automation etc (you won't need it, as the videos show you exactly what to do!), you can get a free 15min Tekspert zoom call, or book our Teksperts by the hour for just $50.
...
Do I have to use TekMatix to join this challenge?
No! The tech demo's are shown in TekMatix, but the principles and steps are the same regardless of what tools you use. Feel free to follow along and use other tools of your choice!