Do you feel like you're constantly working on your business, but NEVER getting ANYWHERE?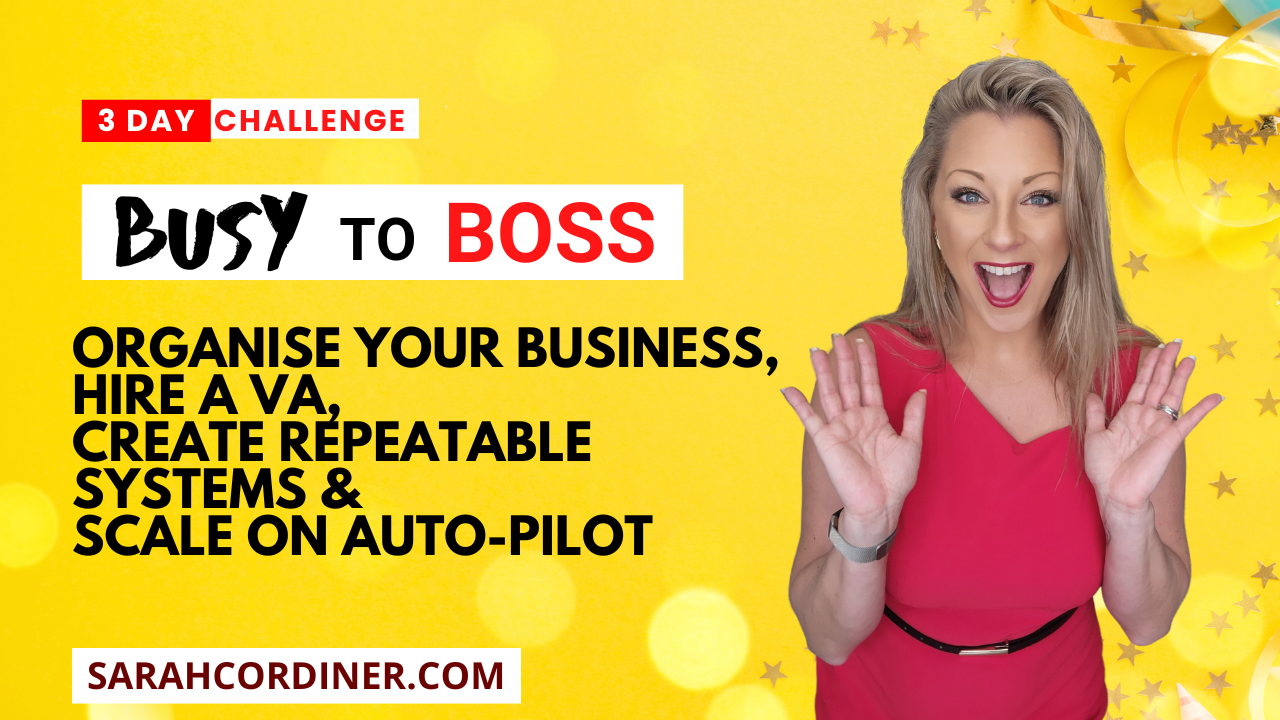 Are you feeling stressed out and frustrated about the lack of progress and always being on the back foot, scrambling to keep up with all of your tasks and to-do list?
If so, then Busy to Boss is the business transformation and productivity challenge for you! 
In this five-day challenge, I'll help you transform your business into a well-oiled MACHINE, and feel like an absolute boss of a business owner!
I've been where you are, and I know it ain't fun.
Luckily, I found a way out of the crazy, endless chaos, and got my business working as a cruisy, fun and highly profitable SYSTEM.
In Busy To Boss,  you'll learn how to systemize your business, increase your productivity, and get rid of the disorganisation that is holding you back. 
With a focus on clarity, productivity, organization, automation, systemisation, tools and outsourcing, this challenge will provide you with practical strategies that you can implement right away to turn your business from a field of flapping drunk ducks, into a row of smooth-sailing ships of the finest order. With YOU as the calm and centred Captain who has EVERYTHING under control.
If you're ready to stop feeling frustrated with being on the never-ending hamster-wheel, and want to start taking control of your business and your life, then join me for the "Busy to Boss" 5-Day challenge. 
You'll leave with a clear plan, measurable goals, and the tools and strategies you need to achieve success and get your business in order.
So let's roll up those sleeves and get ready to transform your business from 'busy', to 'boss'!
Nothing accelerates growth and motivation, like the feeling of being in control.  Get it back in 'Busy To Boss'.

Here's What You're Going To Get Done On This Challenge:
Day 1: Planning For Bossin' It
The Success Systems Mindset & Big Picture Overview
Day 2: Time Audit, Tasks Mapping & Creating Your Organisation System on Trello
Time Audit,
Tasks Mapping
Creating Your Organisation System on Trello
Day 3: How To Organise Your Admin, Create & Organise Your Procedures and Collaborate With Team Members
Overview of Using Google Workspace and Google Drive To Store and Share Your Systems & Instructions
How To Create, Organise and Share Google Docs For Your Systems + Add Them To Your Trello Task Cards
Day 4 - How To Create Amazing Systems & Instuctions
How to create your systems, tech tools for procedure creation and the number 1 procedure to create TODAY!
Day 5 - How To Hire Your VA
How To Hire a VA
Where To Hire Your VA and What To Pay
There are two ways to gain access to the 'Busy To Boss' 5-Day Challenge:
Pay just $149 USD ONCE to get lifetime access to it

Or, join Sarah's 'Edupreneur Academy' for just $79 USD monthly (cancel anytime) to access this full training AND everything else in the academy too!