Back to all Steps
Step 4: Create Magnetic and Specific Learning Outcomes
Written by Sarah Cordiner
Welcome back, I hope you're on a roll in creating your course and that you're ready for Step 4: Create Magnetic and Specific Learning Outcomes today!
So grab your pen, and let's go….
If you've been following along the last few days, please do let me know if you have any questions or just to share your course idea, I'd love to hear from you!
So as a recap, so far we've covered:
Step 1: Pick The Perfect Topic For Your Online Course
Step 2: Ensure Your Course Idea has High Market Demand
Step 3: Pricing & Nailing Down Your Business Model
If you've missed any of the steps, make sure you click here to access them.
As we enter this next phase, the focus will shift to the tremendous benefits your students and customers will receive by carefully planning your courses specific learning outcomes which will attract more students to you like a magnet.
"As an educator, your effectiveness is not measured by how much money you make; but instead by how much better people are after they've engaged with your training"
Sarah Cordiner
Do, Know & Feel
Many course creators hugely underestimate the importance of crafting proper learning outcomes.
If you don't do this for your online courses you could severely risk your reputation and your bottom line – let alone make the course creation process a frustrating one.
Just because you know what your course will give your students, it does not mean that they will know.
If your students don't know HOW your course is going to help them, they are unlikely to enroll in it.
Learning outcomes clearly explain, with measurable verbs, what the learner will be able to:
1) Do
2) Know, and
3) Feel
…by the end of your course.
Learning outcomes make it explicitly clear to the learner exactly what they will get from your course, including:
What skills will they be able to demonstrate
What new knowledge they will obtain
What feelings and emotions they will have moved away from or towards
Having clear learning outcomes not only 'sell' your course by making the promise of what your students absolutely clear; but they also ensure that only the RIGHT students are joining your course – which means higher completion rates, higher satisfaction rates and lower refund requests.
I'm sure that you want to create an engaging course that inspires, transforms and captivates your audience – your learning outcomes help you do that.
Your main goal is to 'leave them better than you found them' – this is what drives every excellent educator and my mantra for when I'm creating courses and content.
Learning Outcomes Are Critical Because:
They clearly state what your course will deliver
This reduces refunds that can come from people who sign up to courses thinking it would give them something that it doesn't
They clearly and explicitly explain the benefits, outcomes, results and rewards that the learner will get as a result of taking the course – and as such helps sell your course for you
They help you keep on track when creating your course content – you ONLY have to create content that directly aligns to the learning outcomes. Any content that doesn't directly take students to achieving a learning outcome must be kept out or saved for another course, and thus helps with course creators overwhelm.
If you are creating courses for businesses, corporates or Government clients, having proper learning outcomes and a formal curriculum plan is an expected professional standard.
As an educator, we live in a world where our effectiveness is not measured by how much money we make (although that is very important), but instead by how much better people are after they've engaged with us.
My primary goal as an educator is to leave people better than I found them.
How will you do this?
Will your students leave you:
Happier
More confident
Wiser
More skilled
More independent
With new perspectives
Inspired and motivated
What else?
As course creators we should always be asking ourselves 'How will this slide, video, module, live call make my student walk away better than when they started it?'
If you can do that, even at the smallest level, you have done your job as an educator!
How To Construct Excellent Learning Outcomes
Crafting proper learning outcomes will help you illustrate the benefits, outcomes, transformations and rewards that your students will get if they take your course.
This helps SELL your course, as they make it clear what the student will get, they also help YOU stay focused on what content to teach in your course.
Excellent learning outcomes MUST:
Must be explicitly measurable
They must state how many, how much, how long etc
Do NOT use vague and immeasurable words like 'understand' and 'learn'
Remember 'do, know and feel'
Use a VERB in every learning outcome (an action/doing word) as this clearly says WHAT they will do and makes your outcomes much more specific (see the learning outcome examples below where the verb is highlighted in bold)
Here are some examples of learning outcomes from my 'Concept To Course: 30 Day Group Coaching Program' to help you out….
Examples of properly written learning outcomes:
Assemble your list of income generating products and services
Formulate your profitable 'packages' and offerings for your wider online course business using Sarah's profitable education business models
Determine whether you are an Entrepreneur or an Edupreneur
Establish and set the price of your online course, including payment plans for your students based on Sarah's course pricing guide
Recognise the warnings of a lucrative and global business model
Construct your 'Funnel of Service'
Craft your 'Edupreneurial Business Plan' for the next 12 months
Find the perfect course inside of you to start teaching now
Implement strategies for finding the best topic for you and your unique combination of expertise
Uncover the course that is most aligned to your deepest passion and has the best potential for
Establish the exact audience for your course and list the differences in what they want vs what they need
Acknowledge the competition so that you can determine how your course will be better and different to the current competition
Conduct the essential pre-course testing activities necessary to determine whether your course has market demand
Conduct at least 5 market research and market testing strategies to ensure that your course has a market of buyers
Gather real data on what your audience think about your course idea and what it should include
Formulate a clear plan for transforming your learners lives
Create your course aims, objectives and outcomes
Master the art of correct learning outcome creation and formulate your formal course outcomes for your landing page
You will notice that all of my example learning outcomes start with a VERB, as this clearly defines what the learner will do or get out of the training.
Note that I did not use the word 'understand' or 'learn'.
This is because these words are completely immeasurable.
You and I could both define 'learn' and 'understand' in completely different ways and have extremely different expectations as to what we will get from such promises.
The example learning outcomes above clearly state how and what the outcome of the course will be for my student in a way that could be measured and assessed at the end.
It will be very easy to assess whether or not my course did or did not deliver what the learning outcomes promised it would.
Where possible, also add in numbers to denote how long, how much, how many etc to further specify what your students will get from your course.
Eg instead of just saying:
"By the end of this course you will be able to demonstrate the steps of making a coffee"
Say:
"By the end of this course you will be able to demonstrate the 6 steps of making a coffee"
This makes your learning outcomes even more meaningful, measurable and explicit.
The learner knows exactly what they are going to get without any confusion or misinterpretation of what your course is going to do for them – thus increasing your student satisfaction, your course review ratings and reducing the chances of you getting refund requests from students who thought that they were going to get something different as a result of misinterpretation of vague promises.
Now, let's go into learning outcome construction a little deeper…..
How To Construct Excellent Learning Outcomes
Step 1: Decide What You Are Trying To Teach
First decide for each 'learning outcome' what you are trying to achieve for your learners.
Eg, are you trying to:
Get them to 'understand' something (knowledge / comprehension)
Get them to be able to 'do' something (apply / demonstrate / implement)
Get them to be aware of or familiar with something
Get them to review, analyse or critique something
Get them to feel something
Get them to have a perspective, attitudinal or behavioural adjustment
When you know what you are actually trying to achieve for them, you are much better placed to provide exactly the right teaching content, but also explain to them what they are going to do and get
Step 2: Replace Vagueness With Specifics
This is the stage where you go back to the learning outcomes that you rough drafted in an earlier activity and now start making them more specific with your verbs.
What kind of verbs might describe what your students will be doing?
Here are some examples of verbs below just to start getting you into the zone:
Knowledge/Comprehend:
Define
List
Describe
Identify
Do / Skill
Demonstrate
Conduct
Carry out
Construct
Copy
Of course you can come up with many words for each but these are just a few to get you started.
Those in my 'Concept To Course' program get full in-depth training on this as well as 'Learning Outcomes Cheat Sheet' that gives you all of the words you can use in one simple place, and makes it super quick and easy to construct magnetic and compelling learning outcomes.
If this step has left you feeling a little unsure, don't worry!
As a first time course creator, it'll take some time to get some steps perfect.
The goal isn't that every step is perfect before you launch, the goal is that you launch and then perfect your process as you gain more experience.
So that's it for today, if you'd like more help in going through these steps then you'd be a perfect fit for my 30 day course creation group coaching program where I walk you through every step to ensure your course gets created, published and sold!
The doors are currently open but only for a short time, you can learn more about my Concept To Course 30 Day Coaching Program here: www.sarahcordiner.com/doit
If you are an existing or past student of mine, you are entitled to a massive 25% discount! (Payment plans are also available.)
And don't forget to look out for step 5 tomorrow where you'll be learning How To Select and Gather Your Course Content.
Talk to you tomorrow!
Sarah!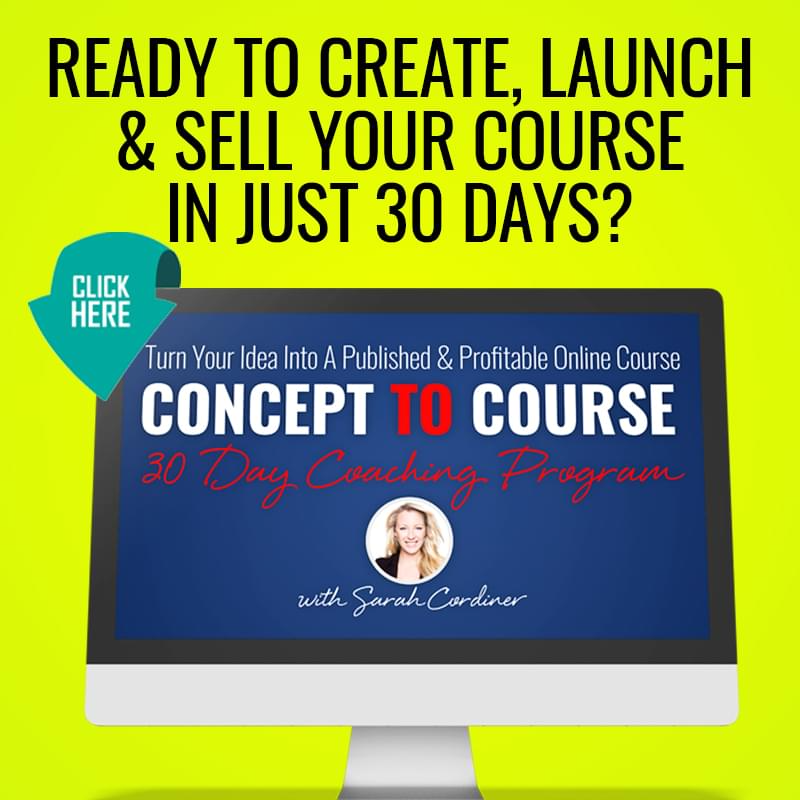 NOW YOU'RE READY TO LEVEL UP…

Learn more about my coaching program Concept To Course: 30 Day Course Creation Group Coaching Program, where I personally help you turn your course idea into a profitable and published online course in just 30 days!
Sarah Cordiner (MainTraining Pty Ltd) | Copyright ©2020 | All Rights Reserved