Back to all Steps
Step 1: How To Pick The Perfect Topic For Your Online Course
Written by Sarah Cordiner
Today we are going to look at Step 1 of creating an online course:
First – why would you, me or anyone else want to create their own online course?
Well there are lots of reasons but here are my top 3:
A business needs to earn money, it's as simple as that. An online course is something that you can sell online 24 hours a day, 7 days a week without you being present. Even at a mediocre success rate that could give you a substantial pay raise.
Eg – imagine selling access to your courses for $47 a month.
ONLY 50 people would bring you in $2,350 per month completely passively!!
100 people would bring you in $4,700 a month in passive income!!
That's an extra $56,400 per year….. Wouldn't that be a handy little extra?!
You get your time and your LIFE back.
Instead of the hard hustle having to constantly exchange your time for money, seeing clients, providing complex services to needy customers – your online courses provide your services, coaching and consulting FOR you. On autopilot!
DOING GOOD
You can actually help other people and make a difference in people's lives. Sure money and freedom are wonderful things but knowing that other people are benefiting from something they learned from YOU.
There is nothing like being asked "what do you do for a living?" and being able to reply with "I change people's lives".… that is an awesome feeling.
I could go on and on about the reasons why you need to get your course out of your head and into the world, like yesterday… But I think you get the point now 😉
Since you're reading this I'm going to assume you have a strong intrigue, desire or will to create your own online course that allows you to make an impact and also gives you a level of life-changing income and freedom!
But… the hard part (which I'm going to make easy for you) is the actual creation of your course.
In this 10 day series, I've broken down the 10 simple stages to turning your online course idea from a concept, to a published and profitable online course. So with it, let's get right into step #1 – are you ready? Let's do this!
The 10 Steps Of Course Creation
Step 1: Pick The Perfect Topic For Your Online Course
There are LOTS of sources of content for you to tap into that you can create your courses, books and content from; and whatever of these you consume most are often massive clues to what you should or could be teaching to others.
You may have an exact idea of what you are going to create your online course on this year, or you might not have a clue what you want to create a course on yet – but have an itch to do it.
Just know that there is a course inside of you. Everyone has something to teach.
In fact, there will be many courses that you could be sharing with the world!
There are likely endless topics that you could be teaching due to how much knowledge and life experiences you have.
It is usually the sheer volume of course ideas and topic possibilities that actually stop most course creators from getting started in the first place and is thus why I have put this as 'Step 1' in my course creation model.
The great thing about online course creation, is that you never have to just stop at ONE course!
The process and system for creating an online course is the same every time.
Once you have mastered this process with one course, there is no reason why you can't then go on and create a whole range of online courses in various topics that you feel called to teach!
This is exactly how you build an online academy and membership-based programs.
The more you teach, the more people you help – so don't get too hung up worrying about which topic you pick FIRST.
Because you can keep going with as many topics as you like and have endless course categories in your own online school if you so wish!
Do however consider picking a topic that comes most naturally to you – something that you could immediately and passionately just start talking to somebody about without a script.
This way, as you are learning a new skill (course creation), you are not also having to learn about a new topic too.
Although the topic you select for your first course is not the be all and end all of your course creation life; there are some important things to consider before you pick the course topic that you are going to go with to ensure that it is as successful as it can be.
Picking the perfect online course topic is FIRST about YOU, and getting the right balance between:
•What you LOVE
•What you're GOOD at
•What you have EXPERIENCE in
If you are not passionate about your topic, it will come across to your learners and will make your training about as engaging as a cardboard sandwich – and passion is therefore the most important ingredient for the topic you pick.
You can easily get better at something and gain more experience in it; but passion is either there or it's not.
Make sure you love what you choose.
Next grab a pen and list all of the following:
•Your formal training and education, courses, workshops, accreditations etc
•Your informal learning such as non-accredited training, online courses, books, videos, conferences etc
•You have been through an array of life experiences – which ones stand out in your mind?
•Challenges and struggles that you have overcome
•Successes, wins and achievements that you have had
•Your passions, hobbies and interests
•Your insights, opinions and viewpoints
•You have a certain lifestyle that others may aspire to have too – what is it?
Once you have done that, next grab a pen and paper and list out the following: (*Note: If you are a member of my 'Concept To Course' program there is a special downloadable template available to you for this exercise)
1. 50 things you know how to do
2. 50 things you love to do
3. Things you have done as a job / been paid to do
4. Things your friends, family & others always ask for your help and advice about
5. Challenges and hardships that you have overcome
6. Things that you have formal training or qualifications in
7. Rate all of your items from 1-10, where 1 is 'don't love it, not very good at it and don't have very much experience in it'; and 10 is 'really love it, very good at it and have lots of experience in it'.
8. Then select the topics that have 10/10 for all of them. These will be your list of best topics to choose from!
All of the things above can be tapped into when it comes to picking your perfect online course topic and within them are an array of answers, strategies, methodologies, knowledge and skills that some of the 7 billion+ people on earth may be looking for – and are willing to pay YOU for.
Don't feel like you have to teach a degree-level profession, or be a university professor in your topic – you just have to know more about something than somebody else does and share it with passion (and a little strategy)
You have spent your entire life acquiring a unique set of skills, knowledge and competencies; not to mention an abundance of life experiences that you could be drawing upon to help others get through similar things.
When my 'Concept To Course' members start this process, I always get the same question: "But Sarah, what if I'm not an expert in ______?"
And that's a great question and concern that reminds me of one of my favorite movies, "Catch Me If You Can" which is a true story about Frank Abagnale, Jr. (played by Leonardo DiCaprio **insert dreamy eyes**) who was an infamous master of deception and a forger who posed as a doctor, a lawyer, and as a co-pilot for a major airline – all before his 18th birthday!
When Frank was hired as a professor in a university (without the credentials or training to do so) and later asked how he got away with it, Frank said this, "…I went to teach at Brigham Young University as a professor of sociology. Wasn't difficult, read one chapter ahead of my students. They never knew the difference."
Now although I don't recommend you try to fake your way into a university, what I do recommend is that you don't limit what you can teach simply because you may not yet be a world famous, degree-qualified professional in it.
That's not what everyone is looking for.
In reality, if you know a little more than your students, you can guide them and help them!
So today, commit to creating your own list of possibilities and answering the activities listed above.
That's your only assignment for today!
Tomorrow we are going to use this list and I will share with you a super simple way to test the marketplace to Ensure Your Course Idea has High Market Demand, which is step #2.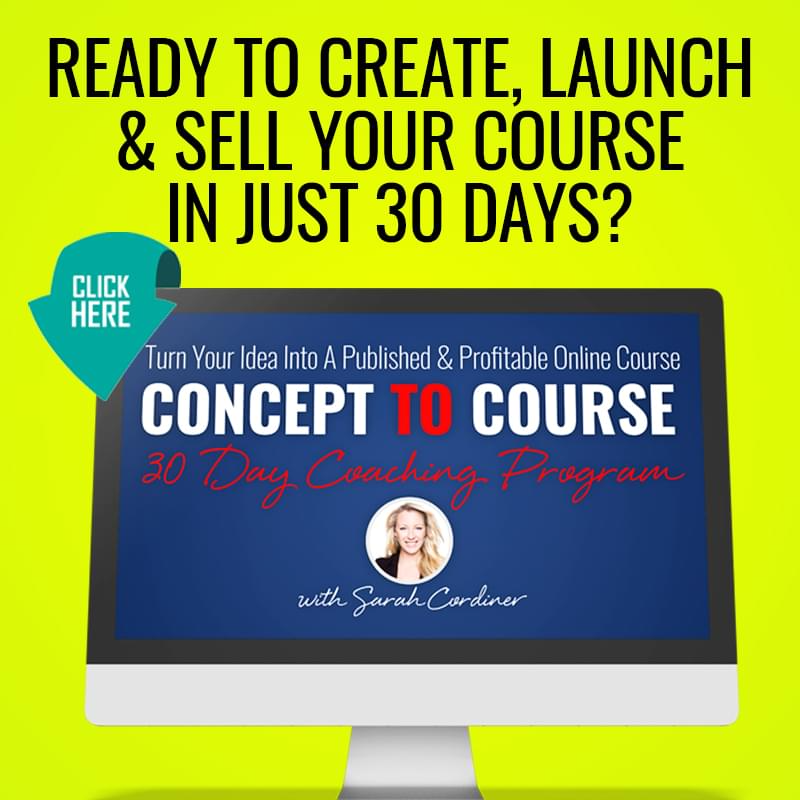 NOW YOU'RE READY TO LEVEL UP…

Learn more about my coaching program Concept To Course: 30 Day Course Creation Group Coaching Program, where I personally help you turn your course idea into a profitable and published online course in just 30 days!
Sarah Cordiner (MainTraining Pty Ltd) | Copyright ©2020 | All Rights Reserved