Create Your Own Epic Landing Pages For Your Courses, Coaching Programs, Digital Products, Memberships and Opt-Ins
The 90 Minute Fast-Action Mastermind To Create and Build Epic Landing Pages and Upsell Funnels
How To Create and Build Epic Landing Pages and Upsell Funnels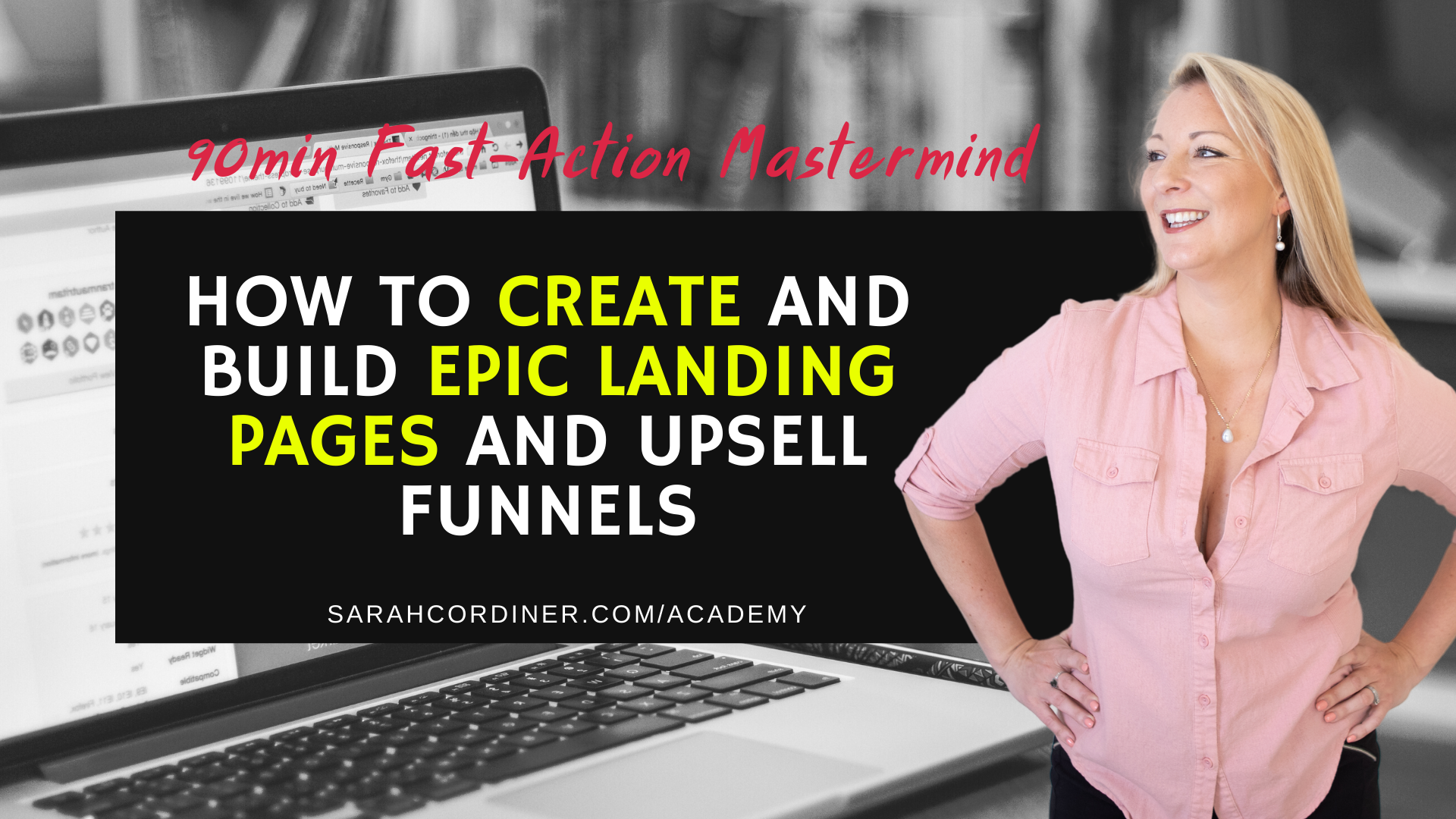 In this 90min LIVE training, I am going to show you how to create and build pages and upsell funnels!
PLUS! Get my High Converting Course Sales Page Template!!
Guess what??
NOBODY is going to buy your courses, coaching, membership, books, services or ANYTHING, if it is not clear what they are getting!
If you want to make actual money online, you need to master how to present your offer in a way that shows the amazing value it will bring to the buyer, at the same time as making the buyer feel absolutely compelled, even desperate , to shove their hands into their digital wallets and throw their coins at you.
What you need, is an epic landing page (or sales page) for every one of the products and services that you offer, so that you can convert 'viewers' into 'paying customers'.
And if you REALLY want to pull in the big moolah, you can get super-pro, and create 'upsell pages' - also known as a 'sales funnel', that instantly give the buyer other things to buy from you!
A landing page (or sales page), is a publicly available web page, that details your product, what it does, how it helps your customer and provides the payment button for the commercial exchange to happen.
BUT!!!.......
- How do you 'make' one of these magical landing pages?
- What needs to be written on the sales page?  How do you tackle the copy if you suck at 'marketing writing'?
- How do you do all of the 'tech' setup so that it looks pretty and takes the monies?
- How do you connect pages together to create instant upsell funnels?
- How do they receive access to the 'thing' they purchased?
Well, that is EXACTLY what I will be showing you in this 90min live online workshop!
There are 2 ways to join this training.
Either purchase it with lifetime access for one payment of $79;
OR, join my Edupreneur Academy to get this training, and all of my monthly group challenges, masterminds and online courses for $79/m
In this 90min masterclass, you will learn:
How to quickly and easily create a simple, but high converting landing page/sales page
What to include in the sales copy
How to structure the wording and content on your sales page
What tech/software you need to create amazing landing pages (clue: not much! and not expensive!)
How to collect money from your landing/sales pages
How to connect multiple pages together to create a highly profitable 'sales funnel'
How to auto-deliver access to your 'thing' after opt-in or purchase
Tips on the content and copy to include on a landing page vs a sales page (yes, they are different)
Get a copy of my high converting course sales page template
Get a copy of my high converting FREE LEAD MAGNET OPT IN copy template
Say goodbye to your 'web guy' and HELLO to way more opt ins and way more money, and join us on this live online workshop (it will be recorded)!
This workshop is FREE to members of my Edupreneur Academy!
BUT - you can still join us if you are not a member!
There are two options to join this workshop:
1. Purchase the workshop for $79 USD to attend live and have the recording for life, OR
2. Join my 'Edupreneur Academy' membership which includes this workshop and my ENTIRE 'Edupreneur Success Journey' (click the button for more info about the academy)