The 90 Minute Fast-Action Mastermind To Become A Highly Paid Expert in Your Field of Expertise
How To Become a Highly Paid Expert in Your Field of Expertise - AND Keep OR Replace Your Academic Job!
Perth (Australia – Western Australia) Friday, 10 June 2022 at 8:30:00 am AWST
New York (USA – New York) Thursday, 9 June 2022 at 8:30:00 pm EDT
San Diego (USA – California) Thursday, 9 June 2022 at 5:30:00 pm PDT
Sydney (Australia – New South Wales) Friday, 10 June 2022 at 10:30:00 am AEST
London (United Kingdom – England) Friday, 10 June 2022 at 1:30:00 am BST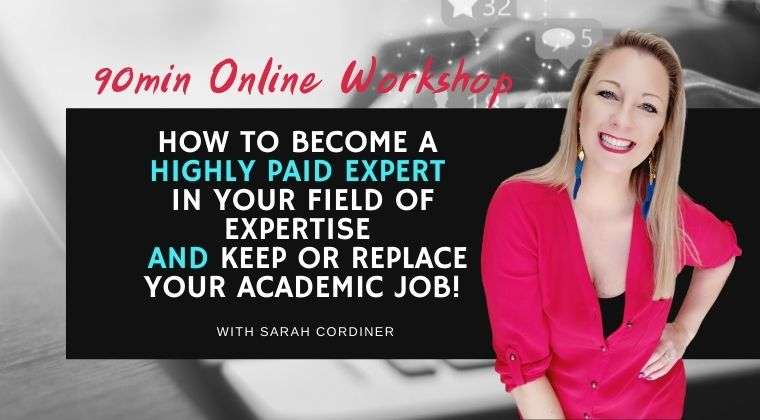 In this 90min LIVE training, I am going to show you become a highly expert in your field of experitse
You're an expert in your topic.
You've got the qualifications.
You've got experience teaching in the world's most prestigious setting - a university.
You may even have published work.
BUT, despite having much higher credentials and a HUGE 'unfair advantage' over every other 'expert' out there, the chances are, that you could be getting WAY more in your bank account.
Regardless of whether you LOVE your academic job and just want to earn a extra income on the side; or,
if you are becoming increasingly demoralized by the institution and are looking for a way to replace your academic job, then this 90min online workshop is for YOU!
As an academic you already have 'all of the fruit', you just need to know how to package it up and commercialize it in the public space.
And in this 'Part 2 of 3' workshop, former-University "Executive Director and Head of Campus", Sarah Cordiner, and now sole-Trainer of over 150,000 students in her own online academy, will present to you the strategies for becoming a highly paid expert in your field of expertise - on the 'OUTSIDE' of academia!
To join this training, purchase it with lifetime access for one payment of $45;
Become a Highly Paid Expert in Your Field of Expertise - AND Keep OR Replace Your Academic Job!
In this 90min masterclass, you will learn:
The different ways that you can make a significant income as a self-employed expert, educator, coach and consultant in the public and corporate market
What tech you need to make a big impact and income online
Using your qualifications and academic experience as an 'unfair advantage' to becoming the preferred expert in your marketplace
How to create recurring monthly income with your own online academy
PLUS - tech demo showing you how to quickly set-up your own academy with FREE bonus training to 'take home' on how to set up your own online school
Join here for just $45 USD!
About Your Instructor: SARAH CORDINER [PGCE Ed & BA Hons Ed]
Trainer, Entrepreneur, Author, Speaker
Sarah holds the record for being the youngest University "Executive Director & Head of Campus" in Australian history; and stepped outside the tradition of her Gypsy roots to build a global 7-figure education business.
With over 14 years in business in the education industry, over 150,000 students currently enrolled in her courses from 168 countries and the recipient of multiple awards – Sarah encapsulates a mesmerising marriage of education and entrepreneurship as the EDUpreneur's internationally acclaimed leader in 'profitable education'.
She is also a Trainer and Consultant in education business development, education leadership, educational strategic planning, workforce planning & development, training design, online learning development, Train the Trainer, commercialisation of education, marketing educational programs and ed-tech strategy to large organisations.
*Join here for just $45 USD*
This workshop is being held in Partnership with 'The Professor is Out'.