The 90 Minute Fast-Action Mastermind To Create an Automated Email Sequence That Sells Your Stuff For You!
How To Create an Automated Email Sequence That Sells Your Stuff FOR YOU!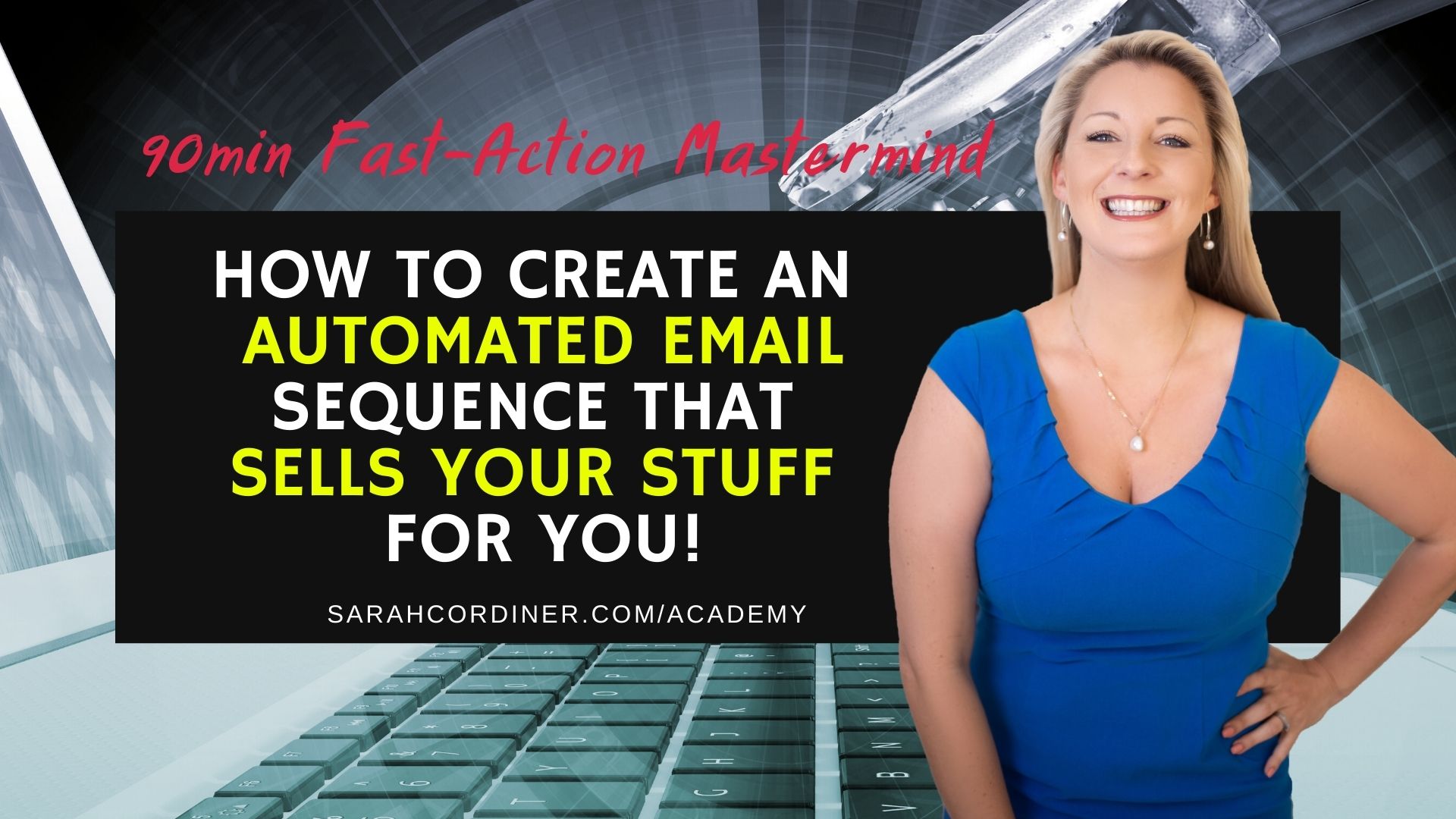 This action-packed 90-min workshop will help you to create an automated email sequence that sells your stuff for you!
Can you imagine having technology do half of your work FOR you?!
That is EXACTLY what email automation can do for you.
I remember when I was a complete prisoner to my business. The more successful I became, the more trapped I found myself.
Managing my email inbox, responding to the same queries over and over again, having to manually keep track of projects, remember to follow up with clients who had requested quotes or had to send me their project on-boarding information.
My online courses required regular manual check-ins, my academy members needed manual emails to remind them about live calls and challenges, I had to remember to manually 'nurture' my list with regular content emails - and it all just felt EXHAUSTING.
It is IMPOSSIBLE to scale if you are relying on manual systems.
The ONLY way to scale your business, increase your profits, provide exceptional customer experiences AND have complete FREEDOM, is to automate your business.
My FAVOURITE automation method, the one that takes away MOST of my workload every day, is using email automation.
It was 2015 when I first started implementing email automation software into my business and my life changed instantly.
There are 2 ways to join this training.
Either purchase it with lifetime access for one payment of $79;
OR, join my Edupreneur Academy to get this training, and all of my monthly group challenges, masterminds and online courses for $79/m
Give yourself the freedom to do what you love, whilst your business grows
In this 90min masterclass, you will learn:
What an effective email automation looks like (real look behind the scenes at my actual automation!)
How to use email automation to dramatically improve your customer service, reduce your workload, nurture your contacts - and do your upselling and sales FOR YOU
What 3 email automations EVERY business owner should have - AND what they look like
HOW to ACTUALLY create and set-up your automations - FULL demo of creating one from scratch step-by-step
What to put in the emails for the best engagement and results in your business
THIS WILL CHANGE YOUR BUSINESS!!
Instead of manually sending people their lead-magnet goodies, have tech do it automatically.
Instead of relying on expensive employees to do admin tasks for you, get some software to do it automatically.
Instead of checking in with your students, sending call reminders or nurturing manually - get tech to do it automatically.
Join this 90min to get shown precisely HOW to do it, implement it and get it live in your business.
Are you ready to grow your business, make more money whilst actually doing less?
If so, don't miss this incredible opportunity to change your life with email automation!
Note that this training is recorded, so you will get the recording if you purchase it.