The 90 Minute Fast-Action Workshop To Dramatically Increase Your Student Retention and Completion Rates
How To Increase Student Engagement & Completion Rates in Your Online Courses & Coaching Programs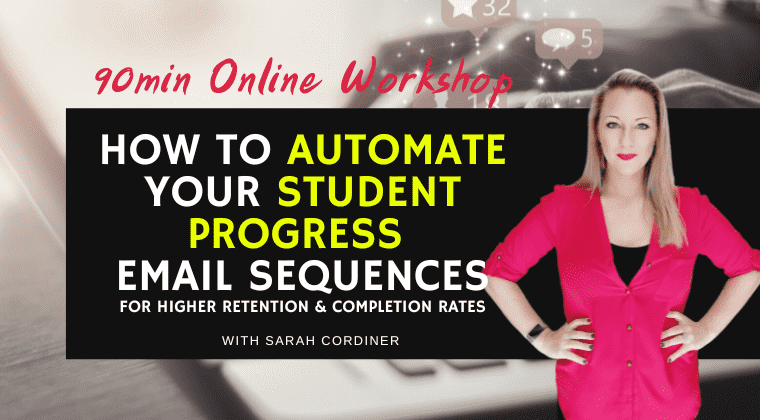 In this 90min LIVE training, I am going to show you how to create and set up completely automated email sequences to check-in regularly with your students and keep them progressing through your courses and programs
Hands up who has courses 'somewhere' that you've bought, but NEVER finished?
Better yet? How many of them have you bought, but never even logged into?!
It's pretty normal.  In fact, most online courses today are averaging a 5-10% completion rate!!
Why?
Well, it's not because the training sucks, or the student is an unmotivated slug.
It's because the course creator who sold it to them has failed in one critical area of their business - not setting up a simple email automation to remind their student about their purchase, and encouraging them through the course with a timeline and check-ins.
The most successful course creators in the world, are the ones who get results for their students.
But how can your students get the results that your course or program is promising - if they don't complete it?
Most course creators, coaches and consultants are missing the easiest way to instantly increase their student retention and completion rates - which in turn increases high reviews, referrals and raving fans.
If you have (or plan to have) any kind of digital information or education product - like courses, coaching programs or eBooks - you NEED a 'student check-in email sequence'.
But how do you set one up?
What should be in one?
How do you word it?
How often and for how long do you check in for?
That is what I am going to show you in this 90min live workshop.
There are 2 ways to join this training.
Either purchase it with lifetime access for one payment of $99 USD;
OR, join my Edupreneur Academy to get this training, and all of my monthly group challenges, masterminds and online courses for $79/m (more info in the academy button below)
Your students results = YOUR results. Learn how to make EVERYONE a winner.
In this 90min masterclass, you will learn:
Screen demonstration of exactly HOW to set up a completely automated student progress and check-in email sequence
What emails to write to help your students open your training, keep up with your training timeline, and COMPLETE your training
How often you should check in with your students to keep them progressing and completing - but not overwhelmed
What to write in your check-in emails (swipe copy templates INCLUDED in this workshop!!)
How to make this work even if your course or program doesn't have a 'timeline' or deadline to complete it
When implemented, this can TRANSFORM the success and outcomes that your students get, increase the amount of high reviews and ratings, increase word of mouth referrals to your programs  - and ultimately your income as happy students become repeat purchasers and bring their friends along too!